A cam model explains how to make the most money out of your new OnlyFans
The app's popularity has exploded during lockdown and the stigma around online sex work has been demystified in the process.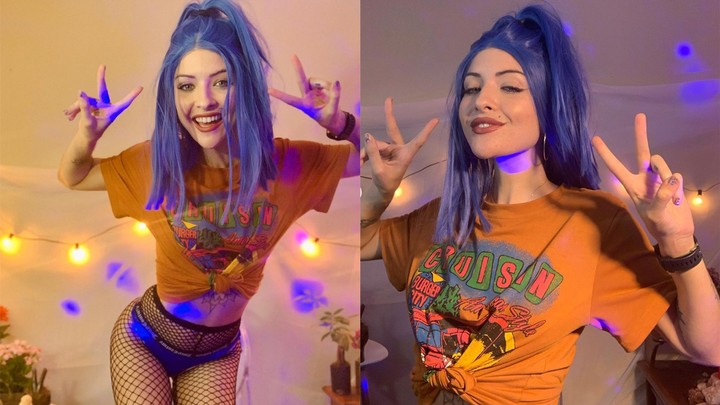 Image via Instagram
OnlyFans has exploded in popularity over the past few months. As the coronavirus pandemic took hold across the world, the app experienced a huge upsurge in users, thanks to a perfect storm of circumstances (we're all stuck at home, hundreds of thousands of people have lost their jobs or been furloughed, and Queen B helped boost some brand awareness out with a shout out in that Megan Thee Stallion remix).
Sign-ups skyrocketed by 75% since the beginning of the crisis, with new users reporting that they could make up to £2,000 in three weeks. But with popularity, of course, comes a market oversaturated with newbies unaware of the pitfalls and difficulties that can plague a cam career after the initial flush of income and attention.
"First-time cammers often don't spend enough time building customer rapport in the beginning and end up giving up before they have the chance to make money," says Melrose, a veteran cam sex worker from the USA. Performing under the username Melrose_Strip, Mel has built her profile and audience through regularity -- she performs every other day between 2 and 4pm -- and customer service. "There's a misconception that camming is easy," she explains. "In reality, you have to build a connection with your viewers, which will encourage loyalty. You're building your brand from the ground up, and even in lockdown, having the expectation that you'll become an overnight success is a mistake. Being successful as a cammer takes time, because it's all about building real relationships."
There's also an artistic element to creating an audience and building a popular account. The background to videos, for instance, while it might seem an afterthought, is important. "It's a representation of you," says Mel. "Personally I try to always mix things up. Having the same background for lots of videos can get a little boring as a viewer."
With such a surge to sites like OnlyFans and StripChat, which Melrose patronises, another misconception is that new creators will be forced to find a niche in an ever more competitive market. "Every cammer is different, but personally, I don't worry about having a niche or USP," the 26-year-old explains. "I just try to use my humour and confidence to draw people in. I do try different things, but I'm always honest about what I do and don't enjoy. You have to figure out your own comfort level, be patient, and make eye contact. Patience is key, especially when you're starting out. I'd advise newbies to stay on for around five hours, even if you're not making any money yet; it helps build your exposure. Get good at one thing. Master one thing that you can always use, so if it gets slow, you can whip it out, or you have a go-to."
And with a new influx of performers, comes, obviously a huge uptick in viewer traffic. This, for obvious reasons, is a good thing for cammers on one level. It means more work and more revenue. It also means though, that there are many new viewers unaware of the etiquette of camming, or simply there to troll. "New cammers unfortunately need to learn to take insults with a pinch of salt," says Melrose. "Opinions are just that, and if it feels right to you, stick with what you are doing."
"The biggest faux pas in my eyes is degrading a cam model in the comments. We understand that we are there to create a fantasy for you but there is no reason to be rude and disrespectful. Also, not understanding when a cam model says no is a big faux pas, like anyone we have our limits, which we set and want viewers to respect."