The boys who were almost in One Direction
Today, they write music, perform solo or own restaurants. But 10 years ago, these three men narrowly missed out on becoming a part of the biggest boyband of all time.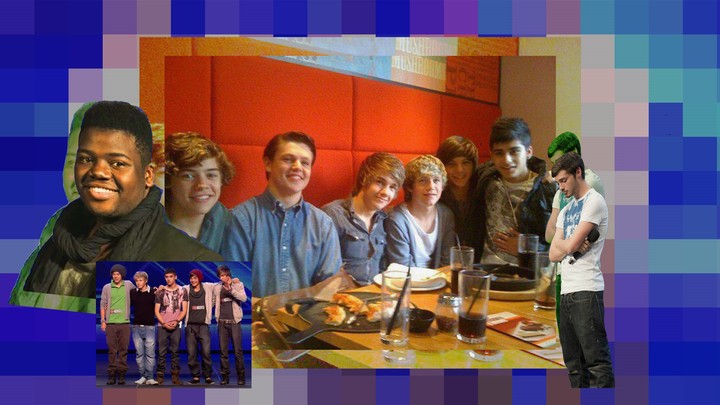 The story of One Direction's formation may very well become the Gen Z fairytale we tell our children every night In 2010, five lovable, mop-haired lads auditioned for the UK's biggest reality music competition, The X Factor, as solo artists, making it through their respective auditions before then being axed in the bootcamp round. While Zayn Malik lost out after refusing to dance (before giving into the pressure), the judges watched Harry Styles wipe away the tears of his shattered-dream with a very 2010 oversized beanie.
But despite whatever qualms head judge Simon Cowell had about the boys as solo performers, he still brought Styles and Malik along with Louis Tomlinson, Liam Payne and Niall Horan back to the O2's stage mere moments after making Styles believe he would be returning home to Holmes Chapel to sell bread again. And when the five teens walked back on stage to the news that they'd form a show-scouted boyband, the happy ending for our protagonists finally began. The group's unparalleled success has now been a reason for celebration over the last couple of weeks, as we marked a decade since the group, now known (obviously) as One Direction formed, going on to sell out stadiums and shift over 70 million records worldwide.
But not everyone in the bootcamp stage of The X Factor Series 7 became a member of the biggest boyband of all time. Some became cafe owners, others remained in music, only as solo artists instead. There were even some who had to completely restart their music careers several times over.
A handful of these boys, who've since grown up, navigated The X Factor's "other direction" quite successfully after missing the cut for 1D or X Factor fame. Whether that means, they're now releasing songs on their own, or serving buttermilk pancakes to the people of Northumberland. Basically, they are proving that not every successful career requires a Simon Cowell co-sign.
Among the show's 2010 hopefuls was John Wilding who, at 17 years old, signed up for the show after seeing acts like Leona Lewis find success internationally. The now-27-year-old LA-based singer admits he felt nervous stepping foot into his audition, but his performance earned him a ticket to bootcamp, where John stayed at a hotel outside Wembley Stadium with the rest of the boys in the competition.
He'd spend every night that week of bootcamp walking to McDonalds with a then-16-year-old Harry, strolling through the drive-thru by foot since the store itself closed around 9 pm. They'd order 20 McNuggets each forging a bond over their ritual. "We ended up calling each other nuggets," John said. "It was really funny, but I just remember that year being a really family-kind-of vibe."
For John, One Direction's formation was actually a bit of a bummer. It wasn't because he'd hoped to be in the band -- although he says he sometimes wonders what would've happened had his name been called -- but rather because he wouldn't be able to spend time with his new friends, Harry and Niall, in the next round at the judge's houses. (The Boys, Girls, Groups and Over 25s splinter after boot camp to be mentored by different judges.) Having made it through as a solo artist, he performed for judge Dannii Minogue along with other male soloists, while 1D performed for Cowell along with the other groups that season.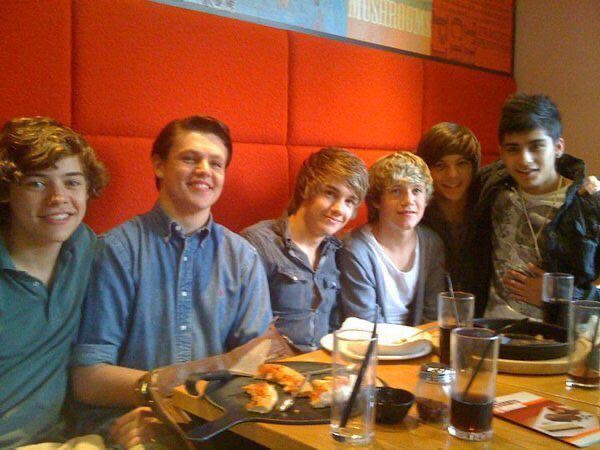 "I wasn't going with the friends I made at bootcamp, they were doing their own thing," John said. "So the night before they went to judges' houses, I went and stayed at the hotel. It wasn't bittersweet, since we were all so excited we were going to judges' houses and what that meant. But also I was like, 'I wish I was going with those guys.'"
But John says, even if he'd been selected to be in One Direction, he didn't think his image or sound at the time would've complimented the boys. "Looking back at myself, I've changed a lot since then," John, whose X Factor journey ended at the judges' house that season, says. "I lost a bit of weight. I've had my teeth done. I just grew up. It's fun for me to think, 'What if,' but I don't think I would've been picked anyway. For one, I didn't look like I would fit in. And two, I definitely didn't sound like I would fit in. I'd stand out like a sore thumb."
After taking several years off of music following his back-to-back runs on the show, John will finally drop his EP in the coming months, and says he hopes X Factor fans hear that -- no matter how different he may sound or look now -- he still has the same powerful voice he had a decade ago. The same one that may have been just a bit too powerful to mesh with the boyband back in the day.
Also on the show that year was Paije Richardson, a now-30-year-old singer who boasts several dance features and writing credits. He performed alongside John at judges' houses, and ended up placing eighth in the competition against the 1D boys on arguably the show's most popular season. He theorises that the band could've been selected by producers from the jump, and was centred around Payne and his X Factor returnee status. For him, the possibility of making the cut and being a band member was quite slim. "After their first auditions, they already knew who they wanted in that band," Paije said. "Obviously, I wouldn't have been picked for the band because I didn't fit the aesthetic."
Fitting the aesthetic or not, the show gave Paije a much-deserved career boost as a young artist. Like most contestants who place well on the show, he joined the season's other notable contestants on tour, signed with the show's Modest Management and saw his life change pretty rapidly. "Being 20 years old and getting probably more money than I could handle at the time was a lot of fun," Paije said. "That part was good, but then when management decides to drop you because they're not going to push you, and you see them pushing other people and getting them deals and things like that [is when things changed]."
After The X Factor noise quieted down, and after another unsuccessful attempt at finding a good manager to back him, Paije decided to "manage" himself and learned to secure gigs writing for dance artists. His most recent single, a feature on Hayden James' "Waves of Gold" is nearing half a million streams on Spotify after just a couple weeks of release. But as Paije and John now celebrate their musical successes -- as 1D celebrates a 10-year anniversary -- fellow X Factor contestant Tobias Sumpton is more focused on celebrating his hands-on job as the owner of Sunnyhills of Belford in Northumberland, and singing occasionally while he's filling in as chef.
Tobias says he sometimes thinks back to nearly being in One Direction and that it's made for some humorous conversation over the years. After making it through his first audition in 2010, the then-20-year-old missed his shot at the judge's house after being criticised for his bootcamp performance of Michael Jackon's "Man in the Mirror," which he says he started off-key and couldn't shake. It was an emotional moment for Tobias as he then missed his chance at moving forward in the show, yet looking back, it's hard to ignore who he was standing next to on stage for the song.
"Obviously, I didn't look at him and go 'Oh my God, that's Harry Styles.' He was just a young lad called Harry Styles that was standing next to me," Tobias says. "But he has a really good voice. It's almost as if you feel as though you need to compete with them. But people's voices are completely different. You can't compete with somebody if they have a completely different voice."
Aside from his voice, another one of Tobias' traits stood out to the judges: his 'cheekiness'. So much so, he says, that he may have been a contender as One Direction's sixth member, explaining that he often was included in more side interviews during the competition than the other contestants.
"On the program, [the judges] were talking about forming this group that then obviously became One Direction," Tobias says. "I think Louis said something along the lines of 'Cheryl would really like him, he's cheeky and he's got a little fire behind him.' He could've been talking about anybody but I have a feeling they were talking about me because that's what Nicole Scherzinger said about me. So I have a feeling they were talking about me. It's a running joke in my family that I would've been in One Direction if I hadn't messed up my audition."
And while it didn't work out that way for Tobias, the amount of dishes he prepares a day -- usually somewhere between 70 and 150 -- and the amount of calls he gets during a 20-minute phone interview make it clear that the "Story Of My Life" for him isn't necessarily that he missed out on pop superstardom, Instead he's found it in his own right, living a normal, less exposed life with a wife and daughter.
As John is now finding footing as a solo artist, Paije hopes that anyone looking to be a part of the music industry realise that success can come at any time, even after starring on one of television's biggest singing competitions alongside the world's biggest band.
"If you feel like you're not going to achieve anything after that show or don't have the support or know how to, just keep going and work hard," Richardson said. "Make whatever you want to happen, happen."
Tagged: