How Arthur Kar turned sourcing rare cars into a fashion brand
Having just designed a T-shirt for i-D's DSM collection, the Paris-based founder of L'art de L'automobile discusses the evolution of his vision.
|
11 November 2020, 4:36pm
Courtesy of Alex Brunet
Check out i-D's collection at Dover Street Market to celebrate our 40th anniversary here.
Since his youth in Lebanon, where he worked in his father's garage, Arthur Kar has been car obsessed. So obsessed that the Parisian made it into a career, selling both cars and merch through his brands Kar and L'art de l'Automobile. By combining his passion and know-how for cars with his knowledge of art and fashion, Arthur has created a lifestyle around his collector's items. By constantly seeking the balance between high-end design and the influence of street culture, Arthur aims to share his passion with as many people as possible.
Hello Arthur. Could you introduce i-D to your journey?
My passion for mechanics and cars started almost when I was born. I think it also starts in the environment where you grow up. I hate when people say Ferraris and Porsches belong to the rich… it's easy to say that because
things are expensive and you can't afford them. You don't have to be in a category to own these cars [to appreciate them]. When I had nothing, I was like the kids today who don't have much and who dream of owning something. So I always try to show that a car is like a surfboard or a skateboard: if you want to learn, you can get started.
You started working for Porsche at the age of 16. How did your obvious passion for cars evolve into a career?
When I was young, I started working in my father's garage in Lebanon and that's where I got to know cars and especially Golf. The logo of my brand represents a Golf because I have always had one. I grew up in this car! It's the first one that I liked. I loved cars but I loved basketball, BMX, skateboarding or sports just as much. Everything that inspires me today dates back to those moments of my youth. I've also kept in touch with my friends who I grew up in Épinay-sur-Seine — I continue to see them because it makes me happy and brings back memories. When we left school and saw a Mercedes S-Class pass by, for us it was unparalleled! We all wanted to look like the driver. It inspired us. Then, I was lucky enough to be hired by Porsche at the age of 16 to work in mechanics because we had some financial problems. I already knew cars because I worked in my father's garage. Fortunately, they accepted me, because it really launched my little career and that's where my vision for the art of the car was formed.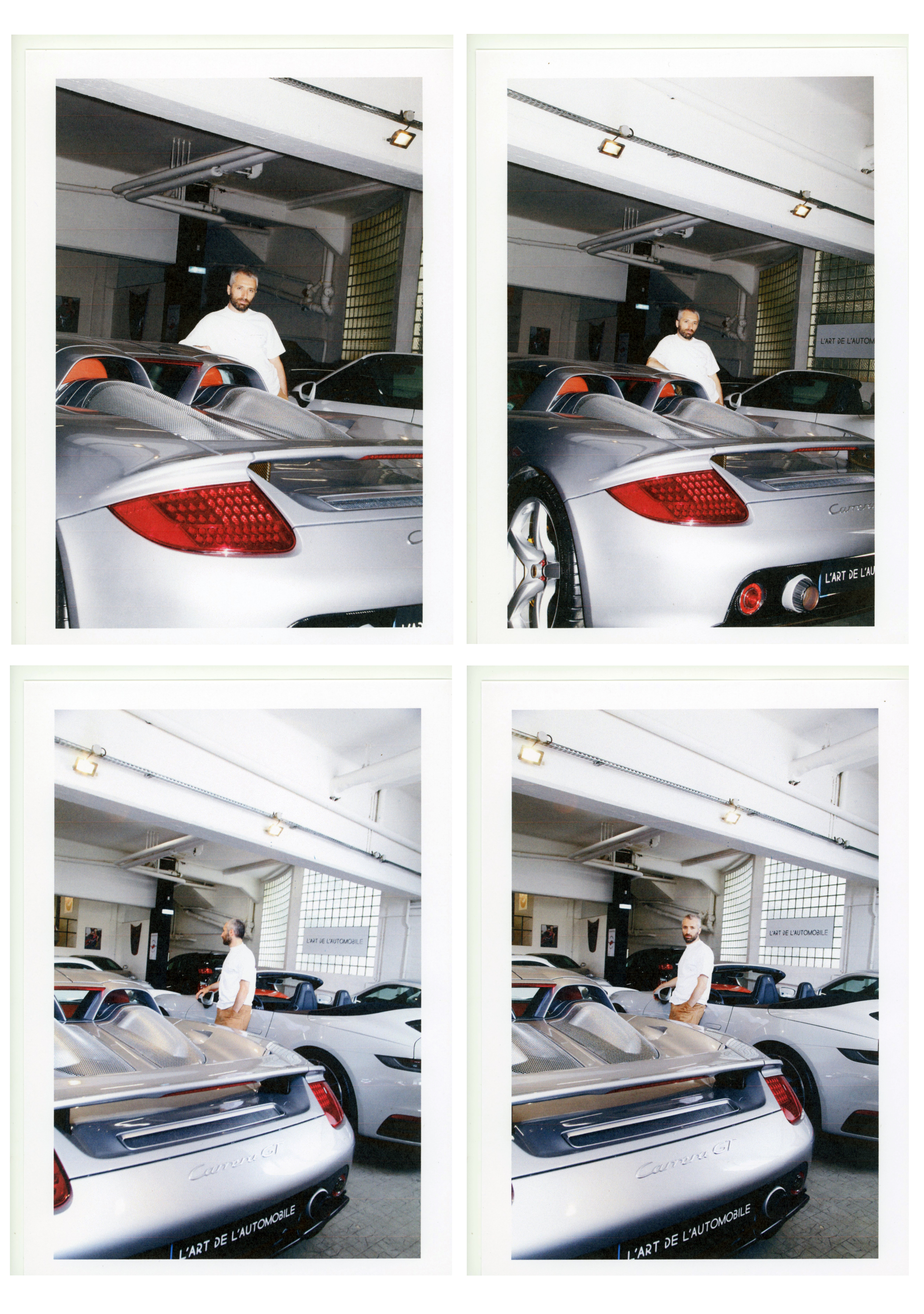 How has this vision been forged over time?
It's a holistic process. Looking at the parents of my buddies who could afford incredible lifestyles around cars; observing the customers who arrived at Porsche with very different tastes, each with their own style; and also by evolving with my friends who worked in fashion. By perceiving how people viewed things, I learned to interpret them in my own way. From the start, I have always had a very clear vision of the automobile. That's why I want to stress the red Golf of my youth: a Ferrari is no better than a red Golf. A car is a state of mind and a style in fact. It's like wearing a white pair of Nike Air Force 1s after all. Depending on the person wearing them, the style will change — some will definitely wear them better than others.
Do you feel like you are part of a generation of creatives? You're often seen attending fashion shows and are very close to the fashion world.
I am in my bubble. Sometimes there are so many things that I would like to do that I just don't do because I don't have the time or because I tell myself that people won't understand. There are so many things I do on my own that I don't post on Instagram. Maybe it could be a hit, but that doesn't interest me, because I'm in my bubble. I am happy to satisfy myself with the things that speak to me and that touch me. I am surrounded by very good designers but I do not see myself as them. I work in fashion discreetly, in my own way. And I work with who I want to work with, rarely with my friends. In 2015, I created my cultural Automobile brand, which is pushed a bit like a fashion brand because we do everything ourselves "in house". Everything is in our shape, with the qualities that we want and appreciate. Even though I attend all the shows and see my friends evolving in this environment, I don't consider myself to be like them. For me, they are geniuses. I try to show that there is something happening through an automotive universe. It can affect you even if you are not interested in cars.
You are very present on social media. To what extent has this played a role in building your brand? Was there a digital strategy from the start?
I have a plan, yes, but we can't do everything, so we're moving forward little by little. I adapted to Instagram and I realised my plan for the world of L'Art de l'Automobile when I started the brand. But what I do on a daily basis does not necessarily correspond to an advanced plan. I adapt first to what I feel. I then do it and if it works, so much the better. If it doesn't work, too bad. But anything related to the image and creativity behind L'Art de l'Automobile, I really created in 2011.
If you had to identify a defining moment in your career, what would it be? A moment when you realised that you were turning your passion into a business?
I always believed in what I did, even though they tried to slow me down, in every sense of the word. Former bosses and people who were ultimately "corporate" tried to disconcert me, but that's also when I realised that I had something that the others didn't have. When you sell a car you've always wanted to sell, or when you buy a car you've always wanted to buy, these are good times. But in my opinion, there's nothing better than when you move forward with your vision and what you have in mind. What I like is breaking down barriers and borders. I could never have imagined at the time having an L'Art de l'Automobile clothing brand at Dover Street Market.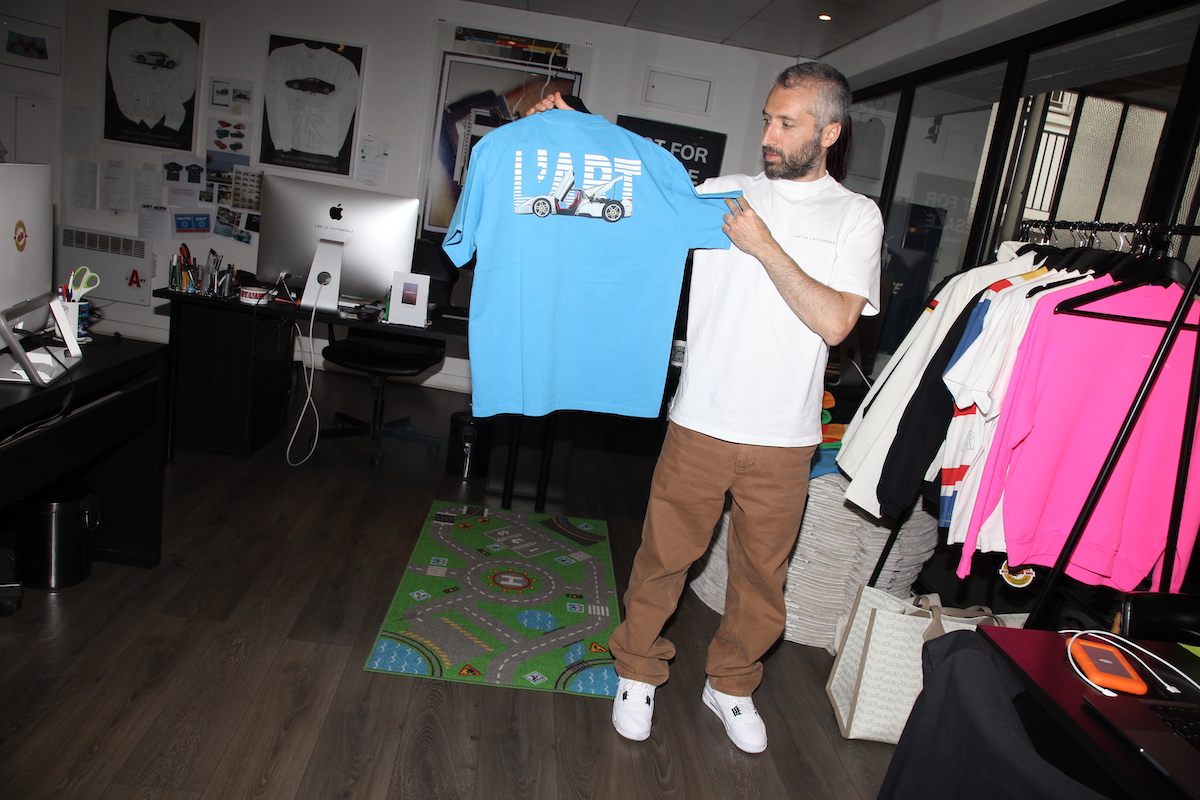 You launched the fashion side of L'Art de l'Automobile in 2011, what was the trigger for you to embark on this new adventure?
By observing my friends and other young people I like, I realised that there was no one wearing anything related to automobiles. I looked at all the existing car brands and realised that I didn't even have anything from that universe in my wardrobe myself. I had lots of beautiful fashion pieces by designers, even skate brands… but the few pieces I found by car brands were often poorly cut.
It was after this reflection that I created my brand. I told my team that I was going to stop consulting all over the place and that I was going to create a project for us. At first, I thought I would do it for fun and see what it would be like. I created the first L'Art de l'Automobile logo in 2011 and put it on a T-shirt for the team. Very quickly, people started asking about it. Then we put it on the website and it sold very well, so we decided to make it a brand. We were lucky to have stores like The Broken Arm in Paris, which immediately supported us and brought us to where we are today.
You have several roles that you work across simultaneously. What involvement do you have in car sales these days?
I have other people who sell for me. I have been selling cars for a long time and still carry on when it is fun, but I am more focused on the brand now. I still want to drive, use and live with the cars though. What I prefer is to sell cars to a friend or to a client that I really like and who has trusted me for a very long time. It's all a matter of trust.
But I imagine you are still sourcing models for customers looking for specific cars or collectables?
Yes, and I enjoy doing it. But now that I have this reputation and that people know of L'Art de l'Automobile, when I call people who have these specific cars, half the time they put the price up because they know it's me. It's fun to hunt for cars, but these days I'm really driven by anything creative. I would like to open L'Art de l'Automobile stores all over the world so that people can experience the brand and be reminded of precious moments without necessarily having these cars themselves.
During lockdown in Paris, you branched out once more by delivering food for Circus Bakery. What impact did this experience have on you, on your vision of business and life in general?
My friends at Circus called me and asked me to lend them a car because they were running a website to deliver food. I told them that I was doing nothing because of the confinement, so I suggested that I make the deliveries myself. I had delivered sushi after my job at Porsche when I was young, because some friends ran a small restaurant in the 16th arrondissement. I'd do deliveries with my own scooter and ate sushi in the evening. So I thought to myself, why not do it again?
I was happy to help people in need. Everyone had a very good reaction when they saw the delivery people arrive in either a Porsche, electric Fiat or 4x4. I enjoyed doing it because I knew I was going to make people smile. I even handed out bread to firefighters or police officers that I passed out of sympathy. There really was a special energy!
What are your plans for the future of L'Art de l'Automobile?
There are lots of great things to come, but what excites me the most is opening the L'Art de l'Automobile café and store. I want to create places where people enjoy meeting and which become a part of their life.