Photo by Richard Johnathan Miles.
Moscow artist Kate NV makes fantasy music for the future
Kate Shilonosova's new album 'Room for the Moon' features spellbinding pop that eerily predicted our new reality.
Photo by Richard Johnathan Miles.
Like many of us, Kate Shilonosova had plans. She was going to release a series of singles and videos, followed by her third album Room for the Moon, and then go on tour with her band. But then the coronavirus pandemic struck and suddenly all plans were rendered obsolete.
Ironically, one of those singles was titled "Plans." It ruminates on "how everything constantly collapses and changes" and "that it is impossible to plan everything," Shilonosova wrote in a statement for its release.
"We filmed the 'Plans' video in December, and it has nothing to do with coronavirus and the crazy news that we have every day, but it became even more relevant, which is insane! I still cannot believe it," Shilonosova says over the phone, calling from her apartment in Moscow, Russia.
"I had a plan to sit at home the whole of March and April and edit videos, and maybe make some new music. Then the pandemic happened and I was like, 'What?!' It's like, I wanted to do that, but not like this! This is too much!" she laughs.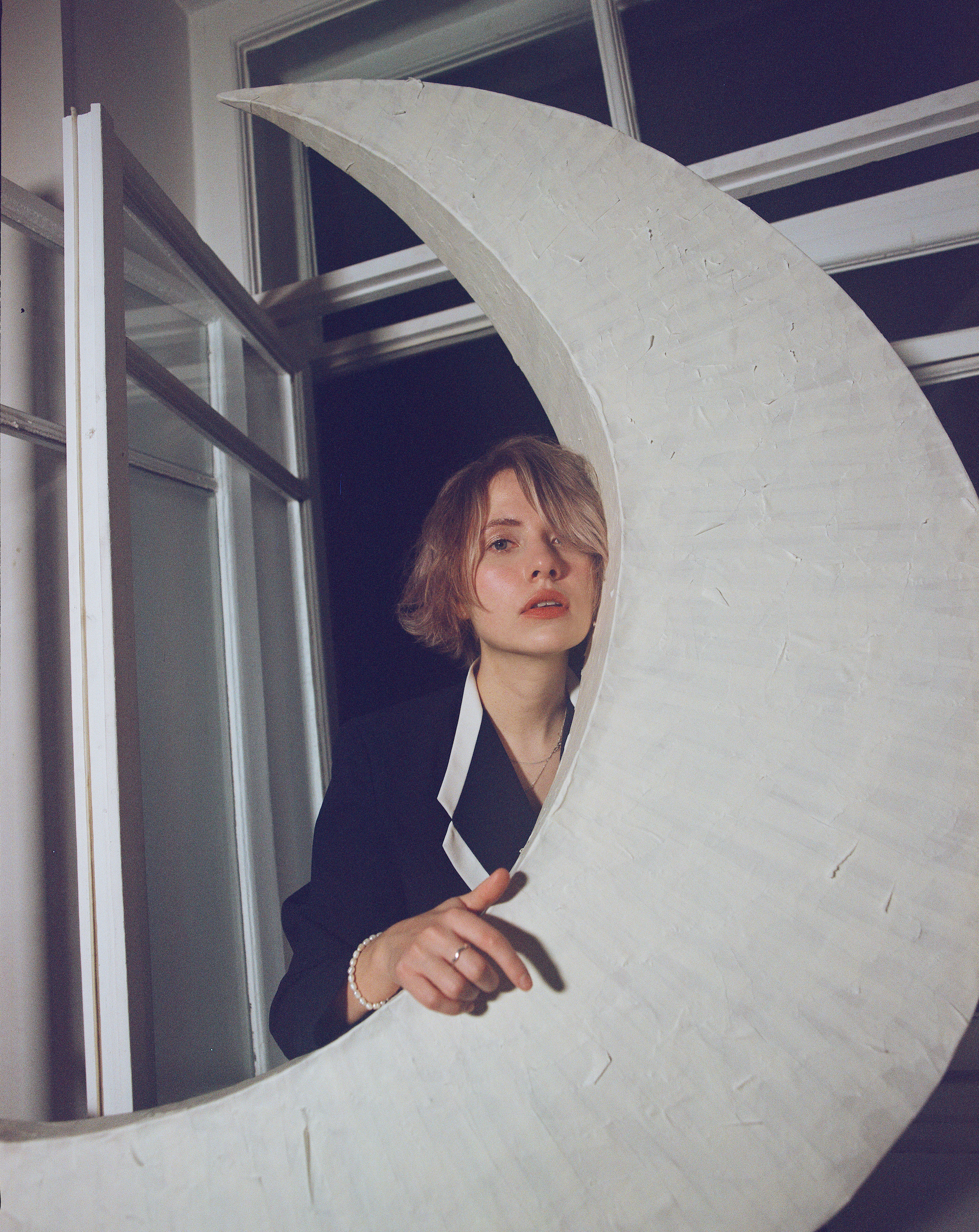 Fortunately, she had already written and recorded Room for the Moon, an eclectic and playful pop album that draws inspiration from Russian and Japanese pop music, and films from the 70s and 80s. Shilonosova sings in Russian, French and English, her voice soaring over slick, spindly post-punk bass lines and spare percussion. It sounds retro and futuristic at once.
Room for the Moon is also heavily inspired by Viktor Pivovarov, one of the leading artists of Moscow's Conceptualist movement in the 70s, and the kind of radical, childlike imagination that we can grow and then lose as we come of age. "I know that in English, 'Room for the Moon' means more like 'a space for the Moon,' but the idea was more like 'the room for the Moon,' like, the small room I'm sitting in right now!" she laughs.
"I compare it with kids' movies from the 70s and 80s because they also create a very fantastic world using very simple stuff, like a sponge or paper," Shilonosova continues. "It's all about imagination, and allowing yourself to be like a child and see magic in stuff… and creating something very big, but at the same time in a very small thing."
She says this way of thinking is especially relevant to quarantine, when you often have to "find something fascinating in very simple stuff, because sometimes you forget how interesting and beautiful the world is."
Shilonosova's own quarantine wasn't filled with the creativity or productivity she had hoped for (again, like many of us). She admits, "I just couldn't relax for the first three or four weeks, it was so stressful and uninspiring!" But she found unexpected joy in TikTok. "I know that lots of people struggle with TikTok because they see shitty videos, but my feed is awesome. I have a good laugh every time I open the app."
She also became enamored with watching The Tonight Show Starring Jimmy Fallon ("It became so sincere! It made me feel calm"), and the apocalyptic anime Neon Genesis Evangelion. "It's about the end of the world, basically!" she says. "The story is very dark. But it's about finding some kind of a harmony within yourself, which is also kind of what quarantine was about. It really helped guide me through the first part of the lockdown. I think everybody should watch it."
Shilonosova says Moscow never officially introduced a quarantine like other countries. "Our government is very scared of the word itself… Putin never said 'we're in quarantine' -- they called it 'the holidays.'" she laughs. Nevertheless, Moscow enforced strict boundaries. "We actually still need permission to go out," Shilonosova says. "I mean if you walk, it's fine, no one's going to stop you. But you have to get a QR code if you travel somewhere far and take a taxi. If you get caught by the police and you don't have this permission code, [the fine] is 4,000 rubles, which is like 60 bucks [USD]." The country has since lifted these restrictions, even though life for many—there and elsewhere—continues to feel in limbo.
Artists like Shilonosova are used to having to adapt to extreme circumstances. When she released Room For The Moon on Friday, she wrote on Instagram: "I finished this record during the loneliest period of my life. I had my own self-isolation moment a year ago and I had to figure out how to be alone. So these songs are now really my closest friends."
The songs are dark and twisted, much like our current reality, but Shilonosova's delivery provides glimpses of light. Many artists like her are now finding their long-practised resourcefulness and imagination come in handy. Another video Shilonosova made pre-lockdown, for "Sayonara," also feels eerily relevant to this time in our lives. The black and white clip is modeled on "dance test videos from the 70s." It depicts Shilonosova by herself, doing what she calls "vogue-miming," twisting and contorting her limbs in an effort to entertain herself.
She filmed the video with a friend in Malmö, Sweden, where they had gone to make another performance she describes as using ordinary objects from the kitchen to tell a dramatic story. "For instance, a boiling kettle could look very dramatic in a spotlight. When you put something on a stage, it immediately becomes bigger than it is in normal light. We were trying to draw people's attention to simple things," she explains. "It's basically what everybody's doing now, because they're spending a lot of time with themselves, at home, and they're trying to find beauty in simple stuff."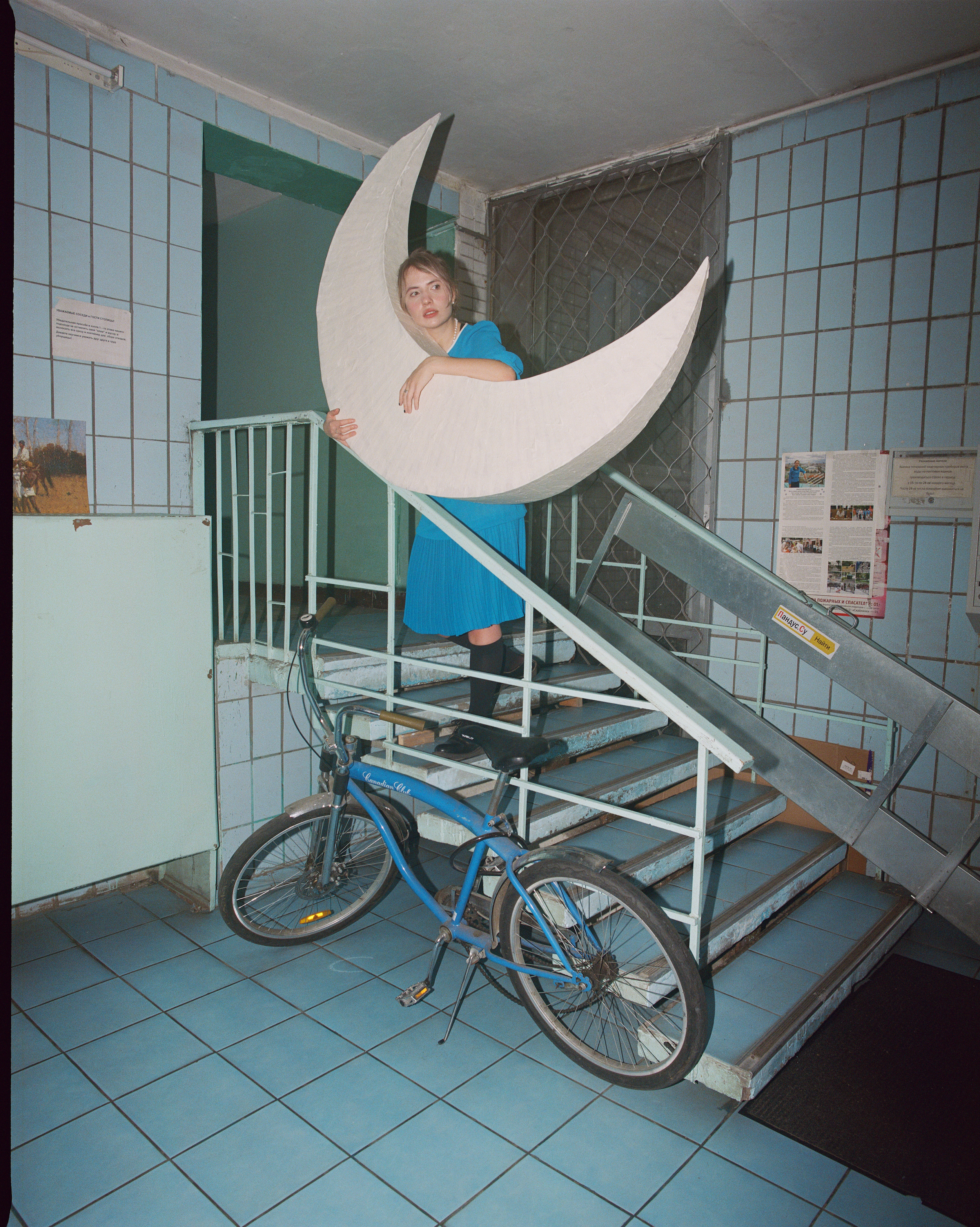 Back in October, Shilonosova performed this "vogue miming" on the streets of Moscow. "It sounds very weird, but my friend is a clown, and we decided to perform a few tracks together," she laughs. "We just took a speaker and I grabbed my mic, and we went into the center of the city and performed a few songs from the record. I remember the kids on the street got very excited about the whole thing, because we actually looked like clowns! We had this makeup on our faces, and funny outfits."
She had intended to perform on the streets again this spring. But that, like a lot of other plans, will have to wait. "We can't do it, because we'll get arrested, definitely. There are no people on the streets. I mean, we can do it for birds?" Shilonosova laughs. "But we still cannot go to the parks, or the playground. They put police tape up in every playground in Moscow."
For now she'll have to stay home with her friends, her songs and dream up new landscapes to play in.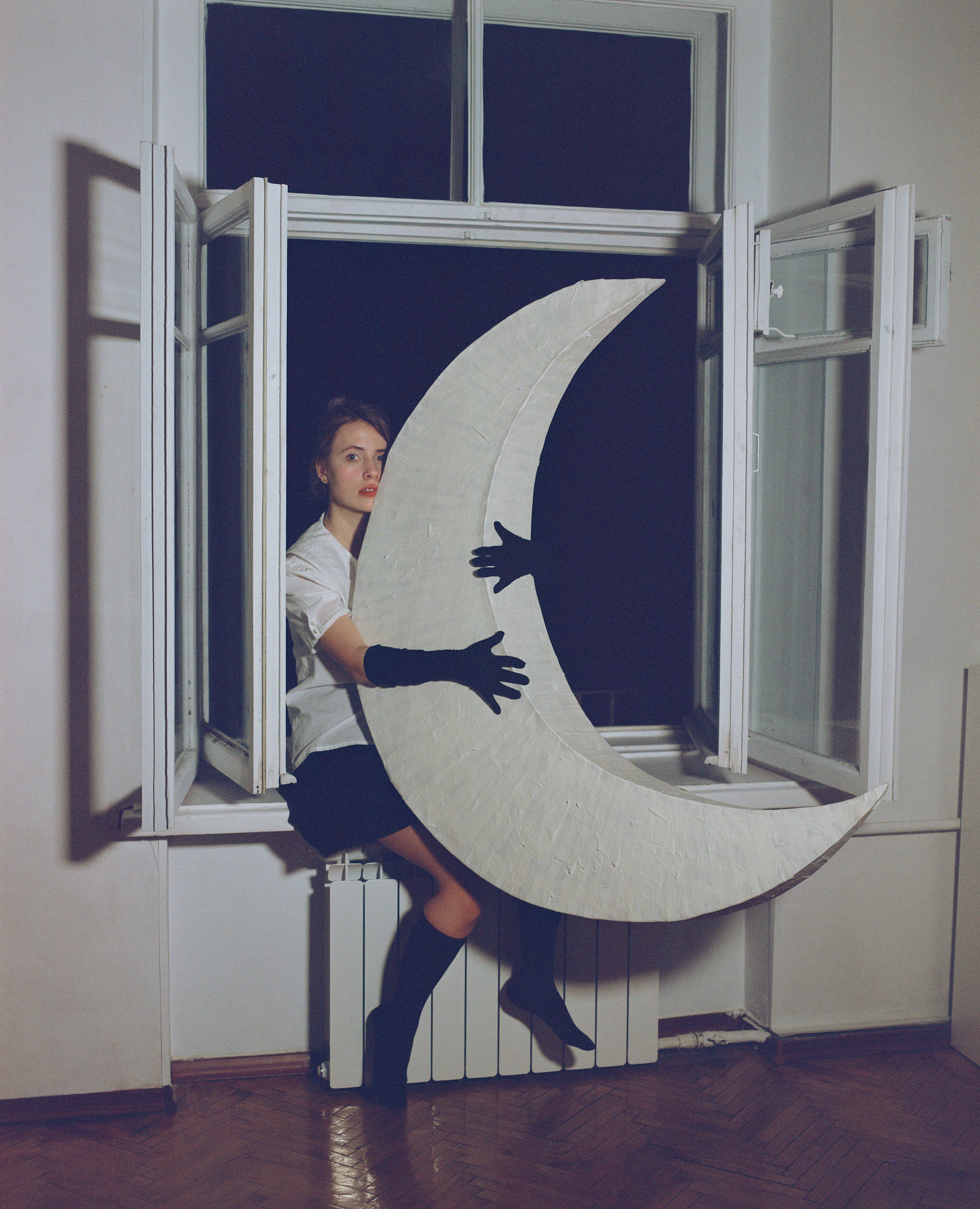 Room for the Moon is out now.