Photo by URLI/Gamma-Rapho via Getty Images.
7 of Isabelle Adjani's most iconic outfits
From horror movie dresses to bombshell looks, Adjani's looks are as eclectic and enigmatic as the French actress herself.
Photo by URLI/Gamma-Rapho via Getty Images.
Was there ever an actress as enigmatic as Isabelle Adjani? The prolific and endlessly acclaimed French star exists beyond the cliché Français "je ne sais quoi." From her films to her style, she is utterly un-pin-down-able. Adjani holds the title of France's most-decorated actress -- she is the first and only actor to win five César awards (the French equivalent of the Oscar). Although a mega-star in her home country, Adjani has maintained a singular mystique throughout her career, namely for her refusal to conform to the conventional movie star persona. In the 80s and 90s, she gained notoriety in the press for avoiding interviews and photographs at prestigious industry events such as Cannes Film Festival and the Academy Awards. In 1989, she accepted her third César Award by reciting from Salman Rushdie's The Satanic Verses. And, to add to the enigma, Adjani's oeuvre is as eclectic and unusual as the actress herself. While known for her dramatic roles -- frequently the ultra-tragic heroine (Adèle Hugo, Camille Claudel, Queen Margot) -- the actress has transformed into an alt-horror scream queen (Possession), a bratty seductress (L'été meurtier), the neighbourhood kook (The Tenant) and more. Here, i-D takes a look back at Adjani's life and style through a selection of her most memorable and eccentric looks.
At the Jardin du Palais Royal in Paris, 1973
Now immortalized in the annals of Instagram and Tumblr moodboards, this photo series of Adjani was taken to commemorate the actresses' entrance into the Comédie-Française, France's oldest and most prestigious theatre company. Adjani joined the troupe at the age of 17 and, at the time, was the theatre's youngest resident. Despite her age, Adjani gained huge acclaim for her performance of the classics. It's no wonder that these press images, Adjani sitting by a fountain in one of Paris' many tree-lined parks, have become touchstones of the virtual fashion community. They embody that perennially covetable Parisian look: oversized velvet jacket, boyish straight-leg trousers and long mussed hair.
In Possession, 1981
Adjani's most famous -- and divisive -- role arrived in 1981, in Andrzej Żuławski horror-divorce drama Possession. Adjani's electrifying portrayal of the film's protagonist, Anna, cemented the actresses' virtuosity in the field. And nowhere is this demonstrated more than the film's iconic subway scene. No holds barred, Adjani storms through Berlin's metro tunnels, cackling, wailing, seizing, staring wide-eyed, oozing blood and all sorts of bodily fluids all over Anna's signature blue polyester dress.
At Cannes Film Festival, 1981
Although Possession was universally panned by critics, Adjani won the Cannes Film Festival Award for Best Actress -- her first major award as a film actress. The 1981 event marked the beginning of Adjani's eccentric-chic red carpet looks: a white puff sleeve dress topped with a sequinned crown.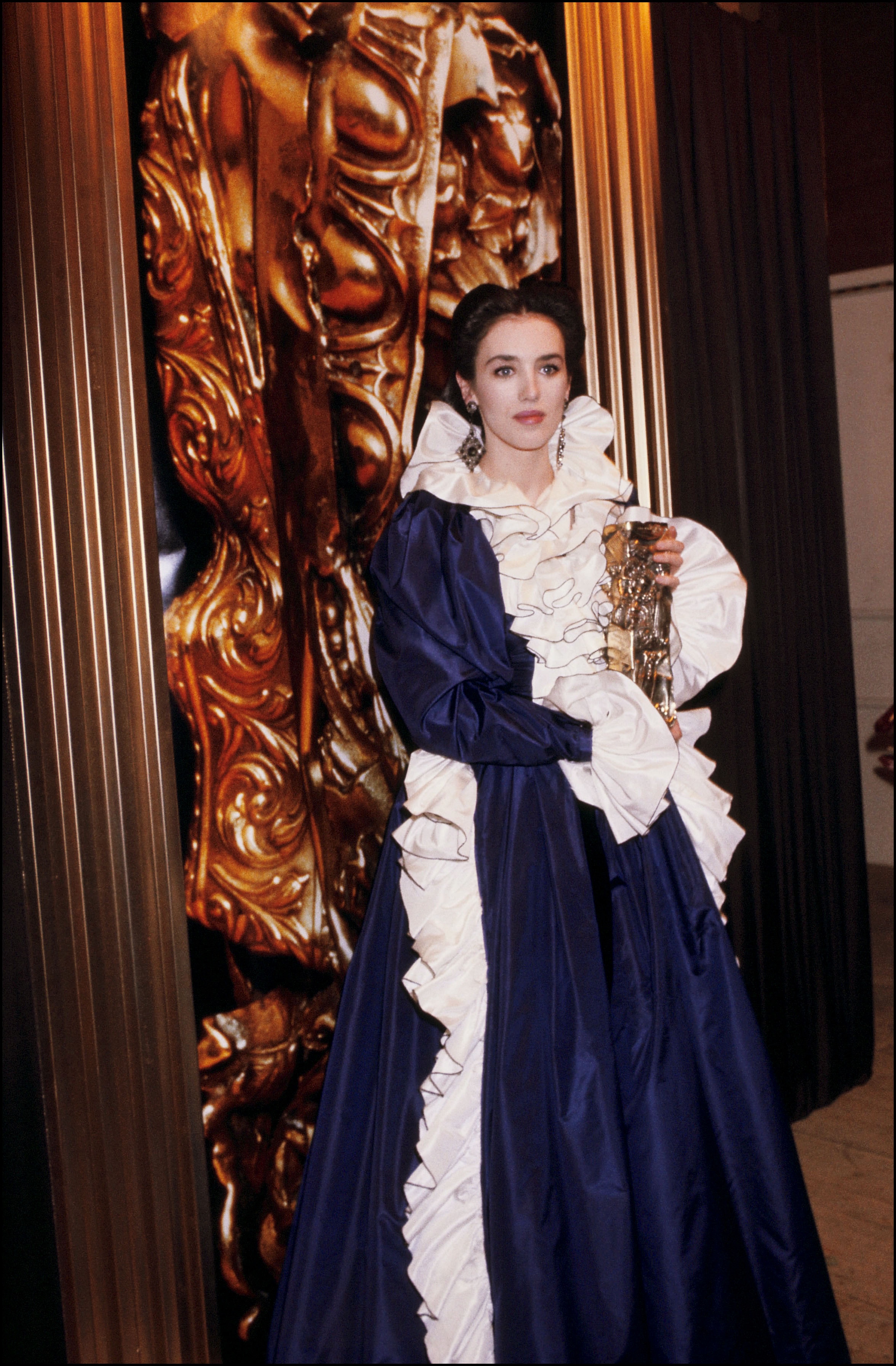 At the César Awards, 1982
Isabelle Adjani is the only actor in history to win five César awards, the first of which she won in 1982 for her turn in psychological horror Possession. French film royalty that she is -- or that she would become -- Adjani pulled all the sartorial stops for her César acceptance that year. In a move prescient of the myriad period dramas she would go on to star in (or perhaps in homage to her royal blue Possession dress), Adjani wore a sweeping navy taffeta gown with Victorian-style ruffles up to the chin.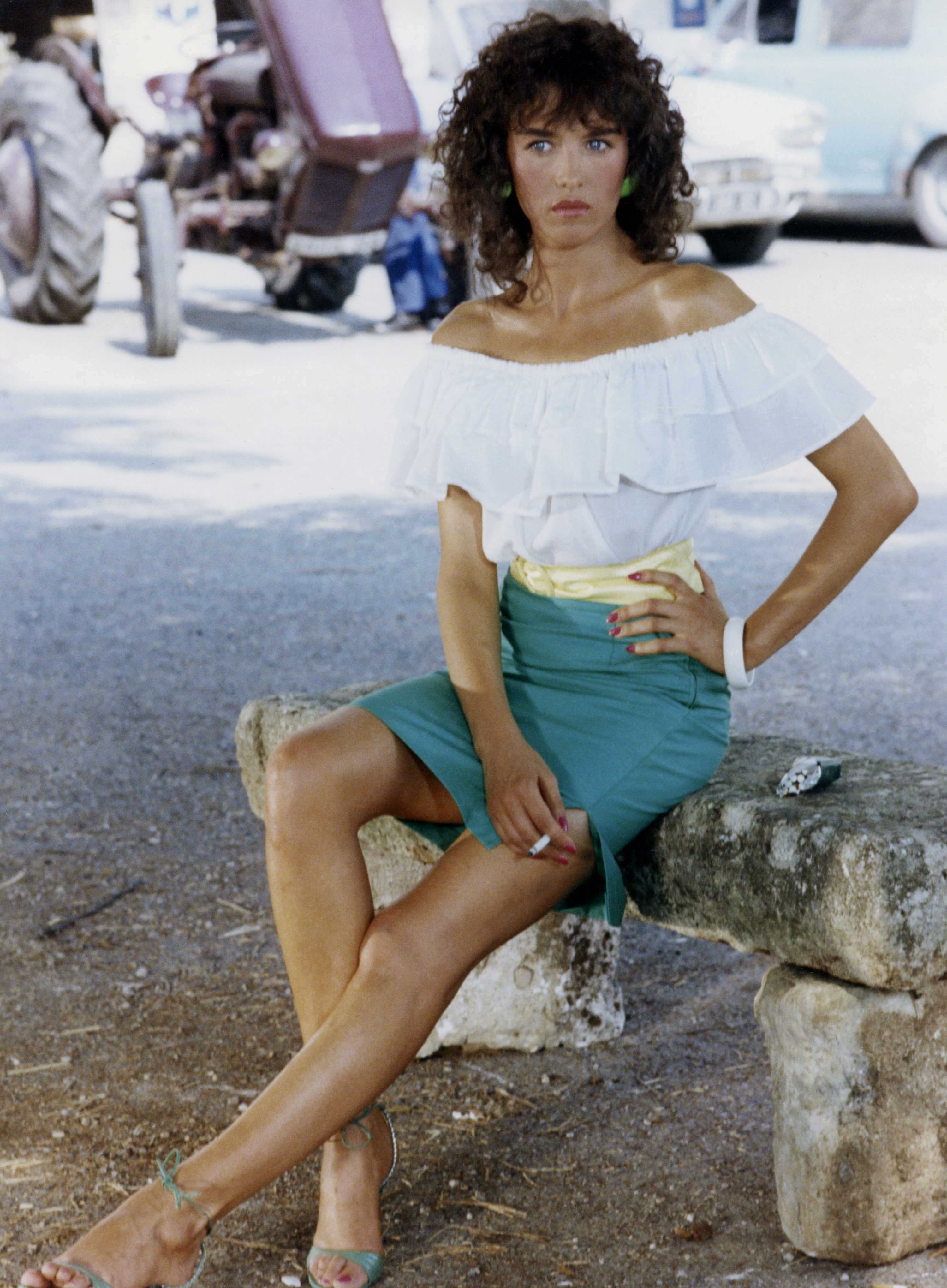 On the set of L'été meurtrier, 1983
While Adjani is best known stateside (or on the internet) for her performance in Possession, the actresses' most famous role within her native France arrives in 1983 blockbuster L'été meurtrier. In the erotic thriller, Adjani plays Elle, a young woman who, upon moving to a small town, causes a stir with her aloof sexuality. Elle's bombshell attitude comes across in the film's colourful costuming: red ruffled minidresses, denim hot pants, ruched bikinis and this off-the-shoulder number.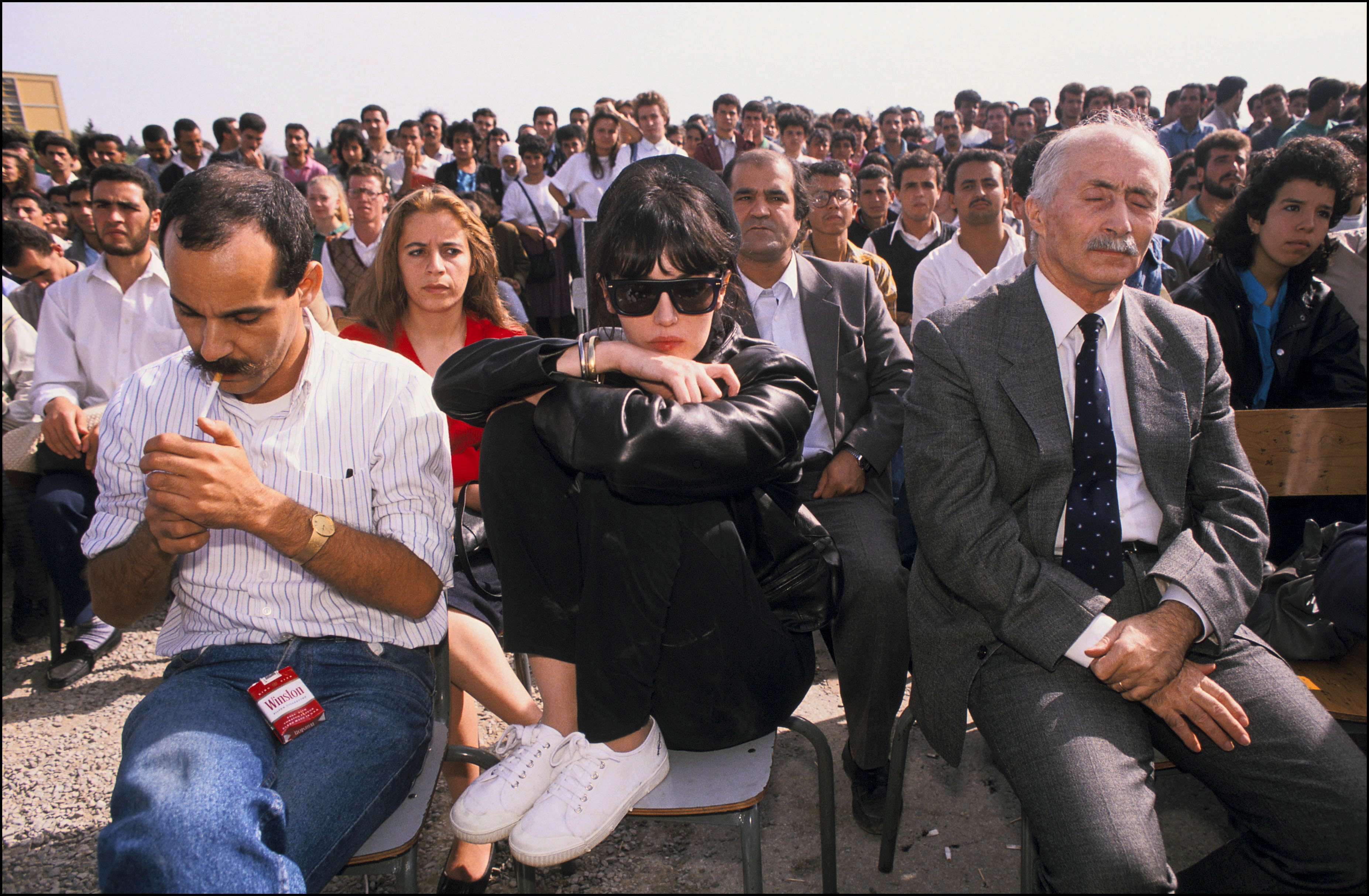 In Algiers, Algeria, 1988
Born to an Algerian Kabyle father, Adjani has been outspoken against anti-Algerian and anti-immigrant sentiment in her native France. Throughout her career, she has staunchly supported Algerian rebel activities and fought racism against North African immigrants in France. In the wake of the 1988 October Riots, Adjani visited Algiers to support and speak with students and activists about the country's referendum on constitutional revision, which would, effectively, introduce democratic reform. Most recently, Adjani criticized France's 2016 burkini ban.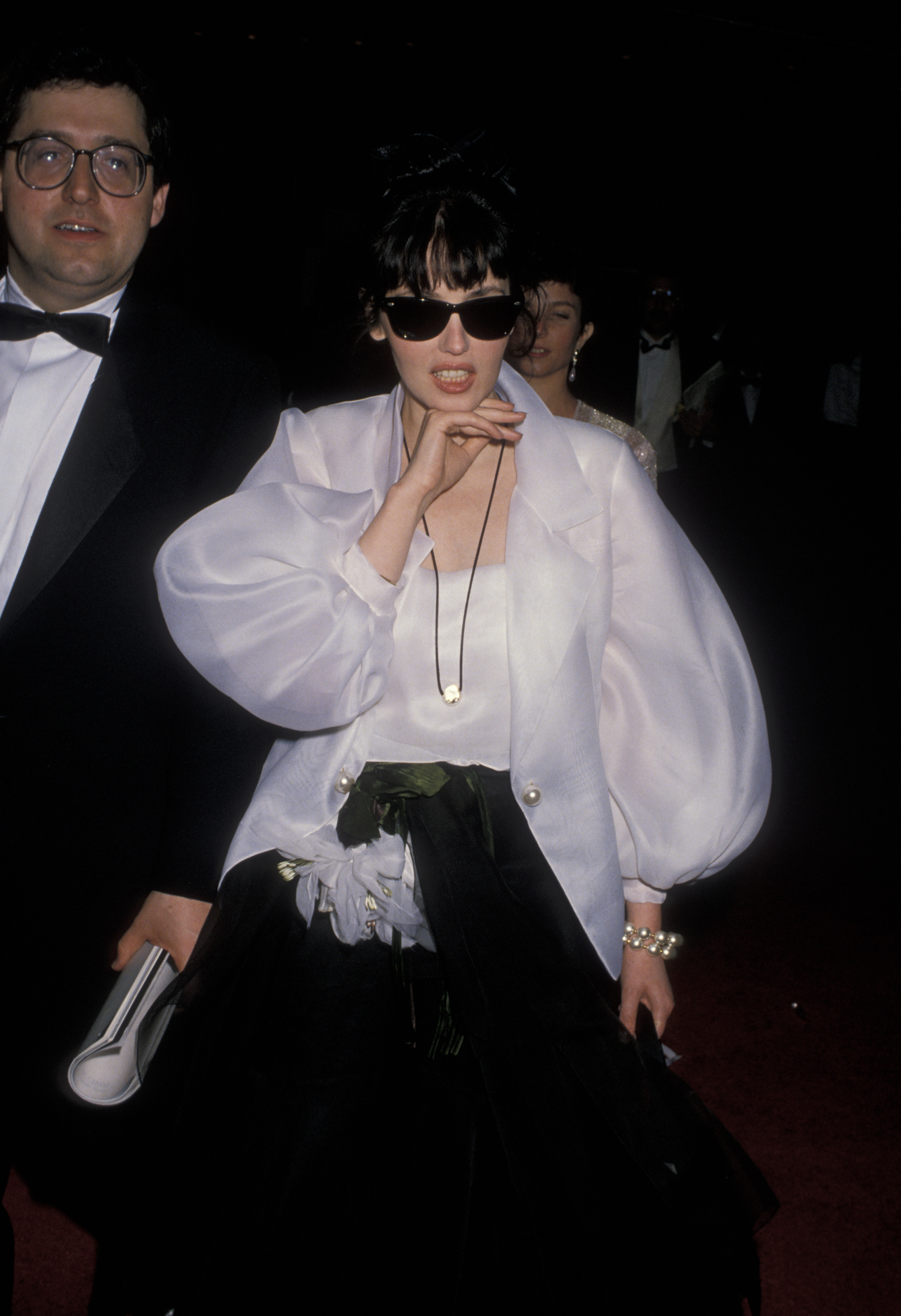 At the 62nd Academy Awards, 1990
Notoriously press-shy, Adjani all but skipped the red carpet at the 62nd Academy Awards, where she was nominated for Best Actress. From the few photographs taken of her at the event, Adjani wore a very late-80s organza twin-set with a sweeping skirt. The centerpiece of this fit, however: Adjani's signature shades, perfect for evading the paparazzi. The actress wore a similar pair to the 1983 Cannes Film Festival, where she drummed up controversy for refusing to be photographed or interviewed for the press.