Troye Sivan, BTS and every brilliant track that dropped this week
Rap, K-pop, hardstyle, a cross-continent girl group and ambient electro – this week's playlist contains multitudes.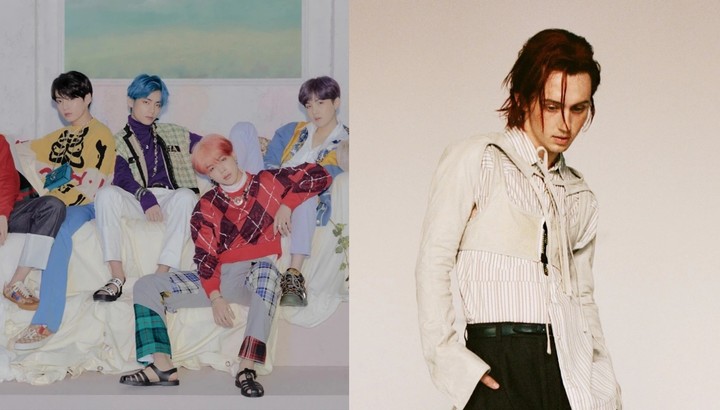 God, what a week, eh? We finally got some rain after moaning about it for a bit, and then we moaned about said rain. Politics? A shambles. Ms Rona? Still here. The music industry? Well, she's always been a bit chaotic, hasn't she? But at least the fruits of her tumultuous labour are sweet. This week, unsurprisingly, is no different. And our new music playlist contains every good thing that it's produced.
Troye Sivan has done a 180 from the lovelorn days of Bloom to create a bombastic heartbreak EP in the form of In A Dream, the Wham!-esque title track of which heads up this week's playlist. In other news, BTS have made the almighty pivot to performing fully in English with "Dynamite", the video for which has already racked up tens of millions of views in a matter of hours. Joining them is TWICE, who've dropped the English language version of their MNEK-produced bop "More & More".
The rap world is tided over by a collab from the holy trinity Headie One, AJ Tracey and Stormzy, titled "Ain't It Different". It's the title track from Headie's forthcoming album, the release date for which is still pending. Kojaque also made a rap splash with his Colors session debut of "Shmelly". The 25-year-old Dubliner has more new music coming soon.
What else, what else… oh! There's a PC Music one-two punch with new material from Danny L Harle (hold on to your hats for that one) and A.G. Cook. Some nice new revamps from Omar Apollo, who's enlisted Bootsy Collins to help remix his track "Stayback", and Carly Rae Jepsen who just decided to drop an old Japanese B-side from the pop perfection that is Emotion on worldwide streaming services. Mariah Bloody Carey has also revealed an old tune with Lauryn Hill that she's just been holding onto for a decade or two. As you do.
But there's also a bunch of really lovely brand new stuff. 14-year-old singer-songwriter Pilar Victoria could be bedroom pop's new maestro with her floaty and sweet "Space Song". Oh, and London Grammar are back after a years-long hiatus with "Baby It's You", which, much like that "Hey Now" remix that popped up in Normal People, is destined to soundtrack snogs on dancefloors when that stuff's allowed again.
All that and more (can you believe?!) below!