KidSuper's Colm Dillane is Brooklyn's most enigmatic streetwear designer
The young creative tells us about his first major collaboration with Puma and the importance of community.
Photography Paul Phoenix
When I arrived at the KidSuper studio the first week of August, Colm Dillane, the streetwear label's founder, answered the door wearing slides, ankle-cut Puma socks, a T-shirt and long basketball shorts. His curly hair was splayed across his head like he'd just woken up. Dozens of cardboard boxes and racks lined the walls. And a few altered Barbie dolls dressed in KidSuper couture were tucked into the corner of the room. Colm says he's experimenting with a few mediums outside of clothing — videos, claymation, painting — and his workspace is a testament to this. Whenever you ask Colm what he's been up to, he always lists something new.
The Brooklyn-based creative was in high school when he first conceptualised KidSuper. Ten years later, the label has become a cult-favourite amongst New York City creatives. He's lauded for his playful take on streetwear with references to folk art, soccer motifs and vibrant graphics. KidSuper's upcoming collaboration with Puma, the first major partnership for the burgeoning brand, features a full range of colourful footwear and clothing riddled with Colm's signature doodles. It all came together spontaneously, like much of his work.
When fashion week went digital last month, forcing designers to find new ways to present their work in a COVID-19 world, Colm reimagined over 20 Barbie Dolls as his dream models. Travis Scott, Andy Warhol and Bernie Sanders walked the virtual runway as Queen Elizabeth and the Obamas looked on from the front row. Colm's fantastical approach showcased his eclectic designs and what seems to be his mantra — you don't always have to take yourself so seriously.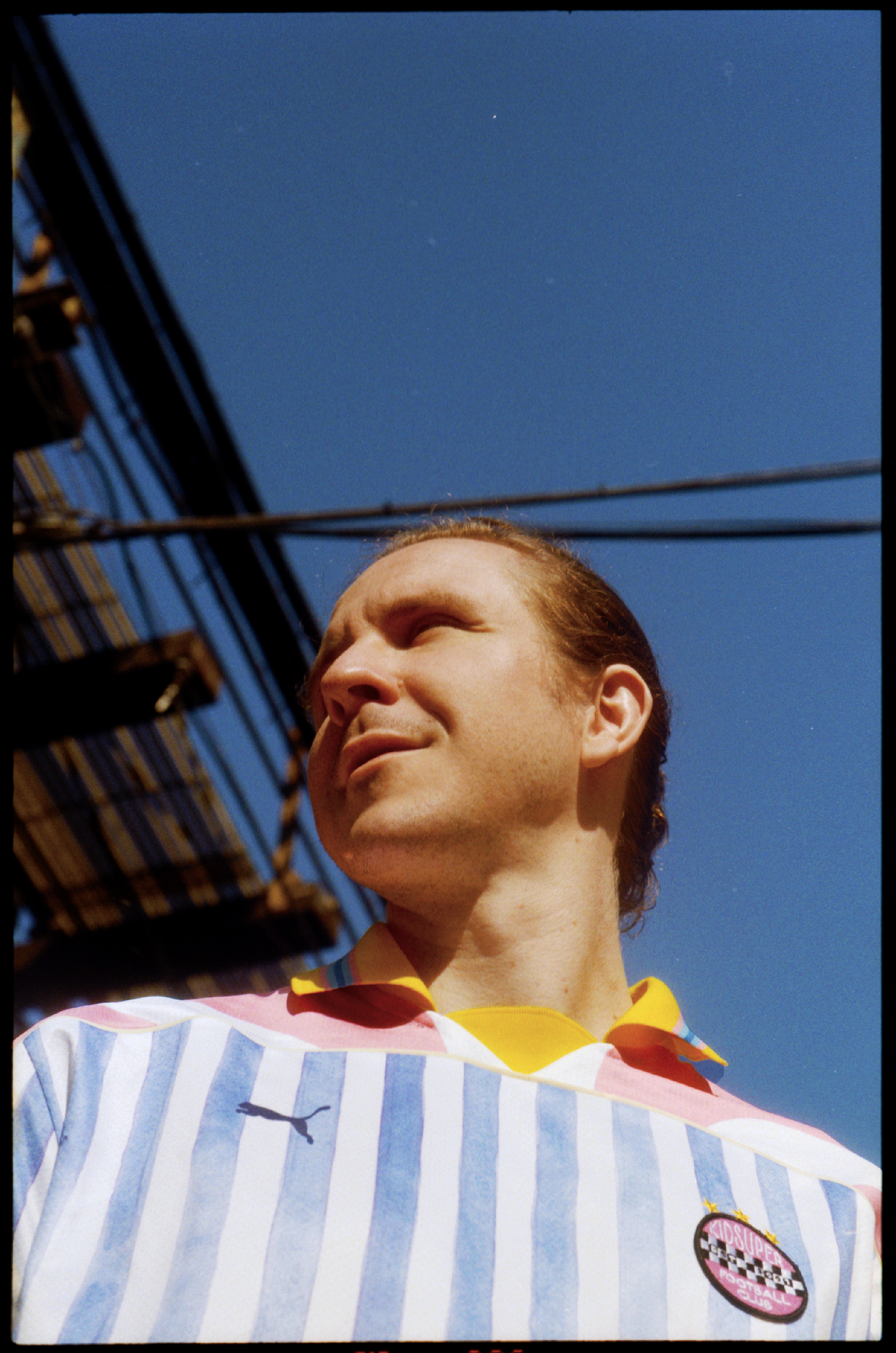 More than the clothes though, KidSuper succeeds because of the people he surrounds himself with and the community the brand is helping to build. The physical studio has acted as a creative incubator of all sorts over the past few years. Lolo Zouai and Russ are just a couple of the artists that have spent stints living in the KidSuper space as they were starting out.
As Colm and I speak, Ak The Savior from the hip-hop duo The Underachievers pops by the studio. He and his rap partner Issa Gold were among the first to support the KidSuper brand years ago, sporting the looks onstage and in music videos. They helped introduce the label to fellow New York artists from A$AP Mob to Pro Era. Now, everyone from Young Thug to DaBaby can be seen sporting his clothes.
As Ak explains how he met Colm, the Brooklyn-based producer from Pro Era, Chuck Strangers, walks through the door. Colm and Chuck hadn't seen each other in eight years but embraced like old friends. Meanwhile, rapper Kenneth Cash was trying on KidSuper fits for his upcoming music video. It's all a day in the life of KidSuper.
So, how did KidSuper evolve from a hobby into a brand?
Colm Dillane: Since I was from New York, so many people had a brand. [Everyone] had always been like, 'Let's start a brand.' Even in high school, there were kids that had brands. And you heard of Mishka and Supreme and 10 Deep and all these streetwear brands. That was actually the saving grace for me as a creative. The ability to brand everything. I would do an art piece and it would be branded. I would do a video, gallery, branded.
I think I'm the next generation or two generations after a lot of those brands. I'm still at that age where my personal style is the same as...
[Ak The Savior walks in]. That's one of the first people to ever support me. Ak from The Underachievers.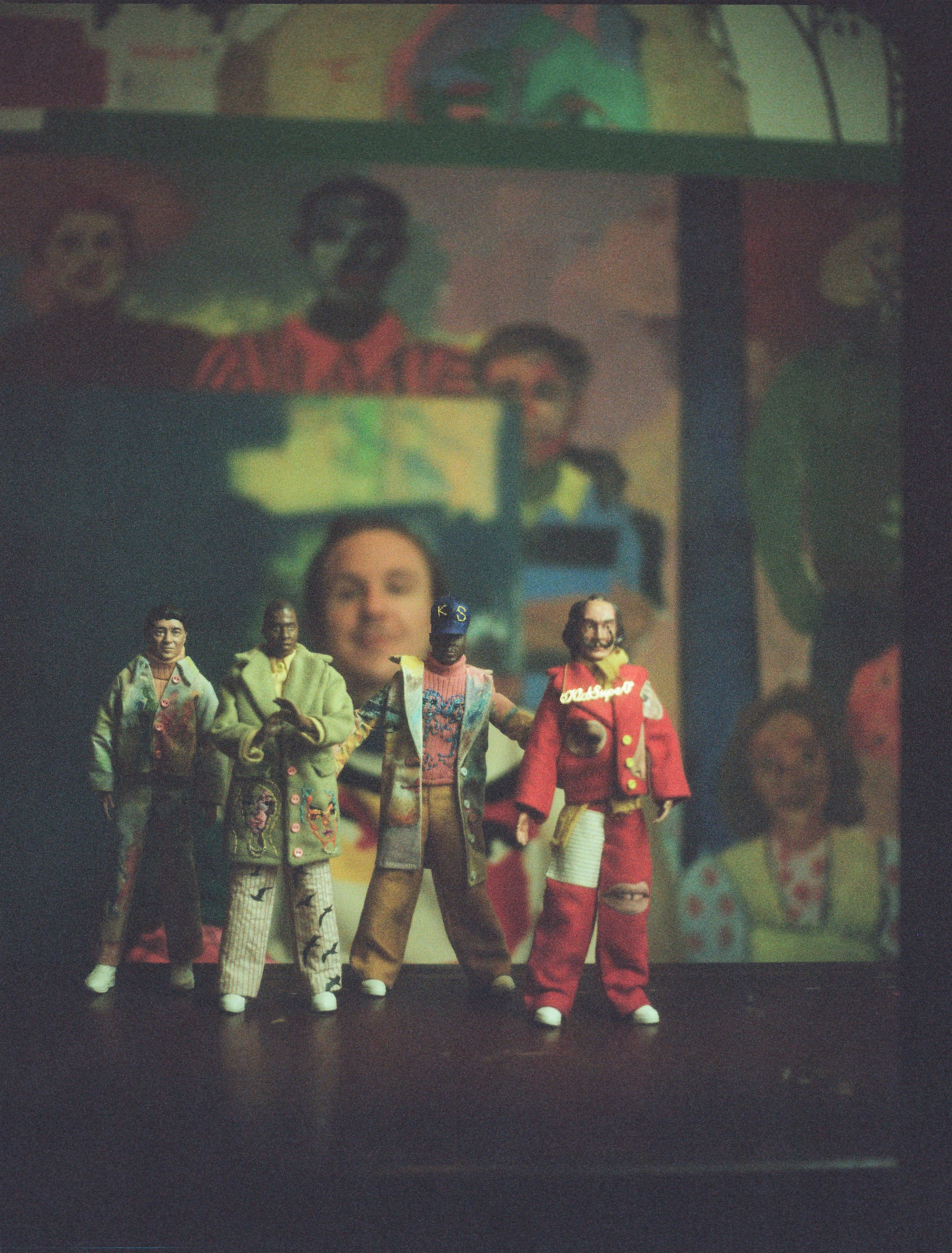 How did you guys initially meet?
Ak: When we came out as The Underachievers, we were super spiritual, psychedelic people — still are. [Colm] was really connected with that. He used symbols that we were fucking with in our videos [like] Hanuman, a spiritual deity.
CD: This is hilarious. Big picture, I'm not even that spiritually aligned. My parents had moved since I was born. High school was the four years where I got to stay in one place, but before that I had moved literally every two to three years. My parents moved [to India] senior year of high school, but I was still in New York. I'm like, 'Mom, I'm doing all this clothing, can you send me some fabrics?' My mom sends me a box of these Indian gods on T-shirts, and the graphics are beautiful.
Ak: When I first seen that shit, I was like, 'Man this is perfect.' It was a black shirt with the Hanuman across.
CD: Then, at that exact time, [The Underachievers] were just starting, too. How did you guys get into that?
Ak: Issa put me on. I was always a spiritual person, so I was always into Buddhism and shit like that. Positive energy. I was reading books. We started watching Spirit Science and that's where we some of our knowledge. That was exactly the time I met you.
Colm: I had these [T-shirts] and it was kind of magical because I didn't plan to do this, they didn't plan for me to do this.
Ak: Organic shit.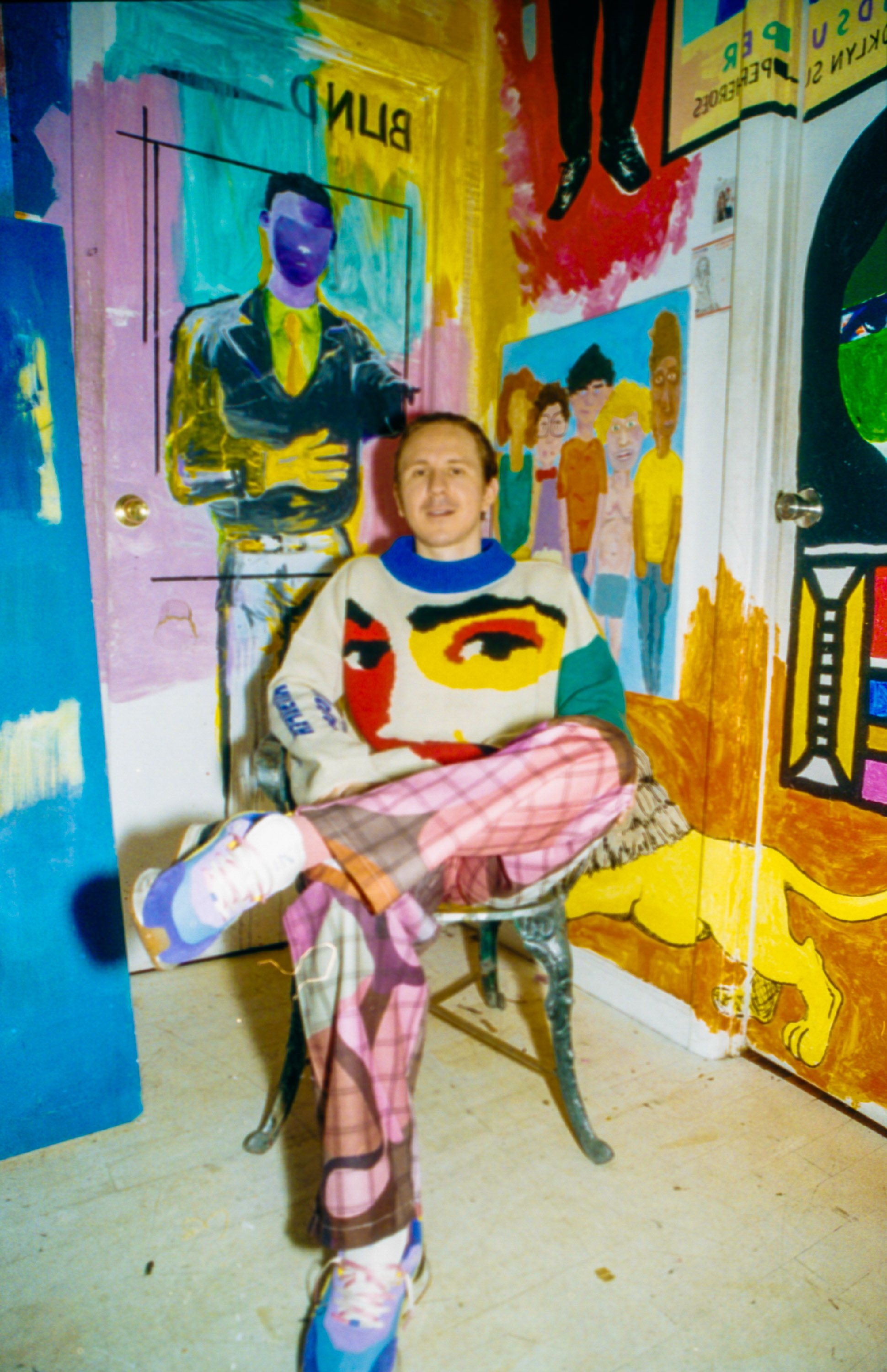 What did you think about the KidSuper label when you first saw it? What drew you to it?
Ak: I thought it was dope. The whole style was just new. His art is really what made me, like, 'Oh shit these guys are hard-working artists with talent trying to come up.' The concept of KidSuper was dope, too. That's kind of our message that we send—just be the best version of yourself.
It seems like all the Beast Coast guys fuck with KidSuper.
CD: [The Underachievers] introduced me to everyone. Once they started wearing it, it was like Flatbush Zombies, then it was Joey and Pro Era. That was huge for me to tap into because it was a New York City brand. You could go different routes. This was me getting authentically New York people to rep it. I can't stress enough how big that was for me. The underground scene wearing the underground [labels]. That was huge. You might not have sold a billion shirts, but all the cool people were wearing it. It's also cool to see everyone leveling up. From cutting T-shirts and sewing them myself to a Paris fashion show and he's walking it. And he's the first person to ever wear it, it's a beautiful circle.
Ak: Shit is happening, and when I look back at it, it's like, wow I really did that shit.
CD: That was what I always wanted to create with this KidSuper space. Like, why isn't there a place for creative people to meet? Even for me. So I was like, I'm going to make this physical space, that'll bring in these types of people. That was the goal more than having the most poppin' brand in the world. I'm not a Fashion fashion dude. People are out here watching Margiela and crying. I don't treat this [KidSuper] fashion stuff as Fashion. I see it as more of a creative project. How can I be the most creative within these fashion rules?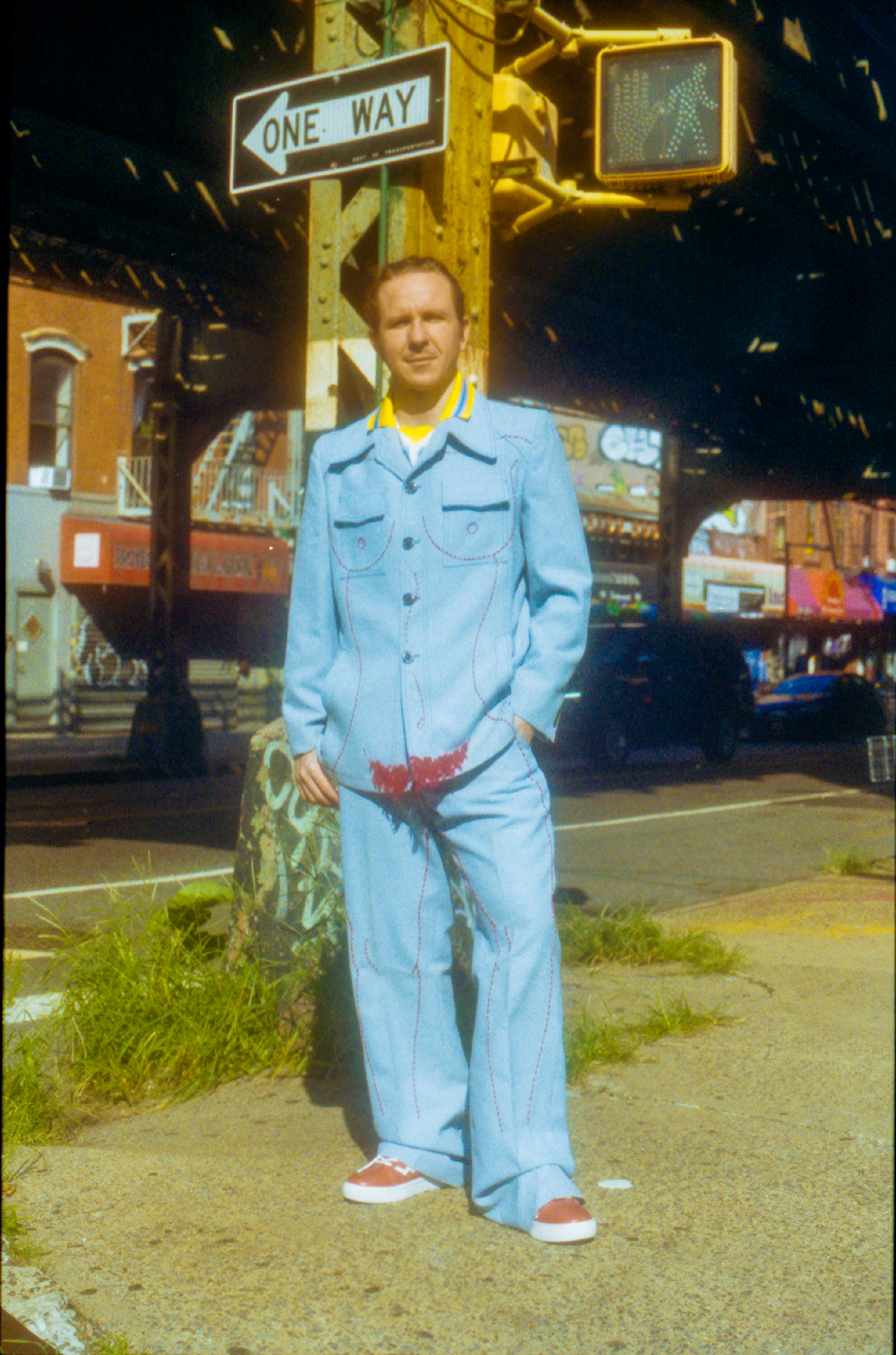 How did the KidSuper x Puma collab end up happening? What was the process like?
CD: Puma sent a deal option. It was like ten shoes, 50 types of clothing, global... this is huge. Puma historically is the most famous soccer brand. All the legends wore Puma. It was cool. I always feel a little bit like an underdog, so going for Puma feels like the underdogs are on top.
I was supposed to have two days of designing [in Germany]. I was like, 'This is gonna take us way longer, and we're gonna go back and send you stuff.' This is a huge opportunity for us, we wanted to take each moment.
Let's talk a bit about the stop motion show.
CD: Right when I heard [fashion week] was virtual I knew exactly what I was going to do. I had done like four to five claymations. I also was like, finally I get to be truly creative. Fashion shows are creative, but they're also like, how much money can you spend? For the stop motion, I felt like I could finally be creative and have a unique idea. I knew instantly I was going to do that. What I liked about it is that virtual, to me, allowed people to compete on a creative level rather than a budget level. These physical fashion shows, if you rent out a big palace, it doesn't really matter what the clothes look like. For this one, you can't rent out that palace. And if you spend a lot of money on your video, it could still be trash. A lot of people failed and a lot of people just didn't do it. It gave breath to the younger brands.
As you get more into fashion, like, capital F fashion, do you like it or hate it?
CD: I've still been able to be so myself within these constraints of fashion, and I think people are actually taking it as a breath of fresh air. It's been cool to see people's positive reactions. Not only am I new and unique, but the whole fashion world is changing, so I think my way is kind of gonna end up the way… You know what you get when you get KidSuper, and I think that's what's at the heart and soul of the brand.