Introducing Pabllo Vittar's latest collaboration
The Brazilian pop-drag maestro talks Calvin Klein's new Pride campaign and all things gold.
The crossover of drag and popular music stretches back decades now, but few have finessed both games quite as well as Brazil's Pabllo Vittar. A mainstay on her home country's drag scene since she started flyering outside queer clubs at the age of 17, the star's reputation has grown and grown to take her where she is now: three albums deep, linking up with Charli XCX and Diplo, and starring as the new face of Calvin Klein's Pride campaign.

Pabllo's third record 111 dropped back in March, and her fans went mad for it; it's already certified gold in Brazil. But as we approach Pride season, for which the artist was scheduled to take her craft across the world, everything's screeched to a halt. We're putting all celebrations queer on pause in the real world for a while.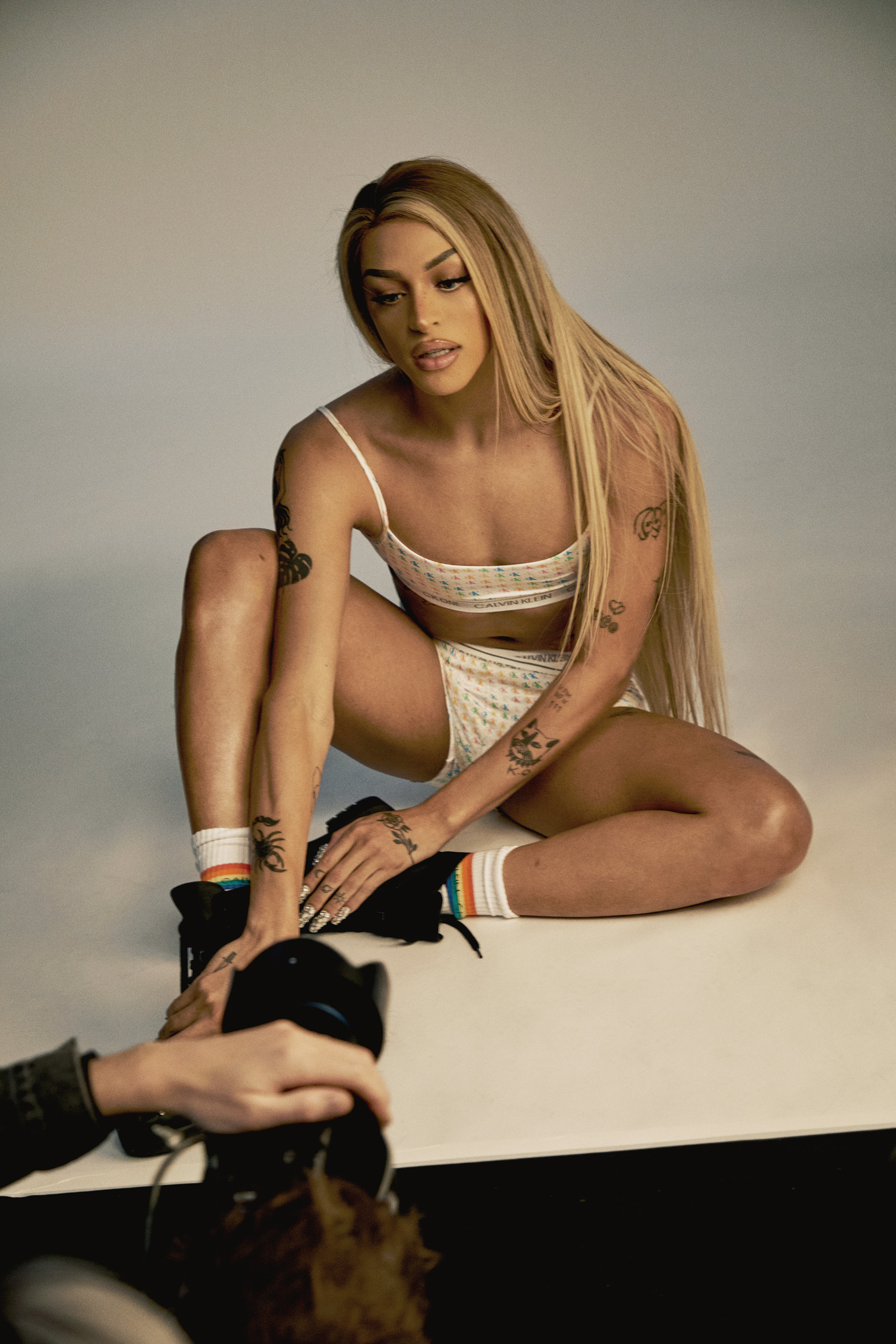 Still, there's a fight to be fought and queer people who inevitably need need to be kept safe in the midst of this; Pabllo's presence is something many of her young LGBT+ fans need to hold on to. So in honour of a Pride season that's taken a slightly different form this year, Pabllo has joined forces with Calvin Klein on their 2020 Pride collection. It's a fashion celebration designed to support a cause that has a special significance to this year too: the COVID-19 LGBTIQ Global Emergency Fund started OutRight Action International, which offers financial assistance to queer people the world over directly affected by coronavirus. Joining Pabllo in the campaign, which is photographed by the brilliant Ryan McGinley, are Ama Elsesser, Chella Man, Gia Woods, Jari Jones, MaryV, Mina Gerges, Reece King, and Tommy Dorfman.
In a queer world that feels increasingly focussed on white eurocentric stories, it's important to have figures like Pabllo and his peers to widen the LGBT narrative. To mark the arrival of the collection, we spoke to Pablo about lockdown feelings, collaborations and everything that's good and gold.
Hi Pabllo! How are you feeling right here, right now, in this moment?
I'm worried about our situation in Brazil, and trying to stay positive, [but I'm] amazed that the Calvin Klein campaign is finally out! This is my first ever global campaign and it couldn't look better.
You're widely known as one of pop's queen of crossovers. Here you are working with Calvin Klein. What qualities do you look for in a collaborator?
The main things are always authenticity and the ability to share references and ideas. A collab cannot be made if only one of the parts is really involved in the creative process! It has to be both sides.
Drag is an art form that thrives in public, but has a really enigmatic presence online too. Do you find that you're adapting in ways you might not have thought you were capable of right now?
I think most of us have had to do that in times like these. It doesn't matter what you do for a living, or for entertainment, everything will change in some way during this period of time.
Your own aside, which Calvin Klein campaign gives you LIFE?
OMG, the Linda Evangelista, [Calvin Klein] Coats one! It was shot in the early 90s or late 80s. I'm obsessed with her!
Your latest record 111 dropped in March and has already been certified Gold. What gold objects in your life are you most drawn to?
It would be earrings! I love them and can't live without them. It doesn't need to be made of gold, because I am a disaster and I lose them all the time, so just golden looking is fine for me, haha!
What's the one thing you're missing right now that you'll never take for granted again?
The hugs, the meetings with my fans, touring and all the energy that comes with it! That was my day-by-day reality and suddenly I'm not having these interactions that move my whole life. Every single show was unique and super important in my life, but from now on they are gonna be even more so.
Pabllo Vittar's record 111 is out now, as is the new Pride collection from Calvin Klein.