Summer of LOEWE: The story behind the latest Paula's Ibiza collection
When designing for Loewe, Jonathan Anderson has found inspiration abound in Ibiza's most cherished institutions. With his new Paula's Ibiza capsule collection, the designer pays homage to the scene's humble, timeless insignia: The Smiley ®
Photography Gray Sorrenti
i-D's most iconic cover of the 1980s doesn't star a model. It doesn't star a musician, an actor or an artist, either. In fact it doesn't star anyone. For The Happy Issue, no. 54, released December 1987, Editor-in-Chief Terry Jones designed little more than a simple yellow smiley face and the words "Get up! Get happy!". The energy conveyed through this symbol – a symbol rapidly becoming synonymous with youthful hedonism and inhibition – was enough to capture everything the cover needed to. Jonathan Anderson, when imagining what Loewe's new collection would look like, and trying to distill a cocktail of inspirations and references, must have felt the same way.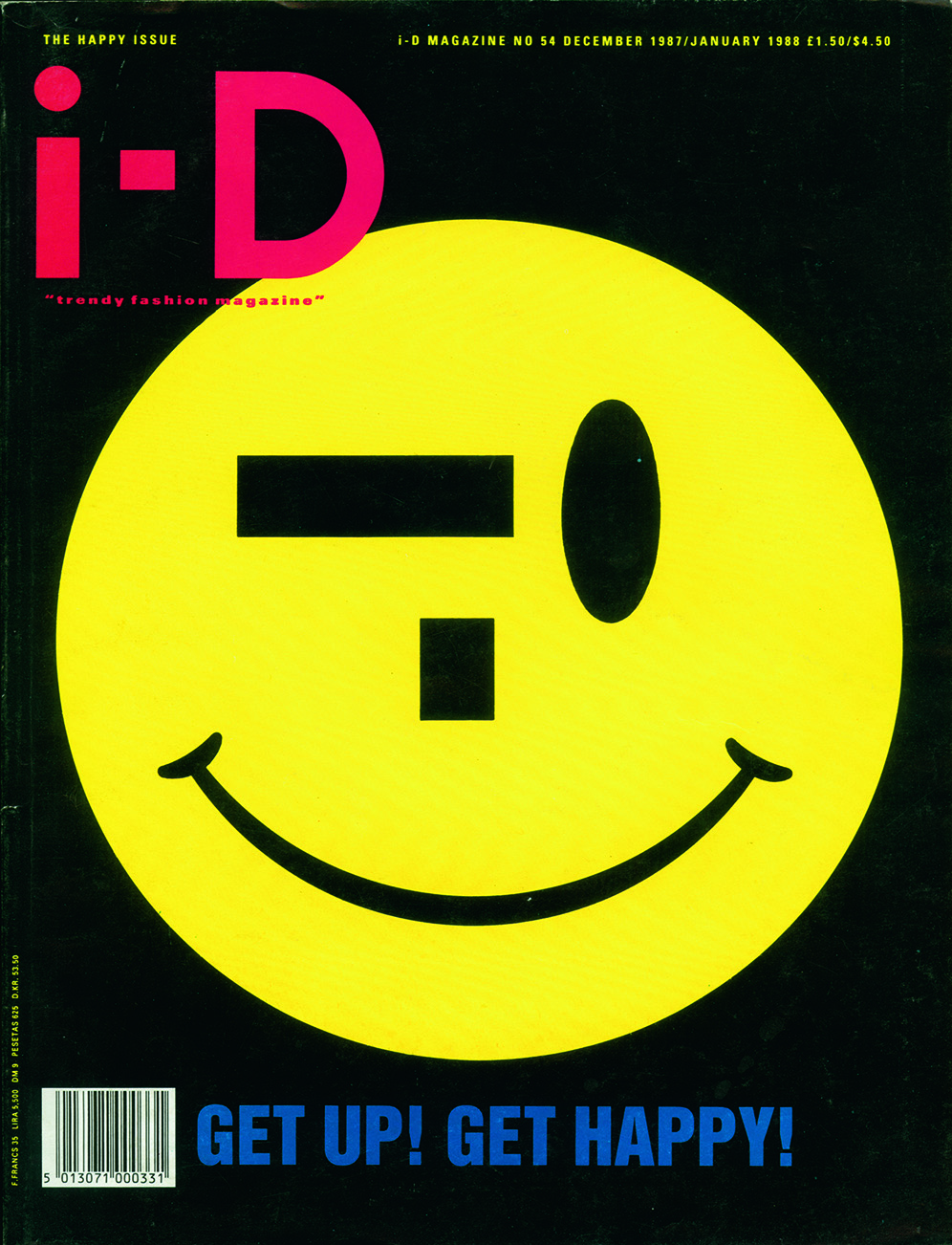 The Smiley ® looms large in the imagination of ravers and disciples of the Ibiza acid house club scene. For Jonathan, endlessly drawn to the island when creating his collections for the luxury Spanish house, the little motifs of the scene have become far more than just simple reference. In the market for a summer fit that takes in all this history and turns it into something futurist? Ready to swap black and greys for neon yellow and electric blue? Look no further than here.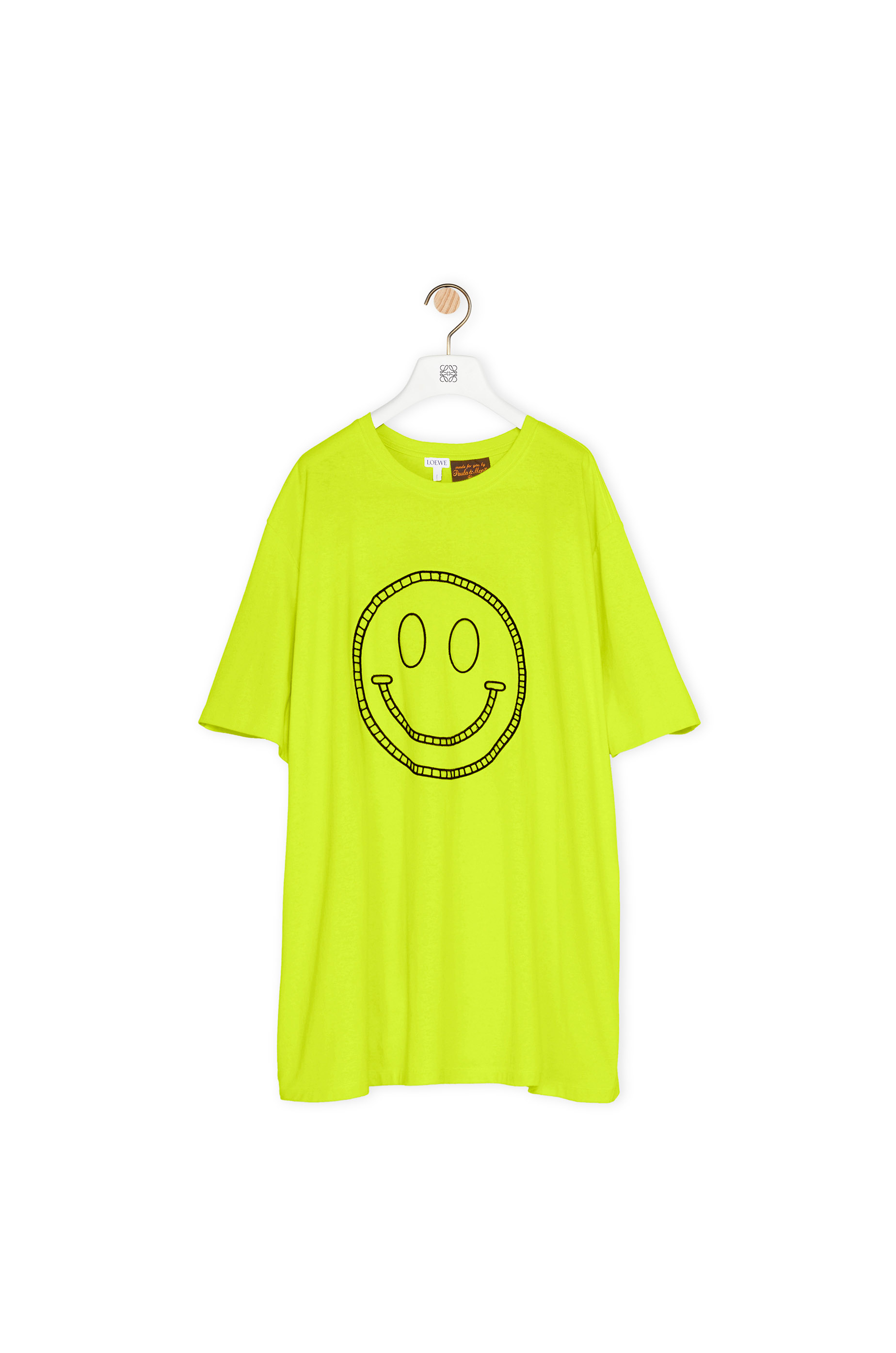 Loewe Paula's Ibiza collection is an homage to the beloved boutique store of the same name, founded in 1972 by Armin Heinemann and Stuart Rudnick. Armin and Stuart always riffed off the natural world when making their own, and Jonathan has made sure to reinterpret this kaleidoscopic archive in a way that feels fresh and modern. Look no further than the mermaid bag for evidence of this fusion of past and present, a playful take on a classic print, or the waterlily prints adorning long beach-ready shirts and cut-and-pasted in squares across light wash denim jeans and cut-off shorts.
With the addition of the Smiley ®, the designs also find a fresh new simplicity and energy this season. At the new collection's heart are relaxed oversized tees adorned with large Smiley ® faces printed across them, available in neon yellow, black, white and tie-dye. Elsewhere the Smiley ® is printed across black and yellow matching two-piece shirt and trousers and splashed across white cotton shirts; it's large and unignorable on fraying oversized jumpers and it's humble and small on a shirt's buttons. Accessories-wise, it lends itself perfectly to over the shoulder neon pouches and bumbags, designed for little more than your phone, I.D. and gum. What more do you really need.
Ecstatic abandon is total in this collection Jonathan says, "Part rave, part cyberdog, in acidic neons, faded olive greens and borderline hues of scarlet, sunrise orange and midnight blue." The mood is summery, playful, "part leisurewear -- long linen tunics, cropped dungarees and bleached jeans" and "part classic summer staples -- striped aprés-swim overshirts and soft terry tees." Incorporating reflective silver trousers, day-glo sandals and acetate sunglasses, this is a true uniform for night time.
The world is in a strange place right now but, as Jonathan points out, there is escapism to be found in rave culture, one "which germinated in Ibiza." After all, the Smiley ® doesn't simply mean happiness. If we look at its history, it's as much about resistance as it is about partying. The Second Summer of Love, a movement which raged through clubs, warehouses and fields of Britain in 1988 to 1989 -- mere months after Terry Jones enshrined its coat of arms on the cover of i-D -- found inspiration not simply in the sounds of Balearic house discovered on holiday in Ibiza, but in forging connections with each other through clubbing.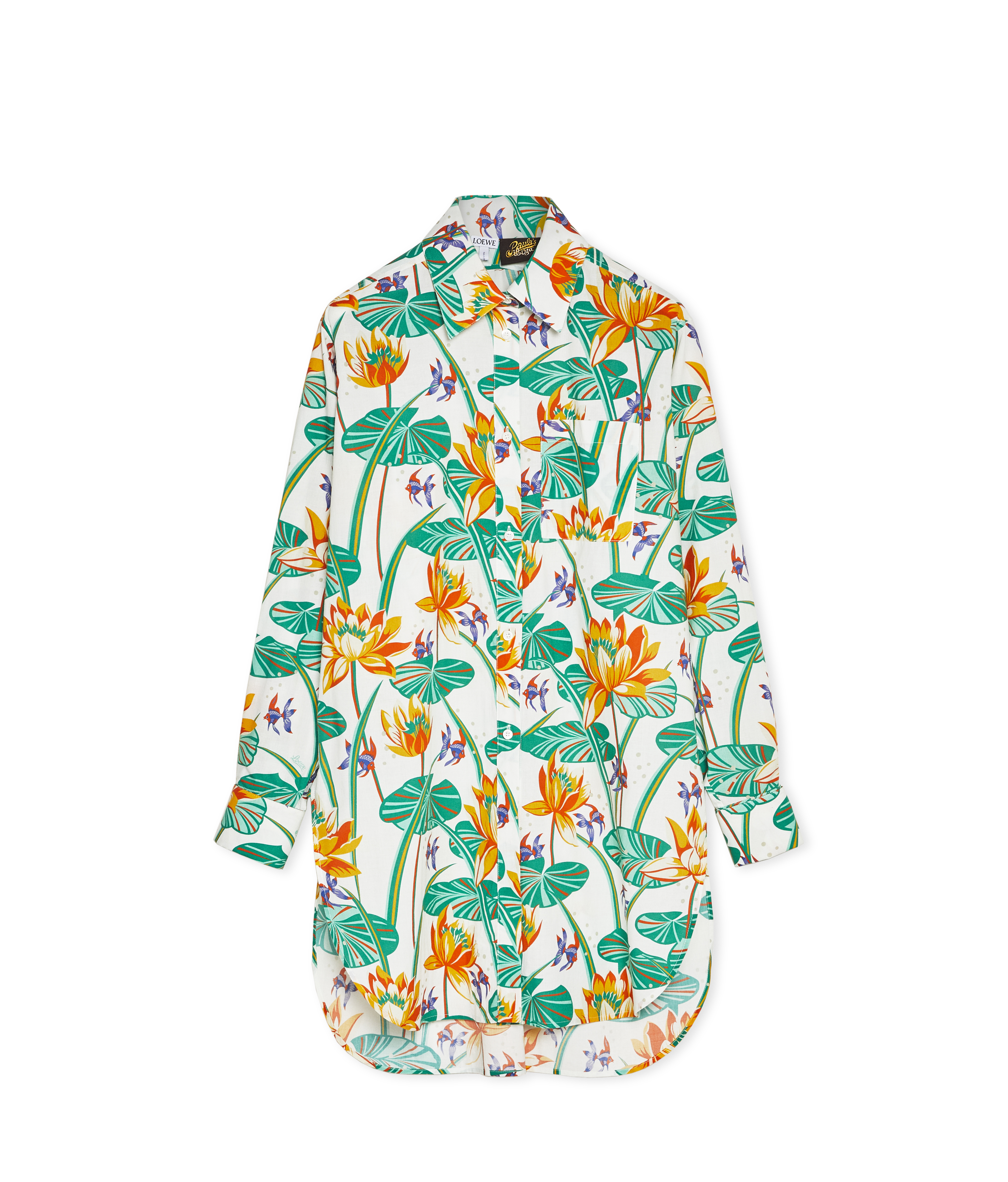 The clothes back then mirrored this freedom -- colourful, baggy, makeshift -- and, as we wrote when commemorating its thirtieth anniversary of the Summer of Love in 2018: "It was Great Britain loosening its tie, and its reverberations are being felt to this very day." All these principles that dictated the particular style choices of this movement can be found here in the new Loewe Paula's Ibiza collection. The fits are loose, the colours clash in wonderful ways, the accessories make a statement if little else is to be worn with them. "Shape and print enhance one another: mermaids swim amongst red corals on maxi-dresses and long robes with ruffled sleeves," Jonathan says, "jikin goldfish wander amongst waterlilies on wide-hemmed capri pants, bolero skirts and swimwear." Whether it's the print of a poncho resembling the scene's iconic club posters, the psychedelic pink and greens of the tie-dye sweater, or the clashing of a T-shirt in two prints split down the middle, the collection comes alive.
Armin's first designs were also, by his own admission, mistakes. "Mistakes in explaining to the seamstress and her misunderstanding my poor Spanish. What came out was different to what I'd wanted but I thought, 'Wow, that looks good!'" While there may be more precision to what Jonathan does at Loewe, this care-free attitude was a crucial balance to strike when paying tribute to an institution as beloved as Paula's. "I've always said that Paula's Ibiza embodies the spirit of letting go," Jonathan says. "With this collection, which sees Paula's Ibiza flourish into a fully-fledged offer for men and women complete with vibrant fragrance and playful accessories, I wanted to capture the breezy spirit of the Balearics and celebrate a moment in time that saw the hedonism of these islands expand to influence subcultures across the world."