Valentino makes its Milan return for SS21
In a show of solidarity with his and the house's country of birth, Pierpaolo Piccioli staged a physical show in Italy's fashion capital.
|
28 September 2020, 11:58am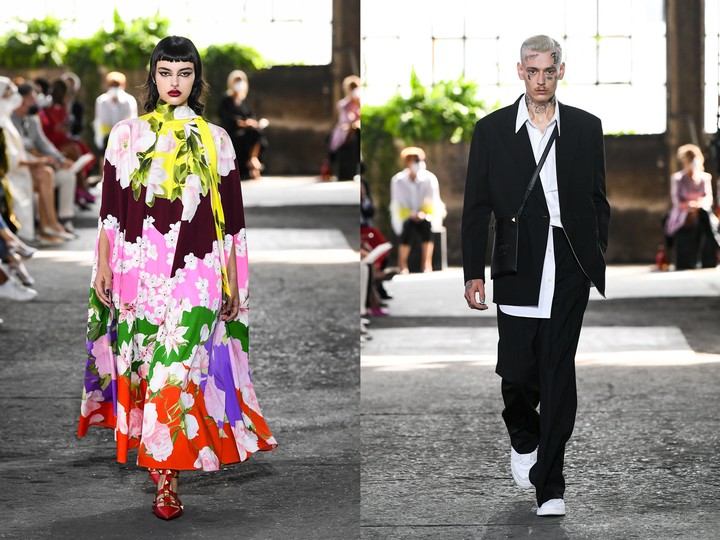 The past week has witnessed the strangest Milan Fashion Week in history. Several major fashion houses were missing in action, others simply presenting their collections digitally. Restaurants and bars seem desolated by the usual hoi polloi of models, buyers and editors. Generally, the few physical shows that did take place were more intimate with capacities reduced according to social distancing. Fashion groupies were still out in full force, albeit struggling to decipher celebrities in masks. Backstage areas required the military precision of the Swiss Guard. Everything feels as if it were in the flux of eternal change. So when Valentino announced last month that it would be returning to the Milan Fashion Week schedule in solidarity with Italy (it has shown in Paris for the last 13 years) it was a decision that ostensibly echoed the humanity and sincerity that Pierpaolo Piccioli (one of the few designers to wear a mask during his bow) has made his modus operandi at the fashion house. This was a gesture to a city that has been hit hard by COVID-19. And the show was a fitting tribute — it closed the week on a beautiful note.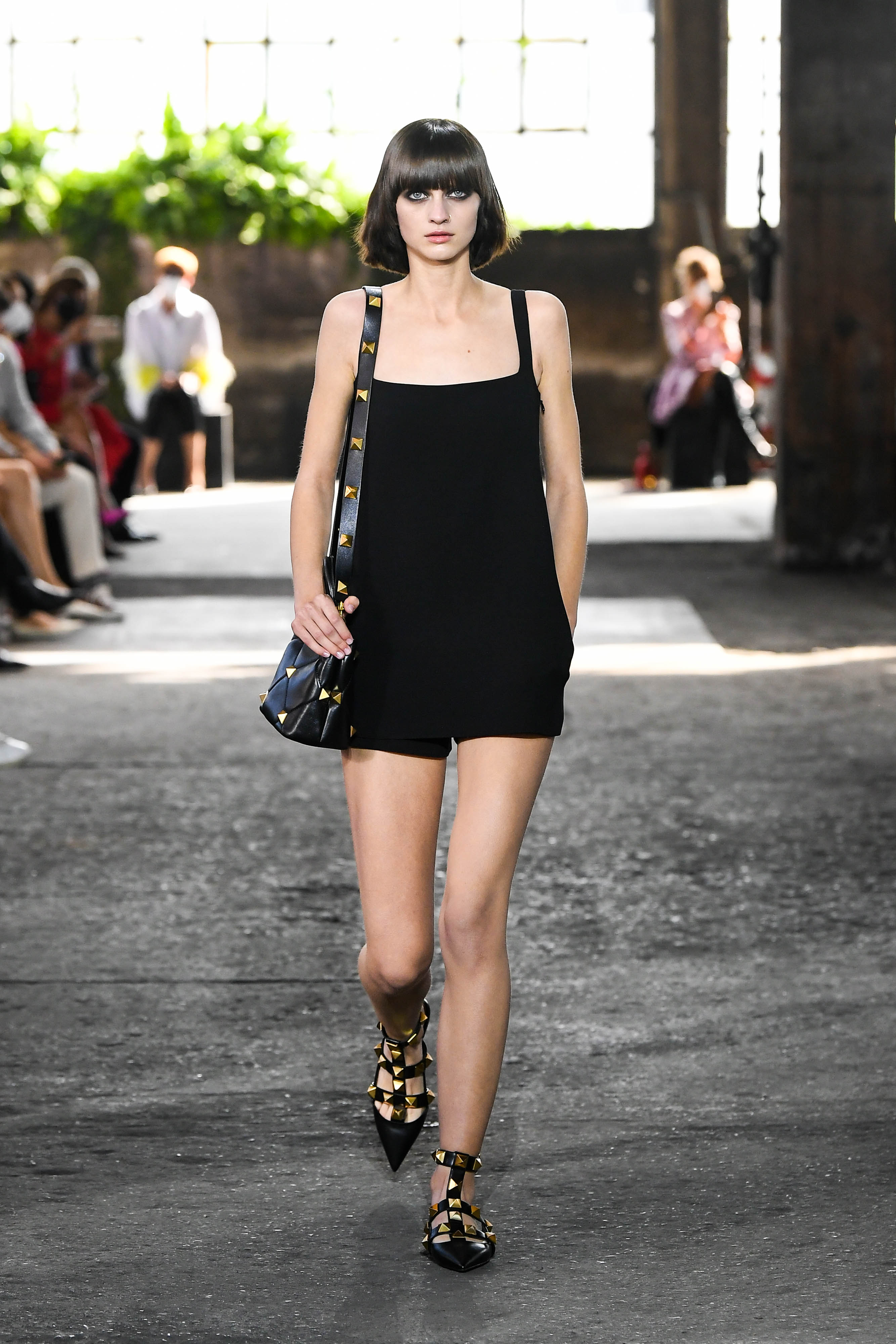 Held in a former foundry on the outskirts of the city, the concrete venue was filled with over a thousand flowers of 34 species, created by Japanese plant artist Satoshi Kawamoto — and inspired by the 'guerilla gardening' floral installations on the streets of New York City. Labrinth lent his syrupy vocals to the proceedings. Guests, in their Valentino finery, looked on as — if only for a few minutes — the world seemed to return to normal. The show seemed to emphasise individuality — there was no ubiquitous hairstyle or makeup look, no singularity in the casting. The clothes seemed to offer a broad span, too. There were short-shorts and minidresses followed by trailing maxi dresses. There were logo-emblazoned hoodies and white sneakers; sequined Jazz Age fringing and ruffled chiffon gowns. Softly-toned nudes; blocks of saturated colour. Ornate lace one second; woven straw the next. In a statement, Pierpaolo described it as "an egalitarian collection that swings between extremes and is fuelled by the will to purify."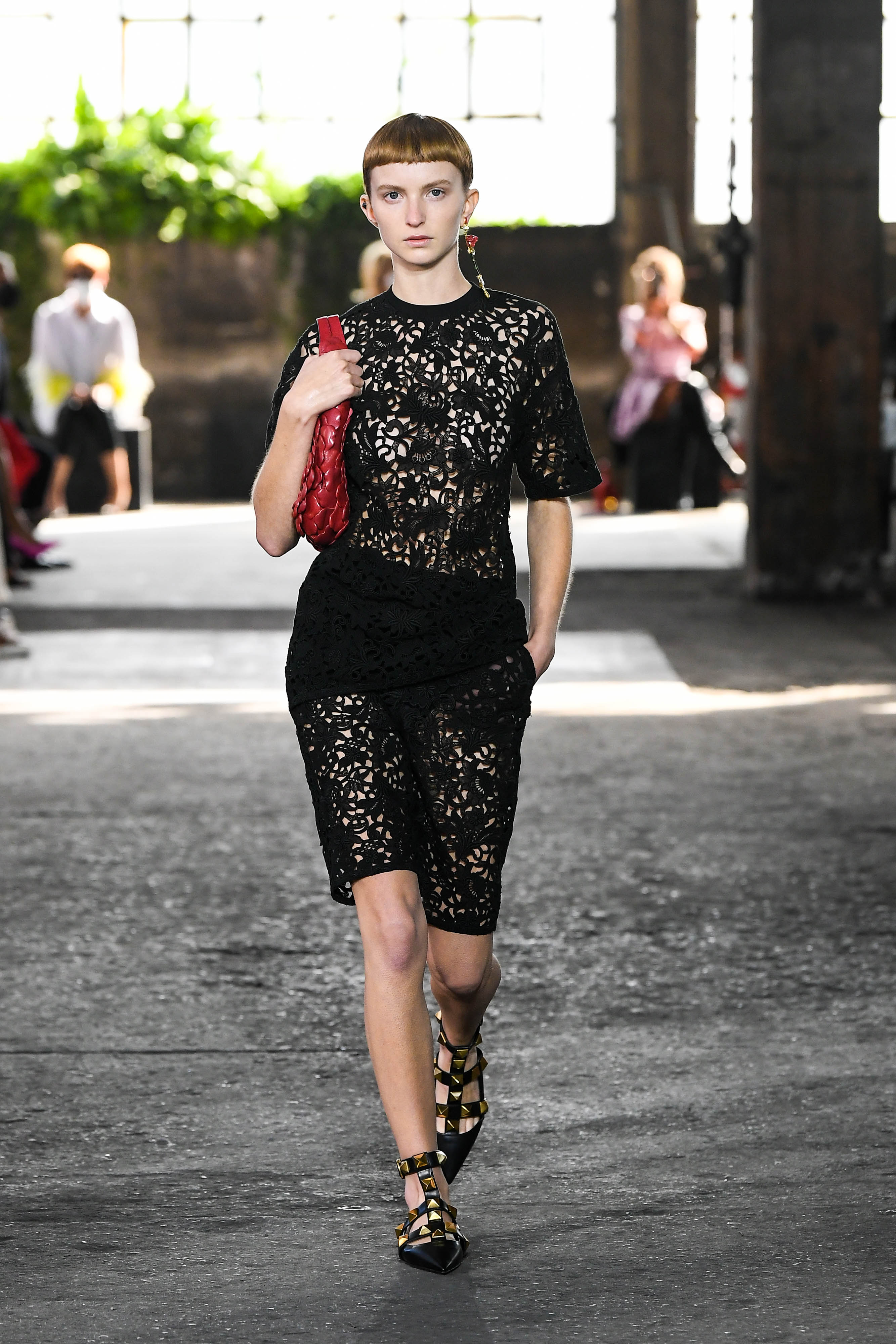 This past week in Milan, many designers spoke about the newfound sense of ease and comfort that is expected from them post lockdown. Flat shoes, elasticated waists, real-life dresses, et cetera. It turns out months spent at home, in comfortable clothes and slippers, has turned us all into causalities of casual clothes, stilettos and going-out frocks relegated to the back of our wardrobes. Interestingly, Valentino debuted a collaboration with Levi's in this show: a five-pocketed, co-ed model of the 517 boot-cut blue jeans. That comes as a surprise chez Valentino, the home of 10-foot feathered gowns, femme florals and ladylike dresses. The jeans in question were pretty ordinary. No jazzy embroidery, no chi-chi trims, no glaring logo. Just a straightforward pair of blue denim Levi's, worn with ruffled chiffon blouses and thick 'V' logo belts. It could be the signal that Valentino is entering a new era, adjusting for a new world where comfort is king. Then again, the collection wasn't short of glamour — it closed with trailing chiffon gowns in every colour of the rainbow. You can always count on Valentino for that.