Photo by Dave Hogan/Hulton Archive/Getty Images.
7 of Grace Jones' most iconic outfits
The 80s icon's singular, ground-breaking looks paved the way for gender-fluid styling.
|
18 September 2020, 7:00am
Photo by Dave Hogan/Hulton Archive/Getty Images.
Grace Jones is a true individualist, whether we're speaking to her self-assured stage persona, her razor-sharp and maverick artistic vision, or her cutting-edge sartorial sensibilities. The Jamaican-born multi-hyphenate — model, singer, actress — was raised in New York, where she would sign as a model with Wilhelmina, before making it as a supermodel in the world of Paris fashion. But Grace didn't stop there; in 1977, the model launched a musical career that would make her a club scene legend and span the realms of disco and new wave. In the 80s, she conquered the world of cinema with Saturn Award-nominated turns in Conan the Destroyer and Bond film A View To A Kill. Avant-garde, sexy, androgynous, Grace's singular and ground-breaking personal style defined the late 70s and 80s. Since, it has influenced culture — and future pop acts — at large. Here, we chart Grace's inimitable career through a selection of her most memorable outfits.
Performing at La Mouche Disco, 1977
In 1977 Grace launched her musical career with debut album Portfolio. The album's last track, "I Need A Man" — a true disco banger — became the artist's first club hit. It's no wonder, then, that the singer became a staple of New York's club scene in the late 70s and early 80s. La Mouche Disco, Electric Circus, Le Farfalle Disco, and of course, the iconic Studio 54. Here, performing at La Mouche, she wears an era-defining stage costume: chain-mail curtain top, sequinned hot shorts and massive cuff bracelets.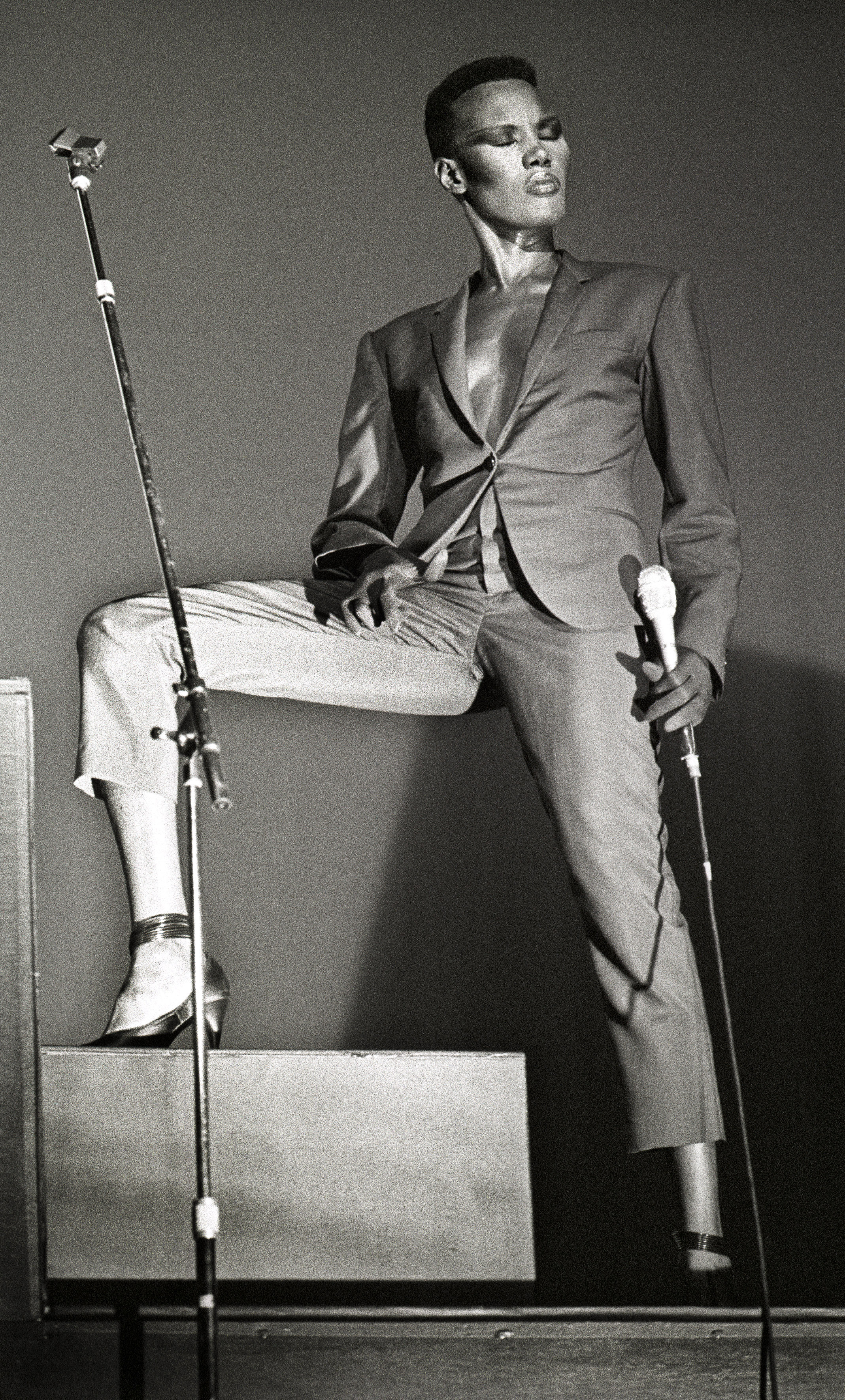 Performing in the Netherlands, 1981
Gender fluidity is a facet that has defined both Grace's personal style and persona since the beginning of her career. It's also a topic that the singer has broached in many an interview. To W Magazine in 2018, the star explained, "I think we're all oysters to begin with and the whole gender thing is like some people have two genders. I believe that you can have your male and female and that if you're born as a male you can have more female [...] I really feel very male sometimes. I act it as well." This androgyny comes across in Grace's predilection for suiting, whether she's performing on stage, as seen here, in a slim Le Smoking-esque number, photographed for the cover of Nightclubbing in a wide-lapelled blazer or attending the launch of her Warm Leatherette album in a double-breasted grey suit.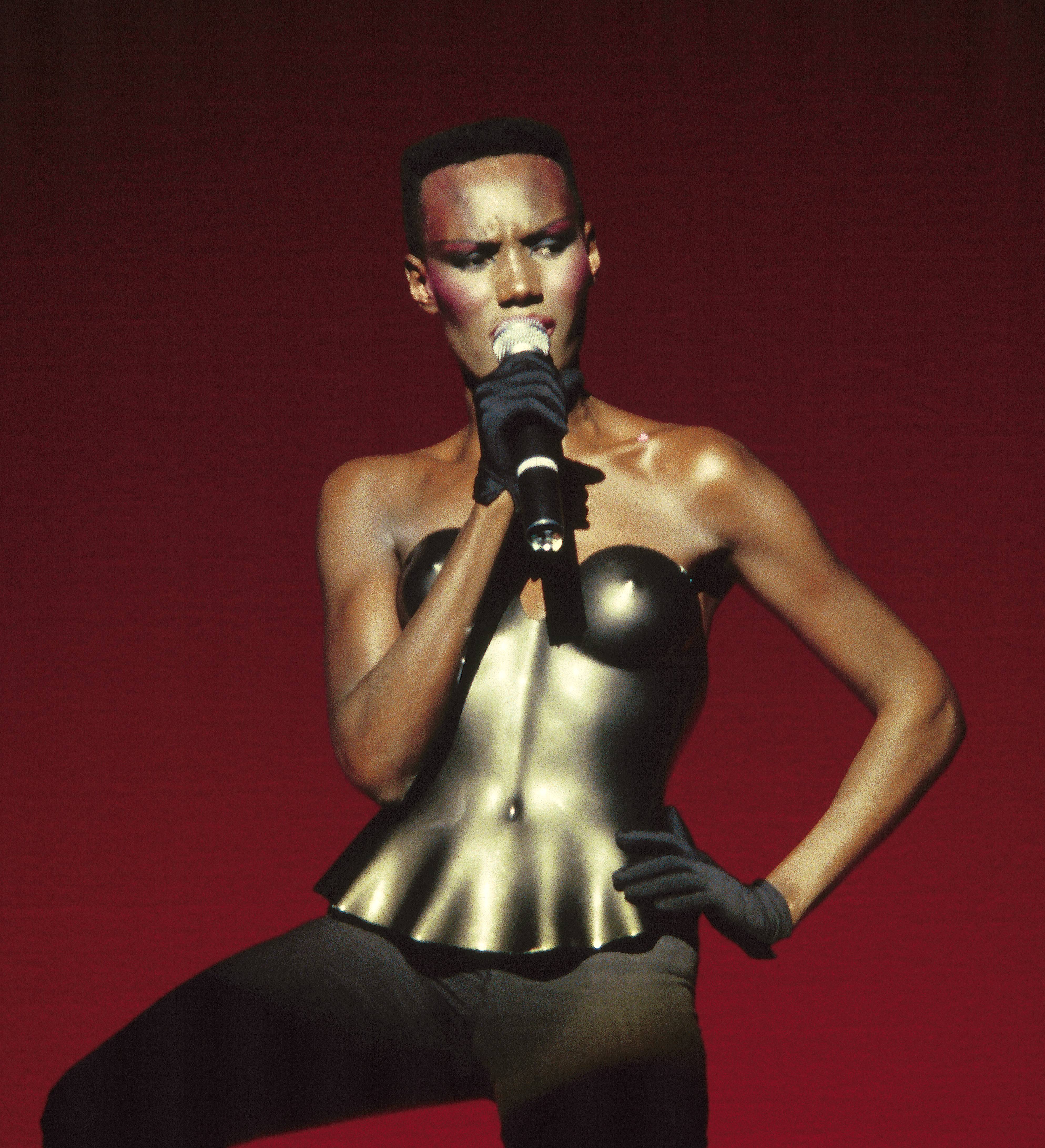 On stage, 1981
As much as androgyny, Grace's personal style has also been defined by the singer's embrace of her own sexuality. And that means she's never one to shy away from a nude moment. Think the forever-iconic Jean-Paul Goude-shot cover of Island Life, the singer twisting her nearly-nude body into that (anatomically impossible) pose. Years earlier, touring her Nightclubbing album in Europe, the singer wore this near-anatomical vinyl bustier from Issey Miyake's autumn/winter 80 collection. During the same concert series, the singer wore a beige version — complete with painted-on nipples.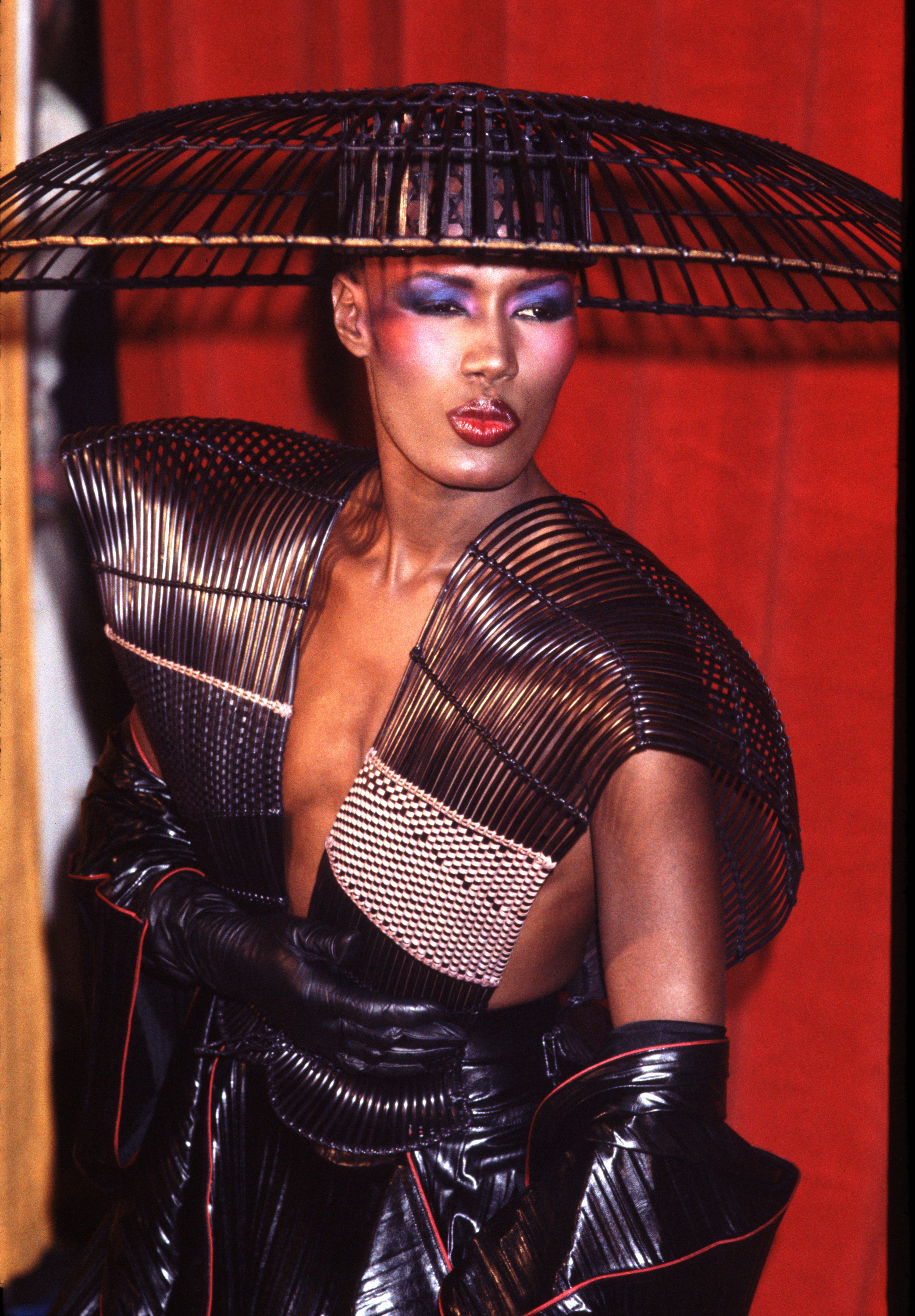 At the 25th Annual Grammy Awards, 1983
One of the most fantastical and memorable Grammy looks of all time — and we know the Grammy red carpet is where stars like to have fun — is Grace Jones at the award show's 25th edition, in 1983. To the event, where she was nominated for Best Long-Form Music Video, she wore an elaborate cage-style dress with matching wide-brimmed headpiece. The outfit also lead to one of the ceremony's most iconic moments: as Grace and Rick James took the stage to present the awards for Best R&B Performances, Grace's massive hat kept bumping into her co-presenter's head. The duo made it into an elaborate, off-the-cuff bit, and when James flubbed one of his lines, Grace joked, "I think my hat has made you a bit nervous."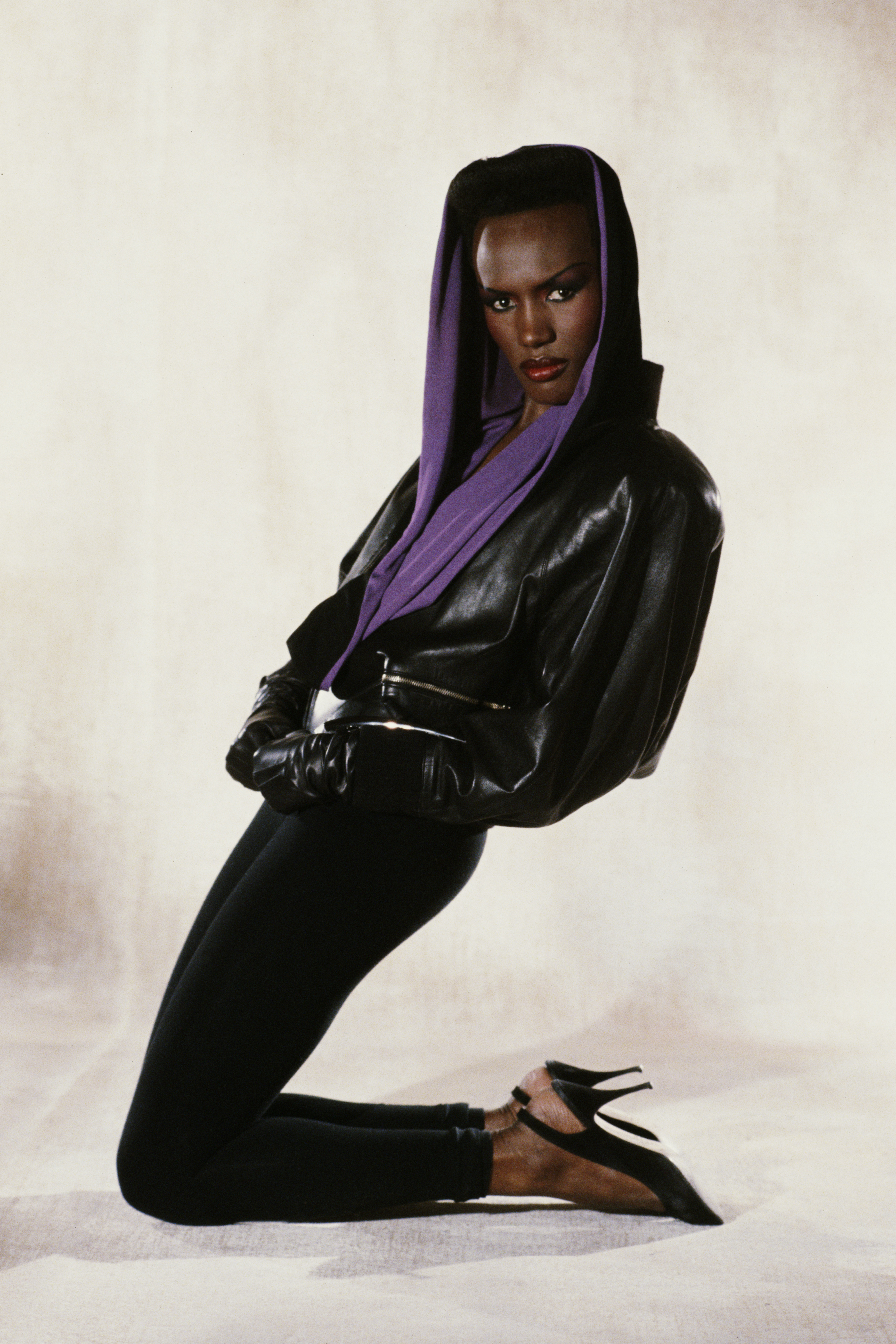 As May Day in A View To A Kill_**, 1984**
After the international smash success of her fifth studio album, _Nightclubbing, Grace turned her maverick vision towards acting. While her turn as warrior Zula in Conan the Barbarian earned the actress a Saturn Award nomination — and high praise from critic Robert Ebert, who called her '"sensational" — Grace's most iconic role to date is that of May Day in 1985 Bond film A View To A Kill. Costumed entirely by Azzedine Alaïa — from sleek catsuits, sexy leather blazers and of course, the actresses' signature hood — Grace's May Day is probably the most stylish Bond girl of all time.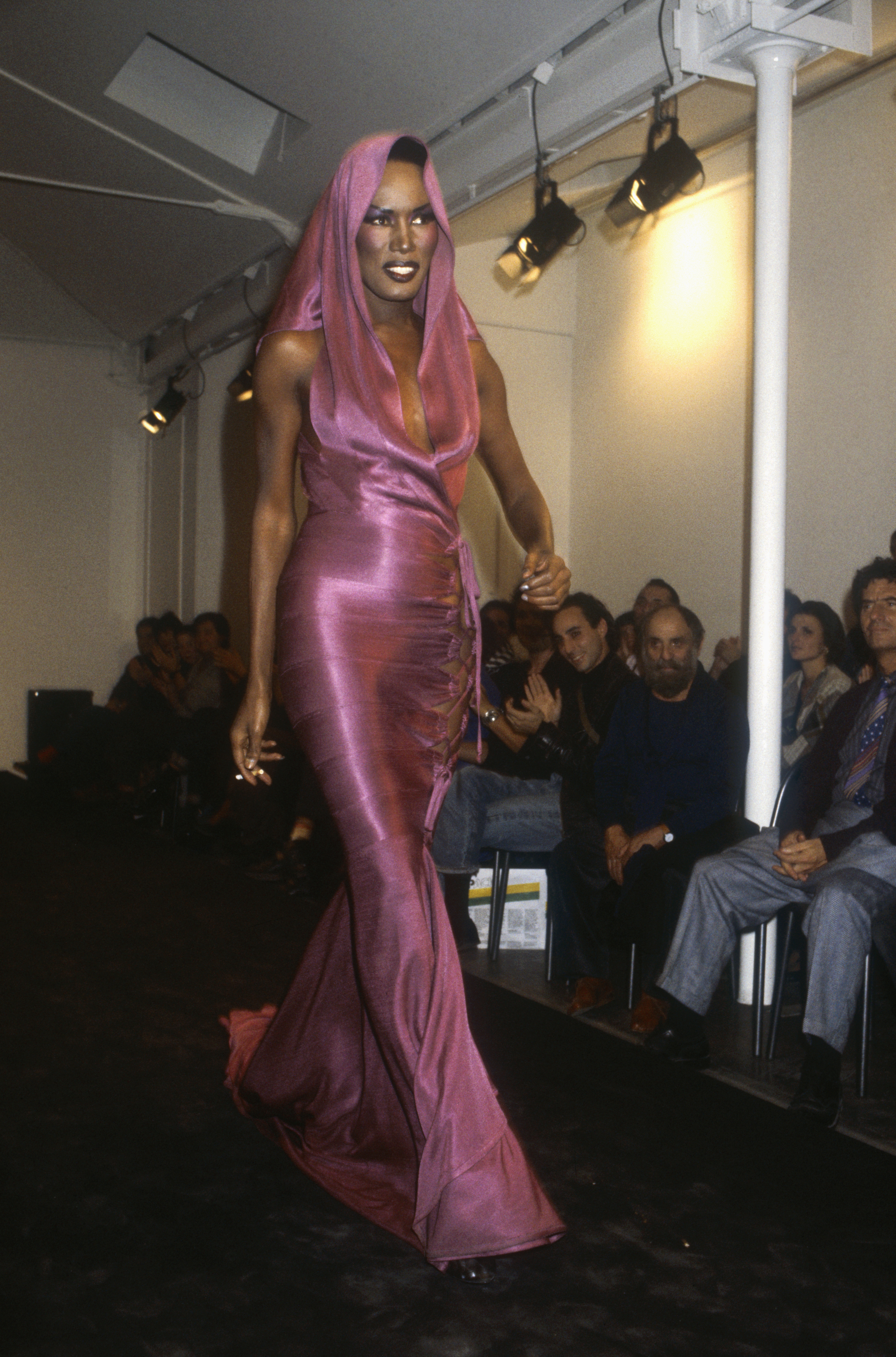 At Azzedine Alaïa's spring/summer 86 haute couture show, 1986
Before breaking into the worlds of singing and acting, Grace signed as a model at New York's Wilhelmina, eventually moving to Paris in the 70s, where she would become a bona fide supermodel. Grace was a muse to some of the era's most prestigious Parisian designers, including Yves Saint Laurent and Claude Montana. But with no other designer was Grace closer with than Azzedine Alaïa. The Tunisian couturier created many of Grace's most iconic looks, including her signature hooded dresses and May Day's looks from A View To A Kill. Here, for the spring/summer 86 haute couture season, Jones models one of her preferred hooded looks, all hot pink and featuring the designer's hallmark bandage silhouette. Grace would go on to wear this same dress to the 1985 French Oscars de la Mode, where, in a storied fashion moment, the singer literally carried Alaïa onstage to accept his award for Best Designer of the Year.
Performing at her New Year's Eve Concert in New York City, 1987
Grace Jones and Keith Haring. Name a more iconic 80s duo. But wait, there's more: the pair actually met through mutual friends Andy Warhol and Robert Mapplethorpe. At Warhol's suggestion, the quatro came together in Mapplethorpe's studio for a marathon, 18 hour-long photoshoot, for which Grace was adorned with body art painted by Haring, himself. Grace and Keith continued their artistic partnership for the singer's "I'm Not Perfect (But I'm Perfect For You)" music video. In the clip, Grace, once again, dons Haring's body paint and a spectacular 60 foot-long skirt, hand painted by the artist. (You can catch a glimpse of Haring painting the frock in the clip, itself) The look was so spectacular — so Grace — that the singer took it from the realm of celluloid to IRL the next year. Performing at her New Year's Eve concert at the Roseland Ballroom in 1987, Grace towered above the audience while Haring's maxi skirt billowed like a parachute below.