Building the visual world of Caprisongs with FKA twigs
Director Aidan Zamiri dissects the mixtape's "chaotic, funny, reckless and free" music video series, and explains how they mythologised twigs' life.
Photography Orograph
When you think of FKA twigs, the first image that jumps to mind is probably her dancing down an endless pole in the 2019 Grammy-nominated Andrew Thomas Huang-directed music video "Cellophane". Or perhaps she's sword fighting through the streets in 2020's "sad day". She's superhuman; some kind of goddess. Except sometimes she's not. When it came to creating her new mixtape, Caprisongs, twigs saw the project as a "journey back to myself through my amazing collaborators and friends"; a space to be real, fun and playful. "It's bronzer in the sink, alcopop on the side, a cherry lolly, apple juice when you're thirsty, friends in the park," she said on release.
Featuring collaborations with the likes of Pa Salieu, The Weeknd and Shygirl, the project – peppered with intimate voice notes between friends – dances effortlessly through genres she's never touched before. The accompanying music videos, dubbed "caprivids" and directed almost exclusively by the 26-year-old London-based talent Aidan Zamiri, reflect this grounding with their fantasy-meets-real-world mash up. In one, we find twigs strolling through Hackney Downs park only to be struck by an arrow fired by a second twigs positioned up on a rooftop. Another sees her and the aforementioned Shygirl pushing baby goats through their estate in prams. They might be surreal, but they're grounded in the mundanity of everyday London life.
With all 10 videos now released – teased out over the course of just a few weeks – we caught up with Aidan to discuss working with animals, that Nelly and Kelly "Dilemma" spreadsheet moment, and how he and twigs constructed a whole new visual world.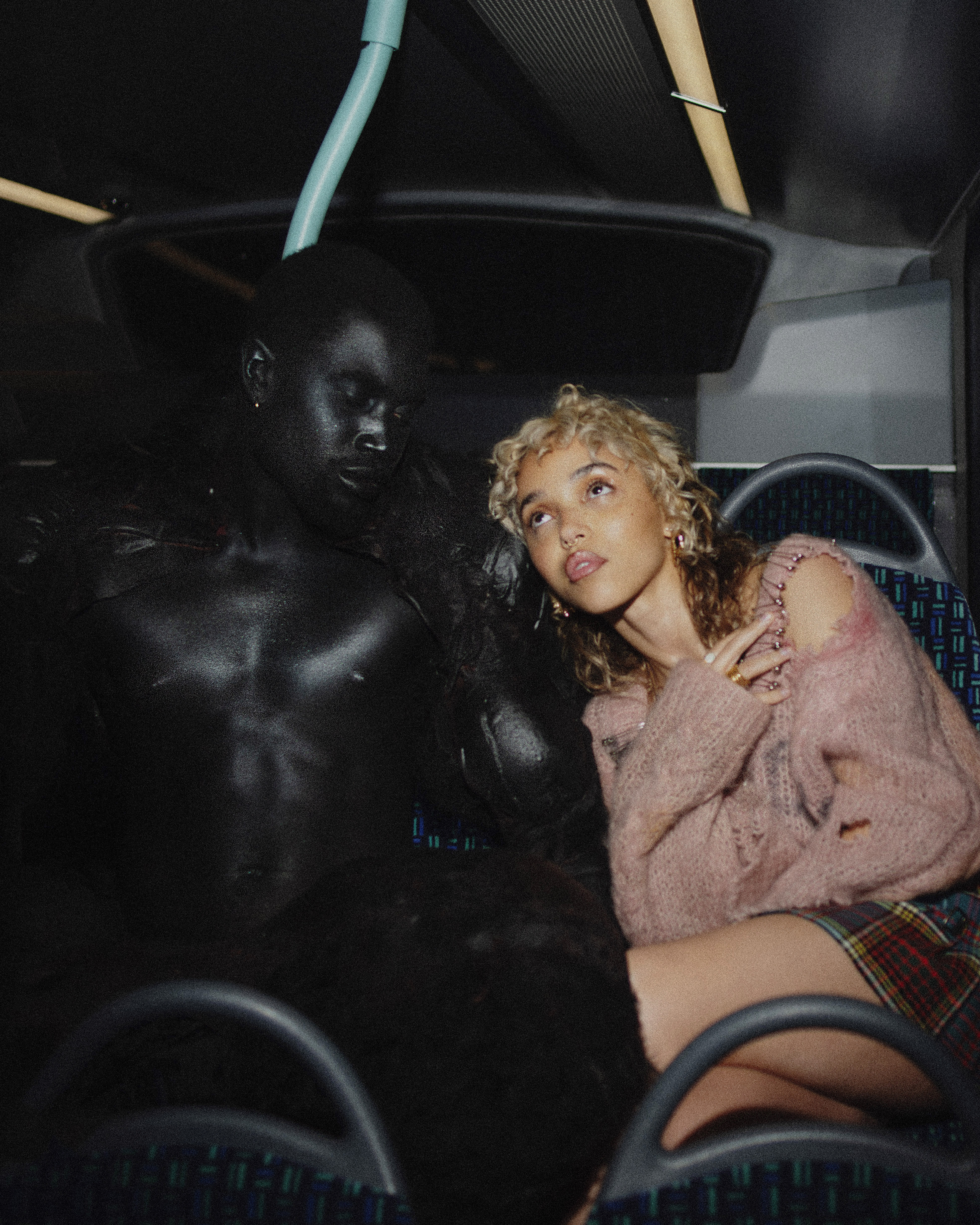 **The FKA twigs universe has always been big, surreal, transportive and high-concept. This mixtape though, darts off in another direction entirely – it's playful but more grounded in reality. With that in mind, how did you approach the project?
**When we started discussing the overall feeling of Caprisongs, we thought about the way that twigs was seen as a kind of otherworldly figure, and we wanted to see how we could bring her into the real world. We basically wanted to create a space for her to be chaotic, funny, reckless and free, because that was how she approached the music on this mixtape. We wanted to lean into the messiness and the madness. The format of these videos was also a bit of a response to how we consume content and imagery nowadays. Rather than ignoring the fact that people ingest short-form content so quickly and consistently, we wanted to use that as a challenge to play with and explore. I remember twigs saying that we should think of these caprivids as mini advertising spots rather than music videos – we were gonna make little windows to peek into the world of each track.
How did the two of you even meet and begin collaborating? twigs won't remember this but the first time I was in the same room as her, I was a set design assistant at a fashion week show when I was in uni and I think she was backstage. I'm pretty sure we made eye contact. But we properly met for the first time when I edited together the Spotify experience for Magdalene. For that project, I basically watched hours and hours of BTS footage from when she was making Magdalene and edited them into these mini videos and GIFs. A while after that, she asked me to direct the video for "SUM BOUT U" by 645AR which she featured on. On that video, we really connected and soon after we started discussing ideas for her upcoming mixtape.
**Given twigs also directs, presumably this was is a very collaborative process?
**Definitely. We've developed a process when we work together which feels really natural – we seem to have very similar taste and emotional responses to imagery. We do a lot of brainstorming whenever we see each other and talk about ideas for things that we might wanna make in the future; so when we were making Caprisongs we tried to pin down some of these ideas and figure out which ones made the most sense for the music.
**What key themes were you working with? Was an overarching narrative discussed?
**We wanted each of the videos to exist on their own; to have their own story but kinda live in the same world. One of the key ideas that hopefully spreads across the whole project was about creating something magical and surreal but in the real world – we wanted to mash up fantasy with the mundane. We also talked about twigs' emotions and internal journeys and figured out how we could visualise them: the Capricorn foetus, the archer on the rooftop, the nail salon. We were finding ways to mythologise her life.
The baby goats, the archery, the motorway scene, the "TikTok" dance outside Hackney Town Hall… which, out of all Caprisongs videos, was the most fun to shoot? And which was the most chaotic? Honestly, the whole thing was super chaotic and fun. I think we had the most fun shooting "jealousy" — it was a big day of dancing and hyping each other up in a studio. Dancing outside Hackney Town Hall was definitely the most nerve wracking for me — we didn't know if we'd even get through the dance routine before we got shut down and we were fully prepared to go dance next to some bins round the corner. When twigs says, "we're just making a tiktok!" it was just something she made up on the spot and it was absolute genius. "honda" was especially torturous for twigs — we basically strapped her to a plank and zoomed down the road. She had to perform the track in a yoga pose so that her head was in the right position, while hurtling through London and having other cars beep at her the whole way.
**Intense. So would you work with children and animals again?
**Definitely! We were really lucky, the goats were really well behaved (they peed on the carpet a couple times but that comes with the territory). The children we worked with were amazing – we told them to totally ignore twigs and Shygirl when they were performing but that moment when they peek through the beaded curtain was so funny that we had to keep it in the edit.
**Talking of children, where is the capricorn foetus right now?
**I believe it's back with its mother, Yaz Whitlock. Yaz put so much work into making that little foetus – she even gave it fibre optic lights in its tail and made a mechanism so that it breathed. She also made a twin foetus and turned it into a handbag as a gift for twigs on her birthday.
Whose idea was the "Dilemma" excel text moment in "Bliss"? That was such a fun video to make! Since it was part of Yung Lean's mixtape, we took it into a slightly different world but obviously it was just as chaotic and absurd. Lean and I had talked a lot about the imagery that was formative for us in the early-to-mid 2000s and "Dilemma" was one of those quintessential videos we grew up with. We ended up making a sort of twisted version of it for "Bliss" – the suburban setting, the car, the love story between these two artists. It kinda felt natural to drop in that excel texting moment as a little wink to Nelly and Kelly. We actually almost forgot to do it on the day but our friend Suzannah Pettigrew, who was shooting the BTS images, remembered and pulled up Google Sheets on her iPhone.
**You and twigs are both local to Hackney, right? Did it feel extra special shooting in your own neighbourhood?
**I think what's really cool about it is that it feels like we made a bit of a memory map of London. Every time I walk past the nail shop on Mare Street where we shot "oh my love", or Hackney Downs park where we shot some of "meta angel", I can hear the track playing in my head – it feels really special.
**twigs has said that the Caprivids were made "with limited time and resources" and yet the result is stunning. How did you work around those challenges?
**Our resources were definitely limited, so we basically had to shoot several videos per day in order to make things work within our budget – that meant we had to be really instinctive when we were shooting and keep things moving quickly. Luckily twigs tends to nail every take, so we never had to spend too long on anything. Our cinematographers Molly Manning Walker and Jeremy Valender were the ones that made it all work out so well – they both just really got it and we barely had to discuss what we were doing on the day. So grateful for them.
**Now that "thank you song" is out, looking back across the complete project, what are your favourite shots or moments?
**I got the chance to play around and explore a lot when I was editing these videos. In "ride the dragon", there's a sequence of three freeze frames that cut to the beat of the track when the lady comes out of Hackney Town Hall. The footage changes from grayscale to colour and the track kicks in. To me, this moment felt like magic. It was the first video that I edited for the whole project and in doing that I felt like I discovered a lot of the visual language that set the tone for the whole series. Other moments I love include: when twigs snaps her fingers in "jealousy"; when she exhales before firing her arrow in "meta angel"; and a couple of moments in "honda" when she says "ooh, baby, baby"… they scratch an itch in my brain.
**And what's the best thing anyone has said about your work on Caprisongs?
**I think the fact that twigs felt like we had made a true representation of what she wanted to say. Her fans are also amazing and seeing their responses to the videos has been really rewarding. To be honest, I think the biggest compliment of all is getting memes made from your work.