An interview with the founders of The Crate NY
The designers behind the streetwear brand loved by Kanye West discuss their favourite fashion memories and style no-gos.
|
29 December 2021, 8:00am
This story originally appeared in i-D's Out Of The Blue issue, no. 366, Winter 2021. With thanks to Tiffany & Co. Order your copy here.
Terrill Kirk and Tyrell Oliver founded The Crate in 2014. In its first incarnation, it was merely a shop. They wanted to give the community of their native Far Rockaway a chance to buy the clothes they both loved, stocking and working with their favourite brands. But from there, and with a desire to express themselves and create something of their own – and realising they could do it better than the other brands they were selling, – they launched their label. With the aim to create a community, something that "brings the hood together" and "represents togetherness" their clothes have since been worn by everyone, from Kanye West to Issa Rae, bringing Far Rockaway to the world.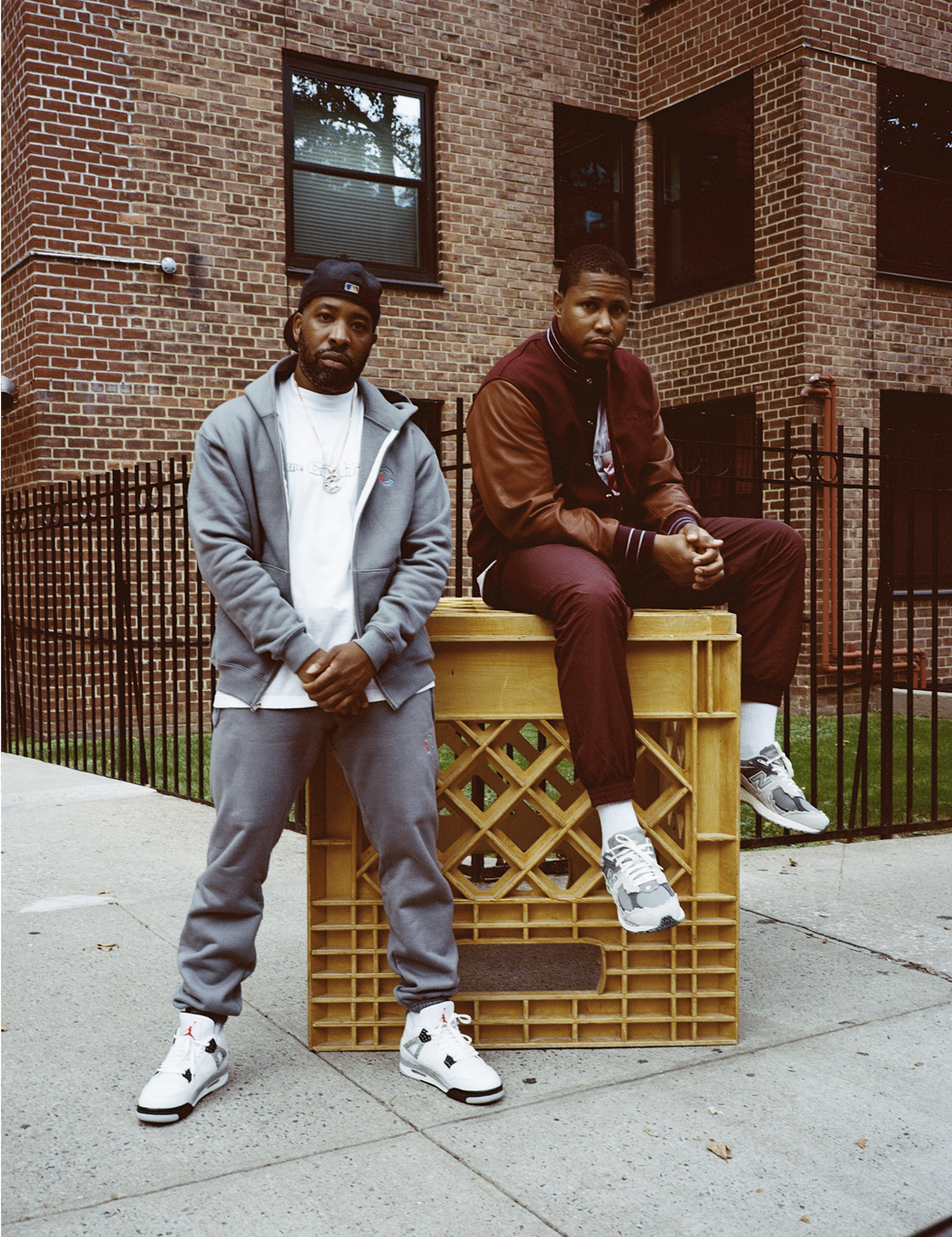 What is your earliest fashion memory?
Terrill: I remember my mom buying me a Tommy Hilfiger shirt when I was about eight. It was fake, and I remember thinking to myself I gotta get my money up so I can get the real shit. She didn't know any better, she just knew her son wanted to get fly so she tried. Love you ma.
Tyrell: Watching YO! MTV Raps and starring in music videos every chance I got.
Do you have a favourite fashion memory?
Terrill: Kanye wearing my clothing. He's the fashion icon of our time. So if he's wearing my stuff, it's just a matter of time before the world sees our art.
Tyrell: Seeing my older cousins and hustlers in my neighbourhood come home from the club in the early morning as I waited on the bus for school. They would pull up to the bus stop and talk to me until the bus came. Just seeing early 90s fashion at its finest, and hearing about crazy club nights motivated me.
Describe Far Rockaway in four words…
Terrill: It's a Unique Territory.
Tyrell: Raw. Authentic. Misunderstood. Challenging.
Describe yourselves in four words…
Terrill: Passionate. Outspoken. Relentless. And Confident.
Tyrell: Free spirited. Reliable. Ambitious. Reckless.
What did you want to do growing up?
Terrill: I always knew I wanted to be my own boss. I looked at people like P Diddy, Master P and even Donald Trump. I just love the ambition that they put into becoming successful. Like just relentless. Entrepreneurship was always on the radar.
Tyrell: Basketball was my first love, so of course I wanted to be a basketball player.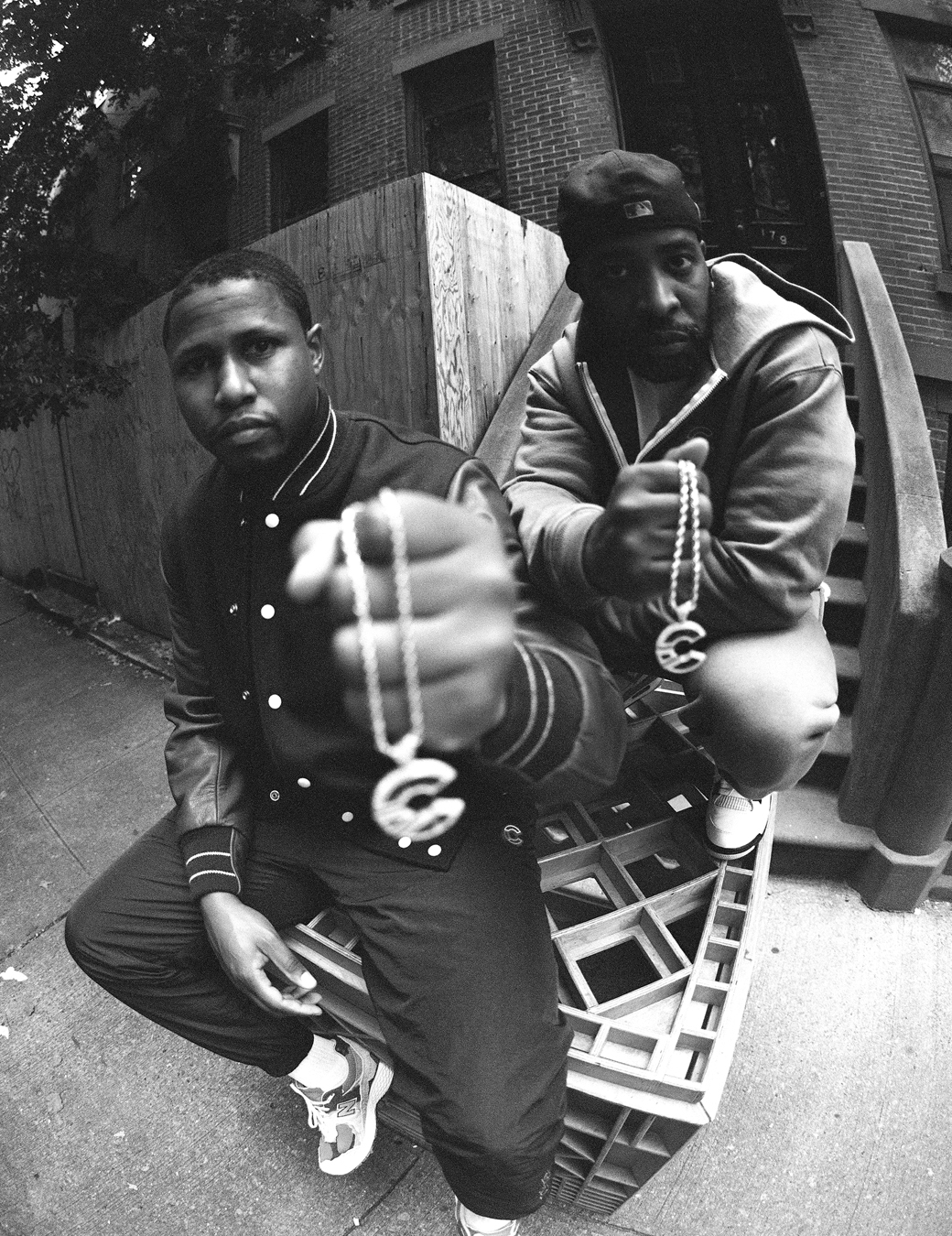 Why did you want to start a label?
Terrill: I didn't necessarily know I wanted to start a label. We owned the business for two years and were selling other brands, and there just became a point we felt we were selling things that we wouldn't even buy. So we just kinda said, scratch this shit. We making our own stuff.
Tyrell: The brand came after the store was open. The original idea was to bring some quality clothes to our neighbourhood. After having the store for a year, we realised that there was a demand for us to create our own clothing from our customers. That's when we decided to push forward and only sell our brand The Crate.
Can you talk us through The Crate and what it's all about?
Terrill: From the kids that broke down The Crate and turned it into a hoop, to the DJs who would bring the turntables to the park with their record collections in crates, to the hustlers who played the corners sitting on crates… it just brings the hood together. The Crate represents togetherness. I love that people wear our brand and it immediately associates them with being from Far Rock. That speaks volumes. And most of all, it's about giving the hood hope. Quick lil fun fact: it started from a Stack Bundles quote "Fresh Off the Block, I got the Print of The Crate on me".
Tyrell: The Crate is pretty much "The Rose That Grew from Concrete." Like Tupac said, "This represents the ways someone can become something great coming from a place that's not recognised as great." The Crate is a streetwear brand that was built from necessity. We needed something of our own, something we could relate to. Coming from Far Rockaway, we didn't have any retail options in our neighbourhood. The Crate gives our community something to stand behind and a sense of pride.
What's your biggest style no go?
Terrill: No tight jeans! I can't go for that.
Tyrell: I can't get with the skinny jeans.
What are you listening to on repeat at the moment?
Terrill: Chinx, How to get Rich.
Tyrell: For Certain by Stack Bundles. RIP.
What is the best advice anyone has ever given you?
Terrill: Stop being so prideful.
Tyrell: Do Self Happy!
And one piece of advice you give out that you never do yourself?
Terrill: Stop being emotional.
Tyrell: Be patient and persistent.
What is your current phone background?
Terrill: I'm into Japanese architecture and I have a concept for the new store I want to do. When you walk into the store it will look as if you are underneath a milk crate. Sick concept. Can't wait to bring it to fruition.
Tyrell: The ocean.
Finally, what are you excited most about tomorrow?
Terrill: God giving me the chance to see tomorrow.
Tyrell: Waking up…
Credits
---
With thanks to Tiffany & Co.
Photography Nolan Zangas
Tagged: