Photography Shunsuke Shiga
Angelo Baque speaks to Verdy about his first art exhibition
The two street and skate culture giants discuss Verdy's kawaii characters, his punk influences and the rules of art.
|
26 November 2021, 10:22am
Photography Shunsuke Shiga
Tokyo-based graphic designer Verdy has been a defining figure of Japan's contemporary punk, skate, street and harajuku scenes since 2007. An illustrator at the collective VK Design Works and founder of the game changing streetwear brands Girls Don't Cry and Wasted Youth, now, Verdy is opening his first ever art exhibition at KaiKai Kiki, the Tokyo gallery owned by his old mentor, the Kanye and Billie Eilish collaborator Takashi Murakami. Called RISE ABOVE, adorning the exhibition's walls is the kawaii monochrome pop culture character VICK — who Verdy created as an alter-ego, that has since grown its own fandom — and its new pastel-coloured dragon-esque counterpart VISTY. Canvas pieces of the characters act as projections of Verdy's own experiences, daily emotions and actions, while sculptures (Verdy's first ever three-dimensional work) manifest these characters IRL into the two rooms of the exhibition.
Alongside the exhibition, Dover Street Market locations across the world, from London to LA to Ginza, have launched capsule collections designed with Verdy that come in unique bright colour ways and a print featuring VICK's cute cloud-like head.
Verdy sat down with fellow contemporary streetwear pioneer Angelo Baque, founder of AWAKE NY, for i-D to discuss moving from digital to physical art and how his first exhibition came about.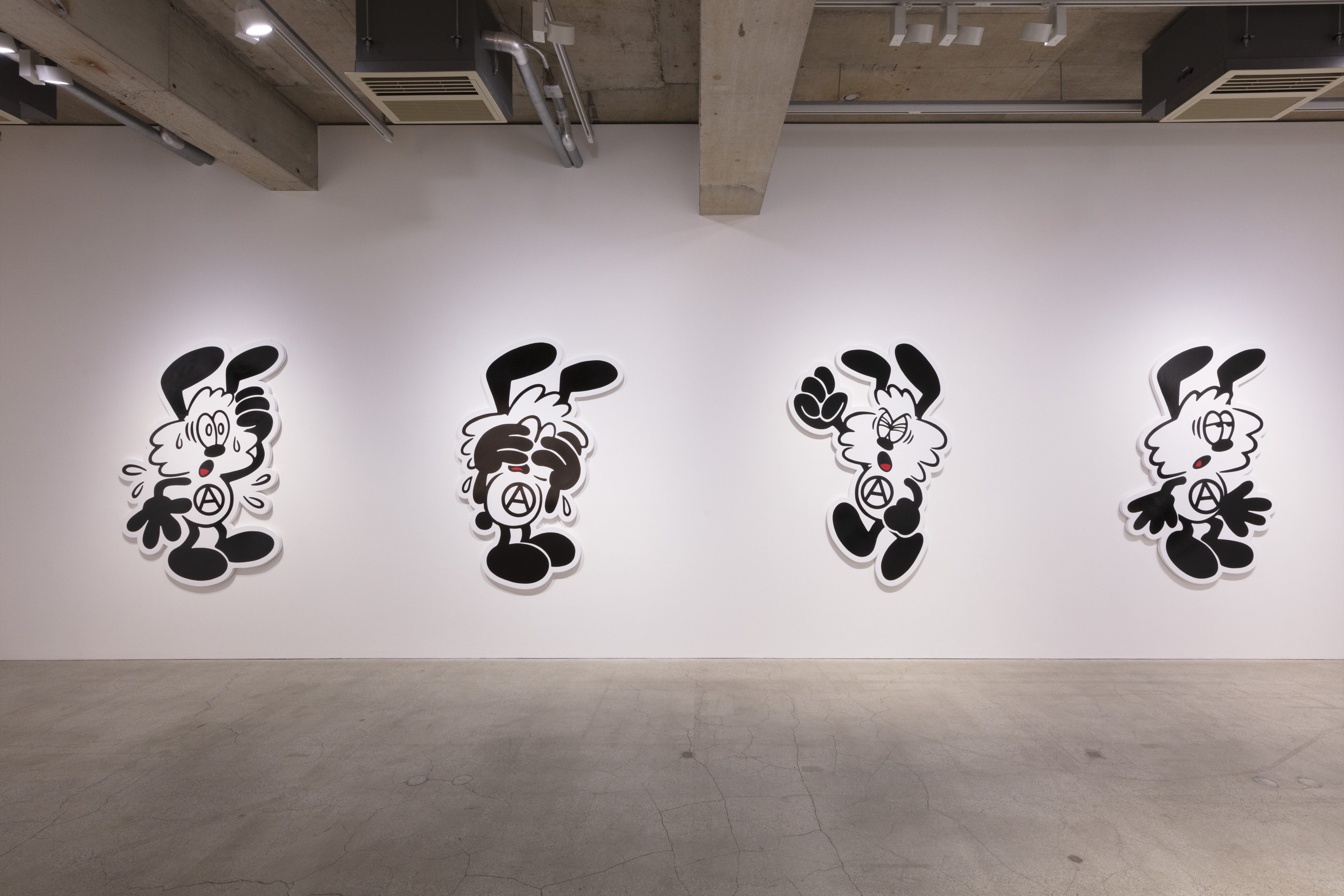 Angelo: Verdy, congratulations! Big next step in your career.
Verdy: Thank you so much Angelo.
Angelo: You just had your first art show; what made you decide to name it RISE ABOVE?
Verdy: "Rise above" is a feeling I had when I started designing for myself and I put those feelings and emotions into the characters for this exhibition. I feel like this is a new start in my career, which is why I also named it RISE ABOVE.
Angelo: I did some investigating and a lot of your influences are based in punk culture. You talk a lot about Black Flag, Minor Threat, Gang Green. That music and energy is hard and it's fast. It's counter culture. But when I see some of the pieces from your show, they're very happy. So where is the balance? They're two different ends of the spectrum and you're right in the middle.
Verdy: When I was a student I was going through a hard time but I found myself when I discovered 80s punk music. Eventually, I joined a band and began making show flyers based on punk imagery. I started out by incorporating skulls in my work, but over time I felt like I needed to make more designs with meaning, rather than it all just being dark imagery. I began mixing in characters that are more happy and bright which became my style now.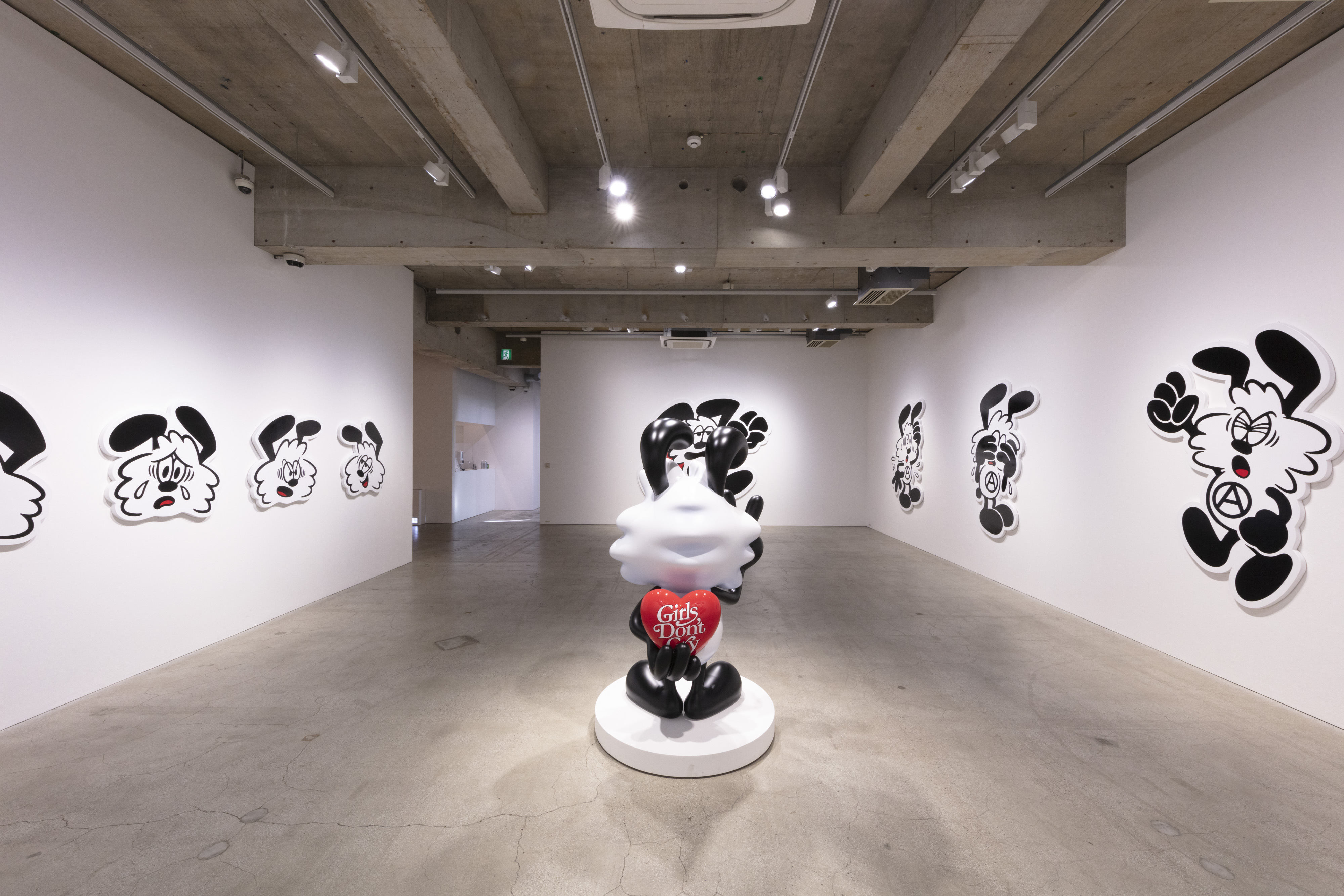 Angelo: Now that makes sense. That's why the character VICK has the anarchy sign on his stomach.
Verdy: Yes, the kawaii pop characters and the anarchy marks are essentially the basis of my style.
Angelo: In the show, we meet the new character VISTY. Where does he come from? What was the inspiration for this character?
Verdy: VISTY is a contrast to my first character, VICK, who was a strictly black and white panda-rabbit mix, and a response to the pandemic. For VISTY, I wanted to create a colourful character to cheer people up during these tough times. The creation of him allows me to express different emotions and feelings. Eight years ago, when I was moving to Tokyo to pursue a career in graphic design, I was told not to and that there isn't any money in that. I felt so defeated and discouraged and I wanted those feelings to be represented through the VISTY sculpture at this show. That's why he appears a bit beat up.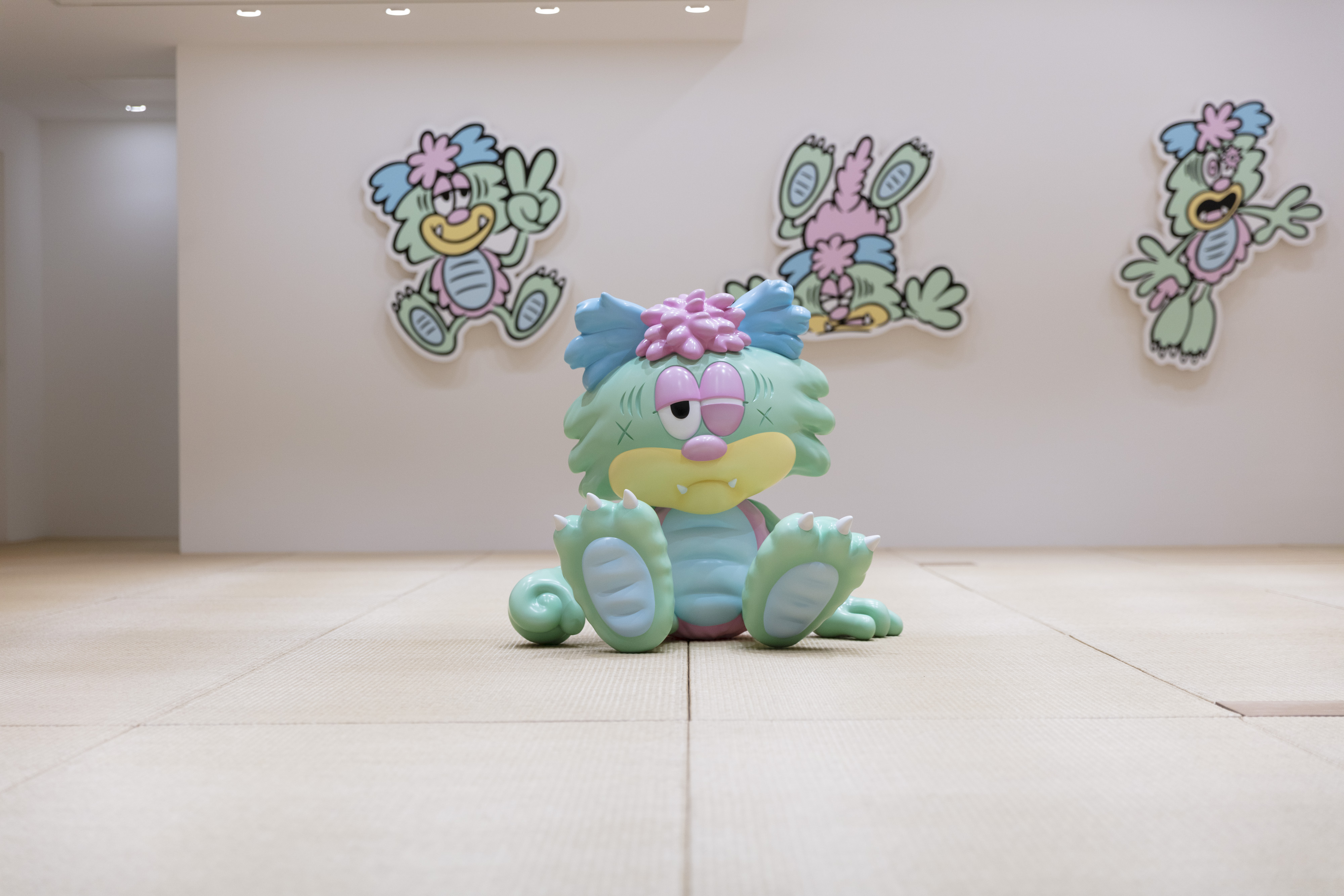 Angelo: That's amazing! Also, in my little investigation I heard that you have certain rules when it comes to your art. Can you explain?
Verdy: Yes, I set different rules for all my projects. Like I just mentioned when it comes to VICK, he can only be in black and white. For Girls Don't Cry, I never make anything that my wife doesn't like or approve of because I started that project as a gift to her. When designing Wasted Youth, my rule was to only create with the same energy that punk and skate culture gave me when I was younger.
Angelo: I heard that one of your philosophies is "anything is possible". That feels very positive. How did you apply this philosophy to the art you created for the show?
Verdy: I honestly do believe anything is possible. I'm a good example of that. I'm a graphic designer who is breaking barriers. I never thought I would have multiple brands and characters and collaborations with Dover Street Market, Nike, Nigo, Levi's, Awake and more, but I'm doing it, and proving that with hard work and humility, you can be successful. That's the mentality I also adopted for the show.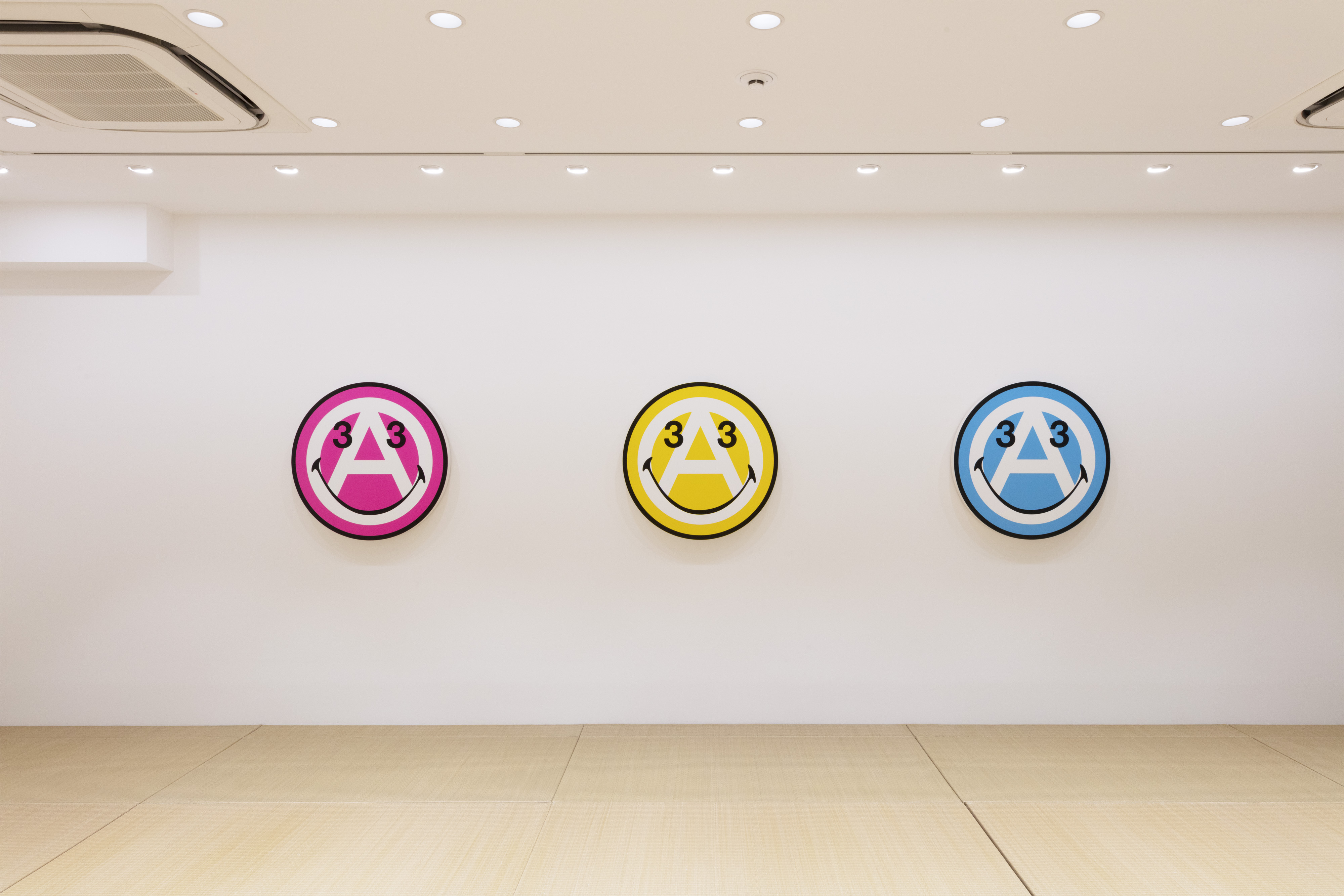 Angelo: So, in your graphic design language, there is "blank space" in your work. It's a space that you hold for people to identify with. Can you elaborate on that?
Verdy: I choose the words in my work and design language very strategically. I make them detailed, but also simple so they can be easily understood by everyone. I have my own personal interpretations of my work, but my intent is to leave their meaning open. When I say there is "blank space", I mean there is space for the viewer to interpret my art in their own personal way. Like the phrase, "room for interpretation" but that "room" is the "blank space".
Angelo: I'm learning and getting educated right now too. Some of your graphics look simple but there's so much emotion put into them and that's what people gravitate towards. When you're making physical art pieces, in comparison to your digital art, what is the process like?
Verdy: All of my art, whether it be on a T-shirt or a canvas, comes from the same place. I put a lot of care into everything I make. When creating all of the unique VICK canvases for the show, I made everything from scratch. I cut and sanded the wood pieces and glued them together myself. I owned the process from start to finish. It's important I have a hand in every stage of the process. With clothing, I create the design on a computer but I'm not physically making the garment. I just see the finished product. So, as an artist, the opportunity to have a show like this and be hands-on every step of the way is really special.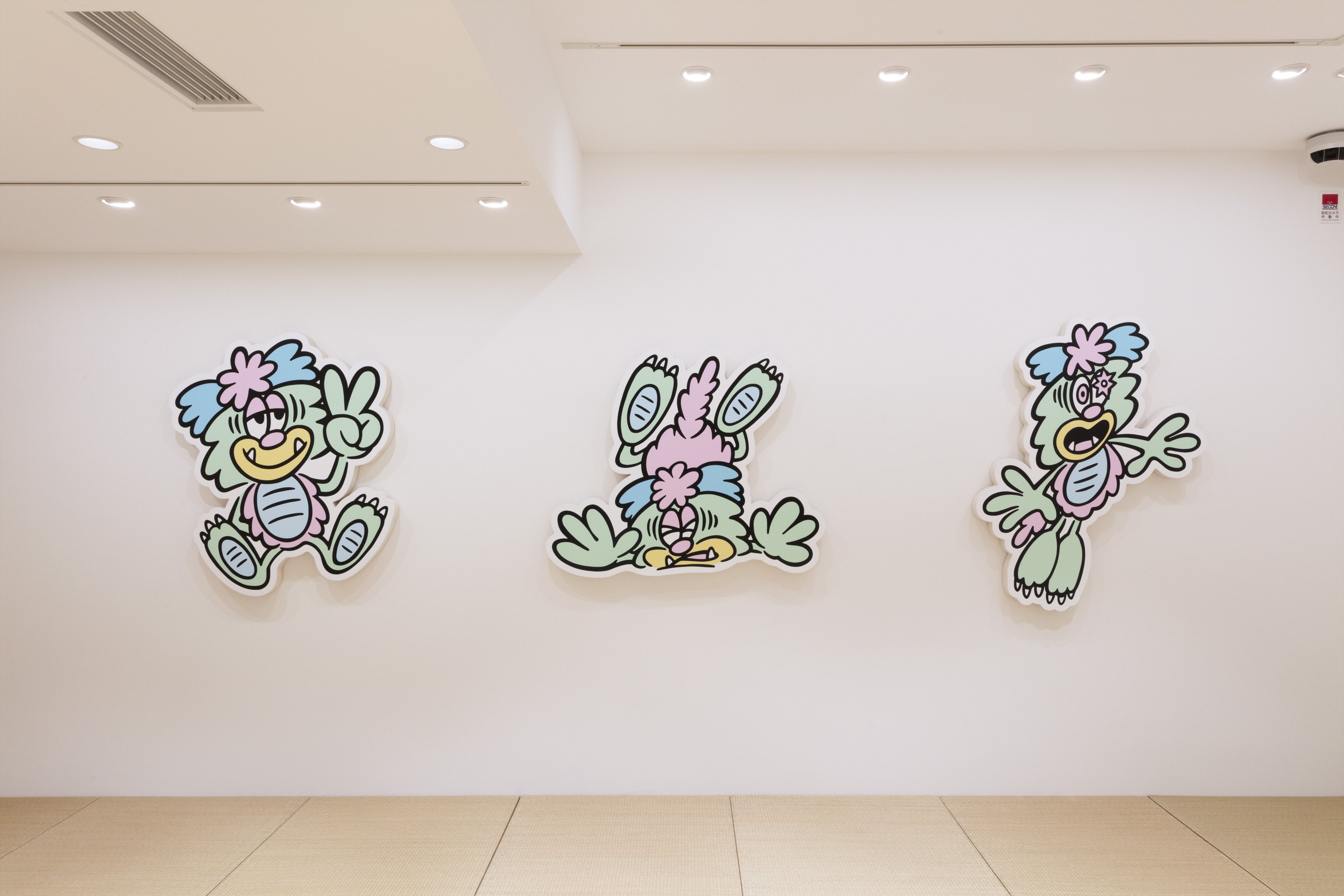 Angelo: How did you and Kai Kai Kiki come together? How did that relationship start?
Verdy: I've always been a fan of Takashi Murukami and his artwork. One day, he followed and messaged me on Instagram and later we met in person at ComplexCon. Fast forward to two years later when I was doing Verdy Harajuku Day and we decided to work together. We collaborated on some art pieces and I learned a lot from him about the art scene. I consider him a mentor so it made sense to have my first big art exhibition at his gallery, Kai Kai Kiki.
Angelo: I see all the success you're having within fashion. What's the next challenge you want to conquer?
Verdy: I want to become bigger in both fashion and the art world. I'd love to work with a fashion house down the line and do more exhibitions around the world. I want to represent Asia as a whole, not just Japan, and create a sense of unity. I admire the way Americans are outspoken about their beliefs and I want to see more of that in my culture.
Angelo: Create solidarity within the Asian community. Thank you for taking the time to do this interview, Verdy. Wishing you much continued success! I'm here for it watching you fuck up the system. I fully support it.
Verdy: Haha, thank you.
Angelo: Arigato! Peace brotha.
Verdy's solo exhibition RISE ABOVE runs at Kaikai Kiki Gallery, Tokyo, Japan until 9 December 2021.
Credits
---
Photography Shunsuke Shiga


Tagged: