Gogo Graham taps Hunter Schafer for her Studio Ghibli-inspired collection
The designer and 'Euphoria' actress tell us about the show, which cast exclusively trans models in her fantastical take on comfy, at-home clothing.
|
17 February 2022, 4:59pm
On Tuesday night, Gogo Graham transformed the outdoor patio of Brooklyn nightclub Nowadays into a playground to present her AW22 collection. Small, yurt-like tents were set up for hair and makeup, and the models — all of them trans and self-cast from Gogo's creative community — crammed inside fully-dressed before walking down the runway. Euphoria actress and model Hunter Schafer, who not only closed the show but sponsored it, captured the silly and joyful moment on her Instagram: "The dolls are dolling," she wrote.
Both trailblazers in their respective fields, Gogo and Hunter met a few years ago, on the set of a Vogue video shoot, and have since become good friends. The California-born and Brooklyn-based designer is known for her fantastical runway shows — an off-schedule staple at New York Fashion Week for over ten seasons now — but also her long-standing commitment to diversifying fashion: "representation of trans women by trans women," she told us in 2015. Hunter is certainly no stranger to the fashion world, but it was Gogo's prescient vision and unique aesthetic that made her want to support the label.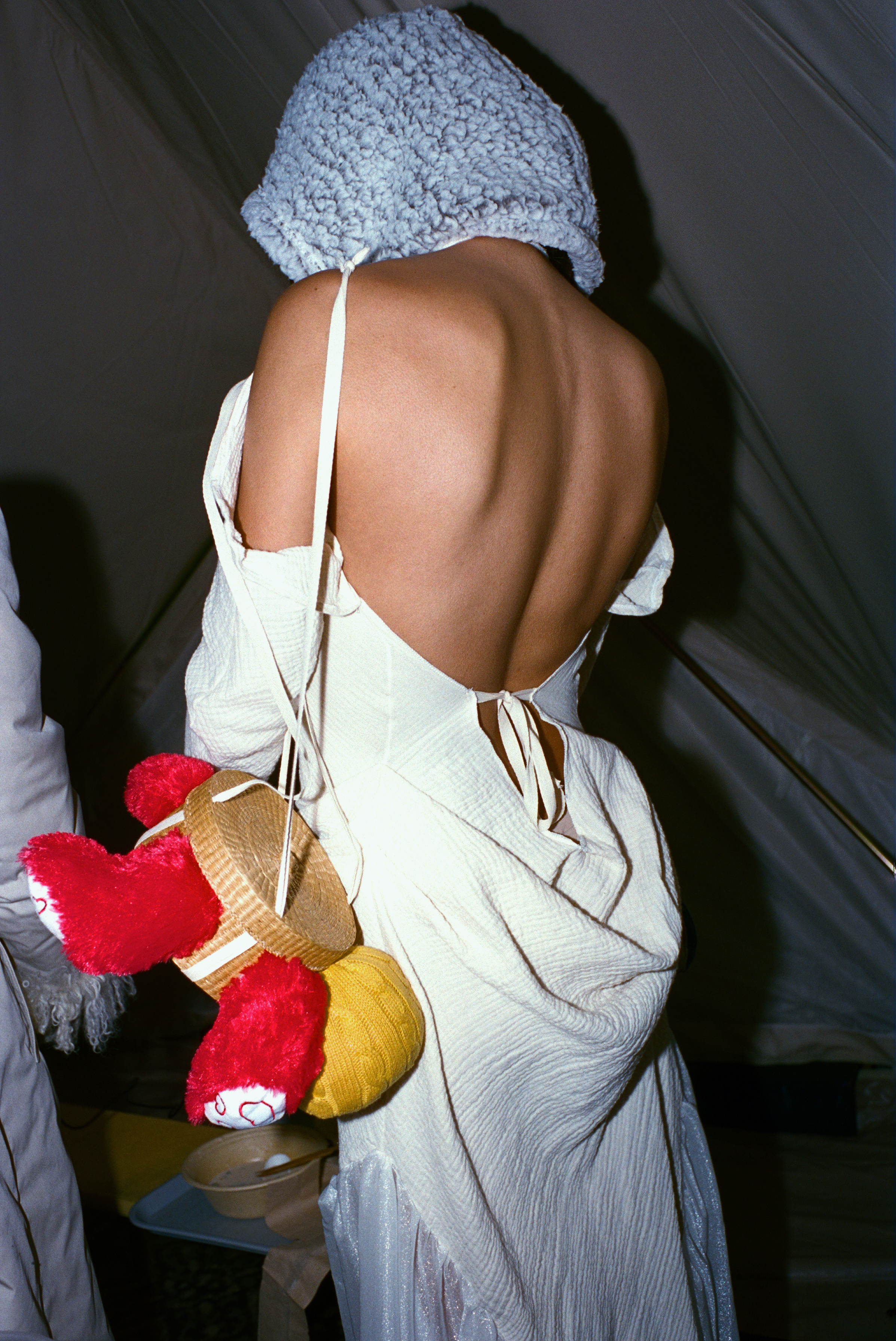 "Honestly, who else is exclusively using trans models to present their work? She's been doing it from the jump," Hunter says, explaining that Gogo is an inspiration to many who feel excluded from the industry. "That is world-building that I crave, and I imagine most of my community craves as well. It's nothing short of magic to see that in fashion right now."
This magic is instilled in Gogo's clothing, too. When the designer set out to create her latest collection, Home, Sweet, Home, the isolation that we've all experienced over the past two years was front of mind, as well as the things we've found comfort in — cosy at-home clothing, cheesy rom coms, et al. — and the way our current reality often feels surreal. "I like to make some kind of fantasy, always, with my collections," Gogo says, a few hours before her show. "[This season] the fantasy is everyday and ordinary because things are so not ordinary right now, but it's like we're supposed to be pretending it is."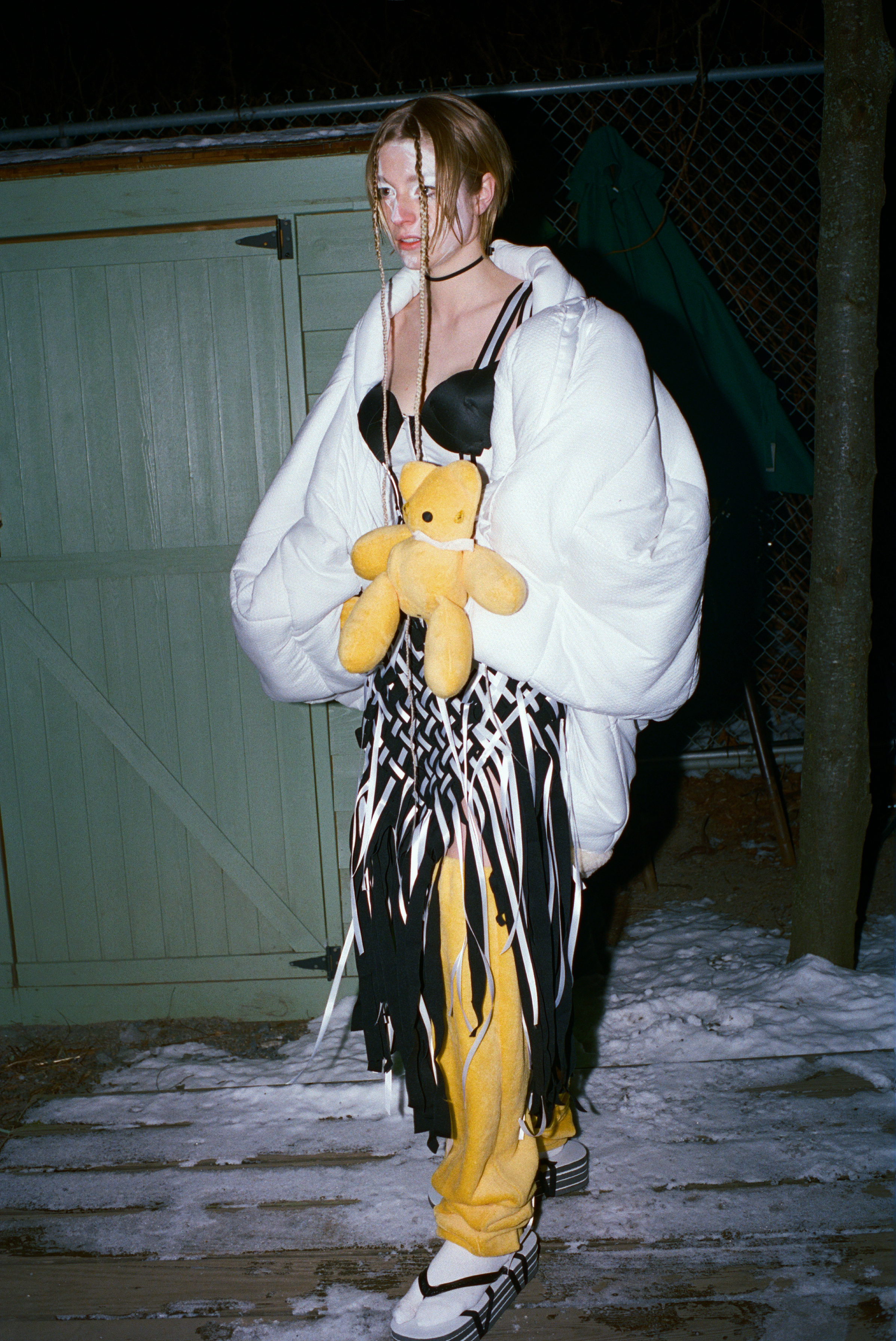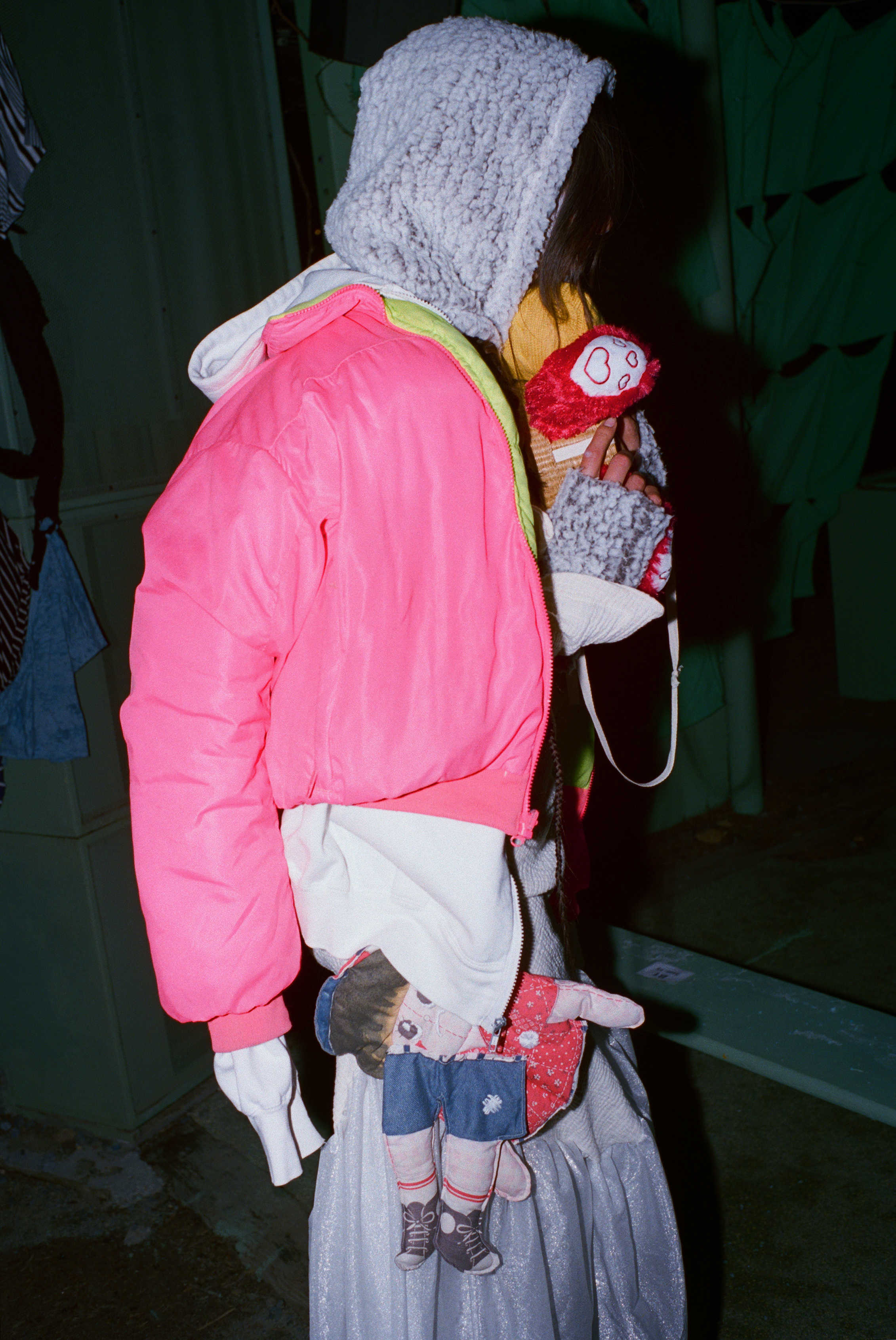 Gogo also found inspiration in Grave of the Fireflies, a Studio Ghibli film from the 80s about life in wartime Japan. There's a specific scene in which one of the main characters plays dress-up with everyday objects that Gogo kept revisiting. It's set to the operatic original song "Home, Sweet, Home", which became the collection's title. Similarly, Gogo transformed domestic materials into clothing: recycled duvet covers, blankets and baskets became comfy, oversized puffer-style coats and bags; models carried plushie stuffed animals as accessories. Traditional Japanese yukatas and haoris were also repurposed into hoodies, cropped jackets and dresses, in a nod to Gogo's Japanese heritage.
"I'm half Japanese, so I'm always trying to connect with those roots because generally I feel super disconnected from them," Gogo says. "I've never been to Japan and I'm third generation, so my Japanese family has been here for over 100 years. There's distance between me and my Japanese roots, so I'm always incorporating some of that into my work."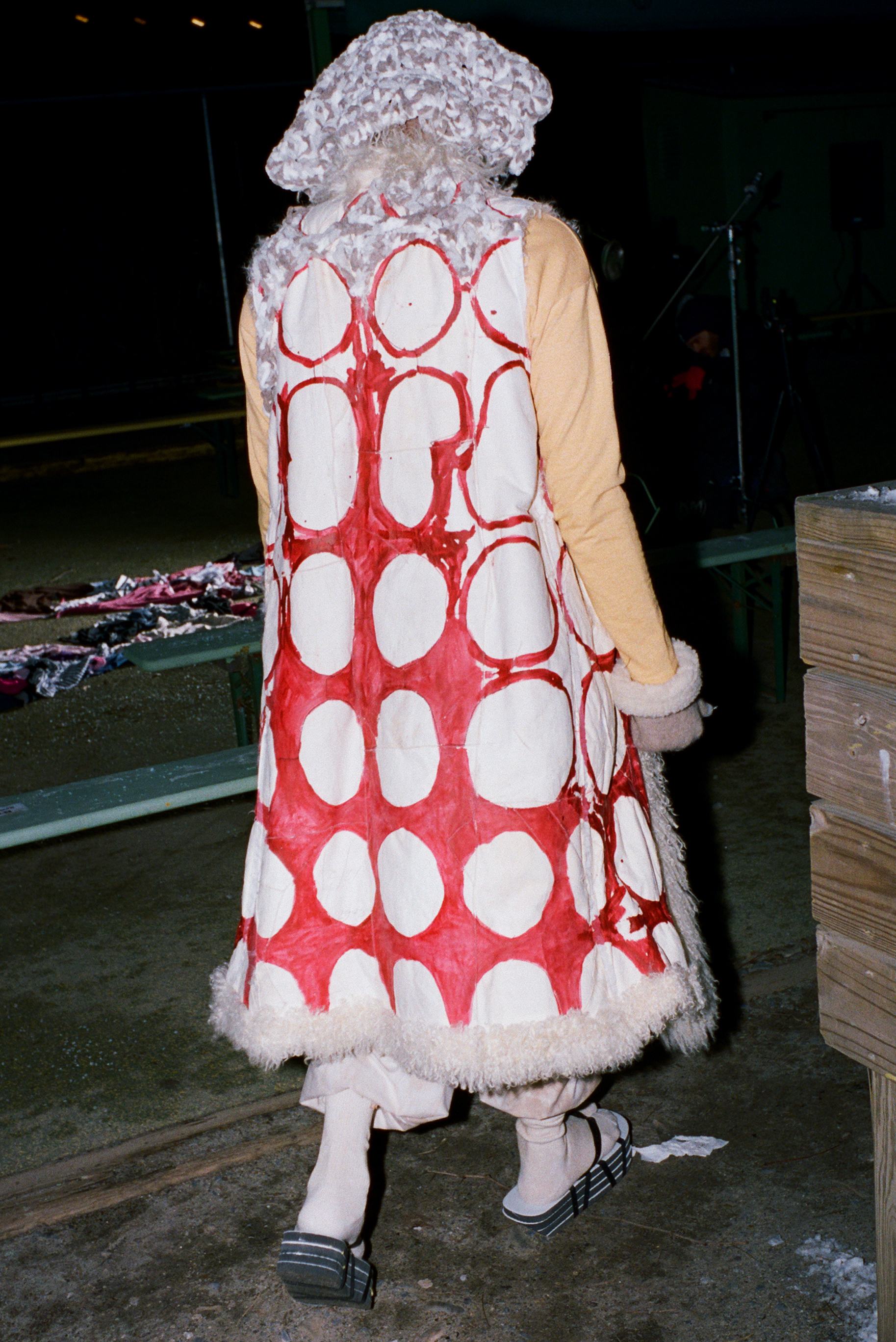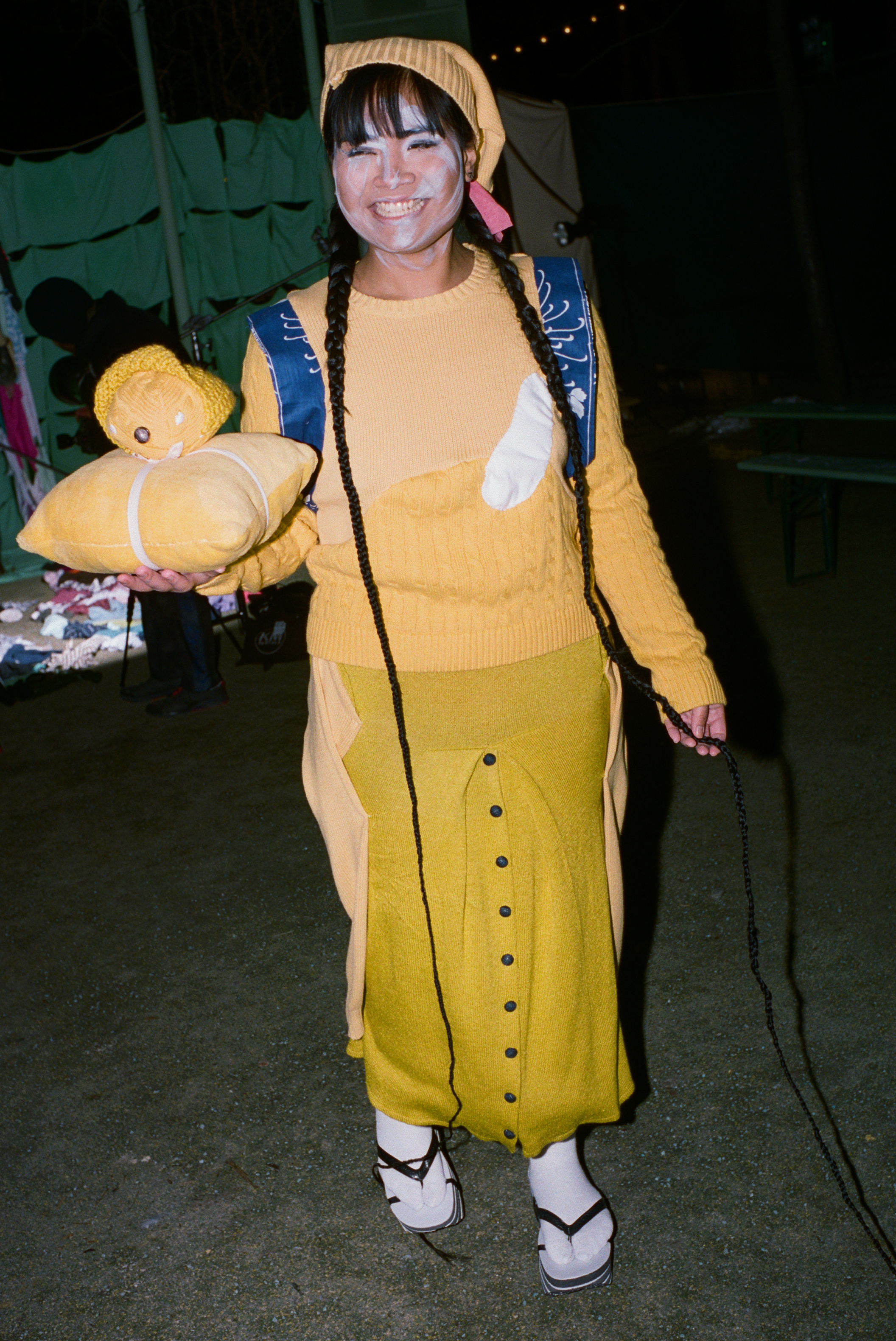 While many New York designers focussed on comfort through wearable basics this season — using soft fabrics that mould to the body rather than constrict it — Gogo did so without compromising her eccentric designs: jersey T-shirts were cut up and painted upon, spare crocheted knits were turned into bonnets. and there's a formal dress made almost entirely out of bra cups. Each look is custom made for the model wearing it down the runway: "that's couture in my head," Hunter said.
"I cast people that inspire me… some are professional models, but a lot are not," Gogo says, discussing the inclusion of Christen Mooney and Patti Harrison. "I think it's cool for people to see that you can make really cool looks without adhering to industry standards for sizing. Typically, I cast the show and then I have that person's body type and their style in mind when I'm [designing the collection]."
Gogo looked at the silhouettes that each of her 'models' wore regularly in order to design looks that made them feel comfortable and confident. This authenticity translated into a whole lot of character on the catwalk: models smiled and bounced down the runway to a soundtrack created by Gogo's friend and collaborator Serena Jara; they flipped their hair and twirled uncharacteristically long braids. They were feeling themselves, and even on a chilly, below-freezing night in Brooklyn, the crowd was too.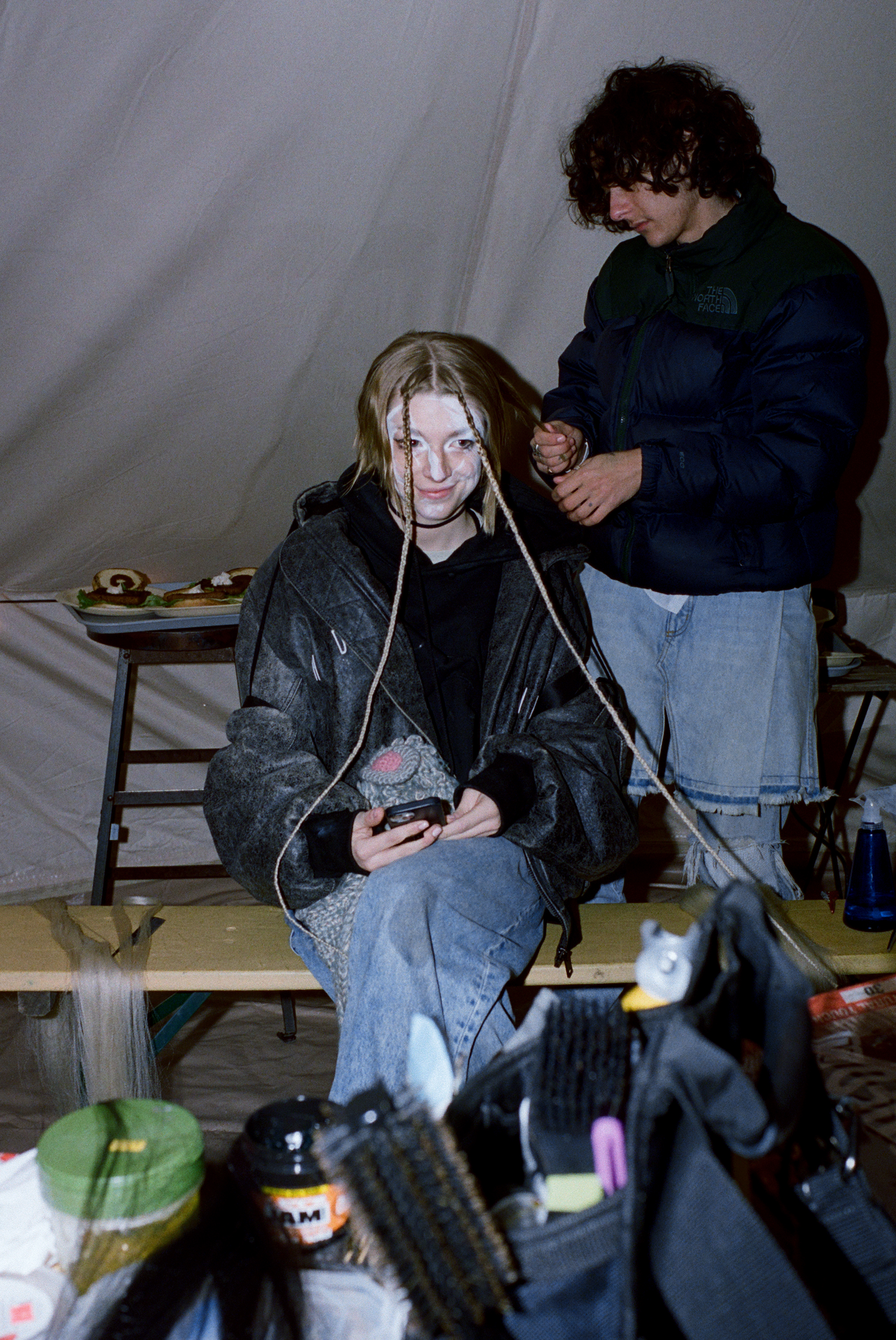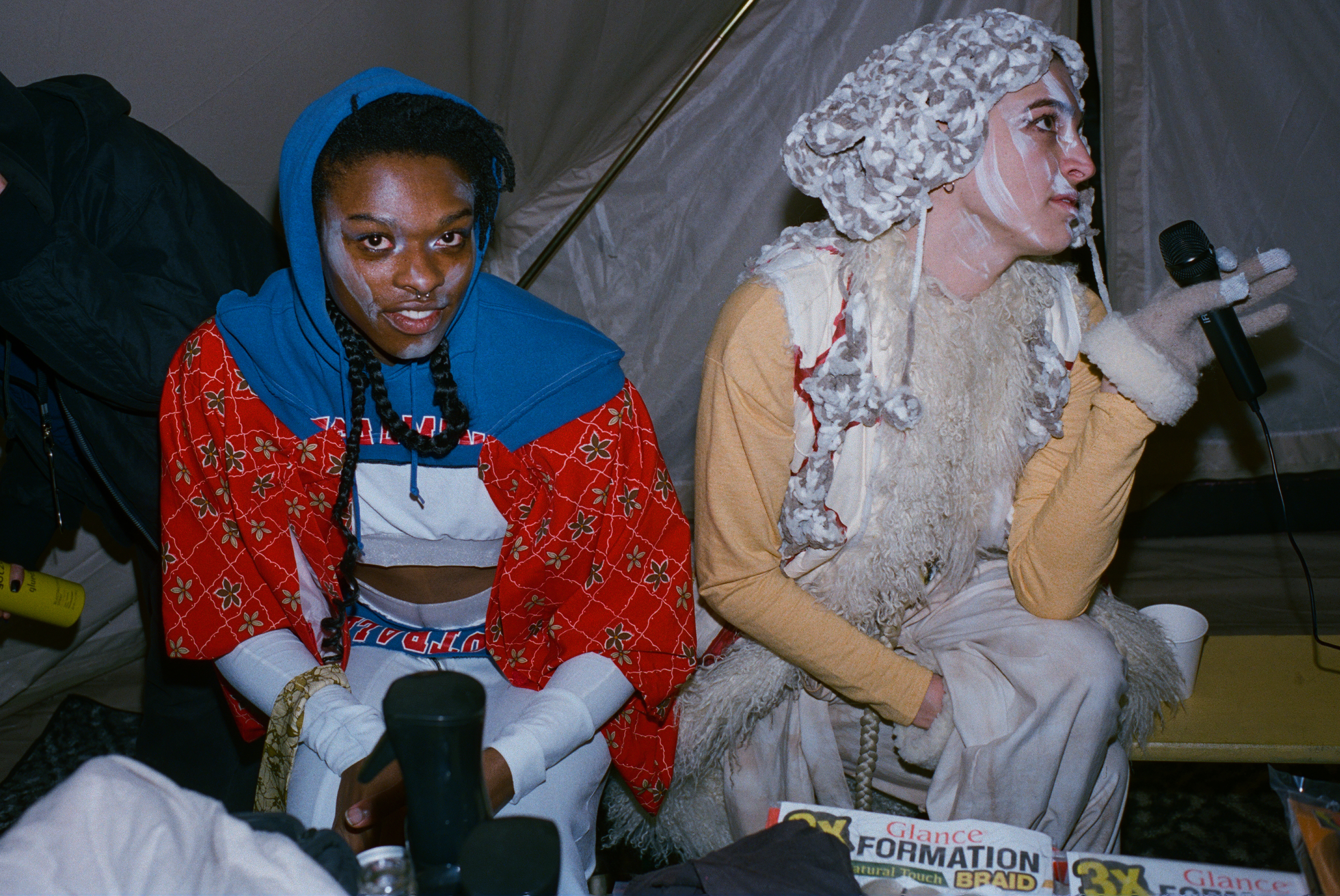 "Gogo's designs feel completely authentic to the trans femme frequency," Hunter explains, noting that Gogo's vision has always been "untainted" by industry wide trends. She wore one of four evening gowns that closed the show. It was a mostly monochromatic corset dress that was hand-woven with strips of ribbon and found fabrics, paired with a poncho-style duvet coat, bright yellow trousers and a matching plush teddy bear.
As for beauty, Hunter had two long braids that extended past her waist, and earthy brushstrokes of grey and white painted onto her face. The hair and makeup, done by Sonny Molina and Leah James, was purposefully messy but optimistic, mirroring the overall aesthetic message of Gogo Graham's show: "This girl's been through a lot, but she's home now". The truth is, we're all home, and there can be a bit of fantasy in every moment, as long as you can find a way to let it in.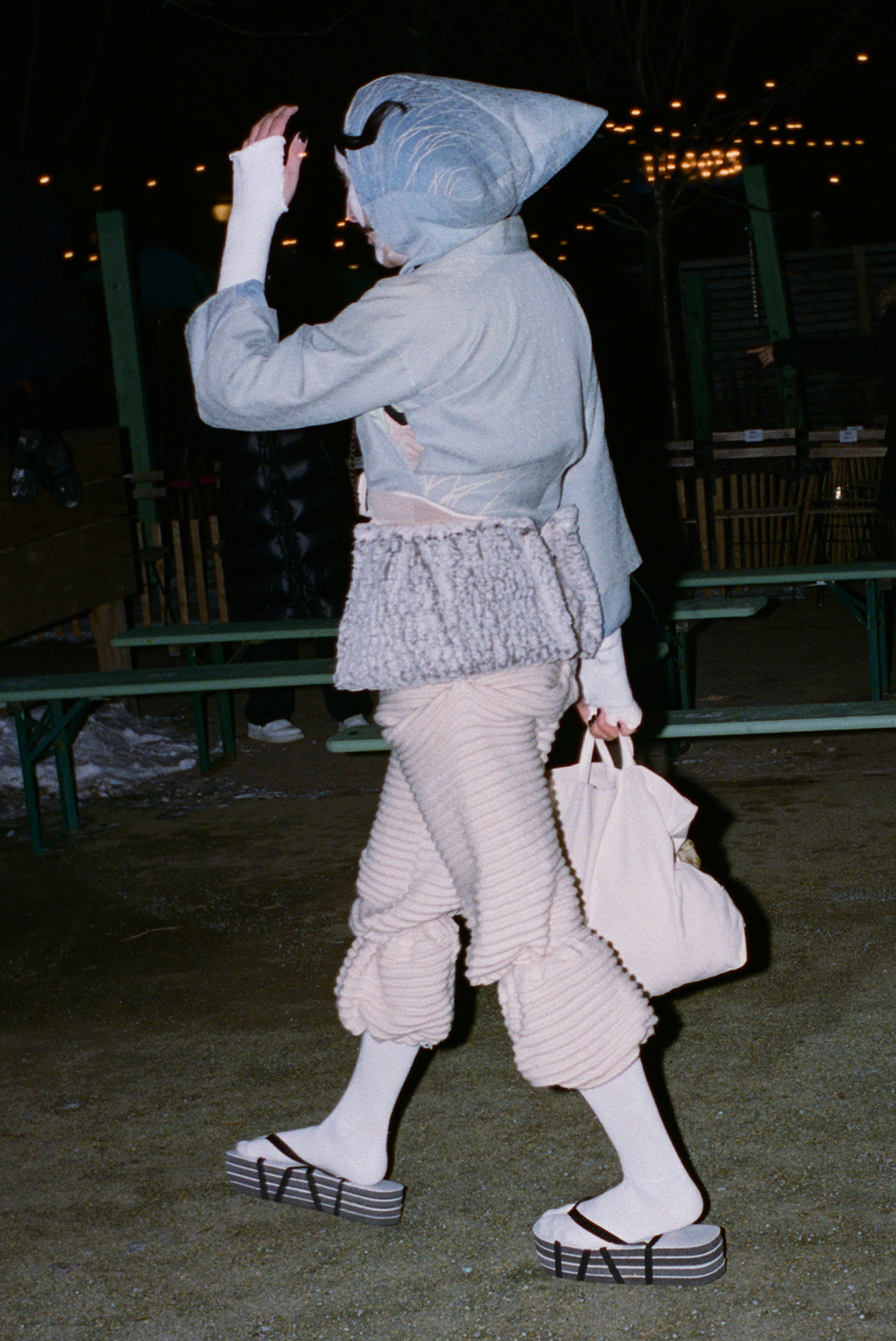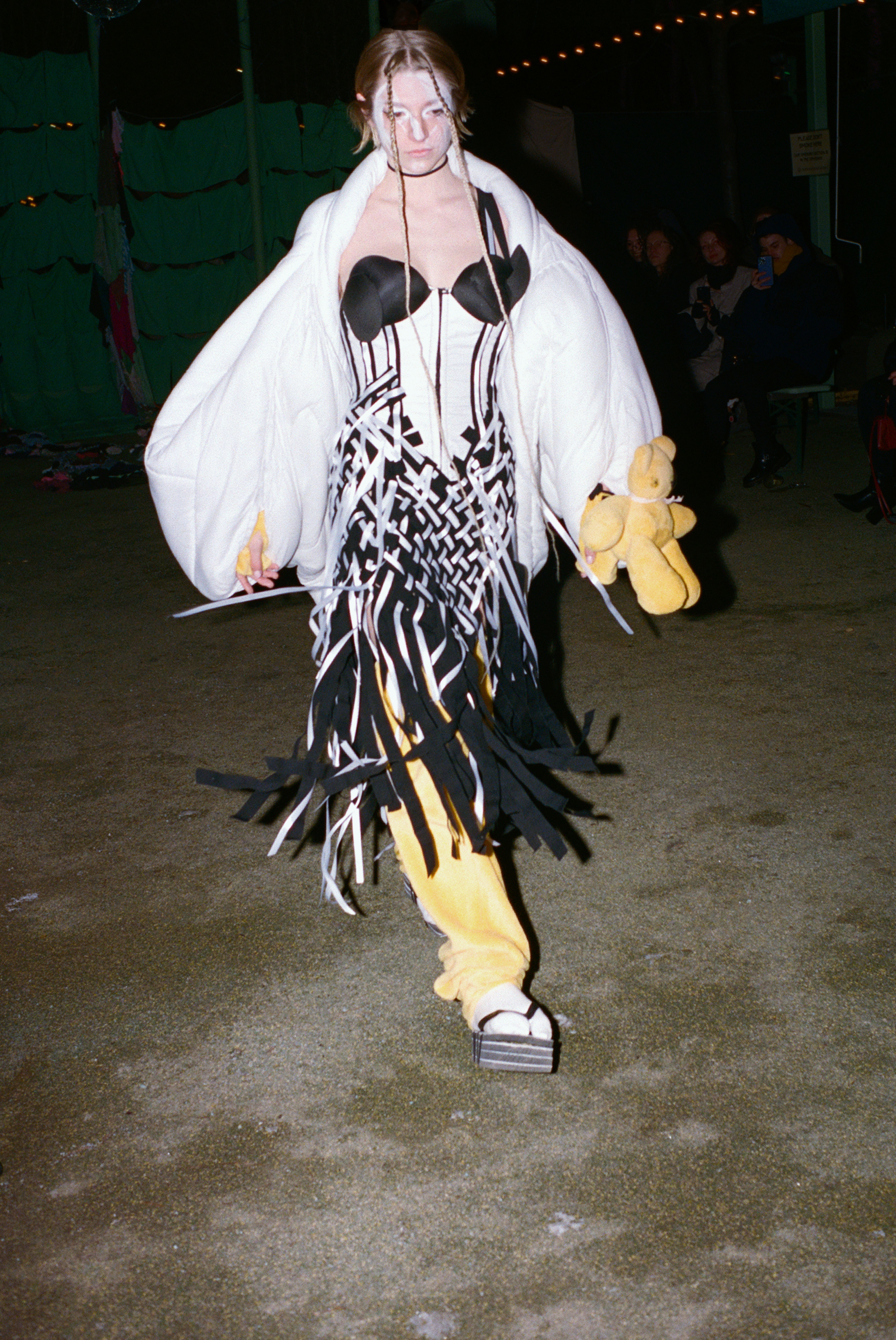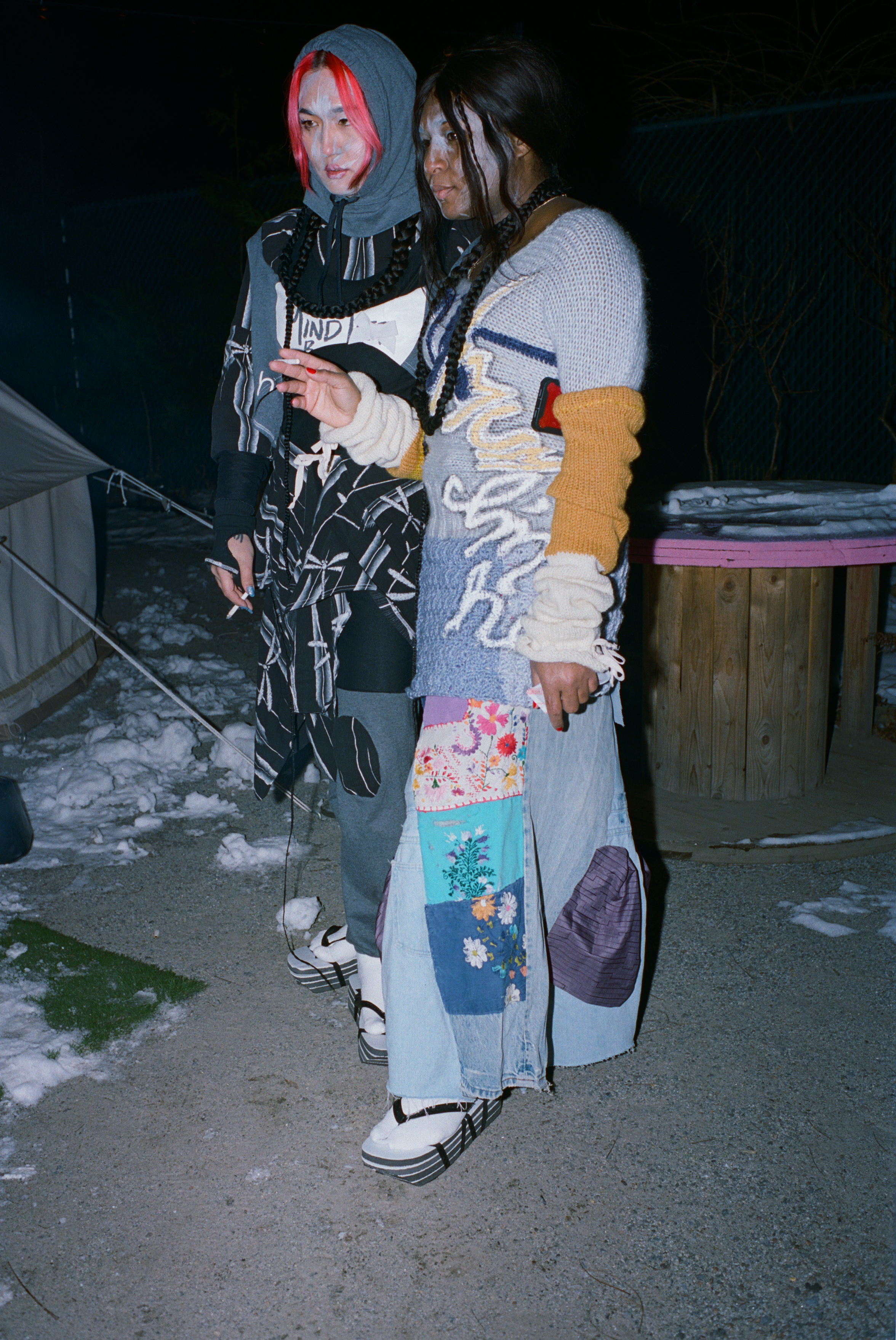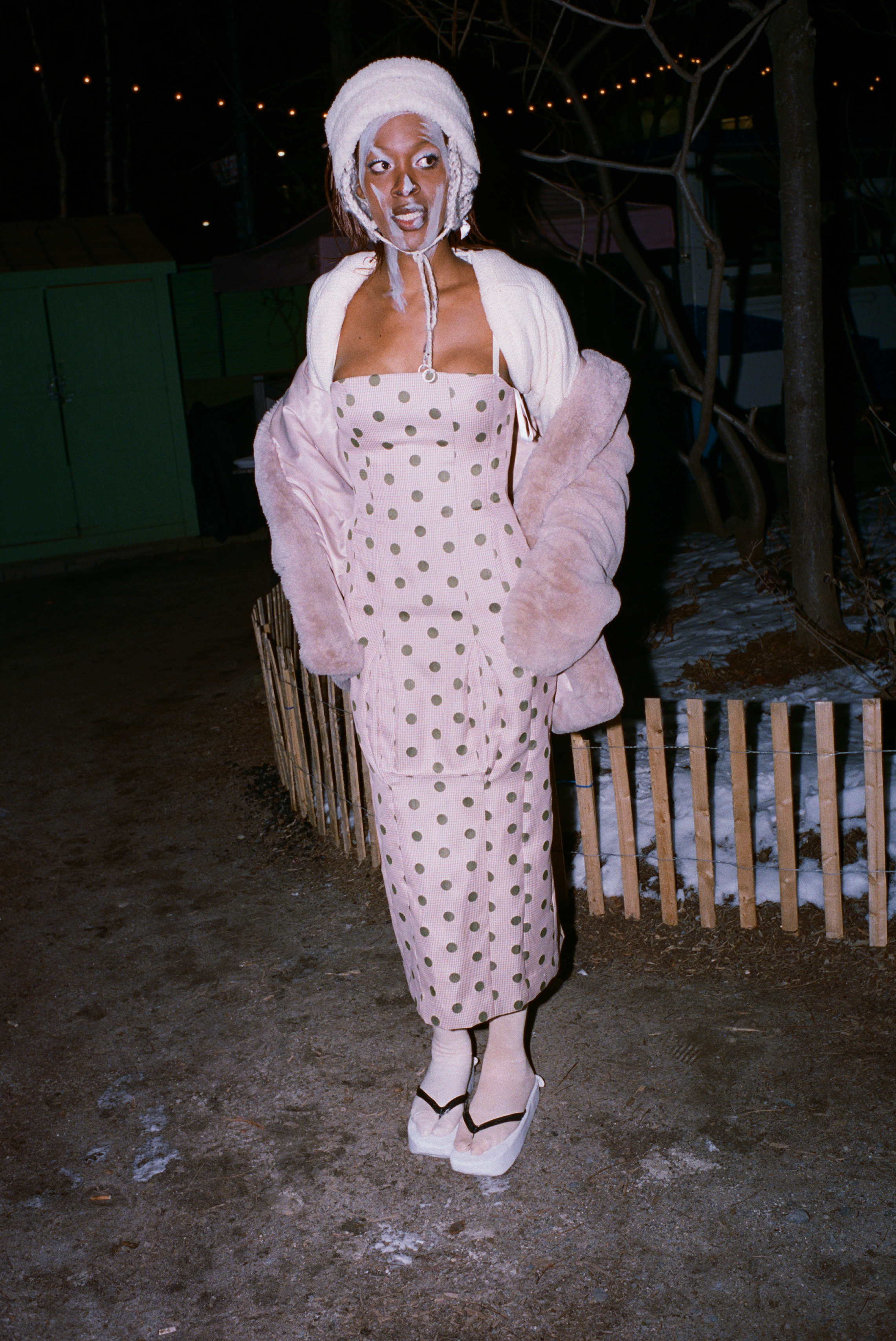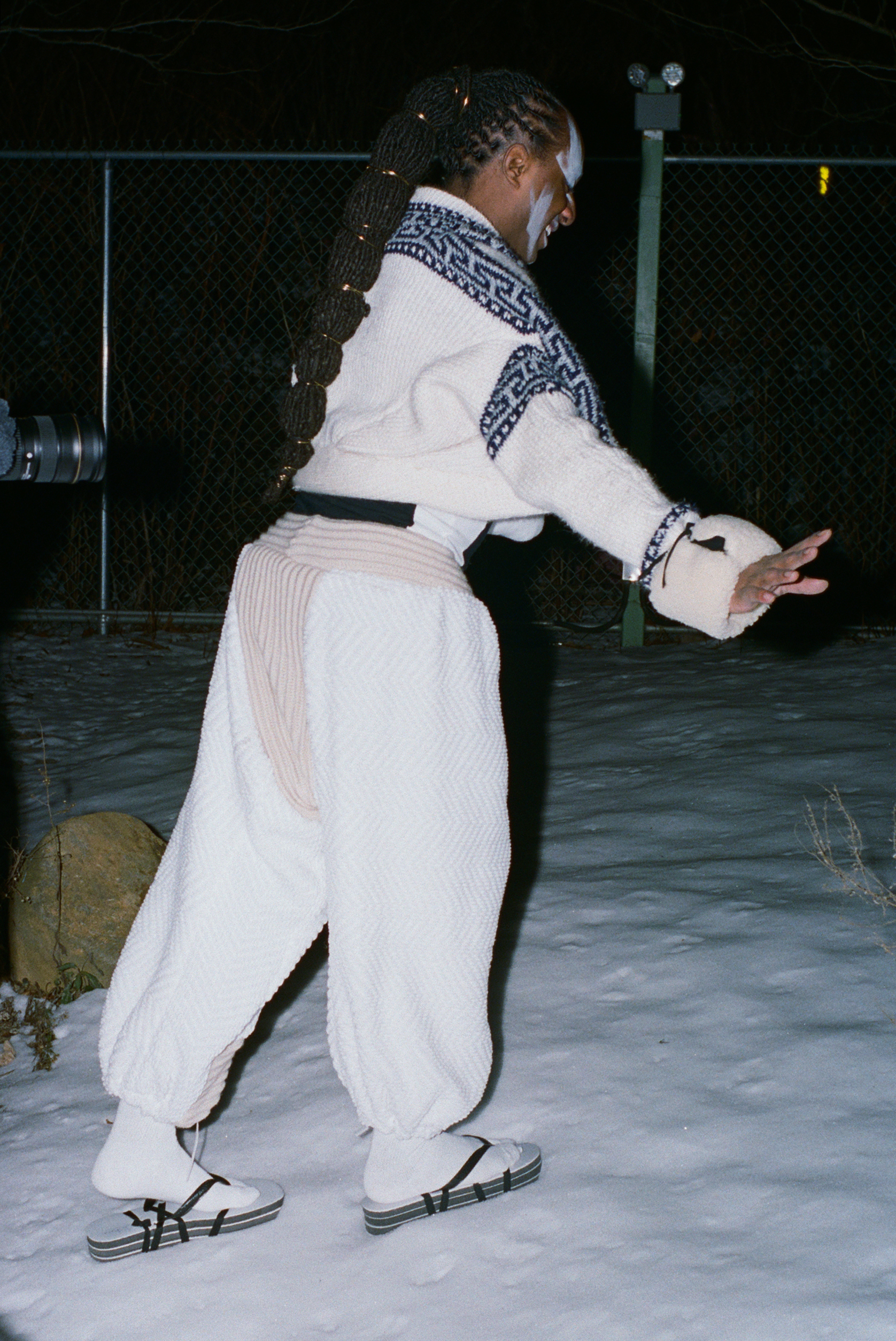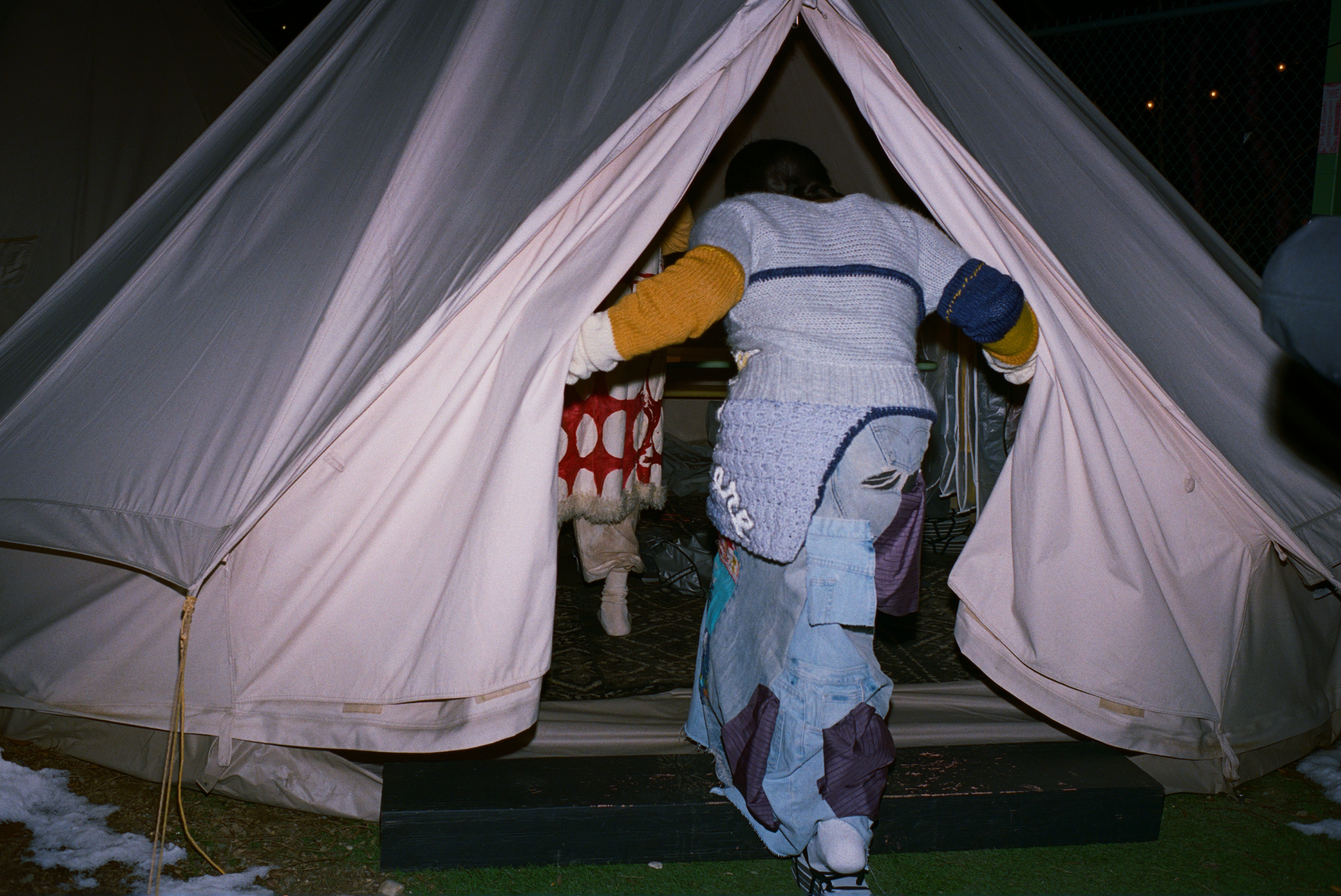 Credits
---
Photography Hedi Stanton
Follow i-D on Instagram and TikTok for more fashion week coverage.