Why is Charli XCX so obsessed with cars?
From crashing her car into the bridge (she doesn't care) to 'Vroom Vroom' and 'Crash', Charli's number one love affair has always been with driving.
|
18 February 2022, 11:57am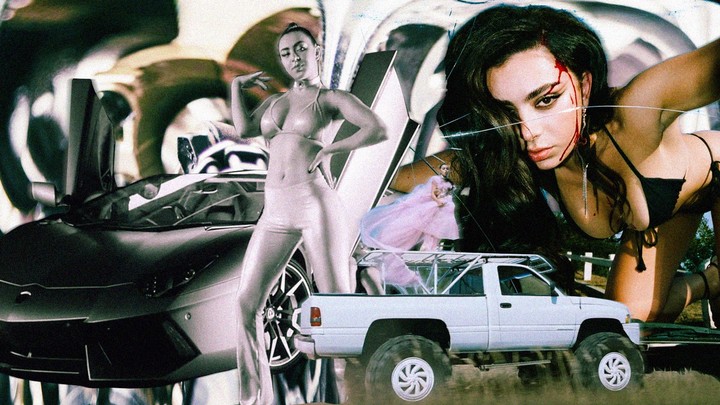 In the years since the release of 2016's Vroom Vroom, a dominant narrative of Charli XCX's career has formed among fans and critics alike, painting her as a young innovator who had trouble finding her way before making a sharp pivot into a sound that truly fortified her artistic purpose. In the early 2010s, she emerged as a cipher within the murky mix of True Romance, and, after the release of her 2014 album Sucker, she firmly moved into the mainstream. But whether mainstream or indie, from a lyrical perspective, one element of her work has remained a constant: Charli XCX is obsessed with cars.
From the references to "crash[ing] my car into the bridge" and "blaz[ing] through the dark" that were included in her hits "I Love It" (with Icona Pop) and "Break the Rules," respectively, to the "cute, sexy, and my ride's sporty" declaration on "Vroom Vroom," to her viral TikTok resurgence with "Unlock It" — "rollercoaster ride in the fast lane" — some of Charli's most notable hits make cars an obvious emblem of her creative process.
This decision to incorporate such a mundane aspect of life might seem obvious: for someone who sings of perpetual parties and tumultuous relationships, of course mentioning the vehicle through which she would travel to these destinations would merit some role in her work. But Charli does not just make passing references to cars. In songs like "Backseat," "Porsche," "White Mercedes," and, of course, "Vroom Vroom," they're the central conceit of entire songs. Is this a reflection of her life in Los Angeles, a city reliant on car travel?
Though the title of her Vroom Vroom EP might suggest a clear pivot towards this recurring motif, Charli has mentioned cars even before she decided to roll up in a lavender Lamborghini. References to driving around in cars are scattered throughout various songs across Sucker. Vroom Vroom is just where she elaborates on this idea, fully embracing cars as a sign of aspiration and a status symbol reflective of wealth. In this initial stage of her artistry, cars are fully integral to her identity; "Dreamer", the opening track of Number 1 Angel, begins with, "I'm a dreamer / Step, step out the Beamer." She spells this out explicitly in "Drugs", commenting that her lover evokes signs of luxury like "champagne, cigarettes, [and] convertibles." Additionally, "Emotional" contains the lyric, "The car in the driveway / The questions in her mouth / This secret is risky / So we have to keep all these fantasies to ourselves". Perhaps the car in question here being hidden from others represents a sort of emotional dishonesty relating to her emotional performance within society.
In reality, even in her success, Charli XCX remains her harshest critic, and the development of cars as a motif in her lyricism reflects that duality. Where Number 1 Angel — a project more basic in both its lyrical and musical aspirations — laid the groundwork for her pop vision, Pop 2 includes more conflict, disrupting the image of flawless composure essential to the celebrity figure. "Backseat", the opener to Pop 2, contrasts "Dreamer" by envisioning a car as a liminal space in which Charli is forced to confront emotional volatility; the song sputters out by its climax, glitching relentlessly as Charli XCX and featured artist Carly Rae Jepsen lament their being "all alone" and desperate to drown their sorrows in loud music ("I can't escape all the voices and so I turn it up").
In Pop 2, cars are more symbolic of emotional disruption than emblems of the future. The aforementioned "Unlock It" compares the feelings of a crush to that of a "rollercoaster ride in the fast lane," while "Porsche" gloats about her control over her own finances despite having temporarily sacrificed agency over her emotions. Even "I Got It" reads like a heist, increasingly demanding and hostile in its attempts to prove that she is worth her own braggadociousness, the song's only mention of a car being Charli's vow to "crash your daddy's Lamborghini." Pop 2's consistent mention of cars complicates this; even her emblems of pristine glamour don't function as they once did.
In 2019's Charli, cars shift again, becoming symbols of emotional volatility without the pretence of their former status as luxury objects. Speeding becomes the most frequent image of cars throughout the album, and "White Mercedes" sees Charli belting her regrets of not being able to curtail her impulsiveness — in her own words, she's "always been running too fast". Here, the adrenaline she experiences is fractured, and she even expresses nostalgic longing in "1999" to return to her youth and "take a ride through [her] old neighbourhood."
Even the brands of the cars she mentions are a key factor in understanding the vehicle's role in this album: compared to the luxury brands featured on her mixtapes, Charli features references to a Prius ("Next Level Charli"), a decidedly more everyday brand to correspond with a more emotionally honest thematic arc.
Breaking with tradition, cars don't appear very often in how i'm feeling now, inevitable for an album created in the middle of a pandemic. There is one reference, though, on "forever" that reveals the album's greater anxiety: "I didn't wanna leave you low / Drove the car off the road." The previous mentions of cars on her self-titled album may have proposed danger, but here, Charli's emotions threaten her life. Despite remaining on good terms with the song's love interest, she knows she has to abandon the vehicle she used to navigate such circumstances before she loses agency over it, both for her own fulfilment and her partner's wellbeing. Having now been forced to look within herself to find meaning outside of the raging parties that previously surrounded her, this relative absence of the car motif suggests that perhaps she's begun to find emotional meaning outside of it.
Charli XCX's discography uses both the imagery and the influence of modern technology to excavate deeper meaning in human connection, the continual quest of attempting to find it proving how elusive it is. Her lyrics question whether innovation is even possible after the final barriers of human connection have been broken. One need only look to the namesake of her upcoming album Crash to see this decision consciously reflected in her aesthetic: in the 1996 David Cronenberg film of the same name — based on a book by J.G. Ballard, published in 1973 — a group of car-crash fetishists become increasingly emboldened to explore their desires until such a meld between technology and human emotion changes their very ability to become aroused.
What Charli's lyrical preoccupations reveal about her work present a challenge towards her artistry: whether or not it's possible to love — and thus, to create — in "new shapes", and how rewarding such an idea can even be. As Crash will be her last album released under Atlantic Records, her lyrical arc surrounding the role of vehicles within her discography reflects the end of an era of sorts, and a vow to move on to bigger things. The car she's been driving at high speed for the past decade has finally collided. What emerges from the wreckage remains to be seen.
Tagged: