You can be on Sex Education season 4
The show has put out an open casting call for a new trans power couple, no acting experience required.
|
18 November 2021, 12:56pm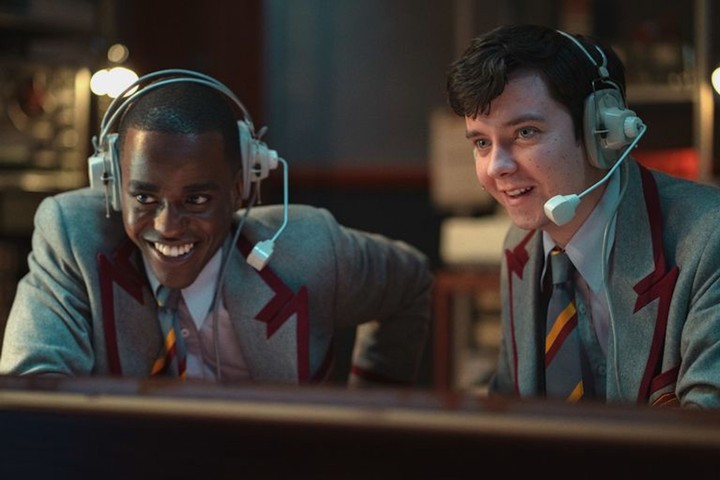 Netflix
Although season four of Netflix's hit show Sex Education was only announced last month it seems work on the horny hit series is already well underway, and the cast is expanding too. One of the show's writers announced that they are looking for two trans actors to don school uniforms and play two new students: mysterious power couple Abbi and Kent.
As the characters enter their final year of school, and with Moordale's future hanging in the balance following the events of the season finale, Sex Education's characters will be moving further afield for their A-Levels, and their world is opening up to new people in the process. Krishna Istha, a comedian and writer on the show's fourth season, shared the casting call from Laura Evans Casting that tells us a little information about the new additions.
There's Abbi, who sounds pretty cool with her "90s Winona Ryder vibe". She is "confident and self-assured in her gender identity" and as queen bee of her college, "every girl wants to either be like her, or be friends with her". She is estranged from her conservatively religious family and no longer identifies as religious but still considers herself spiritual.
Then there's Kent, Abbi's boyfriend, whose family home she lives in. The trans-masculine character is "goofy, forgetful and a great listener". Although he isn't so sure about being a popular kid like Abbi, "he knows himself and feels quietly confident about his final year at college.
After introducing the non-binary character Cal in season 3, played by Dua Saleh, we left Moordale with the school being sold off to developers and the students having to find somewhere new to finish up their final year. Perhaps then Abbi and Kent are students at one of the new schools the show's lead characters find themselves at.
Although no release date for season 4 has as yet been announced, the casting call says that actors will need to be fully available from April to November 2022 for filming in Wales and so we can assume that the new season won't be available to stream until early 2023. It also doesn't matter if your only acting experience is playing Shepherd 3 in your primary school nativity, as no previous acting experience is necessary. All they ask is for your name, contact details, a headshot and recent photo, and a little bit of information about yourself.
Laura Evans Casting have asked anyone interested and currently have nothing else going on for eight months next year to apply ASAP. Who knows, with the show's loveable star Aimee Lee Wood winning her first BAFTA earlier this year, perhaps this could be your ticket to stardom.
Follow i-D on Instagram and TikTok for more film and TV news.