All images courtesy of Getty.
7 of Valentino's most iconic fashion moments
As the 'emperor of fashion' turns 90 years old, we celebrate by revisiting his greatest designs from the 90s and early 00s.
All images courtesy of Getty.
There's a reason Valentino Clemente Ludovico Garavani is referred to as the 'emperor of fashion'. When the Italian designer founded his atelier in the 1960s, he quickly became known for designing womenswear with an innate sense of elegance, grace and romance. His sultry red dresses became renowned the world over, especially when worn by supermodels such as Naomi Campbell, Gisele Bündchen and Christy Turlington in the 90s. He has also long cemented himself as a favourite of the world's biggest actors and musicians, dressing Elizabeth Taylor and Jennifer Lopez in stunning all-white wedding looks for their big day.
Though he retired in 2007 – the Valentino house is still going strong under the creative eye of Pierpaolo Piccioli – the designer left a powerful legacy in the industry. I mean, he literally invented a colour! As he celebrates his 90th birthday, an exhibition filled with 36 of his most stunning designs from the Valentino archives opens in the Teatro Sociale of Voghera in Italy. Here though, we look back at some of Valentino's most iconic sartorial moments in our favourite fashion era: the 90s and early 00s.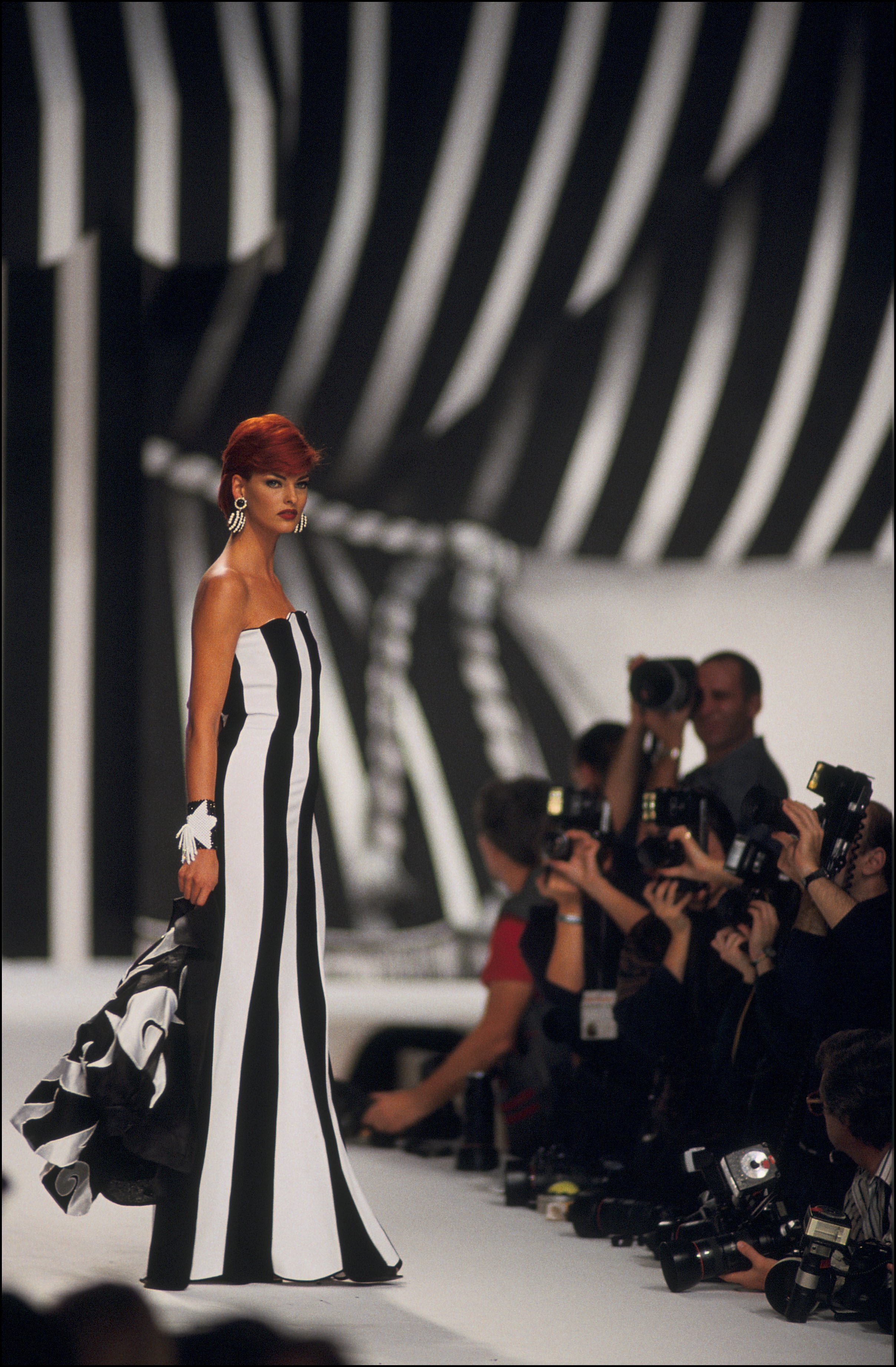 Linda Evangelista in the Valentino Spring Summer 1992 show, 1991
If this stunning garment on 90s supermodel Linda Evangelista looks familiar, it's because it was recently worn by Zendaya on the red carpet for the premiere of Euphoria season two. But the standout black and white gown first made an appearance three decades prior – and four years before our fave actress and CFDA-approved fashion icon was even born – when redheaded Linda walked the Valentino SS92 show in Paris. The epitome of elegance to this day, it's a fitting vintage gown for the biggest star of the moment and future Oscar winner (probably – we're manifesting it!).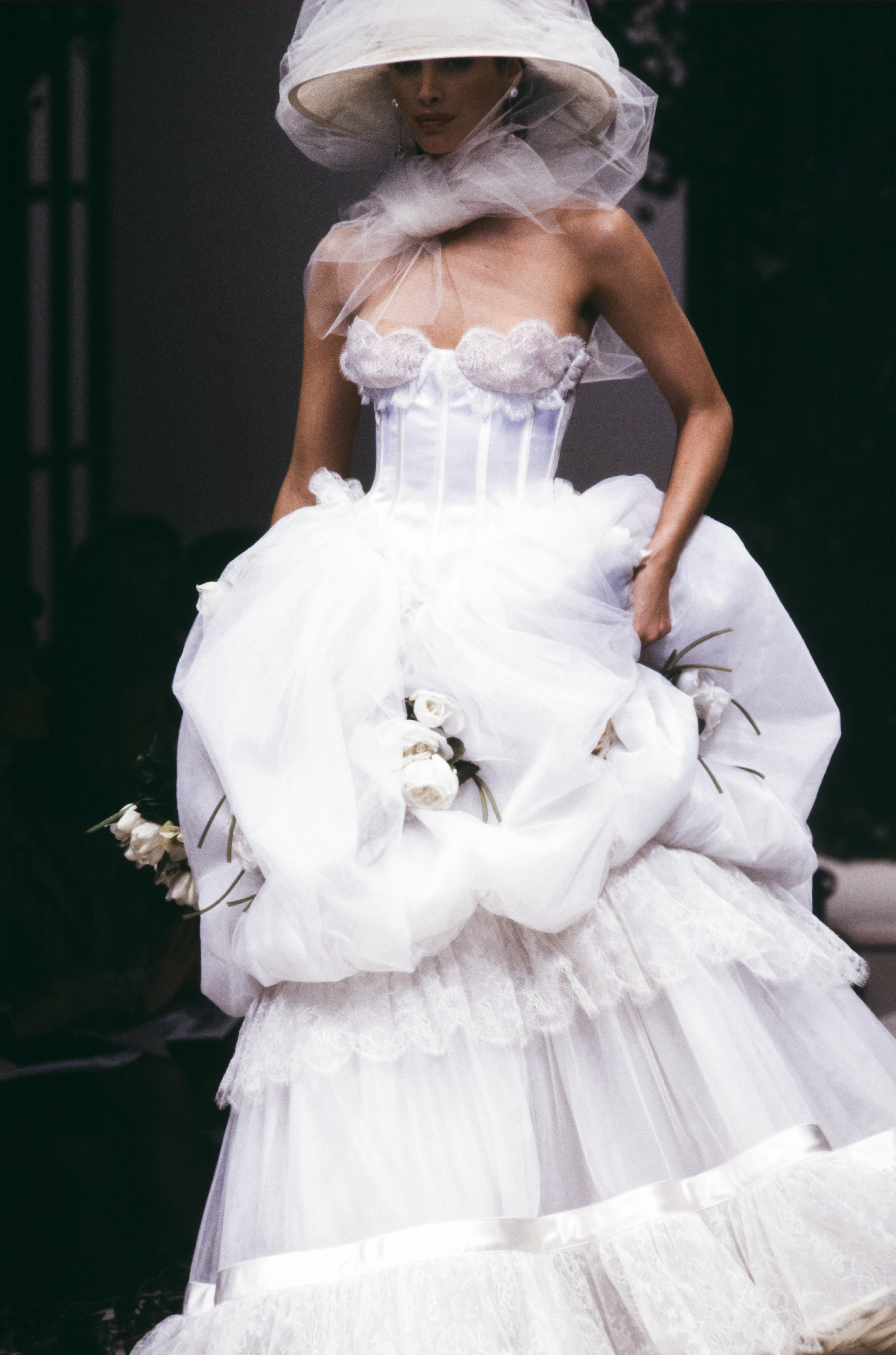 Christy Turlington in the Valentino Spring Summer 1993 show, 1993
Valentino Garavani has been behind the bridal looks of the biggest stars of the past few decades, from Elizabeth Taylor and Jacqueline Kennedy-Onassis to Courtney Cox, J-Lo and Anne Hathaway. Some of his most famed wedding designs come from the 90s though, including this vision of tulle complete with intricate lacy corset and floral detailing pinned into the peplum.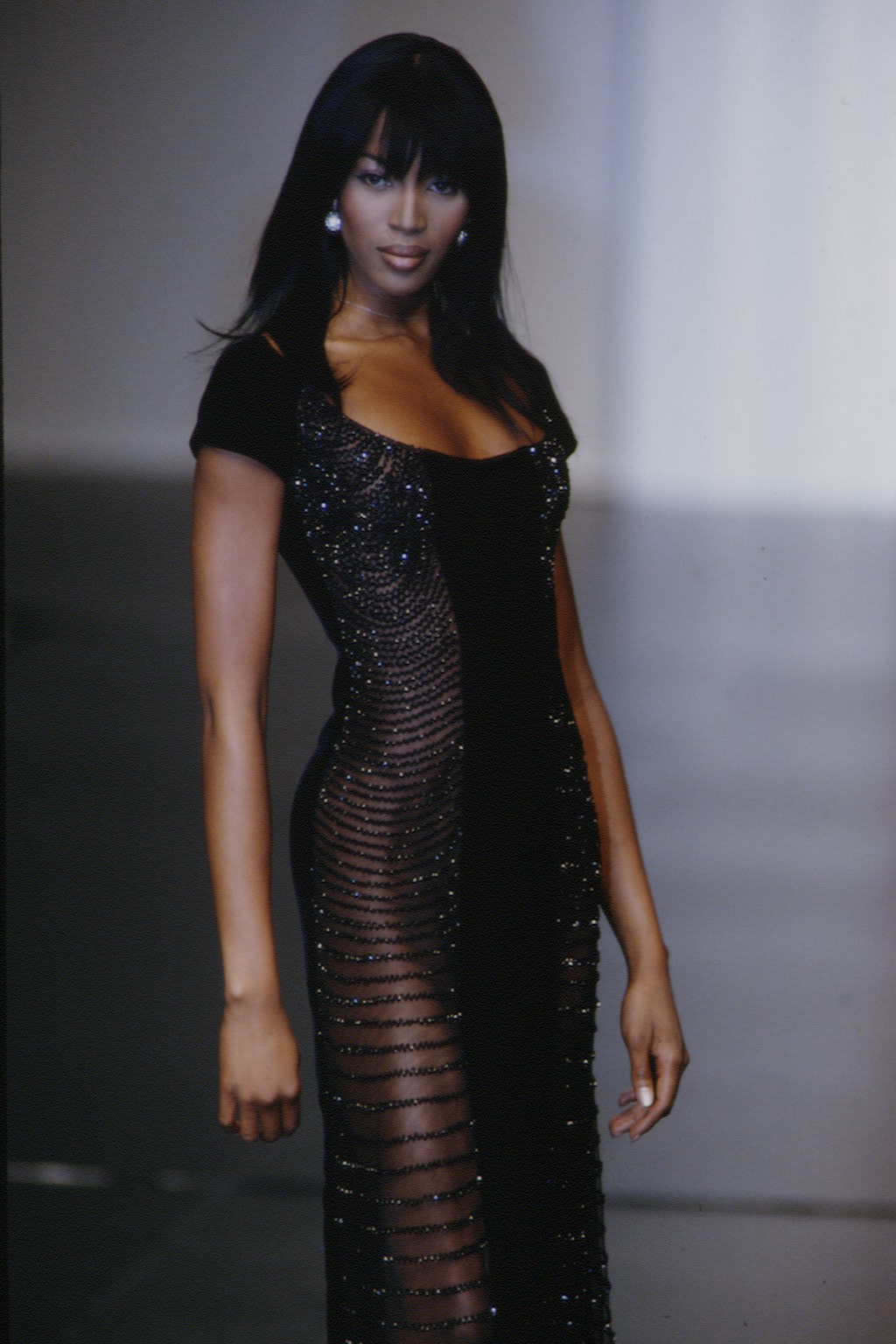 Naomi Campbell in the Valentino Autumn Winter 1995-1996 show, 1995
When Naomi Campbell walked for Valentino's AW 1995-1996 prêt à porter collection, her fitted black dress was already rather risqué with sheer sequin embellished panels along each side, exposing the supermodel's naked body underneath. It was her turn at the end of the runway though, that gagged all, with the back of the dress made from a third translucent column revealing Naomi's butt. Pretty iconic if you ask us.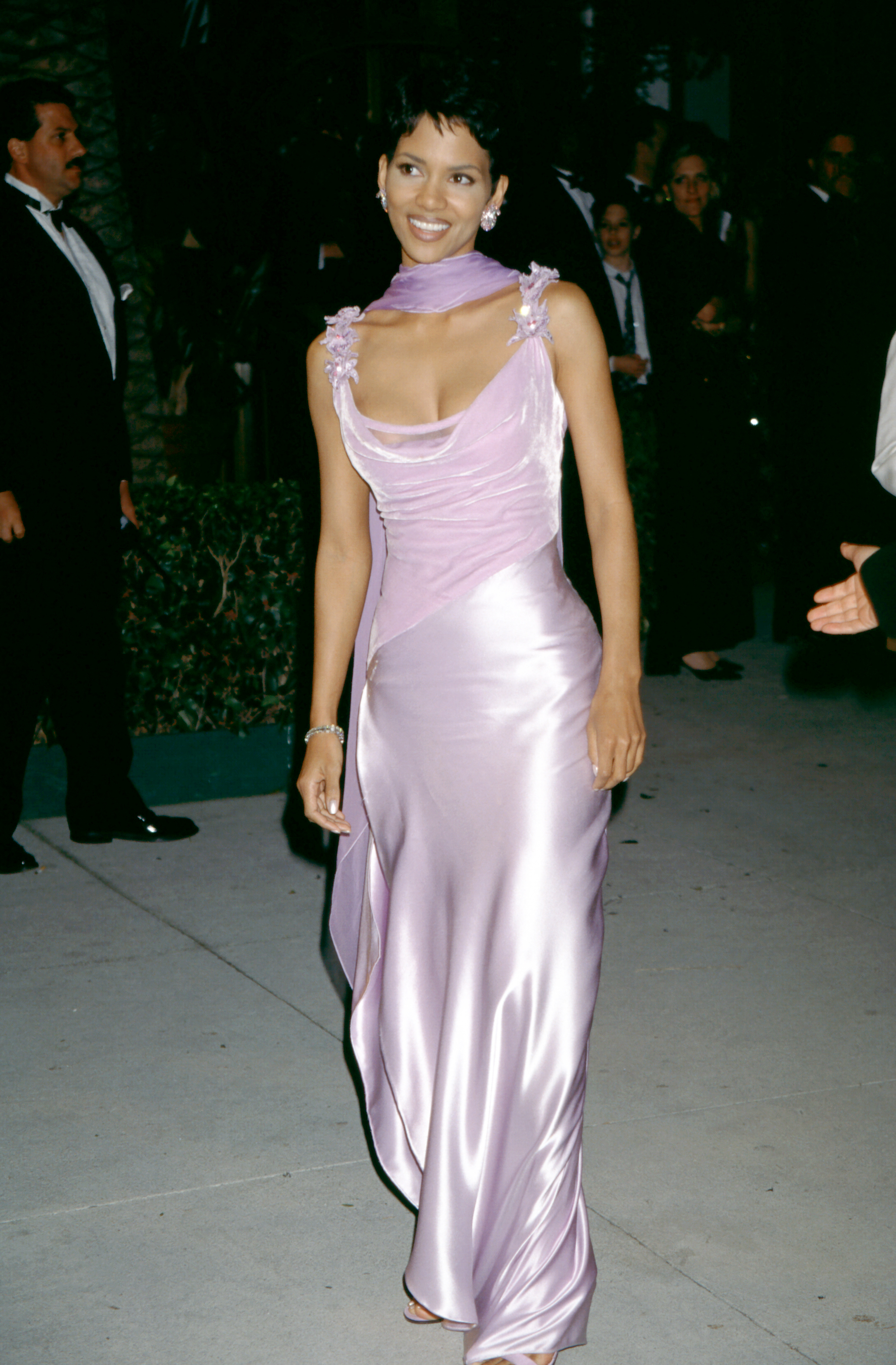 Halle Berry at the Academy Awards, 1996
At the 1996 Oscars, Catwoman legend and Bond girl Halle Berry arrived wearing a svelty slip dress from Valentino in soft lilac silk cut with lilac satin on the bodice and lilac chiffon around her neck. The straps were adorned with delicate floral embellishments that added to the cute, uber-90s girly look.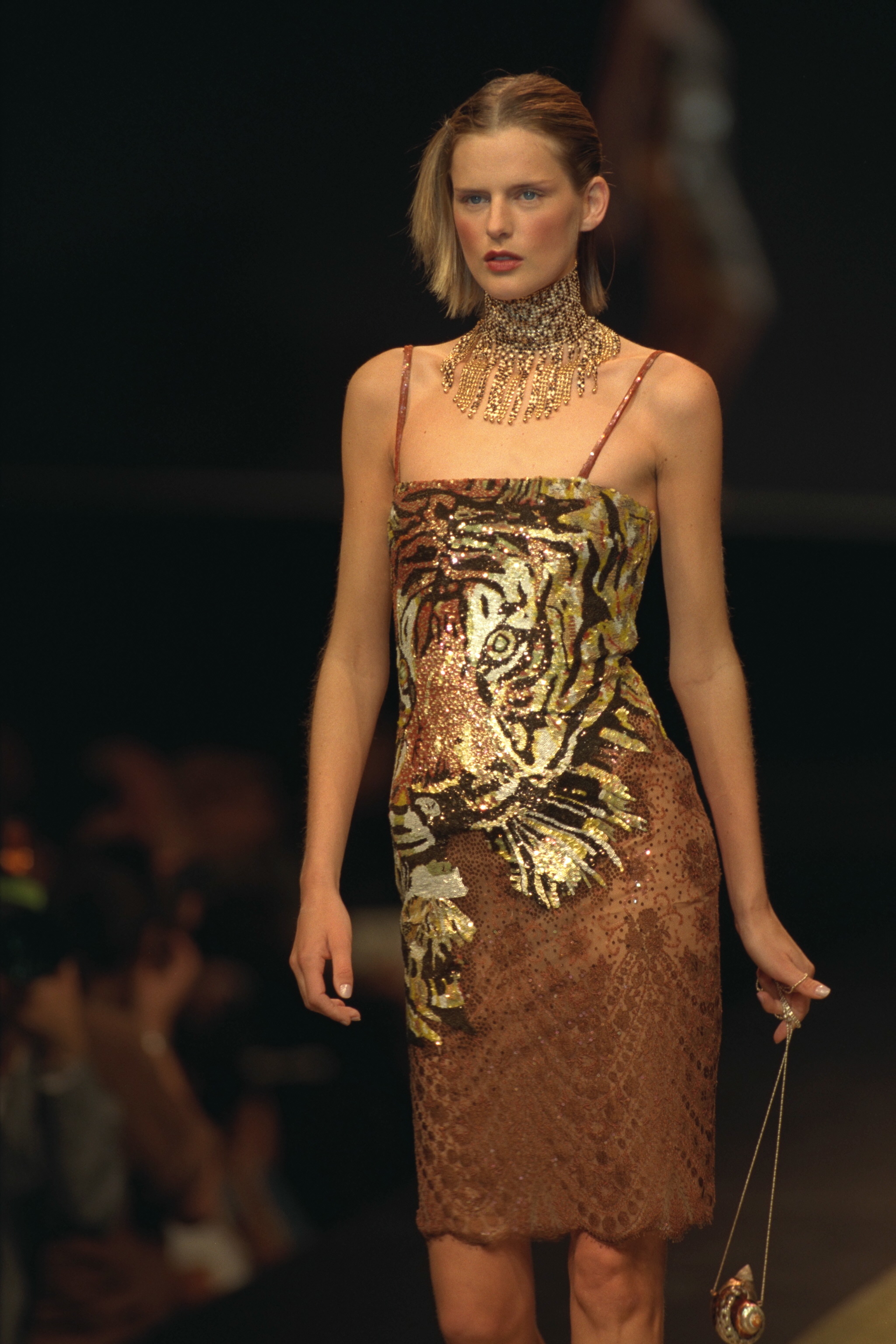 Stella Tennant in the Valentino Spring Summer 1998 show, 1997
Valentino has always had a thing for animal prints. In fact, the Valentino archives reportedly hold a belted cashmere dress dotted with leopard spots that was made by the designer in the 50s, prior to the fashion house even being set up. Across the decades, the atelier has been inspired by all manner of animal patterns – from Zebra-stripe crop tops to a Giraffe-print caftan. He really went for it in his SS98 collection though, designing a gold lace gown with a serpent embellishment wrapped around the full length of the body; a leopard print lingerie look; and this stunning sequin tiger embroidered onto the sheer dress adorning model Stella Tennant.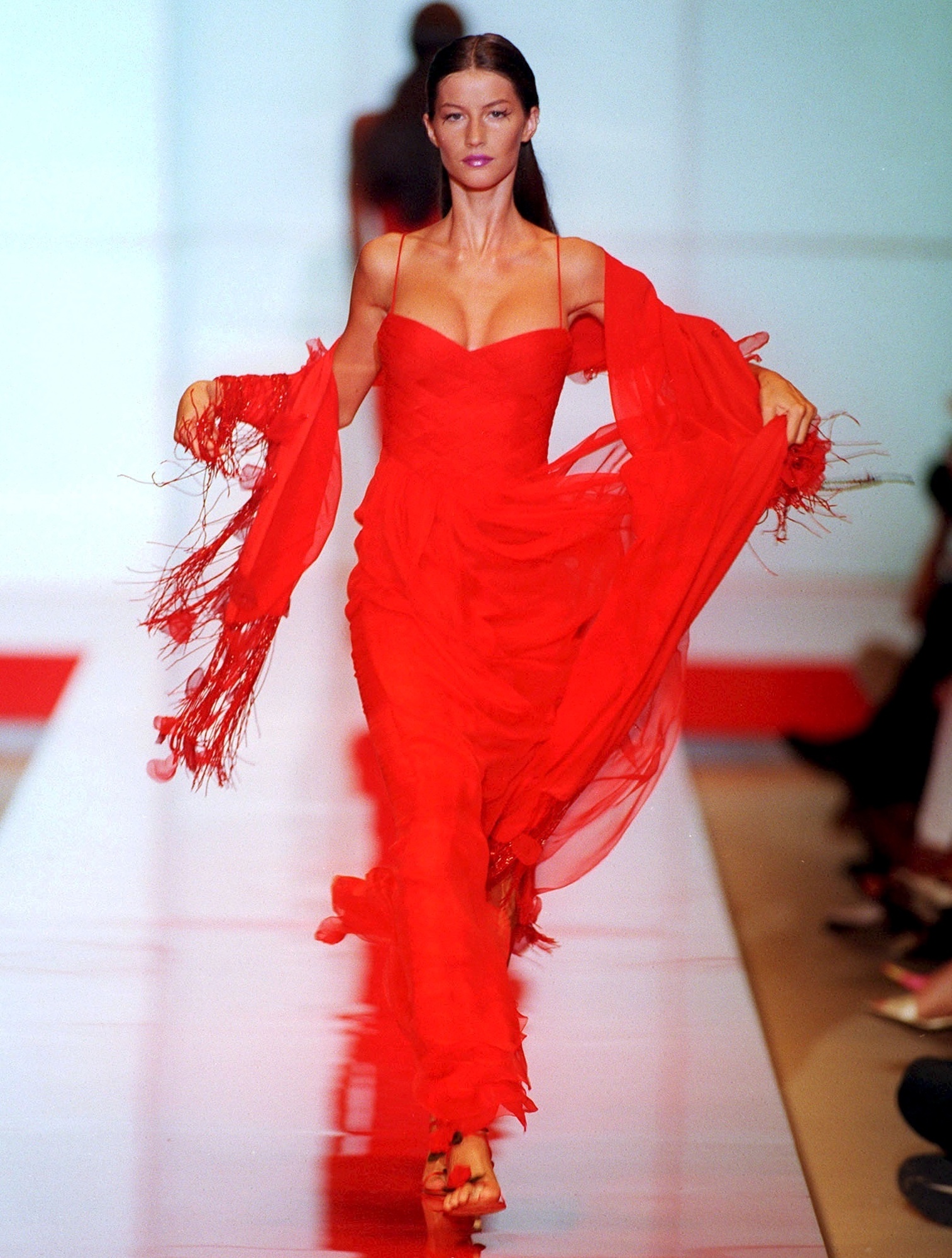 Gisele Bünchen in the Valentino AW Haute Couture 1999 to 2000 show, 1999
When he presented his first collection back in the 50s, Valentino designed a new hue of vivid red that was noted for its innate sexuality and romance. Known as Valentino Rosso, it contained no pigment aside from that one shade, ultimately giving it an intensity so vivid it could be emitting its own light. The invention was so beloved, Valentino would go on to have at least one look in every collection in the unique, standout tone. One of the most famous examples? This stunning look that had Gisele Bündchen glowing on the runway. Before she became the highest paid supermodel of the mid 00s – she had been rejected 42 times during castings before shocking all with her sexy rain-soaked garments at the 1998 Alexander McQueen show – Gisele stunned the world when she walked for Valentino in 1999, looking like a blossoming rose in the strappy flowing gown.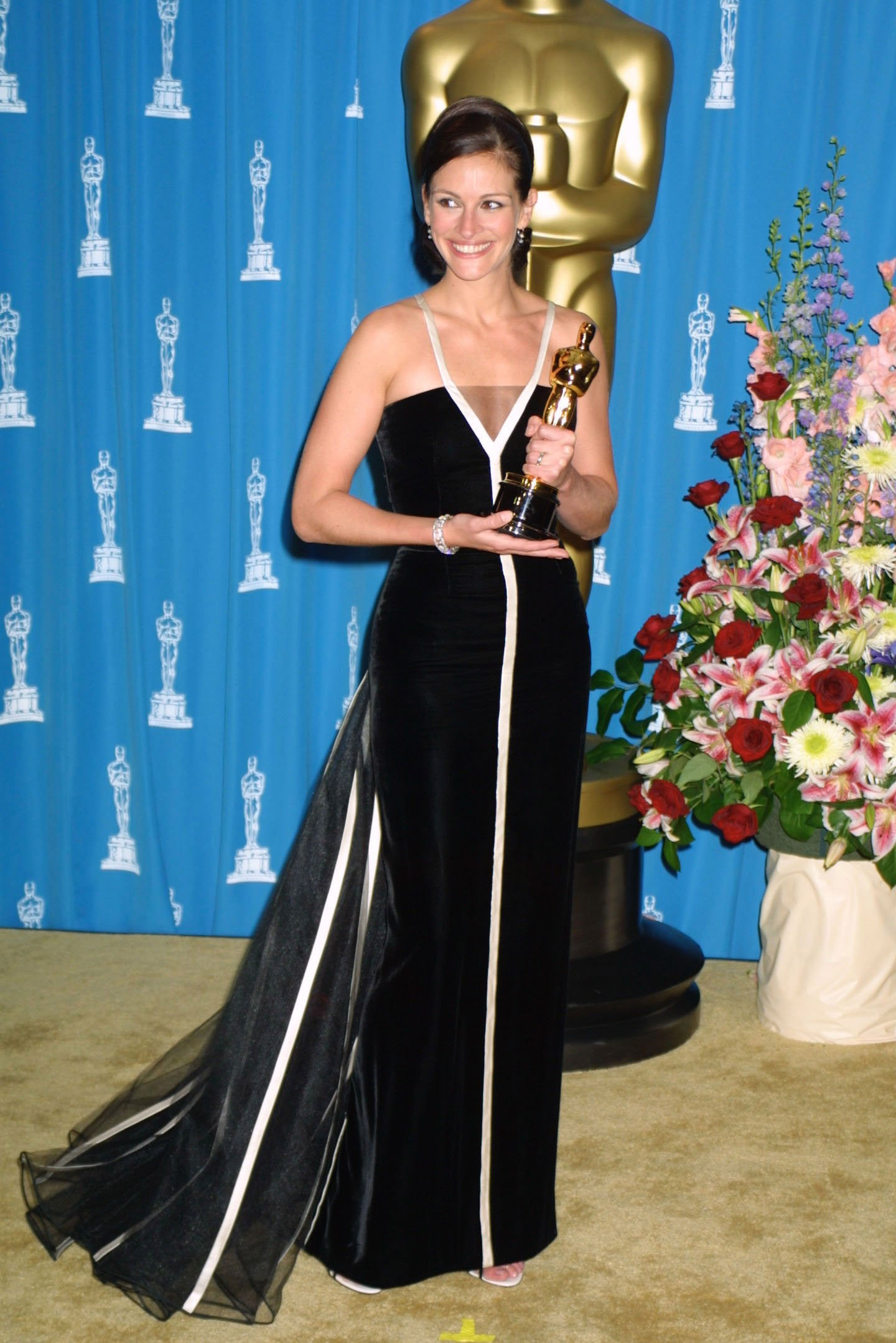 Julia Roberts at the Academy Awards, 2001
Valentino himself has said that when actress Julia Roberts wore one of his dresses from his 1992 collection to pick up the best actress award for Erin Brokovich at the 73rd Academy Awards, it was the highlight of his career. Julia had reportedly been sent multiple looks from the top designers of the period but was unimpressed. Luckily, this svelte black number with a tulle train showed up. Years later, it was still being talked about, ultimately being voted the third most iconic red carpet look of all time (the first was Liz Hurley's safety pin Versace dress). It's so legendary the gown even has its own Wikipedia page!