Hoyeon on what Squid Game taught her about life
The model and star of Netflix's biggest show ever is navigating the world of her new-found fame.
|
23 February 2022, 5:00pm
This story originally appeared in i-D's The Out Of Body Issue, no. 367, Spring 2022. Order your copy here.
In the first few weeks of Squid Game's release, Hoyeon Jung (who now goes just by Hoyeon) was riding high on a tsunami of international success. The dystopian Netflix series – which follows a group of ragtag individuals as they compete in ludicrously sadistic children's games for a bounty of 4.5 billion won – was watched by 111 million users around the world in the seventeen days after it launched, and Hoyeon was quickly becoming South Korea's newest and most loved international star. But then she got a phone call. Her mother, who runs a restaurant back in Korea, was in A&E. She'd accidentally got her hand trapped in a noodle making machine.
Over Zoom, the model-turned-actress and newly minted Louis Vuitton global ambassador points out the places where her mother had to get surgery, twice, to repair the damage. "She broke two of her fingers and her arm," Hoyeon says. When she got the call, "I was so panicked, and my mum was crying so hard. Everything kind of stopped." Because of the pandemic, Hoyeon and her two sisters couldn't even visit the hospital to see her. Meanwhile, her mother blamed herself for ruining her daughter's big break.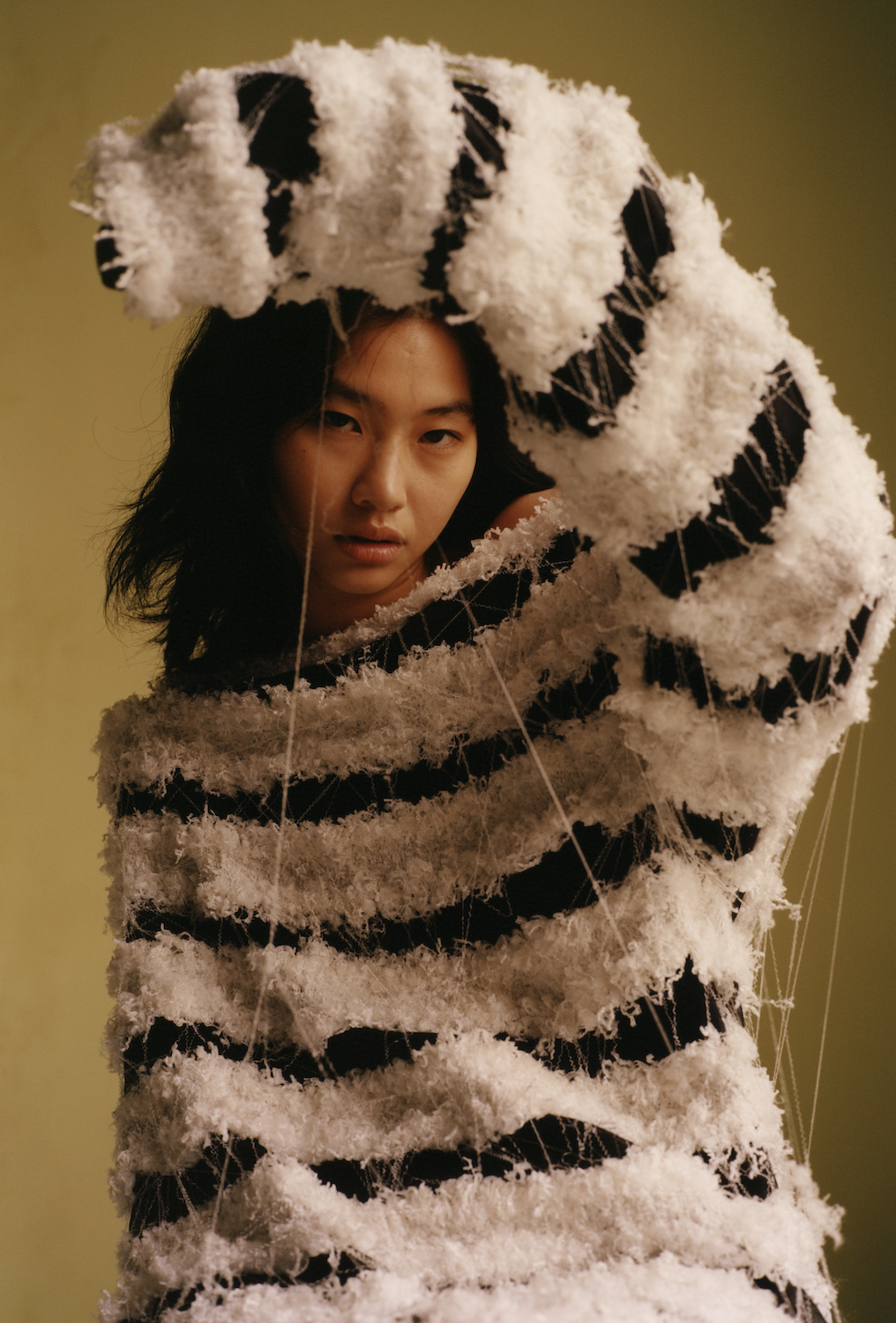 "I was like, 'Don't talk like that. It's fine. Everything is okay. Just be well,'" Hoyeon remembers telling her mother. Then she clocks the concerned look on my face and adds reassuringly: "She's fine now. She's so energetic!"
It's the kind of stomach-lurching twist that could have come straight out of Squid Game, which often uses gory violence to knock would-be winners off the moral pedestals they've constructed for themselves. Hoyeon stars as the dour North Korean defector Kang Sae-byeok, a lone wolf and petty thief who intends to use the prize money to rescue her mother from the hermit kingdom and build a future for her little brother.
In real life, though, Hoyeon is all smiles, has a tomboyish charm and tousled hair, dressed in a comfy sweatshirt and Adidas tracksuit bottoms. It's 10AM in New York when we speak, and Hoyeon is in town for the Gotham Awards, where Squid Game became the first Korean drama to win Breakthrough Series. The independent film and TV ceremony is traditionally seen to provide the first indicators for how shows will perform over the rest of the awards circuit.
"Almost every time in the movies, the main characters are fucked up. So they taught me that's it's ok to fuck up, you know?"
Squid Game is looking like a prize contender. And for all its propulsive plotting and cliffhanger episodes, that's down to performers like Hoyeon, a first-time actor who brings unusual sensitivity and depth to the screen; all sour glances, sturdy determination and simmering, hot-blooded emotion. You don't root for Sae-byeok so much as fall in love with her, as the countless fancams and fanart of her character attest: she's a slow-burning mystery that peels herself back with every passing episode, before she finally – spoiler alert – dies in yet another ruthless twist that director Hwang Dong-hyuk pulls off with a blood-soaked flourish.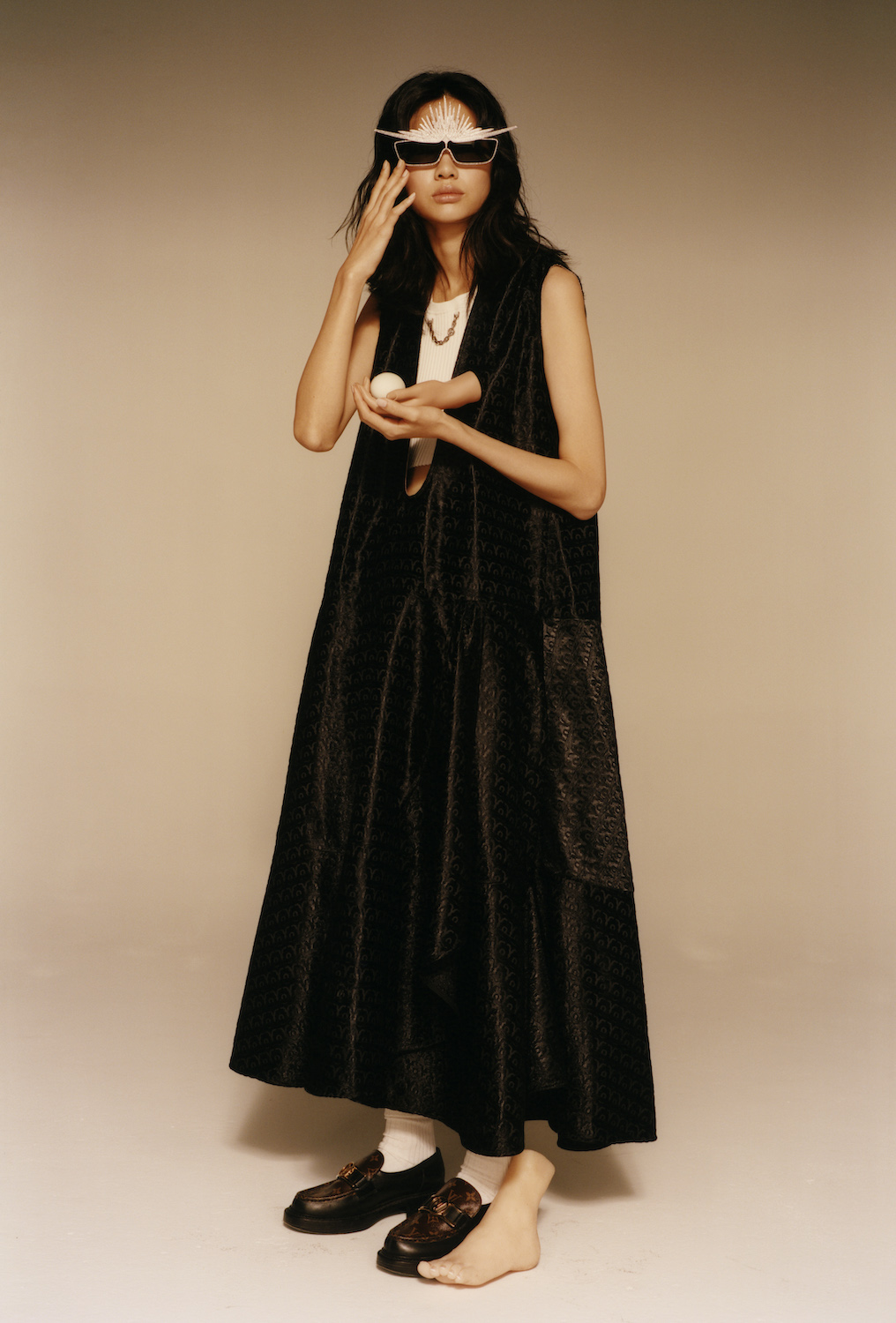 It's a breakout role that a young actor gets only once in a lifetime. Still, at 27, Hoyeon is no stranger to the camera. For years, she was a successful model, beloved by Nicolas Ghesquière at Louis Vuitton and walking and working with just about everyone else in the fashion industry, easily identified on the runway for her dyed hair, which ran the gamut from oxblood red to Poison Ivy scarlet.
At five foot nine and a half, her height had always marked her out from her peers when she was growing up in Myeonmok-dong, a neighbourhood of Seoul. "Believe it or not, I was good at school," Hoyeon says. "Then I got sick of studying. People told me, 'Oh, you're tall so you've got to be a model.' And that was it!" Her parents thought her desire to get into fashion was "kind of a teenager thing", but she came runner-up on Korea's Next Top Model in 2013 and ended up modelling for almost a decade. At one point, she was tipped to be the next big thing, but then, as she charmingly puts it to me today, her career started going "a little down".
"After fashion week, if you're still a hot model, you could have more shoots and editorials and advertisements," she admits with thoughtful openness. "But for me, I think that was very temporary. It wasn't like a permanent feeling that I could get more jobs." Her success, in other words, felt all too impermanent.
Then, when she moved to New York in 2016, it was the first time she'd ever lived apart from her parents, and once the chaos and tumult had subsided, she found herself alone in hotel rooms, a drifter indulging in what she calls "philosophical thinking". She began feeling increasingly isolated: "I think it was because of the language barrier. While I was working around the world I couldn't communicate with people, and that made me lonely."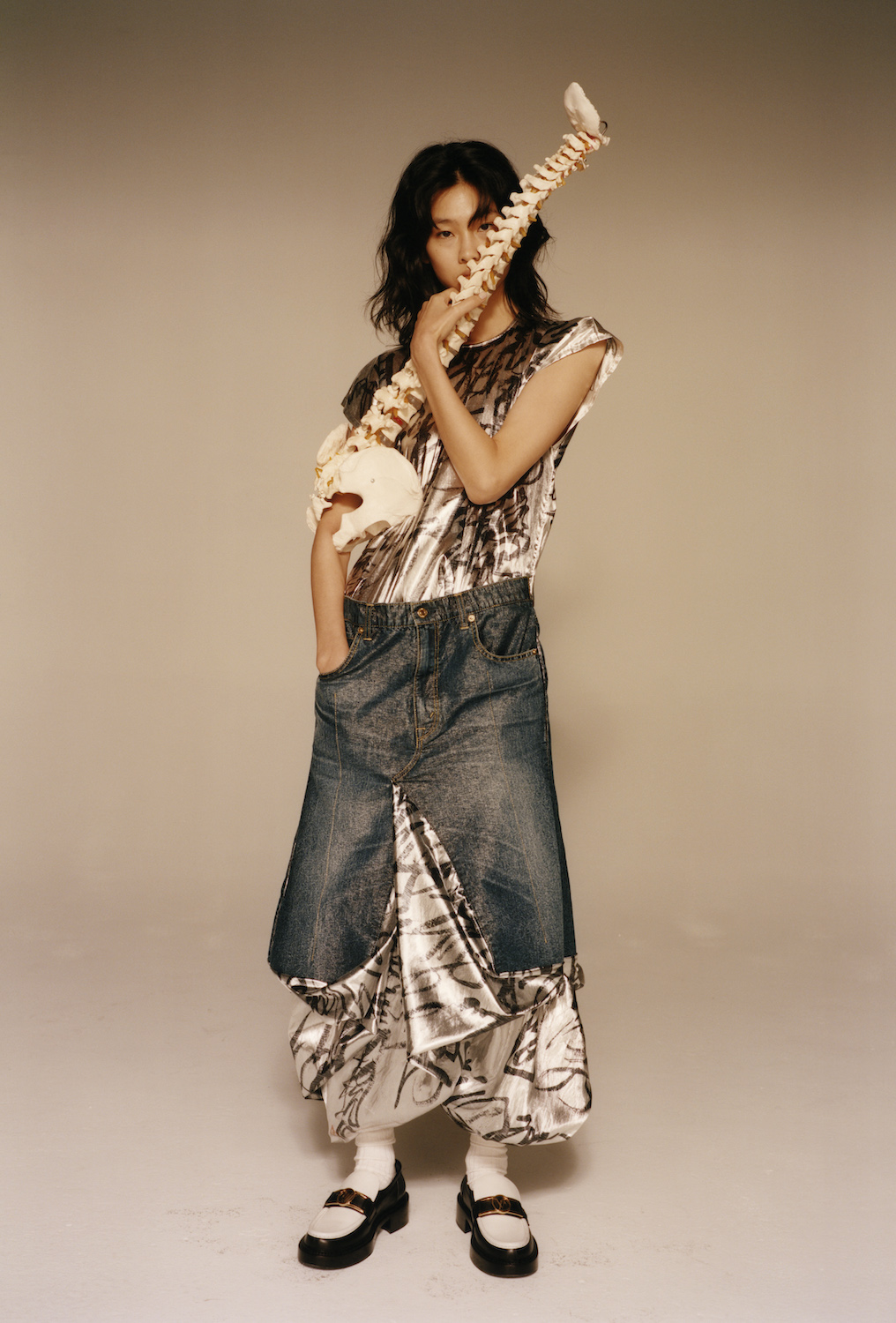 She found herself thinking: 'Who am I? What am I doing?' and turned to film for the answers. "Almost every time in the movies, the main characters are fucked up," Hoyeon says. "So they taught me that's it's ok to fuck up, you know?" Since I was a teenager I thought that I had to be perfect, that people have to fall in love with me so that they would book me." Every time she messed up, she says, she panicked and worried that people would think she was "the crazy one, or that I'm not mature". She pauses. "I think I wanted to be loved."
It sounds like you had what we call an existential crisis, I tell her. "Right! Exactly," she affirms. She started tearing through films – everything from Marvel blockbusters to Noah Baumbach indies. She'd find actors she liked, like Frances McDormand, and work her way through their filmography. She began taking acting classes back in Korea, preparing herself for walking along that well- trodden route from model to actor, one that her Squid Game co-star Lee Jung-jae, who plays the endearing deadbeat Seong Gi hun, navigated in the 90s with enormous success.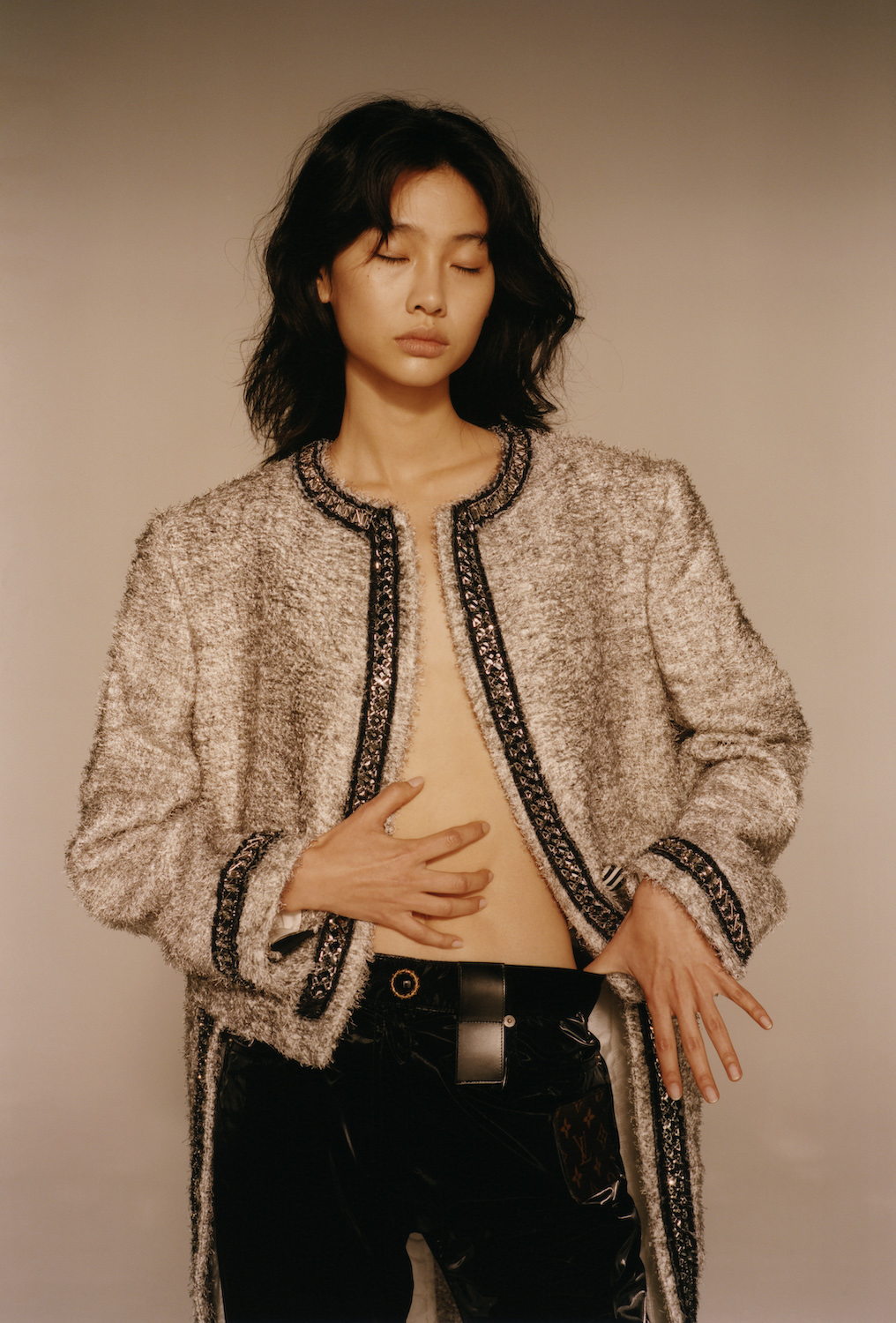 But Hoyeon was still very much only a working model when the script for Squid Game landed in her inbox, complete with a somewhat terrifying command to film her video audition ASAP. "I barely slept, really," she says, of how nervous she was, "and I couldn't eat that well. I couldn't even feel hungry." It was only at her third table reading that she met the rest of the cast – including Korean acting legends like the aforementioned Lee and Park Hae-soo, who plays Gi- hun's uptight and outwardly successful childhood friend.
"After that table reading, the director came and asked me: 'Are you nervous?'" Hoyeon laughs. "He thought that I'm the kind of weirdo who's never nervous – someone like Sae-byeok, who is not afraid of any kind of situation or people. But I told him I'm not the person that you thought I was."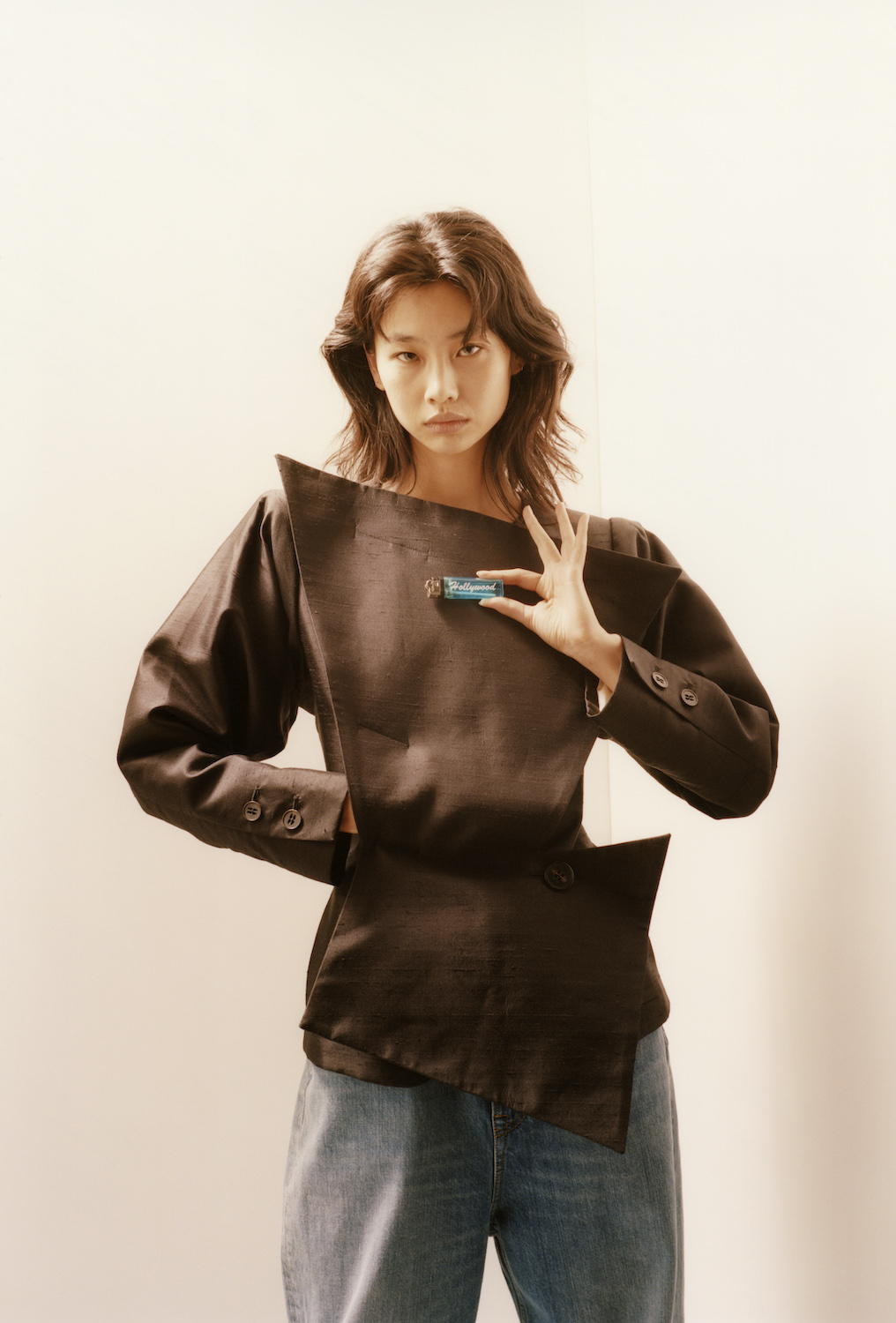 A lot of people have interpreted Squid Game as an anti-capitalist allegory, I tell her. What does she see in it? "It means something very different to me as I played Sae-byeok," she says. "I realise the show is about the power of love." Her character – as steely as she seems on the outside – is motivated by the all-consuming desire to reunite her North Korean family and give them a better future.
"It's very cheesy to say it, but you know, as Hoyeon, I never led my life for other people," she elaborates. "I only cared about my career and my wellness, and maybe some of my closest friends. I never had that kind of experience to live for somebody else as my whole life's purpose, like my brother or my family."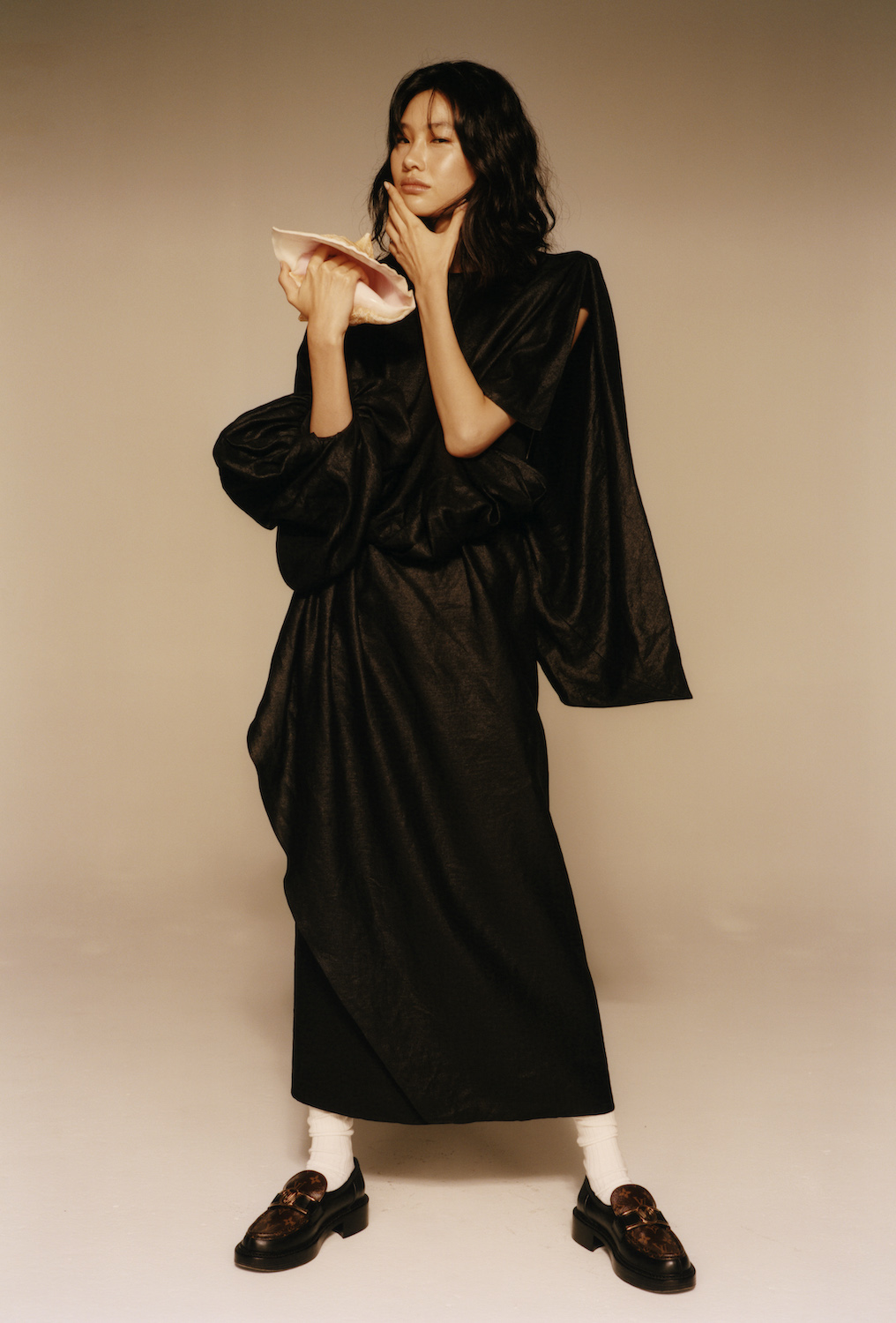 As she spent more time in Sae-byeok's skin and researching the history of North Korean defectors, she realised that she was fortunate in ways that she had never reckoned with growing up. "I see myself as a kind of spoiled child," she says, a serious look on her face. "Because I have my cell phone to Google anything, anytime; if I'm hungry I can order any food in 30 minutes; aeroplanes are fast – everything is so convenient. I never thought to live for other people." The experience, she says, has made her conscious of wanting to give back, and she is looking into supporting children's charities to help those in need.
For now, though, she's still cresting the Squid Game wave, the latest flagbearer in a string of international successes (see: Parasite, BTS) that has seen Korean culture – and Asian culture more generally – pierce Western consciousness like never before. At this year's CFDA Awards, Vera Wang pounced on her and declared: "You are our future!", which prompted a nervous chuckle from Hoyeon. "I was like, 'Ah! That's so nice, but also that's so much pressure!'" There are more awards shows to attend, more scripts to read and more Hollywood A-listers to rub shoulders with. (At the Gotham Awards, Mark Ruffalo said hello to her, something she recalls with an incredulous and happy sigh.)
As a model, she could walk around Manhattan undisturbed, sing karaoke with friends and go for tteokbokki at her favourite K-town spot (it's Cho Dang Gol on West 35th Street, FYI – and she took her Squid Game co-stars there when they were in town, too). Those lowkey days are over for Hoyeon, or at least, if she ever wants to belt out her song of choice – CL's Hello Bitches, for anybody asking – she'll have to make peace with the fact the footage will appear online. But all in all? It's not a bad price to pay for a second act.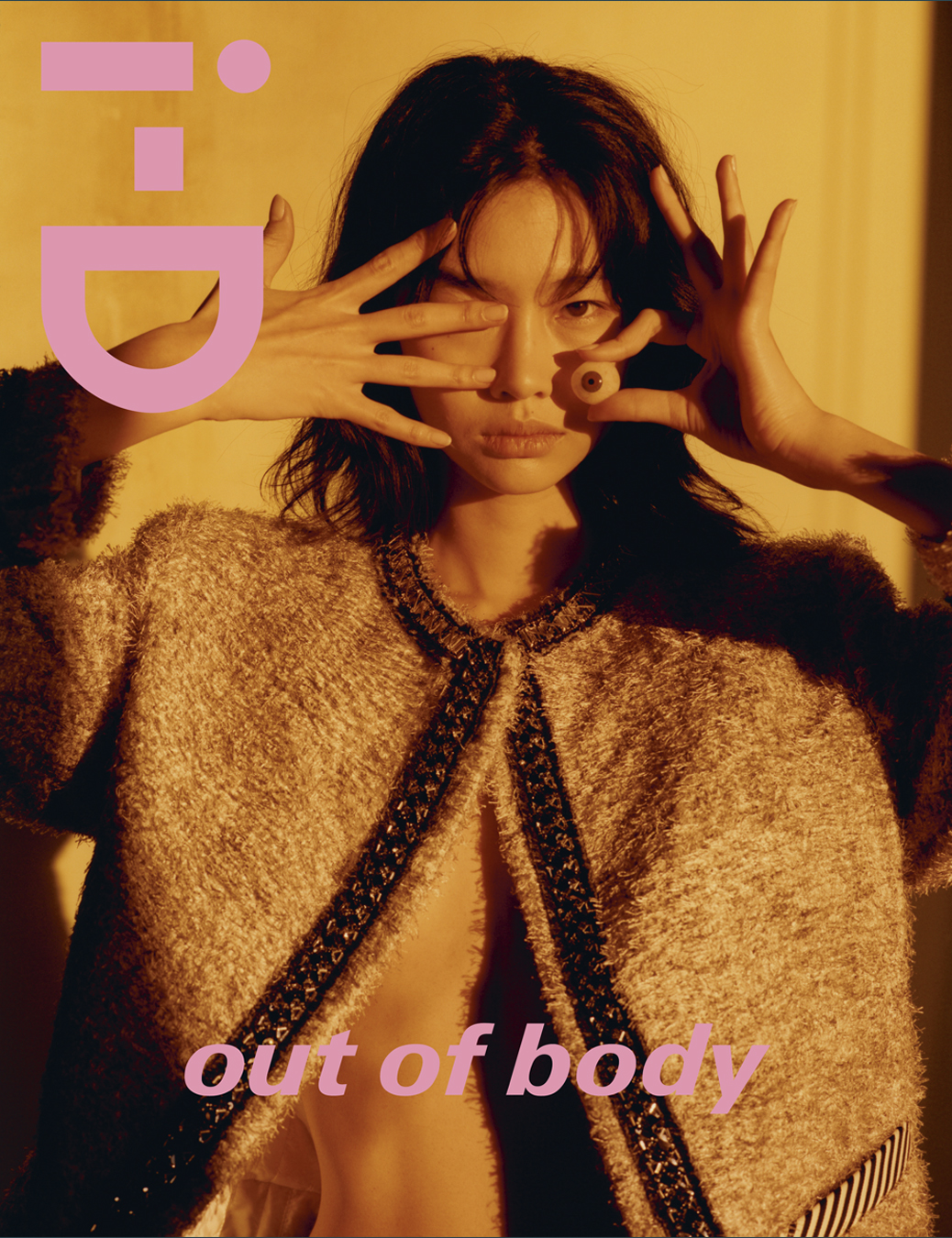 Follow i-D on Instagram and TikTok for more on Hoyeon.
Credits
---
Photography Colin Dodgson.
Fashion Alice Goddard.
Hair Tomo Jidai at Streeters using Oribe.
Make-up Mark Carrasquillo at R3 MGMT using Clarins.
Nails Yuko Tsuchihashi for Susan Price NYC using UKA nail oil.
Set design Andy Harman at Lalaland Artists.
Photography assistance Jack Belli.
Styling assistance Georgia Illingworth and Katelyn Johnson.
Hair assistance Miwako Urasugi.
Make-up assistance Nico Carrasquillo.
Set design assistance Laila K Lott.
Production IRIS World.
Casting director Samuel Ellis Scheinman for DMCASTING.