7 of Natalie Portman's most iconic outfits
From "ugly-chic" to avant-garde, the actress was a cult fashion icon in 90s Prada and JPG.
Photos courtesy of Getty
Natalie Portman is the face of millennial cinema. From the late 90s to the late 00s, the actress starred in a panoply of generation-defining films, ranging from blockbusters (Star Wars Episodes I, II and II), cult classics (V for Vendetta), twee-era indies (Garden State) and Tumblr favourites (Closer, Black Swan). A quick glance at Natalie's IMDB profile reveals the actress was the first of her born-in-the-80s cohort to win the Oscar for Best Actress. What sets Natalie apart from the rest is her range. She's a cinematic chameleon, choosing diverse roles and slipping seamlessly into each persona: the intergalactic princess, the manic pixie dream girl, the troubled ballerina, the washed-up pop star or the chain-smoking first lady.
Natalie's also somewhat of a style shapeshifter too. Throughout the 90s, the actress oscillated between Prada's geek chic and Jean Paul Gaultier's arty avant garde. As Y2K's Star Wars princess, she was rocking bumster pants and crop tops. And into her indie film era she was decked in boho-chic's breezy chiffons and the bibbed blouses of proto-twee. Beyond the personal, Natalie's salient portrayals have earned some of her protagonists a place within the annals of fashion. Think Black Swan's Nina, swaddled in Yumiko leotards and leg warmers. Or Closer's pink-haired Alice Ayres. To mark the actress' birthday, we take a look back at some of her most iconic outfits of all time.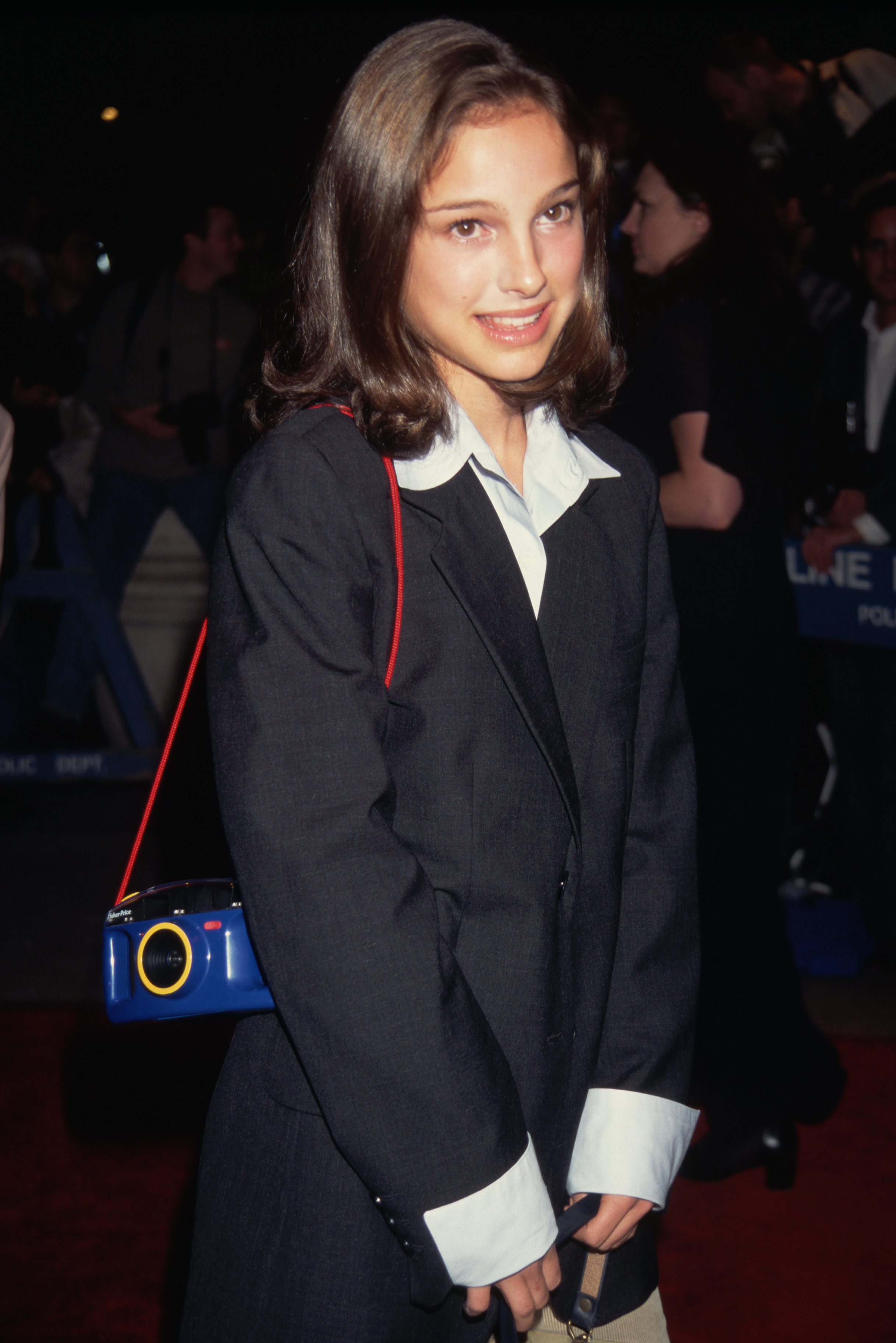 At the premiere of Might Aphrodite, 1995
Natalie scored her first cinematic role at age 13, portraying Mathilda in Luc Bresson's iconic hitman thriller Léon: The Professional. Here, a year after the film's release, Natalie attends one of her first red carpet events wearing a very age appropriate accessory: the Fisher-Price Perfect Shot, a plastic film camera designed for "small photographers." Cute!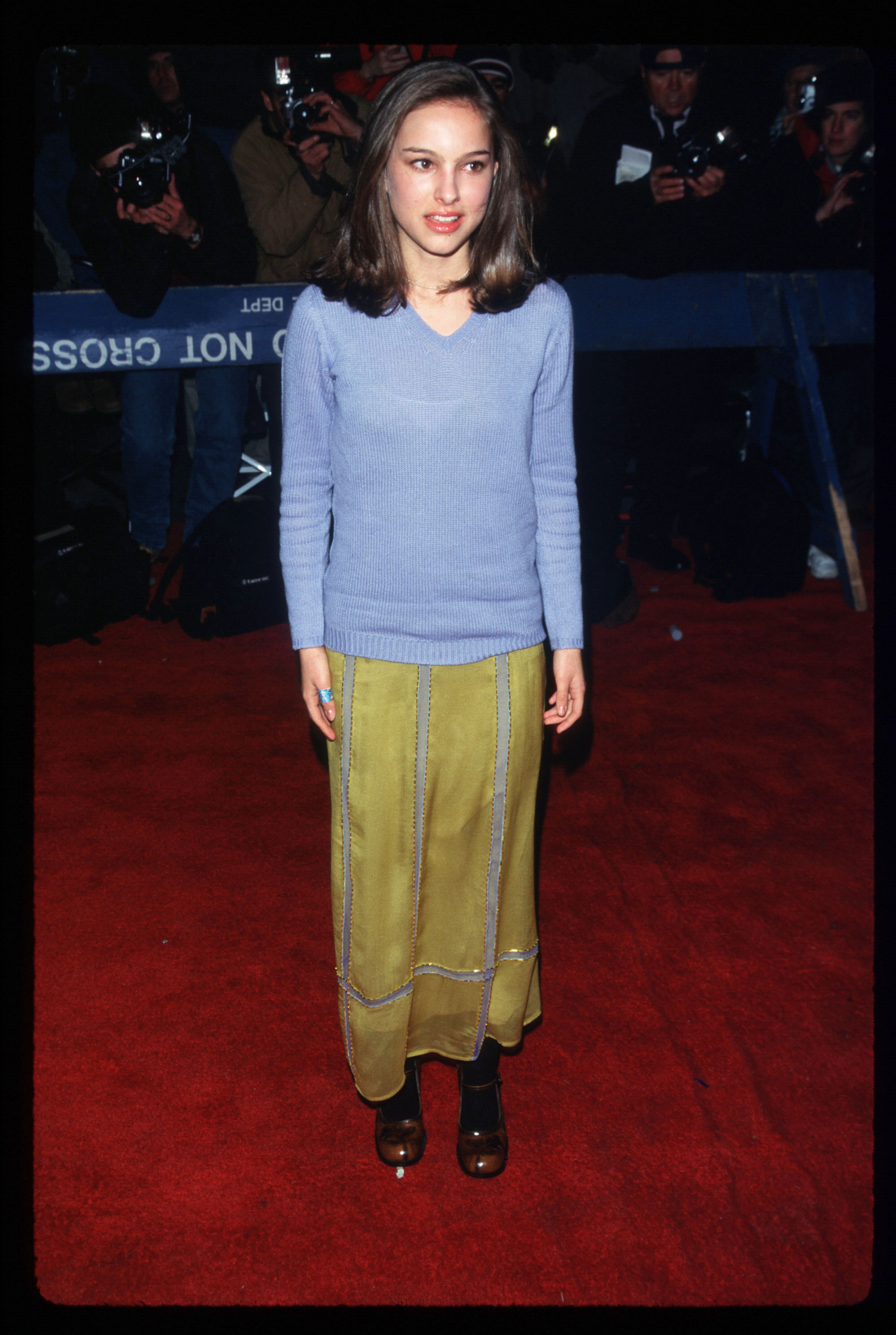 At the premiere of The English Patient, 1996
In striped sweaters, button-ups and men's ties, Natalie was the princess of 90s geek-chic. It's no surprise, then, that she was one of the Hollywood few to don a piece (or two!) from Prada's iconic AW96 collection. Here, she attends a red carpet premiere wearing a chartreuse dress from the Italian label's paradigm-shifting "ugly-chic" outing. She also wears a pair of the collection's floral Mary Janes, which were, at the time, dubbed "the ugliest [shoes] in the world." Even so, the 50 pairs that were manufactured sold out immediately. Of course Natalie snagged a pair!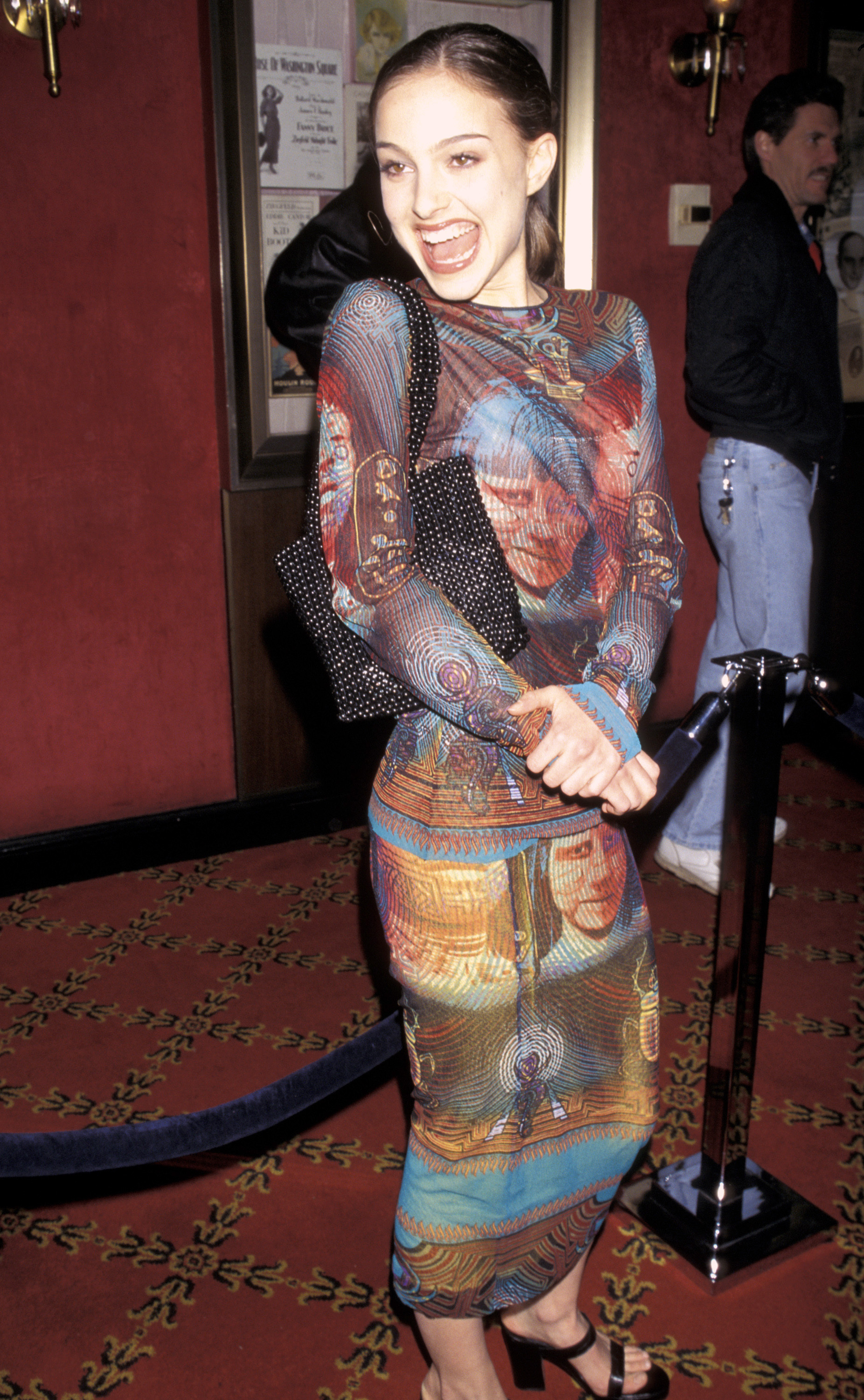 At the premiere of Everyone Says I Love You, 1997
From ugly-chic to avant-garde. A year after her turn in Prada, Natalie stepped out on the red carpet in an arty look from enfant terrible Jean Paul Gaultier. Specifically, a mesh dress from the designer's AW96 collection. We did say Natalie's got range.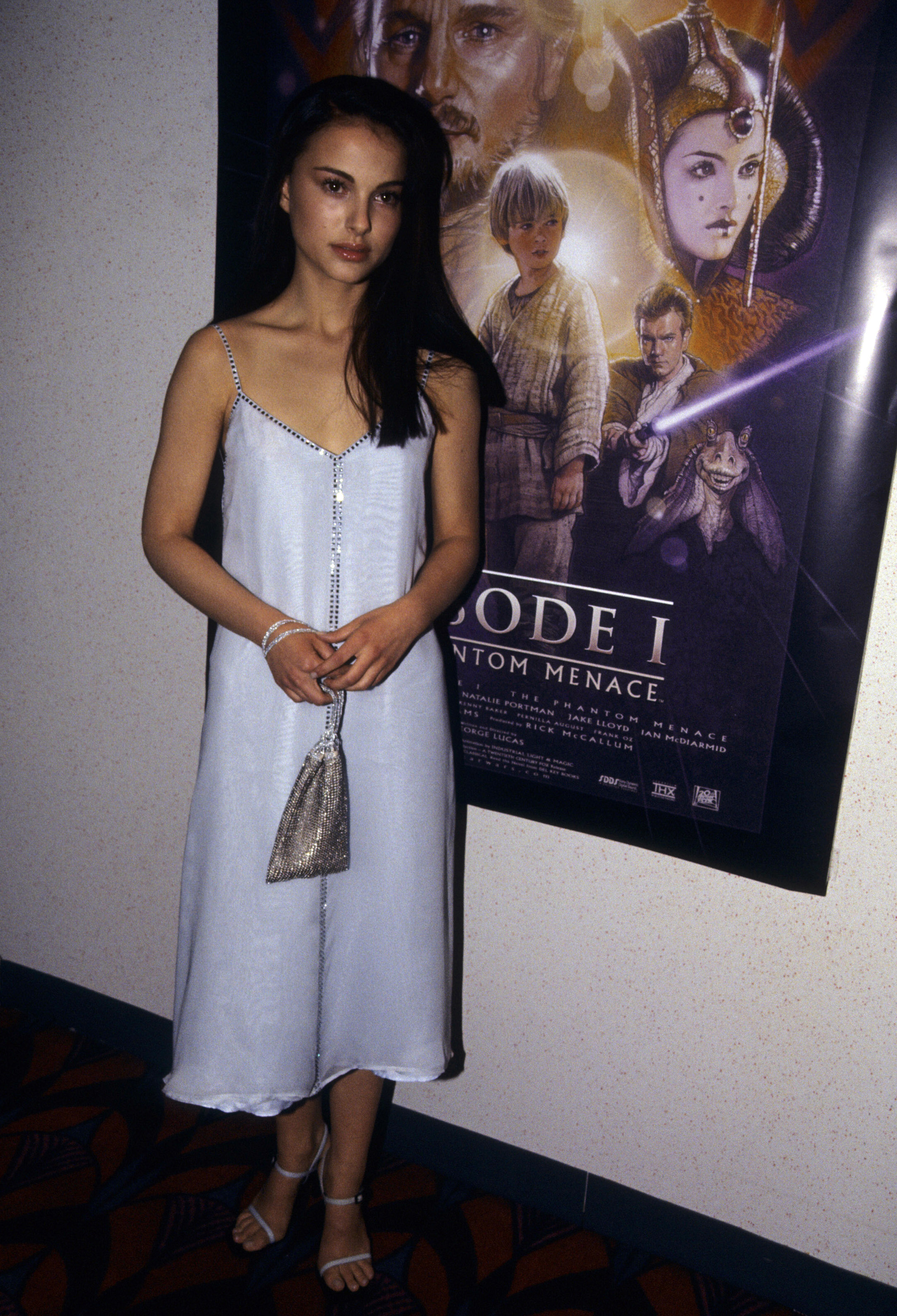 At the premiere of Star Wars Episode I, 1999
In 1999, Natalie followed in Carrie Fisher's footsteps, starring as intergalactic royalty in Star Wars prequel The Phantom Menace. Here, at the film's premiere, the actress looks every bit the celestial princess in sequins and silver chainmail.
In Star Wars Episode II: Attack of the Clones, 2002
Love them or hate them, there's really no debate that the Star Wars prequels served up some iconic looks. In the trilogy, Natalie stars as Queen Padmé Amidala, ruler of Naboo and wearer of many an elaborate outfit. Intricate regalia aside, however, Padmé's most iconic look is, hands down, her Geonosis battle outfit. Comprising a crop top and low-rise pants, the look served up Princess-Leia-meets-Lara-Croft, a perfectly Y2K homage to Natalie's cinematic predecessor.
In Closer, 2004
This is it: the wig that launched a thousand Halloween costumes. In 2004, Natalie starred opposite Julia Roberts, Jude Law, and Clive Owens in the oddly enthralling romantic drama Closer. In the film's most iconic scene, Natalie strips for Clive's slimy Larry wearing one bubblegum-pink wig. Despite the film's lukewarm reception, Natalie's colourful wig has earned a permanent place in pop culture history, becoming a staple of Halloween parties and Tumblr dashboards, alike.
In Black Swan, 2010
Natalie dipped a pointe-ed toe into the dance-horror pool with 2010's Black Swan. The film was an instant Tumblr classic and, today, retains its cultural potency for its meme-able moments as much as its gorgeous costumes. Off-duty, Natalie's Nina is swathed in Yumiko bodysuits, knitted shrugs and slouchy leg warmers. For her Swan Lake stage looks, costume designer Amy Westcott teamed up with Rodarte's Mulleavy sisters to create the series of frothy, feathered confections seen in the BTS shots above. Truly iconic, but we expect nothing less from Natalie Portman.