Berlin nightlife made choreographer MJ Harper fall in love with dance again
After a period of self-reflection, MJ stuns in his latest solo show, 'Arias for a New World'.
Photography Rae Tilly
This story originally appeared on i-D Germany.
"Not focusing purely on the ability of your own body allows you to age in a completely different way," says performance artist and choreographer MJ Harper. Instead, the Berlin-based and Florida-raised Jamaican challenges the fetishisation of youth in the dance world by embracing a multidisciplinary approach to his craft. "It can be very painful for dancers, because you're only given a short period of time to be professionally successful," he explains. "I see it as a personal protest to incorporate more and more spoken word into my dance, so that I can continue to perform for many years to come."
It's what MJ, who is now in his 30s and has previously performed at NY's MoMA and London's V&A (along with a series of works with Grace Wales Bonner) does in his latest solo performance piece, Arias for a New World. Staged at the historic Berliner Ensemble, the project – a collaboration with designer Stefano Pilati, makeup artist Kenny Campbell, composers Antoni Komasa-Lazarkiewicz and Thomas Moked Blum, with lighting by Matt Lambert – sees him fuse mediums as he explores the question: what does tanztheater look like in the age of the algorithm? "Generally speaking, language is like a soundtrack to my movements," he says, "blurring the two always feels more natural to me."
We talked to MJ about how social media helped him shape his project, the new chapter in life the piece represents, as well as the power of Berlin nightlife.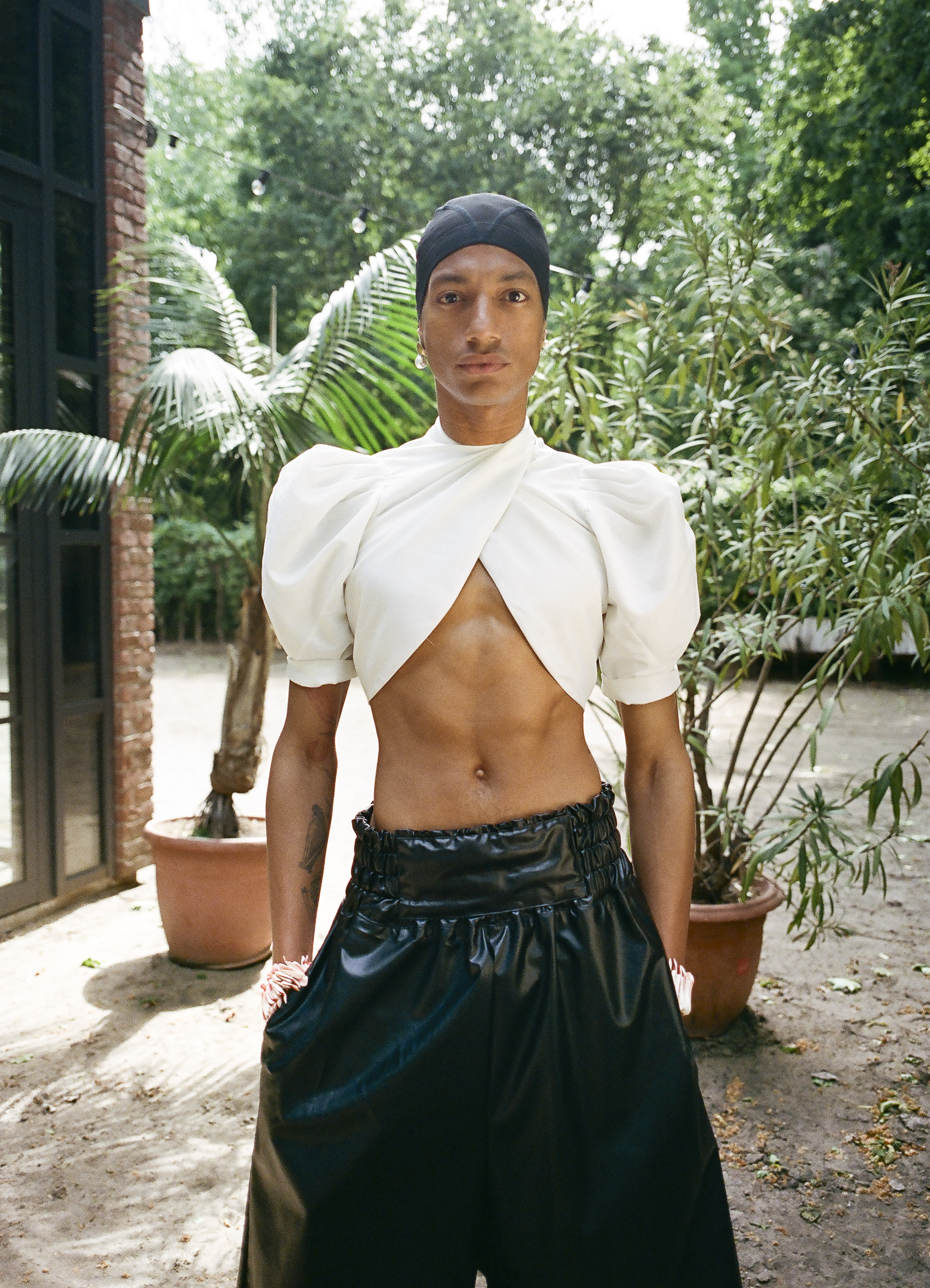 Congrats MJ! Arias for a New World was a total success. Could you tell us more about the spoken word element of the performance; your thinking behind making that as integral a part as the dance?
Almost no one knows that I came to dance through theatre and only started dancing when I was 16. I always wanted to sing, act and dance without committing or limiting myself. Even during my training, I was fascinated by the European dance scene and artists like Pina Bausch and William Forsythe, who worked in a multidisciplinary way.

Written over the course of seven years, what was your intention behind this mammoth piece? What did you want to explore with it?
The fascinating thing during this process was that most of the lyrics came to me in an almost spiritual way, for example, while brushing my teeth. The piece developed very intuitively. For me, Instagram was like a testing ground to try out how a text sounds spoken and which snippets of text evoke interesting reactions and emotions.

So you used Instagram as a tool to shape your vocabulary, aesthetic and language?
Exactly. I developed the piece like a huge collage, with social media helping me to share the current state of my work. Although the performance is scripted, I left a lot of room for improvisation because sometimes on stage you almost get into a trance-like state, in which new words arise spontaneously. For me, as a performer, these are the interesting moments.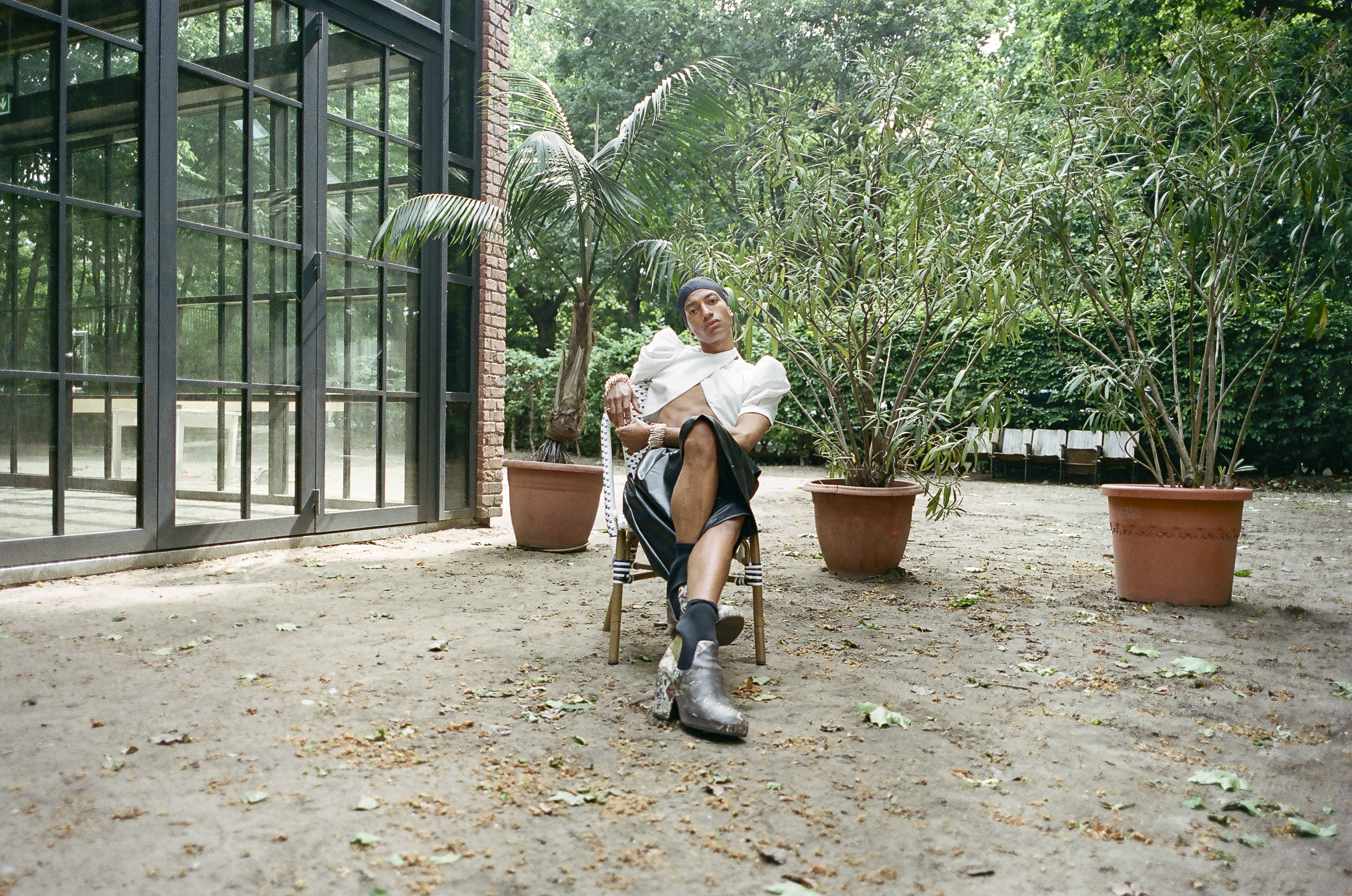 How was it to finally perform in front of an audience again?
It was only when I was on stage that I felt, with every fibre of my body, how much I missed this feeling. I was in a dance company for five years and we were on tour all the time – from China to Russia, Australia, America and all over Europe. It was fantastic at the beginning, but there came a turning point where I almost felt like a robot. At some point you switch to autopilot. It drove me crazy because this takes away the essence of dance; the emotions that a performance actually stands for. That's why I hardly missed the stage for the last two years; I had danced myself dry before that. Besides, I wanted to take time to go into myself. I would have found it downright selfish to go on stage after so long and have nothing to say. It felt like the right moment to return.

Your rehearsals all took place at Stefano's studio at Random Identities, where we shot these portraits. The atmosphere feels very intimate, but also like a space for artistic exchange. What does it mean to you?
Random is like a laboratory and workshop and a place of encounter for me. It's like a testing ground, you work together here, learn from each other. Stefano and I used to go to the studio and put together looks just for fun and then go to parties. Nightlife is so inspiring for me because beauty there has nothing to do with race, gender or social class. For me, beauty is about presence and energy.

Let's talk a bit more about your style. You told me before that you dress mostly for feelings. Could you explain that a little more?
For example, when I'm sad, I notice that I put extra effort into getting dressed. When you're not feeling well, you need clothes that protect you and make you feel safe. Some days, I feel more like wearing a dress, others sweatpants. Red lipstick, a bra or jockstraps are all codes and associated with certain qualities – I love to play with these symbols.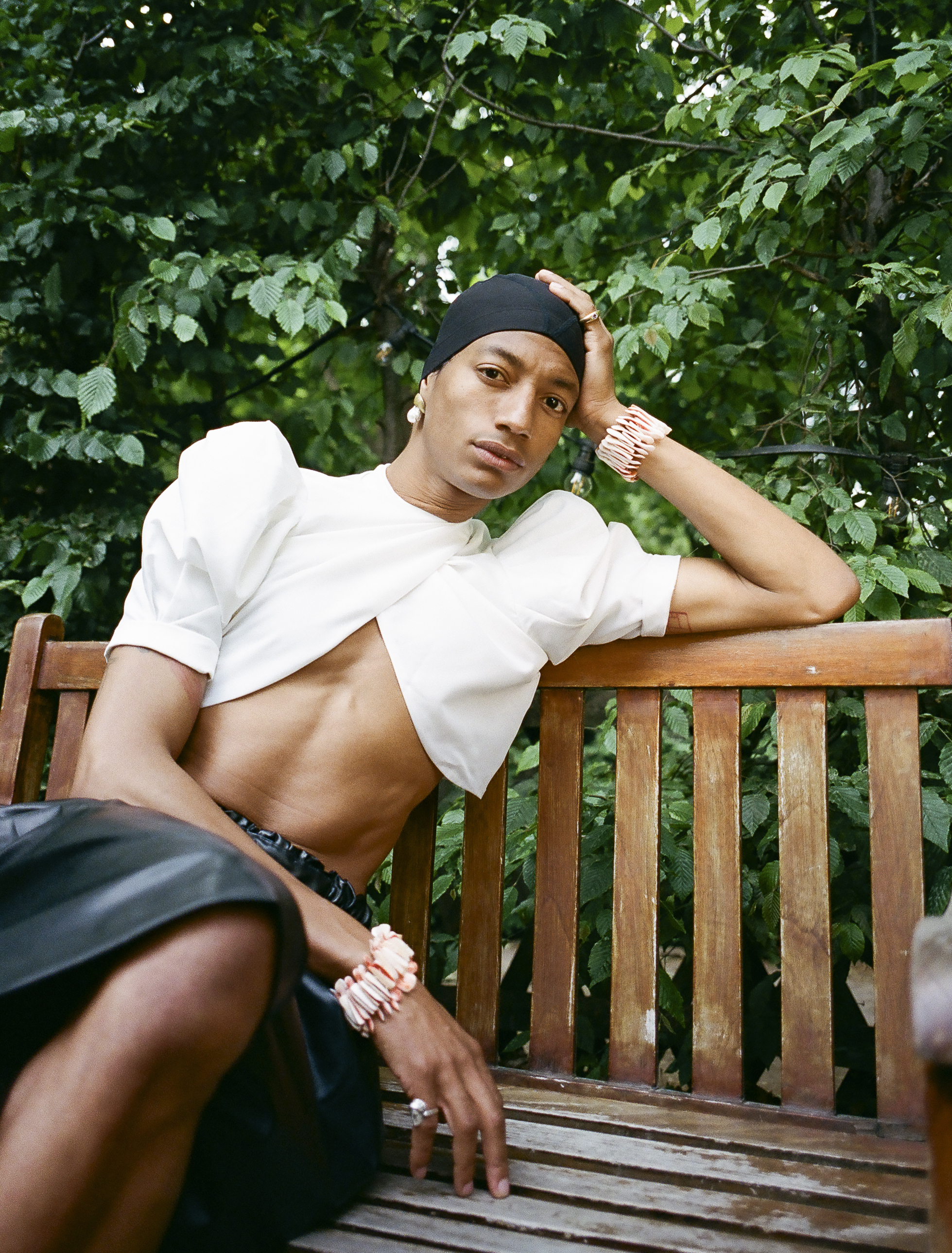 How would you describe your dance style?
"Misbehaved beautifully" is like a mantra to me, which is why I have it tattooed on my arm. So if I had to describe my dance style, I would say "Misbehaved body" – a body that, in its own way, is always learning something new and always in motion.
You studied in New York, then moved to London and finally to Berlin. How have the different cities influenced you, both artistically and personally?
Each city was like a key to a different part of myself. I came to Berlin by chance, because two friends I went to school with in Florida moved here. I visited them for the first time in February six years ago and when I arrived at Alexanderplatz, I was really shocked by how grey and cold the city can be. Berlin was definitely not love at first sight. It sounds a bit cheesy now, almost cliché, but I only really understood this place when I started going to parties. I had never experienced clubs like this before. Before I came to Berlin, I didn't really want to be on stage anymore because I'd lost my passion for dancing. Through nightlife, I found it again. This city shows you who you are and can bring you down, but it also lifts you up if you are willing to work on yourself, no matter how many times you fall or have setbacks.

When we were talking the other day, you told me, "I didn't like the person I had to become to live in New York".
In New York you have to hustle all the time because it's expensive and there's an incredible amount of competition. Some say that Berlin is undeveloped in comparison, but that also gives you the chance to really create something new — there's still enough space here. I feel the city is in an incubation period; a lot of things are just emerging. Of course, it can help your creativity if a place also exerts pressure to pursue projects ambitiously, but at some point your mind just switches to survival mode. I'm a firm believer, however, that no matter where you live, you should give something back to the place and get involved.
Now that you're constantly in motion professionally, working with your body and performance again, do you still go to clubs in your private life? Or are you no longer that interested in it?
Going out is sacred to me. I don't know any nightlife comparable to Berlin, the parties here give me so much energy. For me, there's not necessarily one party I always go to, or one DJ whose set I never miss, but I'm definitely out and about. Again, I don't want to commit to just one thing. That's what I'm looking forward to the most this summer! I love to float around.

Credits
---
Photography Rae (Mee- Jin) Tilly
Photo assistant Aaron Beattie