adidas x Gucci bring you future fashion artefacts
One of the most significant collaborations in recent fashion history, the collection merged adidas' stylistic versatility with Gucci's exquisite craftsmanship. 
From its status as a fixture of New York street style in the 70s and 80s to its regular appearances on the runways of some of today's most prestigious fashion houses, few brands have played quite as integral a role in fashion history and culture as adidas. Back in February, a testament to that fact was paid when the brand's collaboration with Gucci was announced during the Italian house's show during Milan Fashion Week – one of the industry's highest stages.
Four months on from then, the co-signed collection is finally landing in stores – much to the excitement of the far-reaching audiences of both brands. Echoing the myriad of iconic style moments that adidas has had over the years, what defines the collection more than anything is its sheer versatility. As you can see here in the story shot by Valeria Herklotz and styled by i-D fashion editor Louis Prier Tisdall, it's an offer that seamlessly meshes with – and even elevates – the much-loved staples of your wardrobe.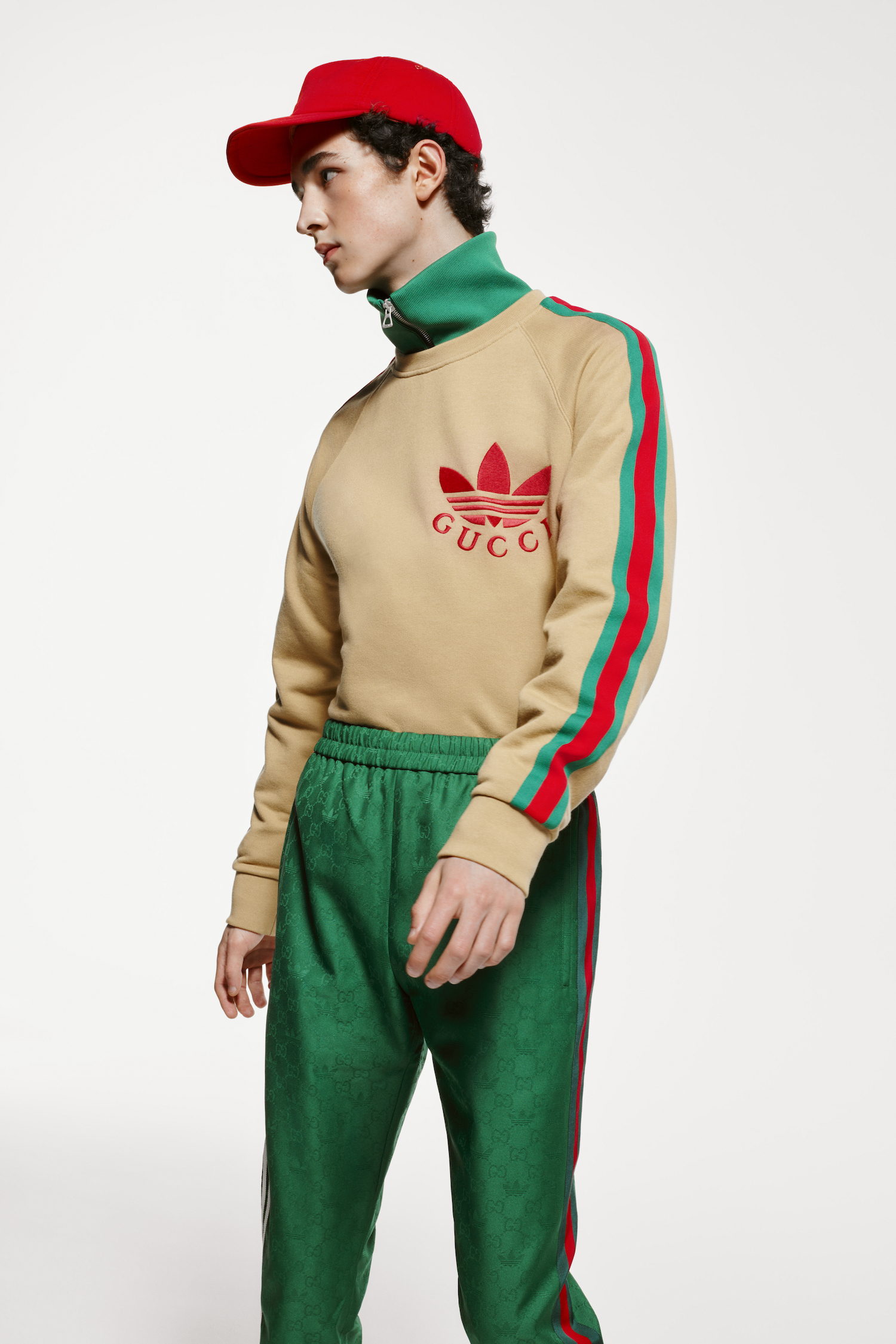 Jewel-tone jacquard track jackets – which feature both adidas' instantly recognisable 3 Stripes down one leg, and Gucci's signature red and green Web down the sleeves – effortlessly complement skirts in both airy cotton poplin and rugged tartan, while poppy, primary-hued cotton t-shirts – bearing a hybrid iteration of the adidas trefoil and the Gucci logo – are as easily layered over a long-sleeve tee as they are styled with a moody black leather blazer or a pair of acid-wash jeans. Muted, go-to garments – a vintage mac, for example – are lifted by pleated skirts and high-waisted shorts in lustrous, adidas x Gucci-monogrammed jacquards, while a selection the two brand's most iconic bags – including the Gucci Horsebit 1995 and the adidas Bowling Bag – are made over in eye-catching retro prints.
Among the collection's key anchors is a co-branded iteration of the Gazelle, adidas' iconic low-top suede sneaker. First launched the Gazelle in 1966, it made history as the brand's first-ever training shoe available in suede – a notable innovation, given that kangaroo leather was – until then – the ubiquitous choice for performance footwear. Over the years since, it's accrued a status as a veritable style icon, with fans including everyone from Oasis frontman Liam Gallagher and Jamiroquai's Jay Kay to contemporary fashion icons like Kate Moss and Harry Styles. In fact, even Alessandro Michele, Gucci's creative director, is a well-known collector of the shoe. Here they've been reimagined in multiple colourways – from poppy pink to all-over monogram – all featuring the collection's collaborative insignia on the heel-tab.
In many respects, they embody the spirit of the adidas x Gucci at large. A simultaneous celebration of both adidas silhouettes and motifs that have stood the test of time and Gucci's inimitable savoir-faire, the collection is born of a synergy of versatility, exacting quality and timeless style.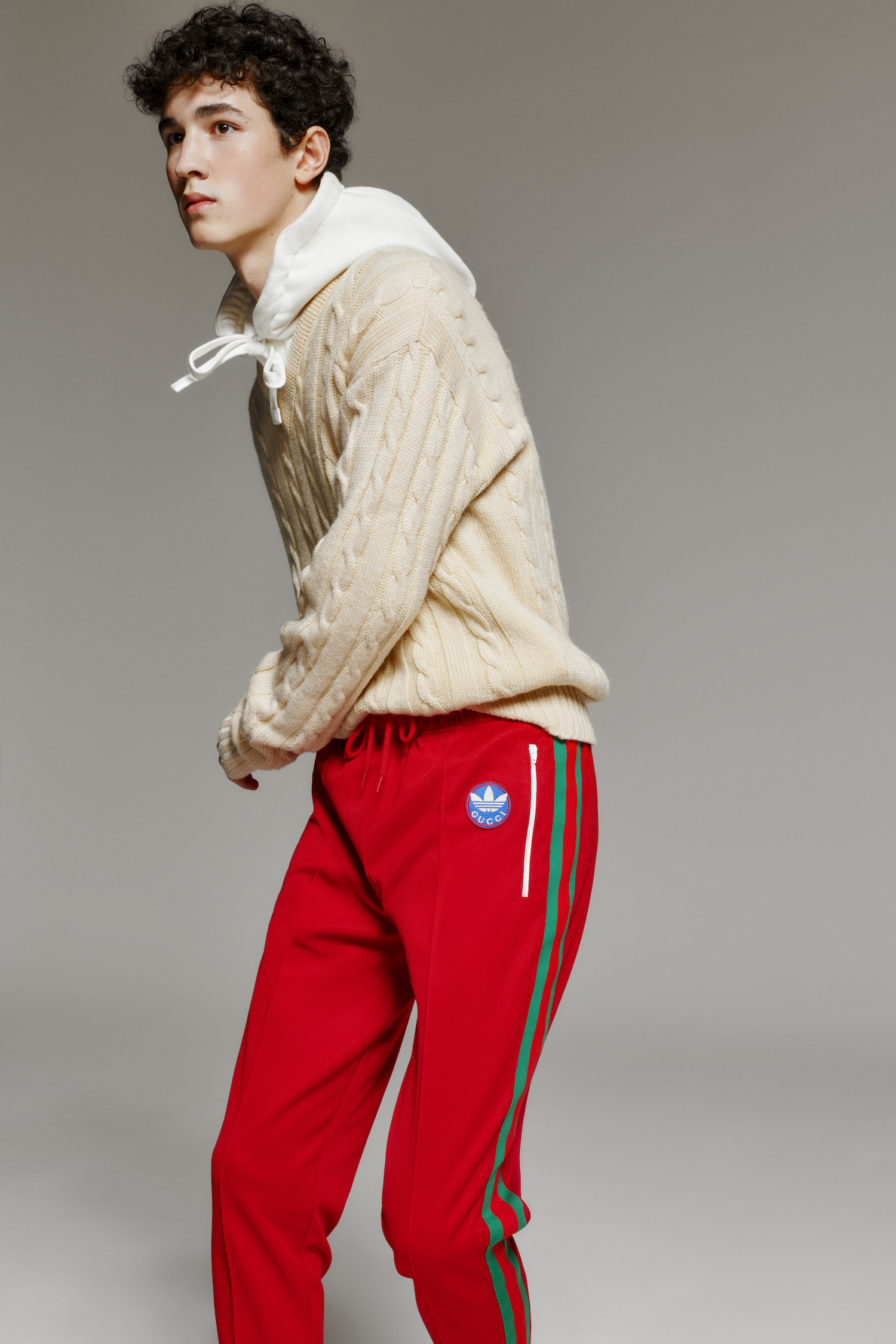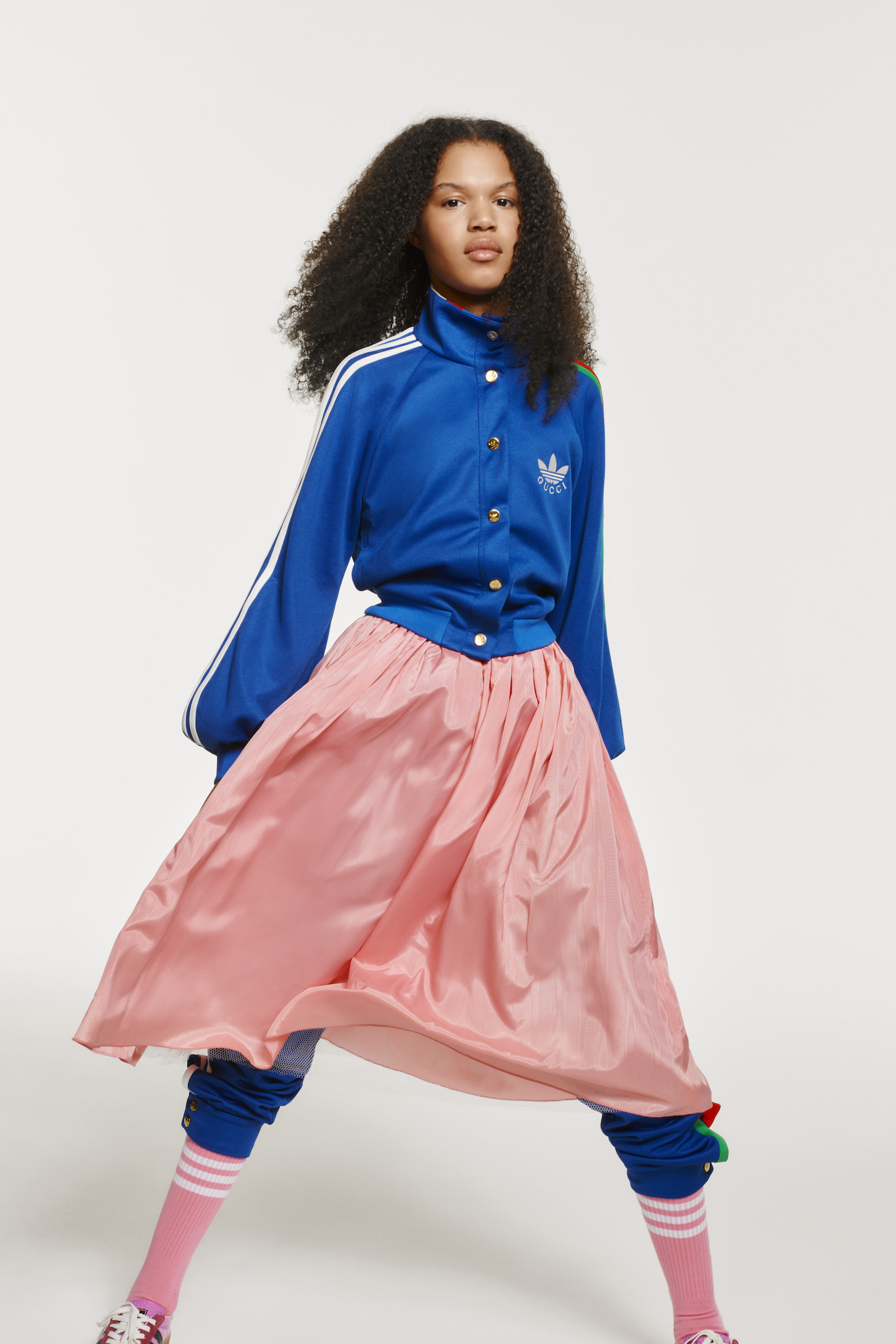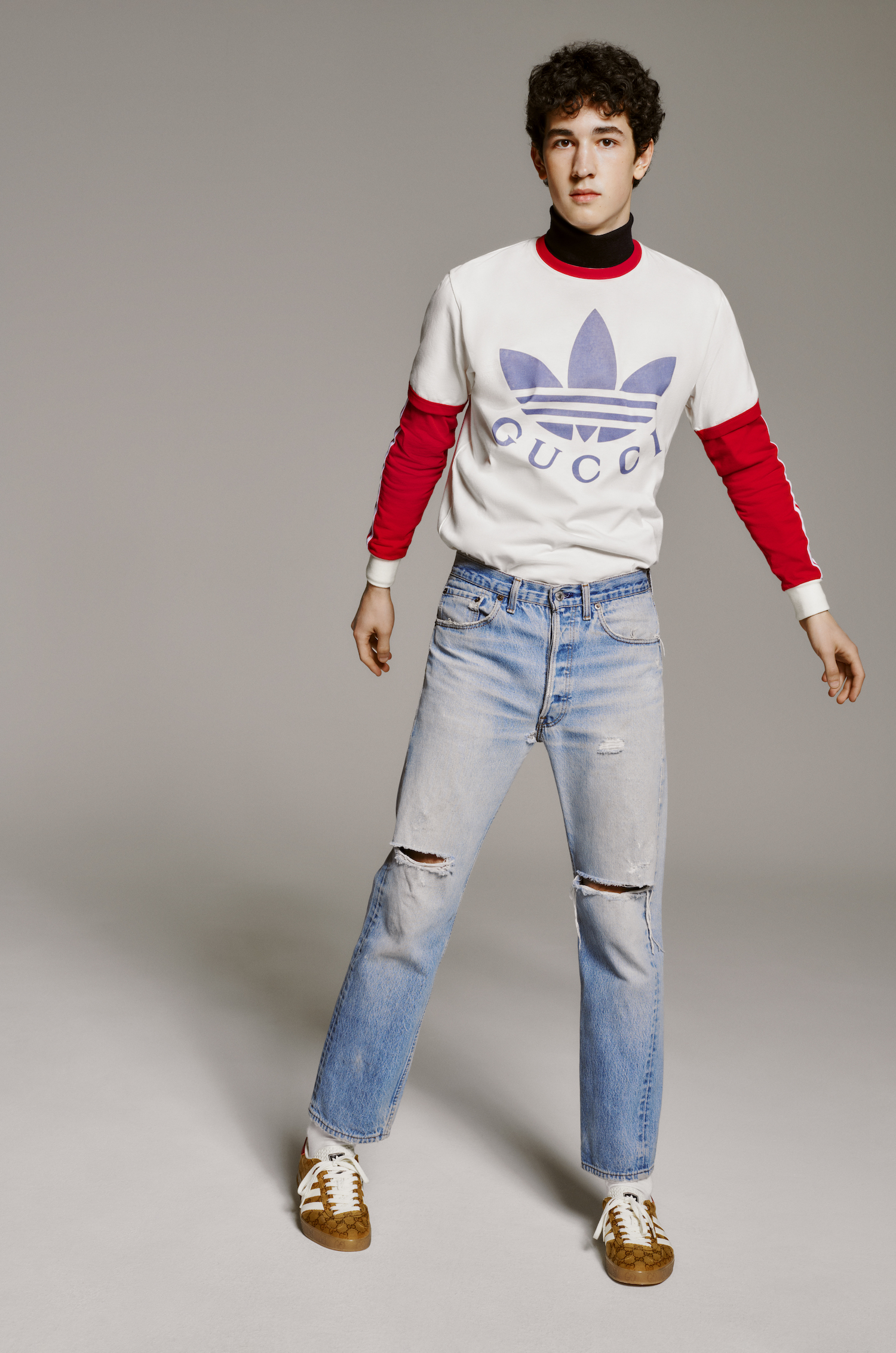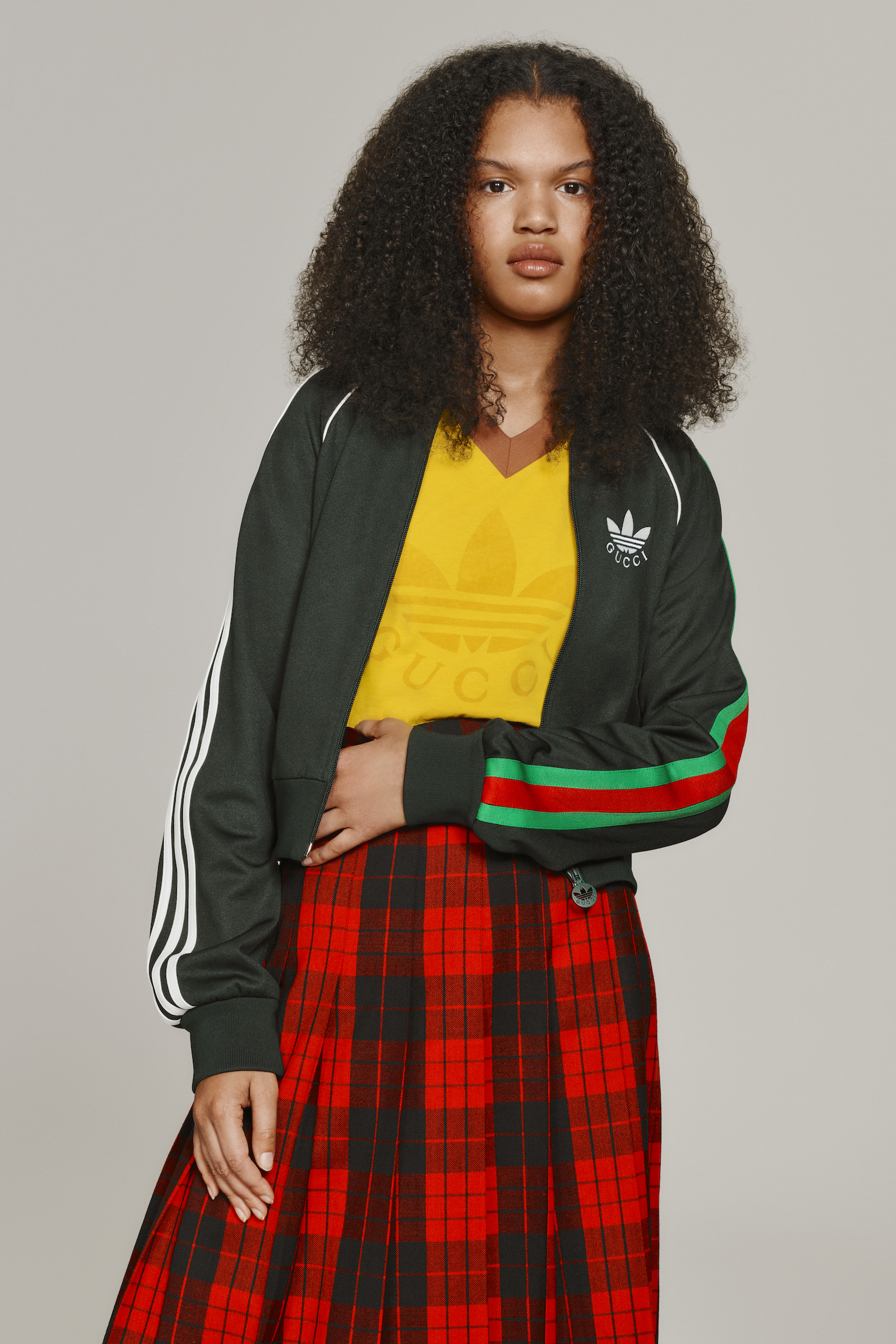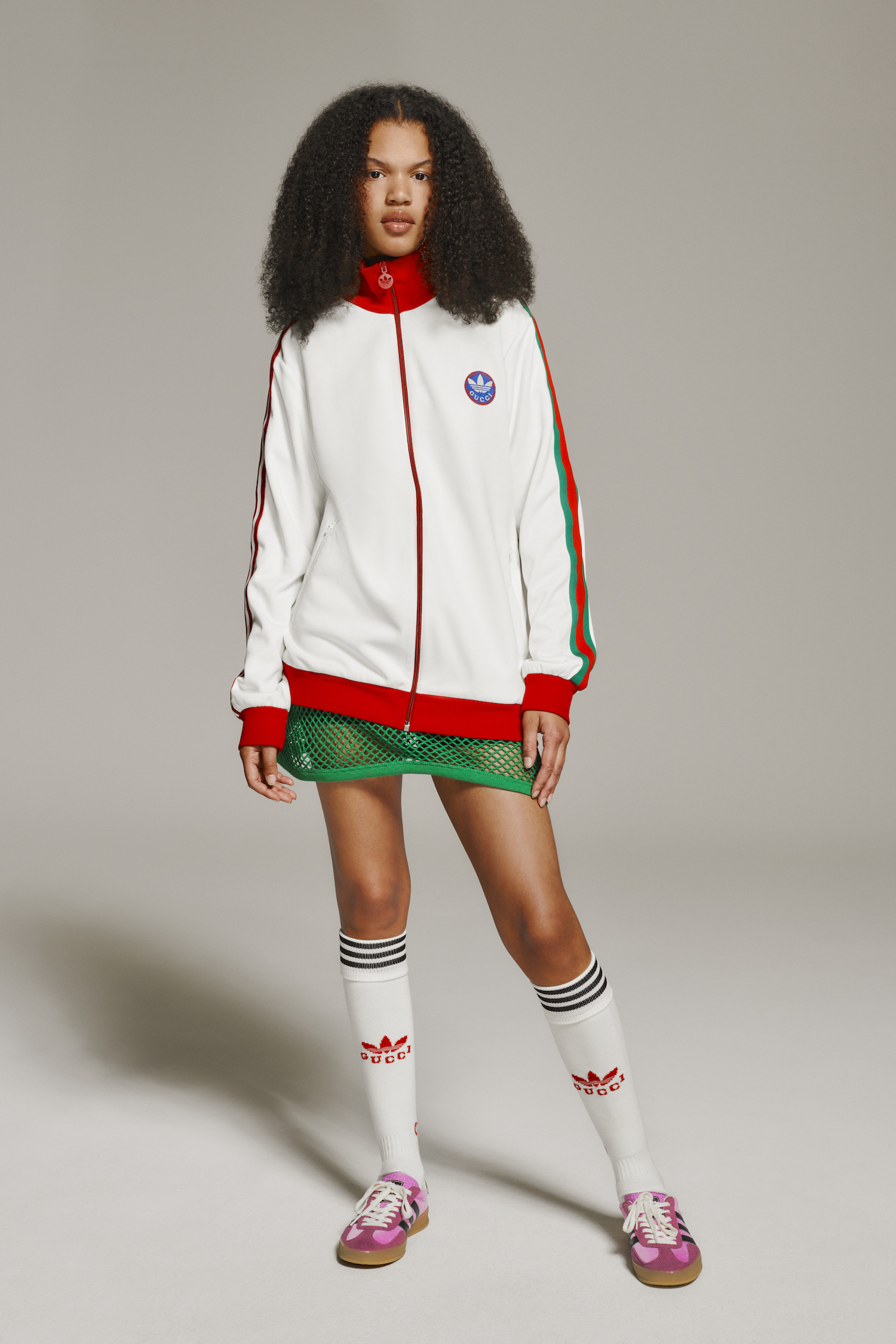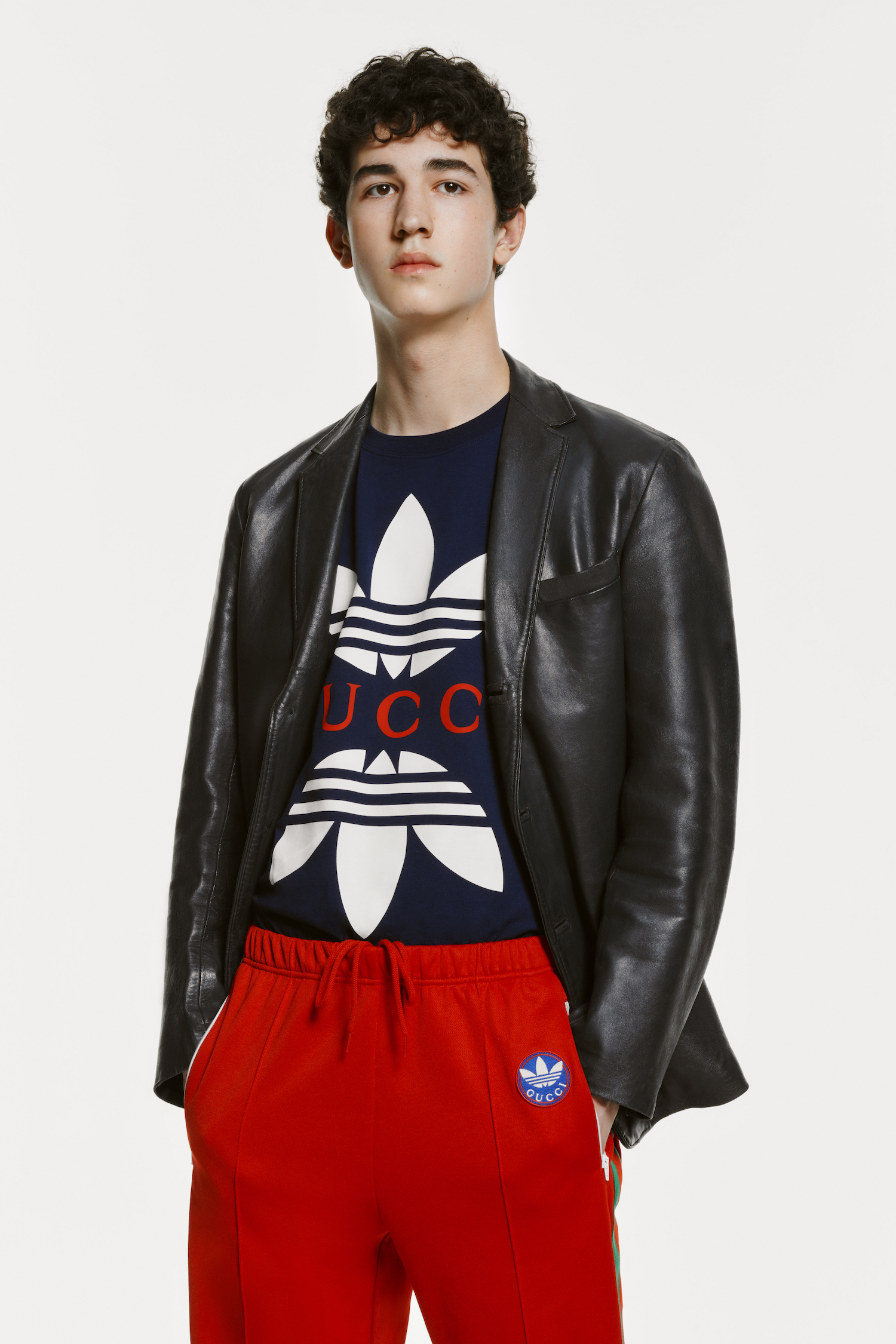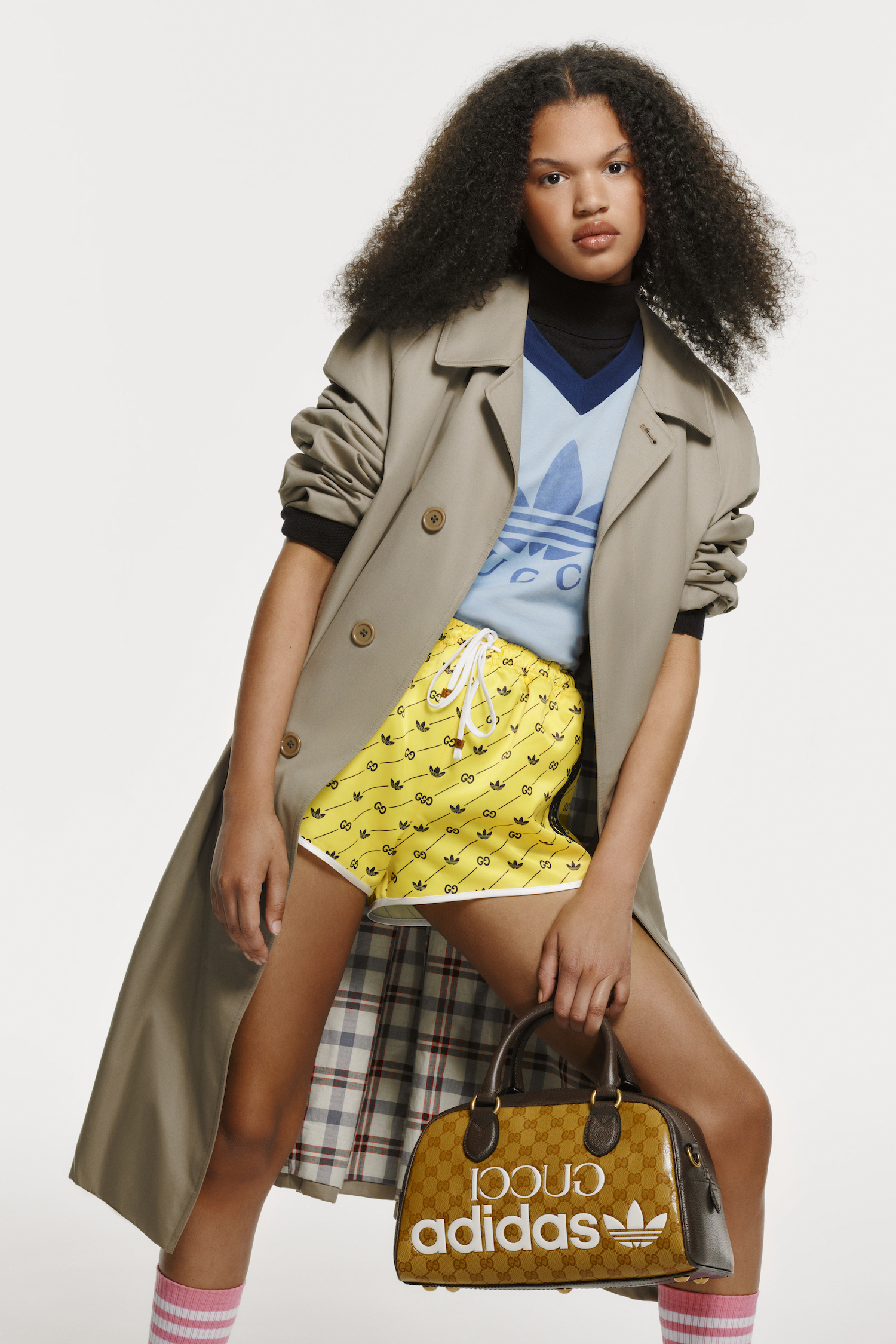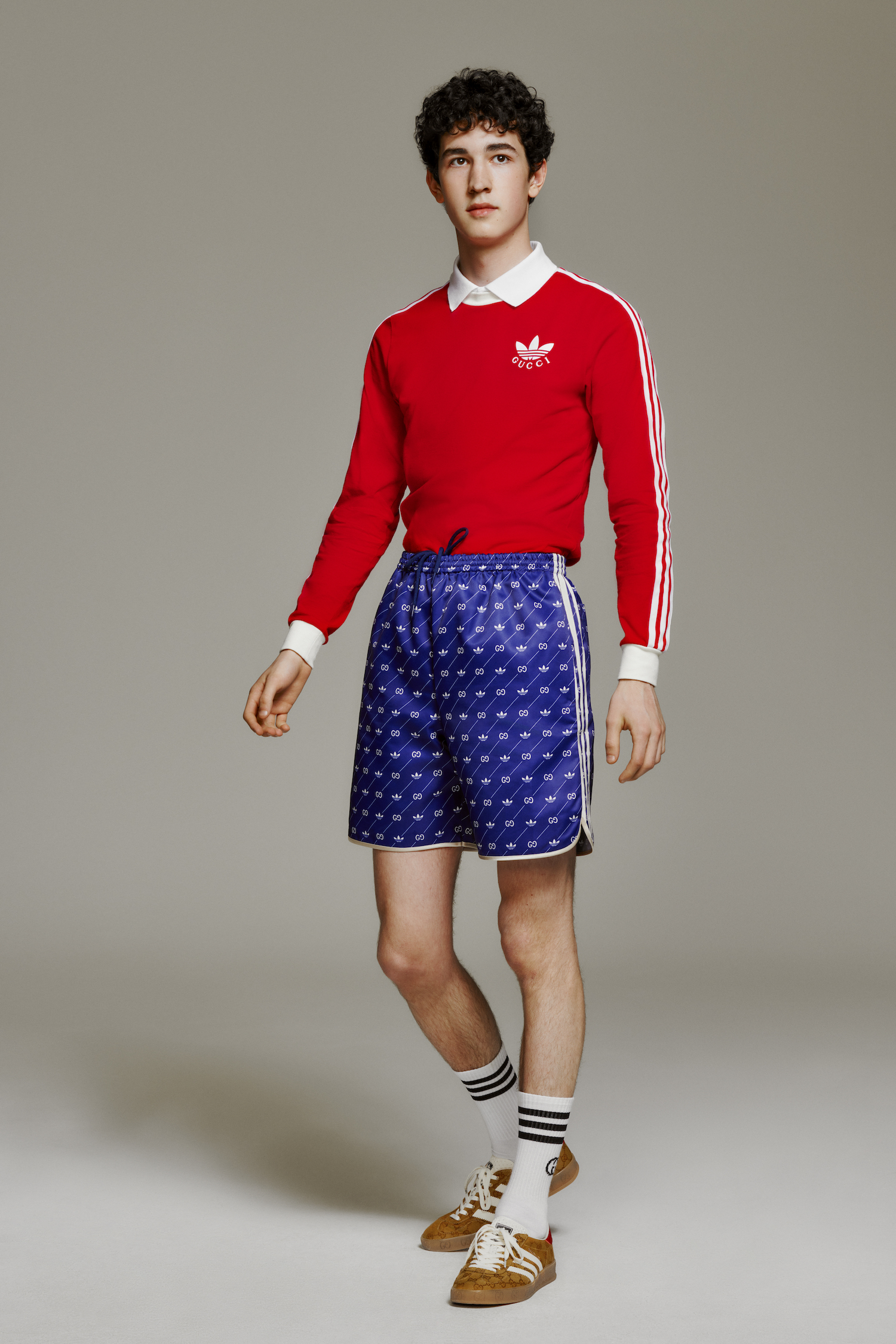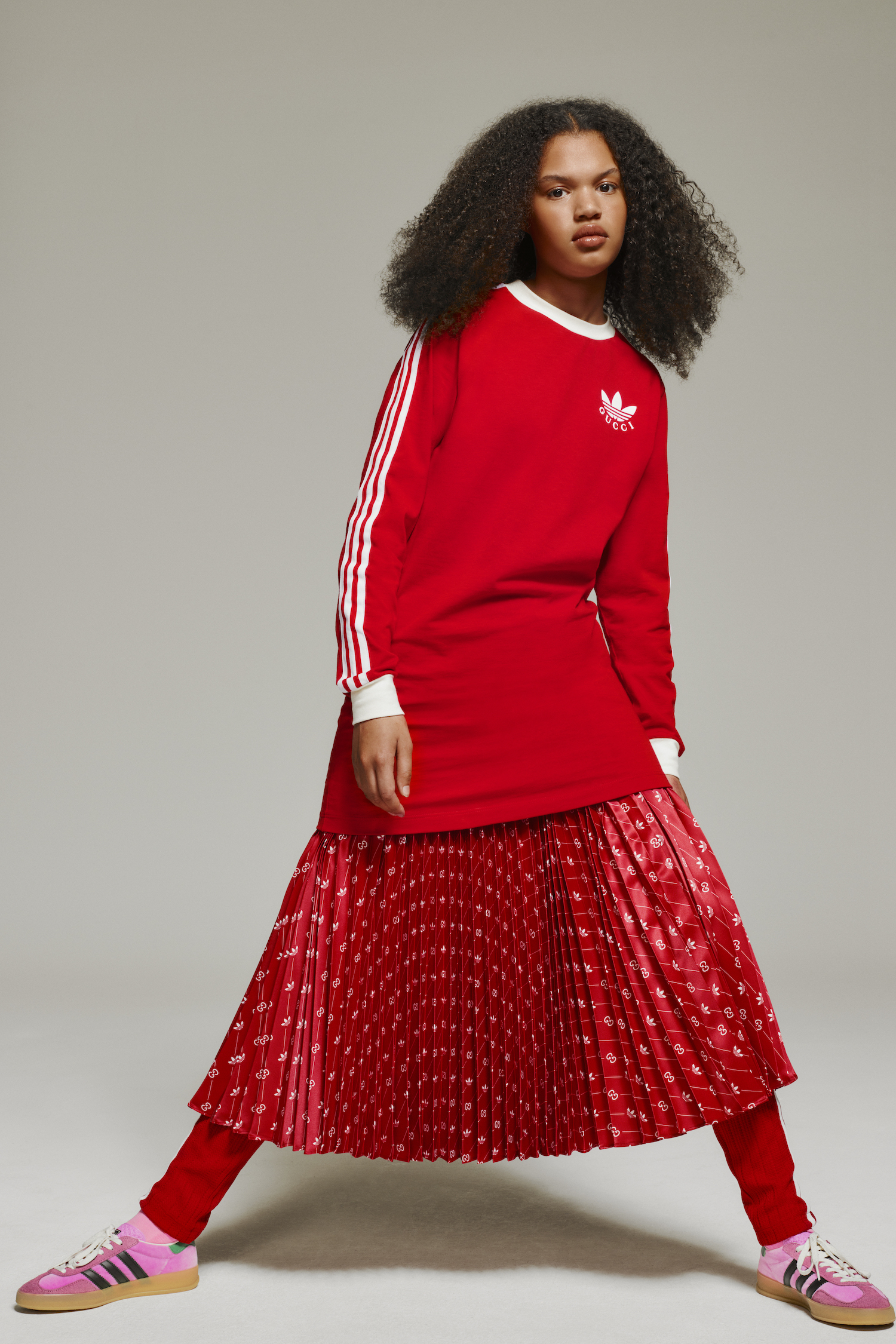 Discover the adidas x Gucci collection here.
---
Credits
Photography Valeria Herklotz
Styling Louis Prier Tisdall
Styling Assistant Marina de Magalhaes
Hair Kota Suizu at CLM
Hair Assistant Akari Matsumoto
Makeup Crystabel Riley at Julian Watson Agency
Makeup Assistant Tina Khatri
Creative Georgina Bacchus
Lead Producer Kasia Williams
Senior Producer Laurene Mpia
Production Assistant Wojciech Fec
Casting Caroline Mauger
Models Sashauna Newman at The Hive & Fikrat Kirkland at Elite