This summer, designers want you to wear healing crystals to the club
Is wellness dead? Christopher Esber, Rui Zhou, KNWLS and Panconesi beg to differ, with garments that merge hedonism and self-care.
This spring, something has shifted. Over the last few months, critics and writers across the realms of food, fashion and culture have come to a major consensus: "Wellness is dead." In March, i-D writer Katie Tobin laid 'that girl' to rest, declaring that "her reign of wellness terror is over". Last month, The Cut called for a "revolt against wellness", welcoming the return of the party girl. At Grub Street, Emily Sundberg rejoiced: "Long live the martini." Have this season's vodka-soaked cocktails and cigarette-plumed sidewalks really spelled out the end of our collective self-care kick? Well, it really depends on who you ask.
A very wise ex-party girl once said that the key to living well lies in "finding the balance between cigarettes and tofu". Yet substances, sustenance and Gwyneth Paltrow aside, for SS22, a cohort of designers are advocating for a similar kind of balance, proposing we wear our healing crystals to the club. Think Rui Zhou's jade-punctuated cut-outs or Panconesi's colourful stone-embellished jewels. At Gucci, Alessandro Michele advanced a series of crystal-embellished capes and naked dresses that harkened to the arcane powers of the zodiac. As it turns out, wellness and hedonism might not be so mutually exclusive after all.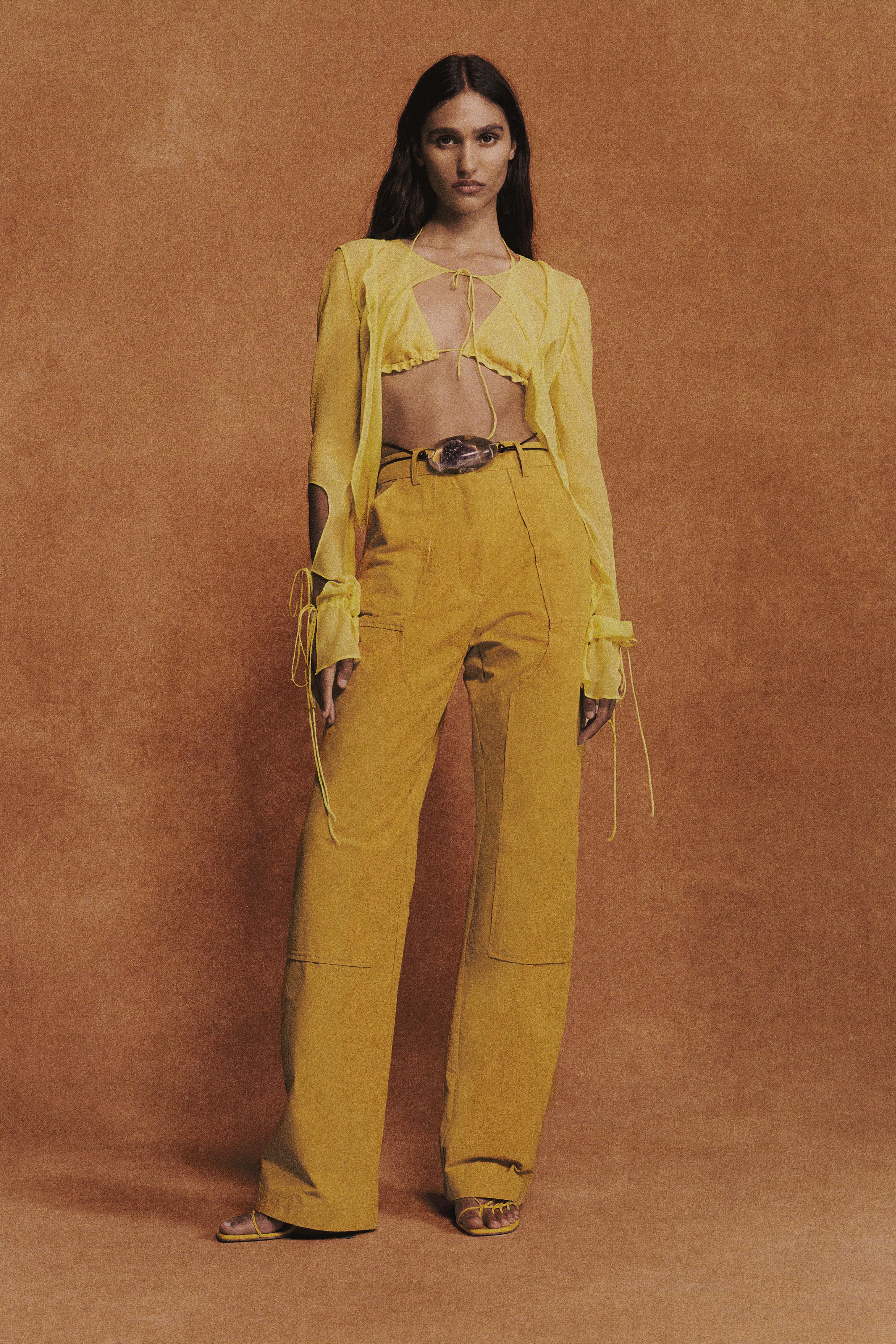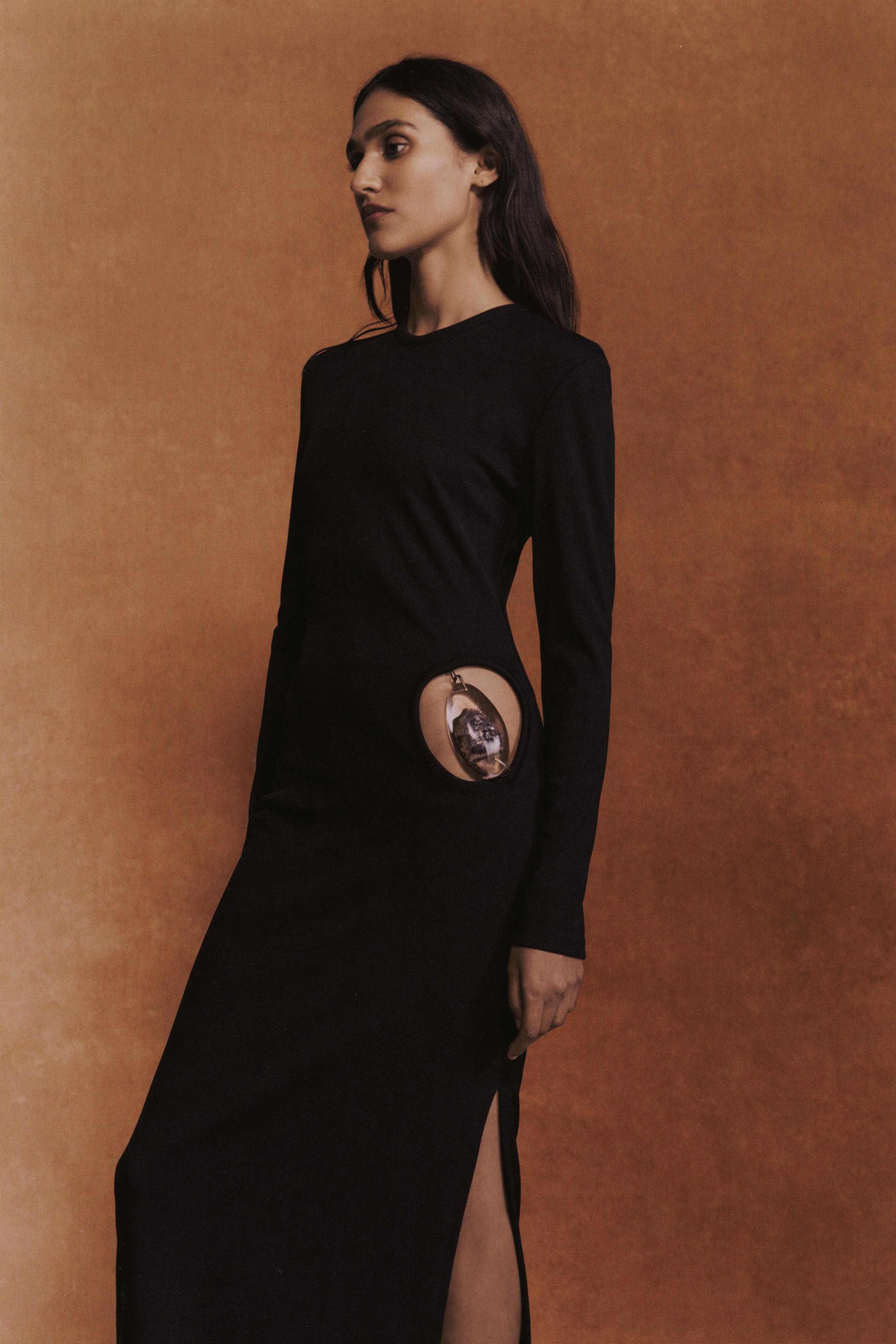 The look's largest proponent is Christopher Esber. Known for his singular, sultry cut-outs, the Australian designer has been blazing the white-hot trail of SS22's new sexy for quite a few seasons now — as much as he's reluctant to admit it. "The idea of creating sensual dresses has always been secondary," he says. "For me, it's about the linework." In the same breath, Christopher speaks to his admiration of British artist Henry Moore. Like Moore's sculptures, Christopher's work explores the concept of negative space; how lines can interact and insect to novel, graphic effect. In his studio, those lines are drawn, cut and, finally, transposed upon the female form. Take the gown model Adwoa Aboah wore to this year's Academy Awards, for example. The plunging, undulating neckline spoke to Christopher's artistry, all while recalling the slinky, sparkling sex appeal of the 70s — Halston, Studio 54, et al.
Perhaps the inherent sensuality of a garment is woven into its very fabric from the beginning. "I'm quite hands on," says Christopher, referring to his practice. Into SS22, the designer continues to draw each of his concepts by hand before beginning the draping process. "The fluidity you see in the final result actually stems from the way the team works with their hands," he continues. Or, maybe, as the designer points out, the brand's innate sexiness is just an Aussie thing. "I think coming from Australia, there's a sense of ease and release to a lot of what we do," he says, describing his designs as "nonchalant" and even a little "gritty". The kind of garb that pairs perfectly with a cigarette, a martini and… a smooth quartz crystal.
Like his signature cut-outs, crystals have been a long-time staple of Christopher's clothing. The designer first introduced the motif during his Pre-Fall 2020 outing, where he pierced slip dresses and jersey separates with smoky quartz (serenity) and red jasper (stability). He recalls working on that collection during the early days of lockdown: "It's one thing to sample gemstones, but to be surrounded by bags of stones in the studio… it definitely brought a lightness in the mood during a very dark time." (Lorde's Solar Power, anyone?).
For SS22, Christopher, a self-proclaimed proponent of stones and their healing powers, placed the embellishments centre stage. This season, the designer captured the essence of a dusty Australian summer in beachy chiffon and a sun-bleached, time-weathered palette. The keyhole neckline of a ribbed jersey dress is held together — just barely — by a string of jade and orange calcite. Elsewhere, a sleek black crop top dangles with a mobile of quartz and citrine stones. An Instagram post of the sultry garment invites its wearers to "manifest [their] desires".
The collection's showpiece, a rather understated look by Christopher's standards, is a long-sleeved column gown, its single cut-out embellished with a "fossilised amethyst". Of the beguiling stone, the designer says, "I love amethyst, but it's really fragile to work with so we submerged it in a resin, kind of like a specimen you might find in a library. We wanted to bring in this feeling of the Old World and preserving things of the past." Appropriately, for this season's linework, Christopher drew inspiration from Jonathan Flaxman's sparse illustrations of Homer's The Odyssey.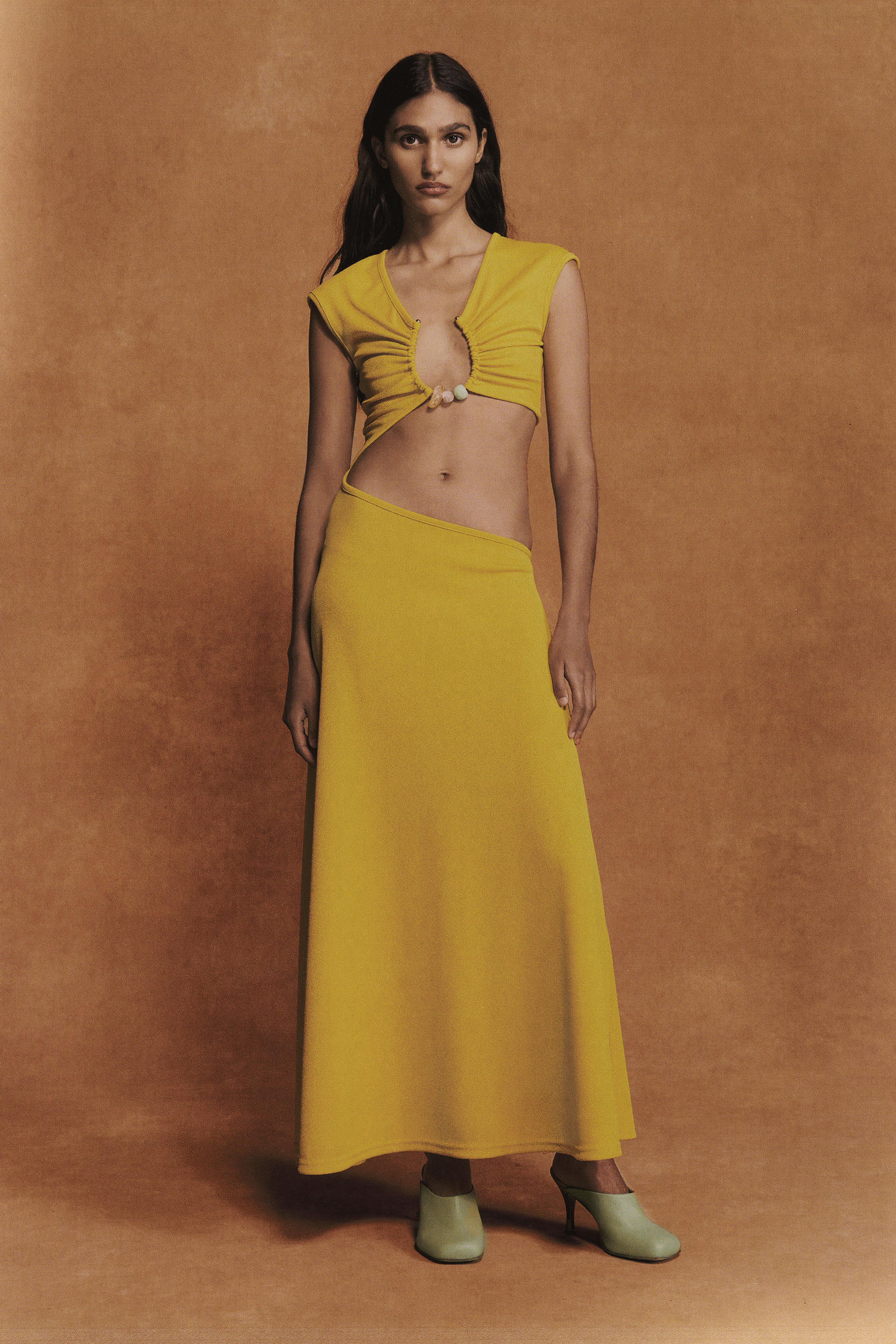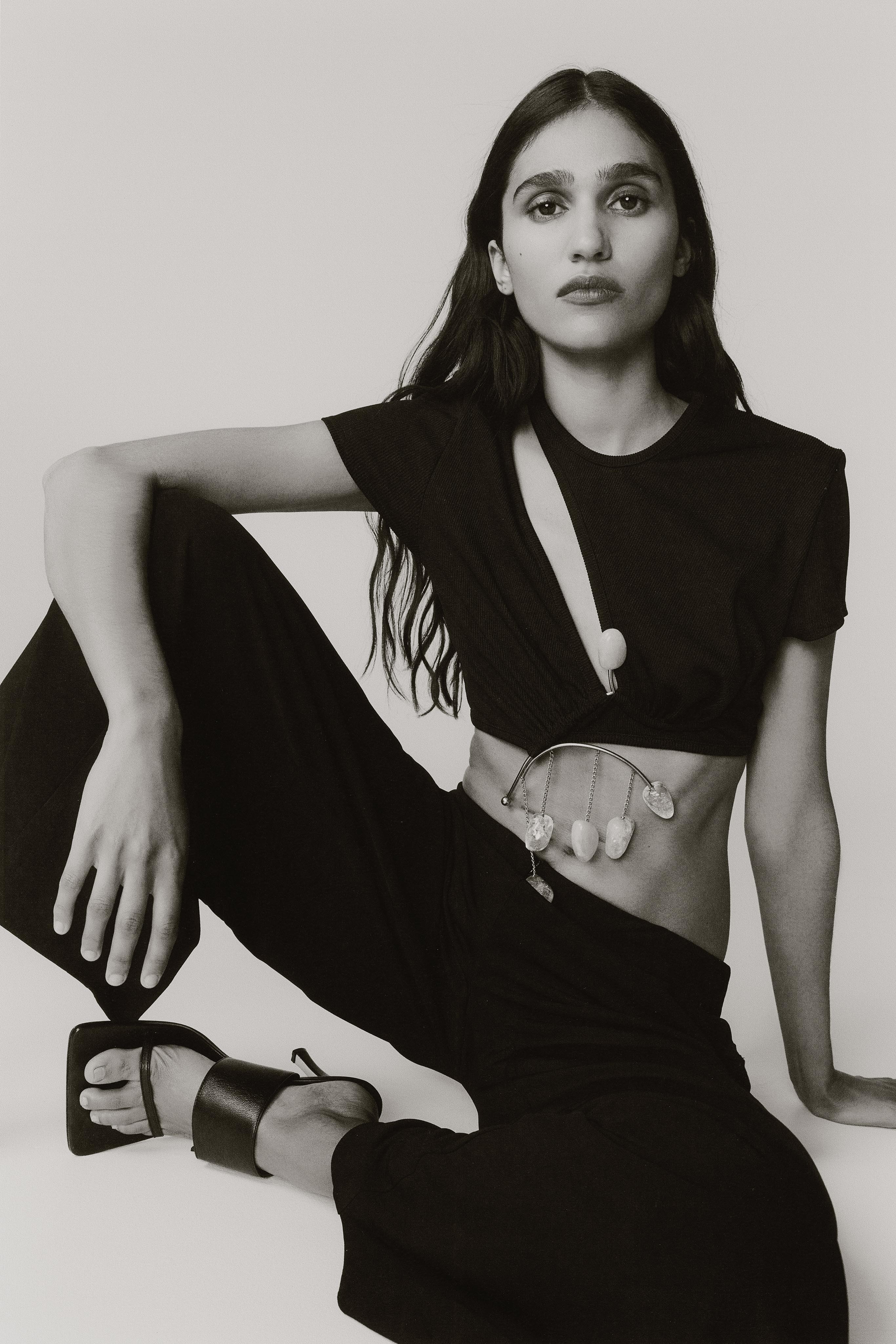 Old world or new, Christopher's designs, with their many cut-outs, always end up relating to the flesh. "This season, the way we've done it, [the stones] always end up touching your skin. I like the idea that they're cold when you first wear them, but then they warm up to your body heat." While blowing off steam in a sweaty nightclub, one might extrapolate.
The link between crystals and the club might not be as novel as you might think. Haven't healing stones always been a party girl staple? Of course, there's Heidi Montag of The Hills, who started a crystal therapy business with husband Spencer Pratt. A few years back, Mary-Kate and Ashley Olsen handed out clear quartz and black tourmaline to The Row runway invitees, along with a note espousing their "revitaliz[ing]" properties.
There's also Tina Chow, one of New York's most enduring party girls and fashion icons. Through the 70s and 80s, the model-turned-jeweller was a regular at Studio 54, where she imbibed with friends and collaborators from Andy Warhol to Yves Saint Laurent. In the late 80s, while still very much a staple of the city's nightlife, Tina launched her namesake jewellery label. Made from rock crystal, quartz and bamboo, Tina's pieces foregrounded the healing powers of stone. A contemporaneous article from The New York Times describes one of Tina's crystal necklaces as a "portable self-renewal system". Not just an avant-garde embellishment, the jewel was also intended to be used for meditation. When disassembled, it unfurls the length of the wearer's body with sufficient stones to cover all seven chakras.
Christopher's not the only spiritual successor to Mrs. Chow, however. This season, Rui Zhou, known for her barely-there knitwear, has embellished her clingy designs with jade in addition to her signature crystal pearls. The seasonal green stone is believed to soothe the mind and dispel negative energy. In the collection's campaign, models linger about the floral interiors of a domestic abode, draped over chaises, chatting on mattresses, and mugging for the camera. Dressed head-to-toe in Rui's club-ready bodysuits and going out tops, one might imagine they've sipped a pre-drink or two, set their intentions for the evening and are now waiting for the Uber to arrive.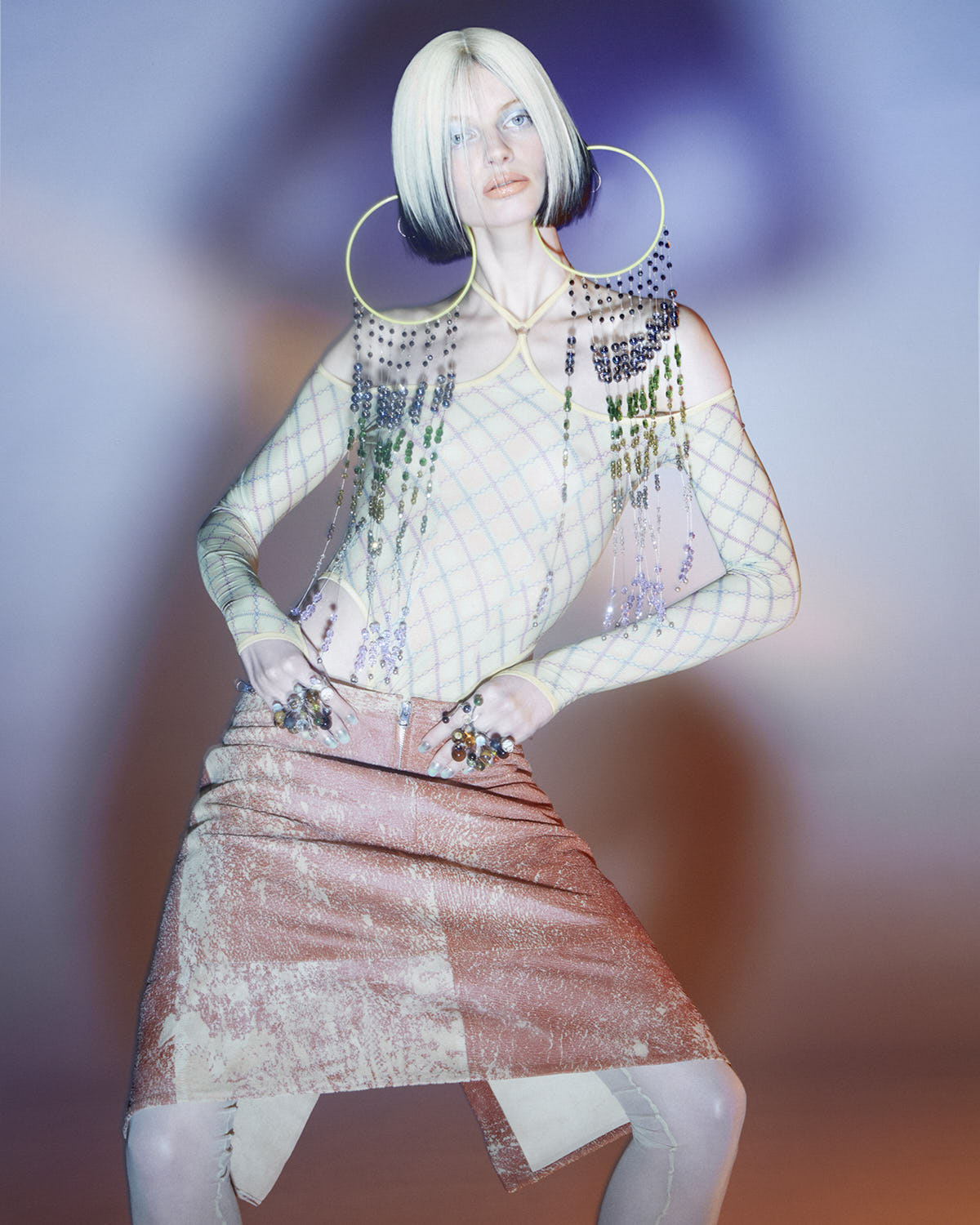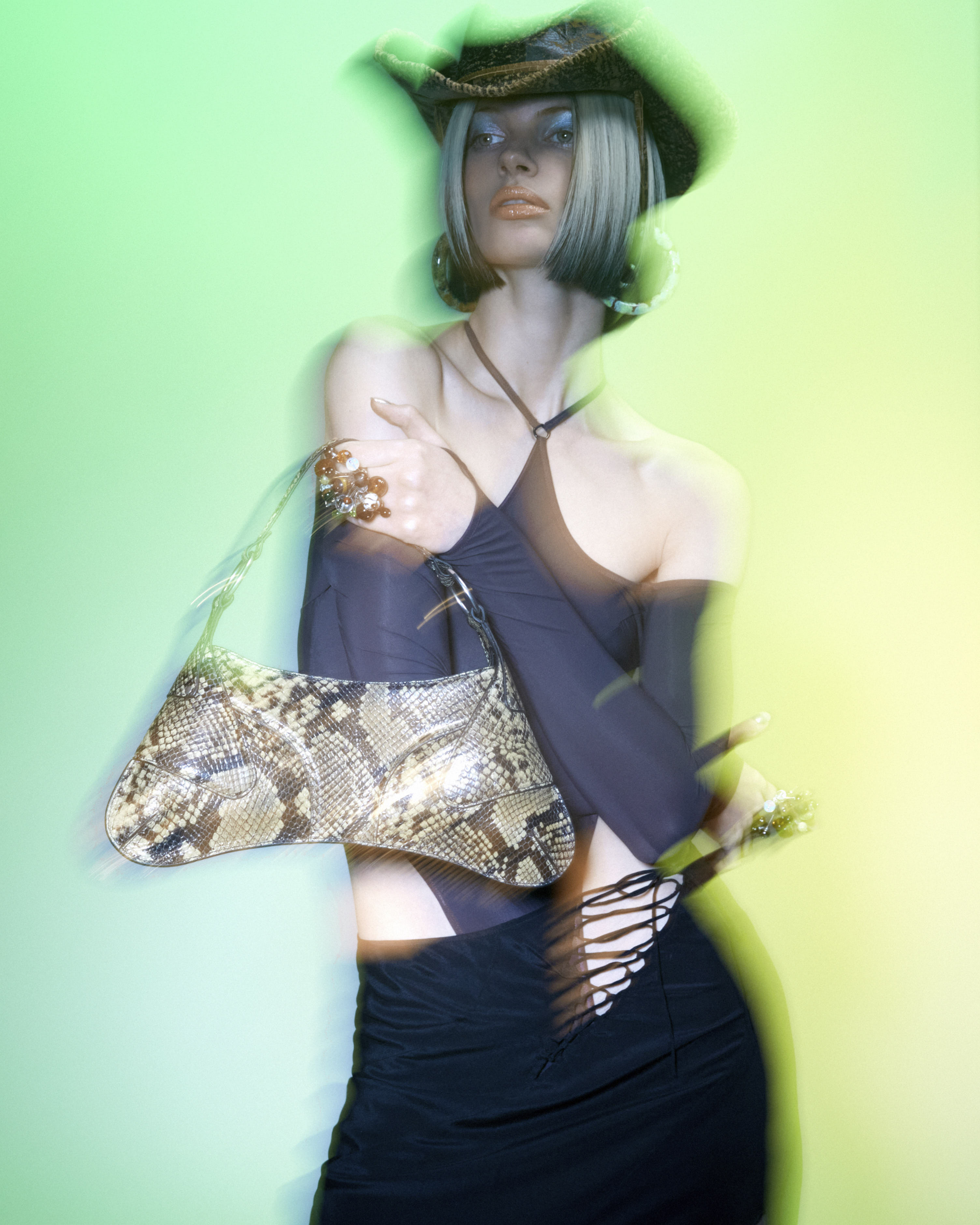 Across the pond, KNWLS and Panconesi have teamed up to create a capsule of opulent, Studio 54-worthy jewels. According to Charlotte Knowles and Alexandre Arsenault, KNWLS' SS22 collection is "very much about overcoming adversity and braving the world falling apart." Perhaps, with the help of some crystal magic?
To create this season's light-in-the-dark accessories, the duo collaborated with stylist Georgia Pendlebury and Italian jeweller Marco Panconesi, who brought his life-long penchant for colourful stones to the cutting table. "When I work with stones and semi-precious gems, colour is the primary element I look to when designing each piece," Marco says. "Each colour and stone is chosen for its emotional quality. My connection to each stone is very personal." Turns out, the KNWLS woman connects with the power of crystals, too. "We really love the idea of crystals with esoteric powers," says Charlotte. "We think our woman would harness those powers!"
In a series of strobed-out campaign images lensed by Carlijn Jacobs, the KNWLS woman is dripped in cut-out bodysuits, waist-snatching bustiers and a plethora of Panconesi's Galax jewels, which explode in an array of black onyx (strength), yellow jasper (clarity), agate (harmony) and alexandrite (prosperity). It's a cathartic outpouring of optimism. This summer, there will be no crying in the club. Only good drinks, good friends and good energy.