7 of Amber Valletta's most iconic outfits
The 90s supermodel and i-D cover star has always been a Mugler muse.
Photography Getty Images
Amber Valletta was the face of the 90s. Alongside fellow supers Shalom Harlow, Kristy Hume, Naomi Campbell and Kate Moss, the American model faced the covers of the decade's most influential magazines and fronted the campaigns of its most popular brands. Second only to Kristy, Amber fronted the most Vogue covers of her 90s super cohort, and signed a multimillion dollar contract with Calvin Klein.
Elsewhere, Amber memorably faced campaigns for Prada, Jil Sander and Versace. She was a favourite of era-defining photog Steven Meisel. And off-camera, Amber's style epitomized the era in which she came up. Think slinky slip dresses, chainmail and Todd Oldham tailoring. Today, she upholds her 90s legacy, modelling, once again, for the house of Mugler, under the creative direction of Casey Cadwallader. Here, in honour of Amber's unforgettable turn in Mugler's SS22 video runway, we take a look back at the supermodel's most iconic outfits of all time.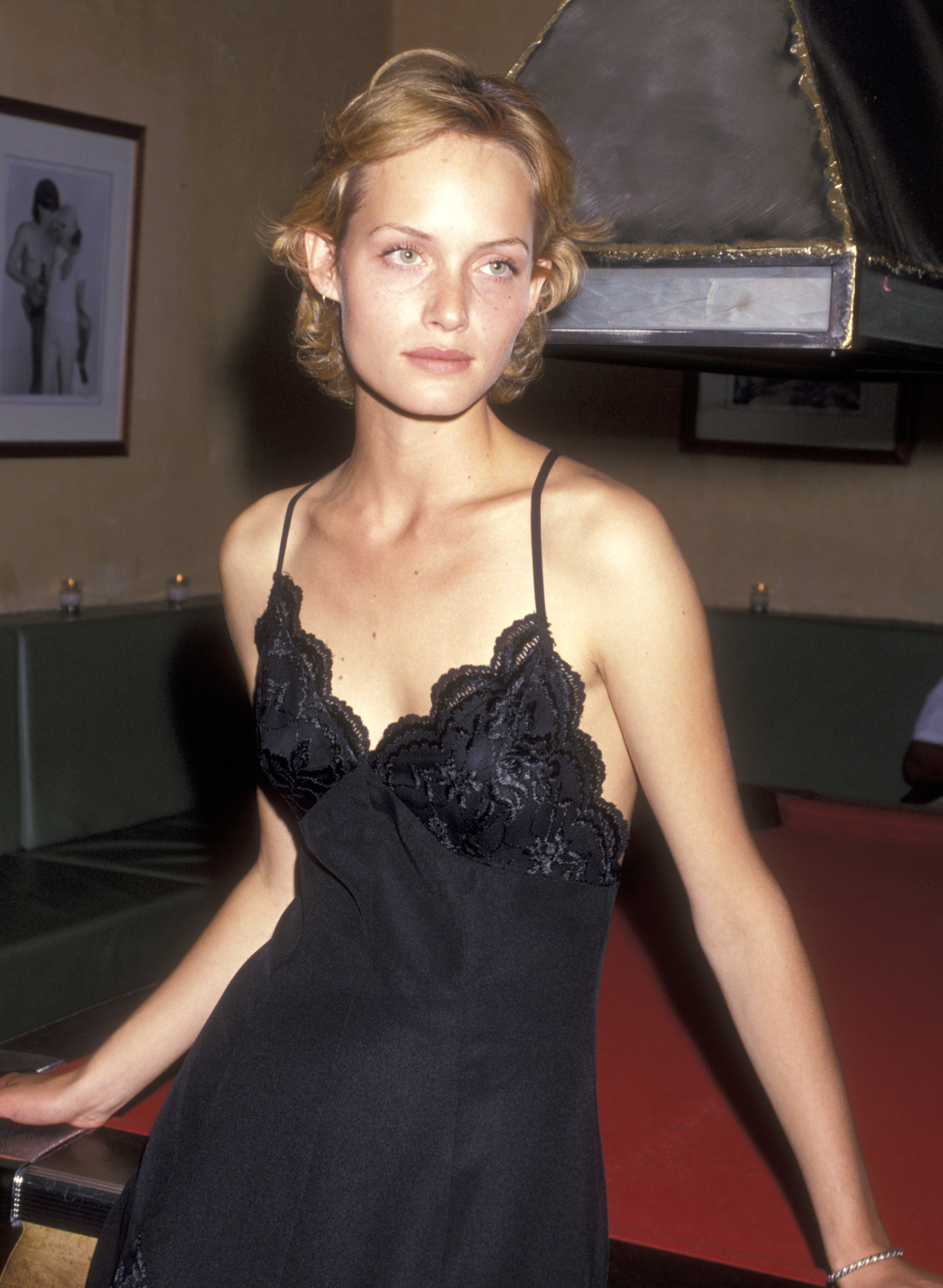 At a Boss Model Management party, 1993
Amber Valletta began her career when her mother enrolled her in modelling school in Oklahoma at the age of 15. By 1993, the future super had signed with Boss Model Management in New York City. And, by the decade's end, had landed 13 Vogue covers and a multi-million dollar contract with Calvin Klein. Here, in 1993, a fresh-faced Amber wears a very 90s slip dress while attending a Boss Model Management party celebrating the agency's new cohort, Amber, et al.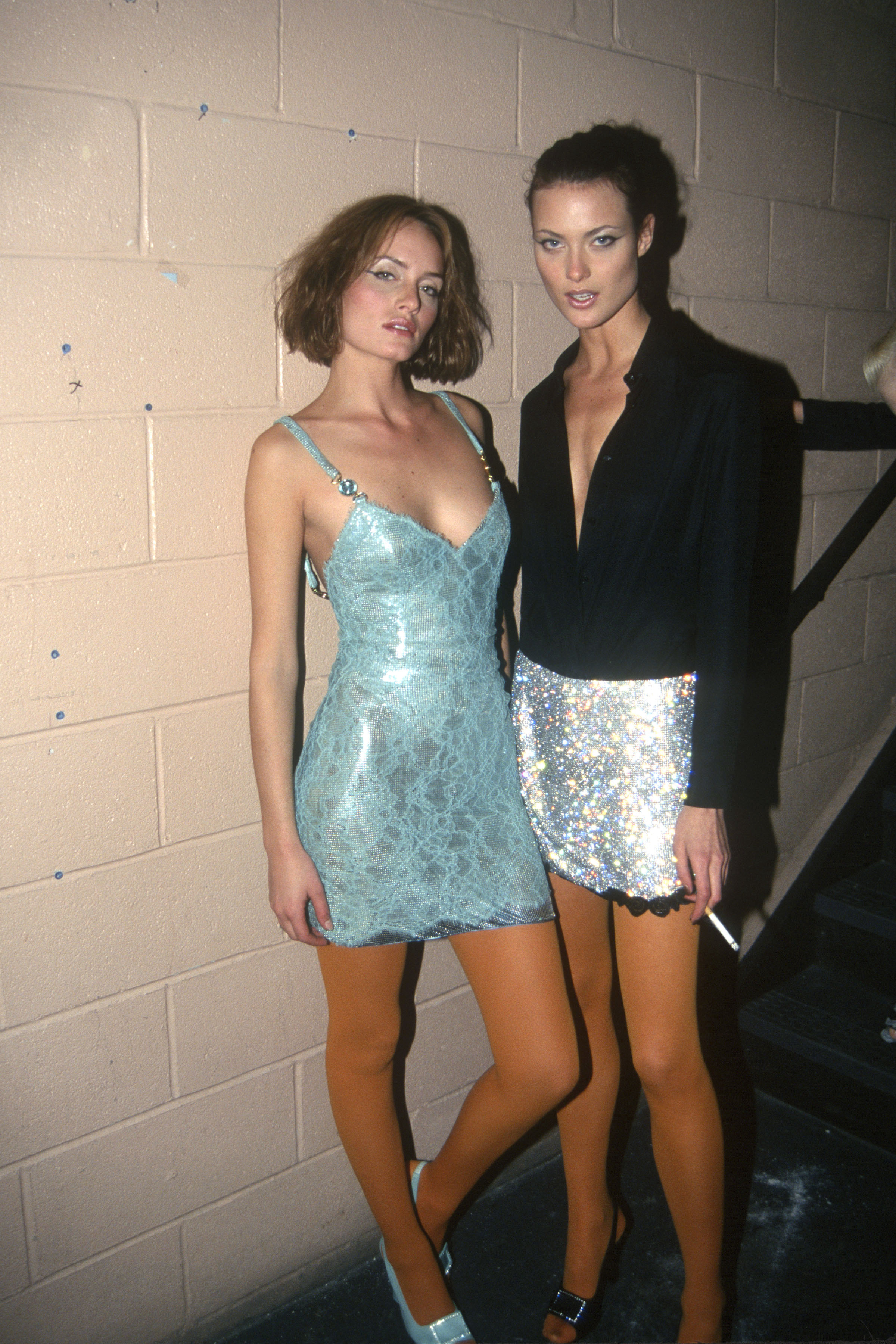 At the VH1 Fashion Awards, 1996
Throughout the late 90s, Amber and supermodel-bestie Shalom Harlow were practically inseparable. Not only were the duo two of the most recognized models of their generation, they also co-hosted MTV's House of Style, a docu-series which focused on America's fascination with the "supermodel". Elsewhere, the friends attended industry parties and awards shows as a duo. Here, Amber and Shalom were snapped backstage at the 1996 VH1 Fashion Awards wearing a pair of shimmering Versace outfits.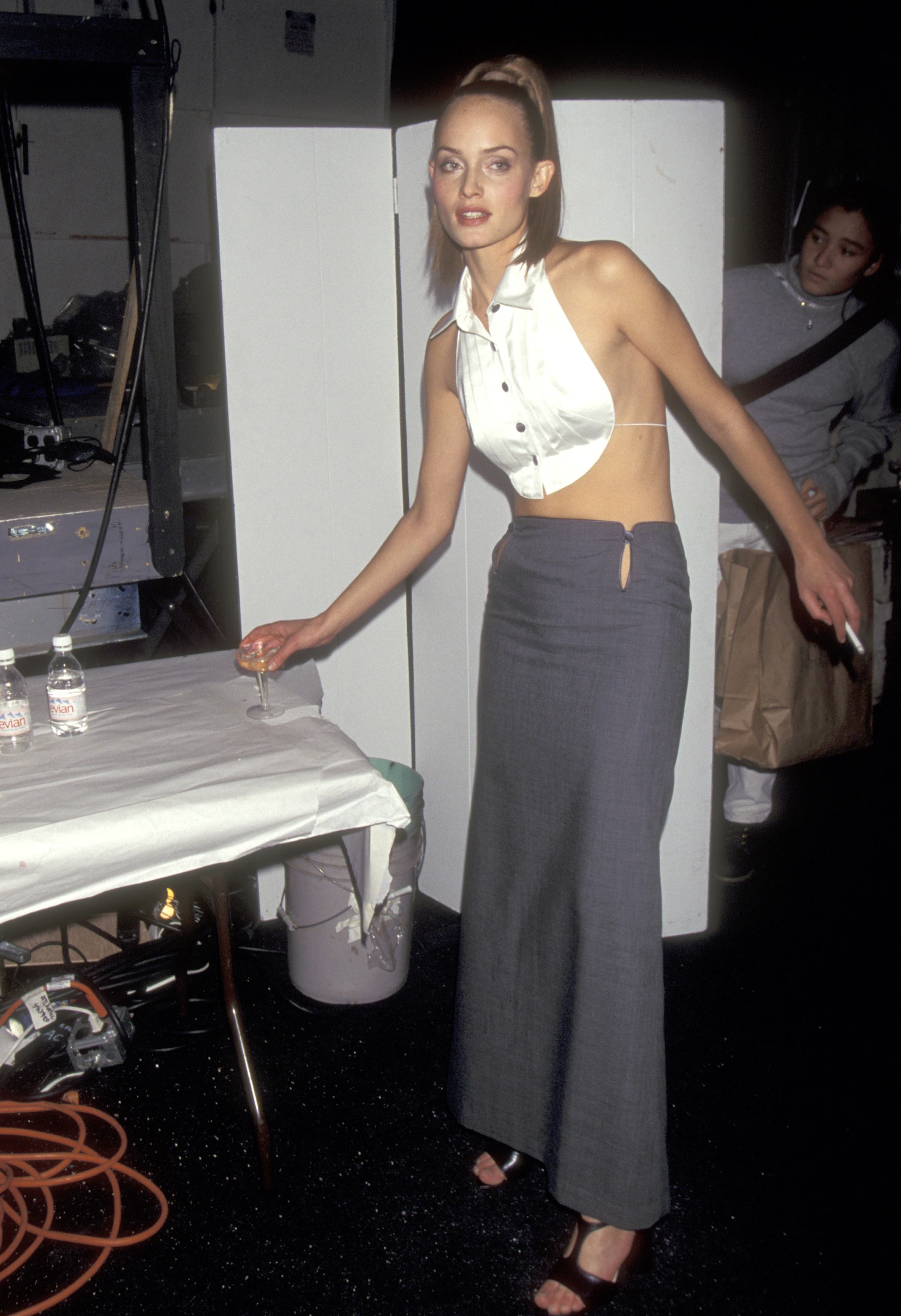 Backstage at Todd Oldham, SS97
Few 90s collections are as iconic as Todd Oldham's SS97 offering. Amber (along with Naomi, Kristy and Stella Tennant) took to the runway in a series of elegantly skimpy, menswear inspired separates. Here, Amber wears Todd's sexy twist on the tuxedo: cropped top, suiting skirt and champagne in hand.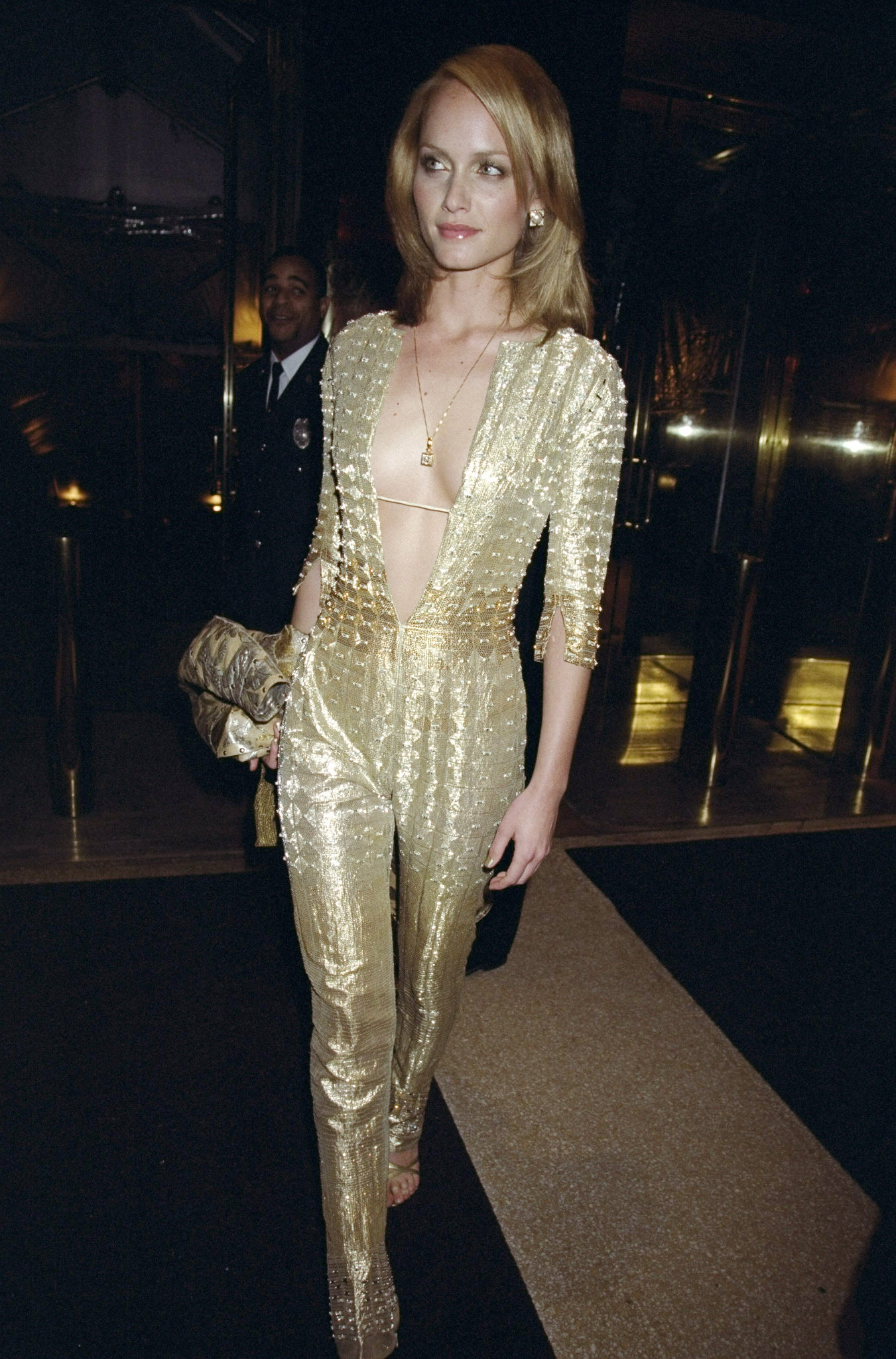 At the Met Gala, 1999
With her supermodel status, Amber was a staple at fashion's most exclusive night out. Here, for the Met Gala's 1999 "Rock Style" edition, the model strikes a modern-day Jerry Hall in a plunging, solid-gold jumpsuit.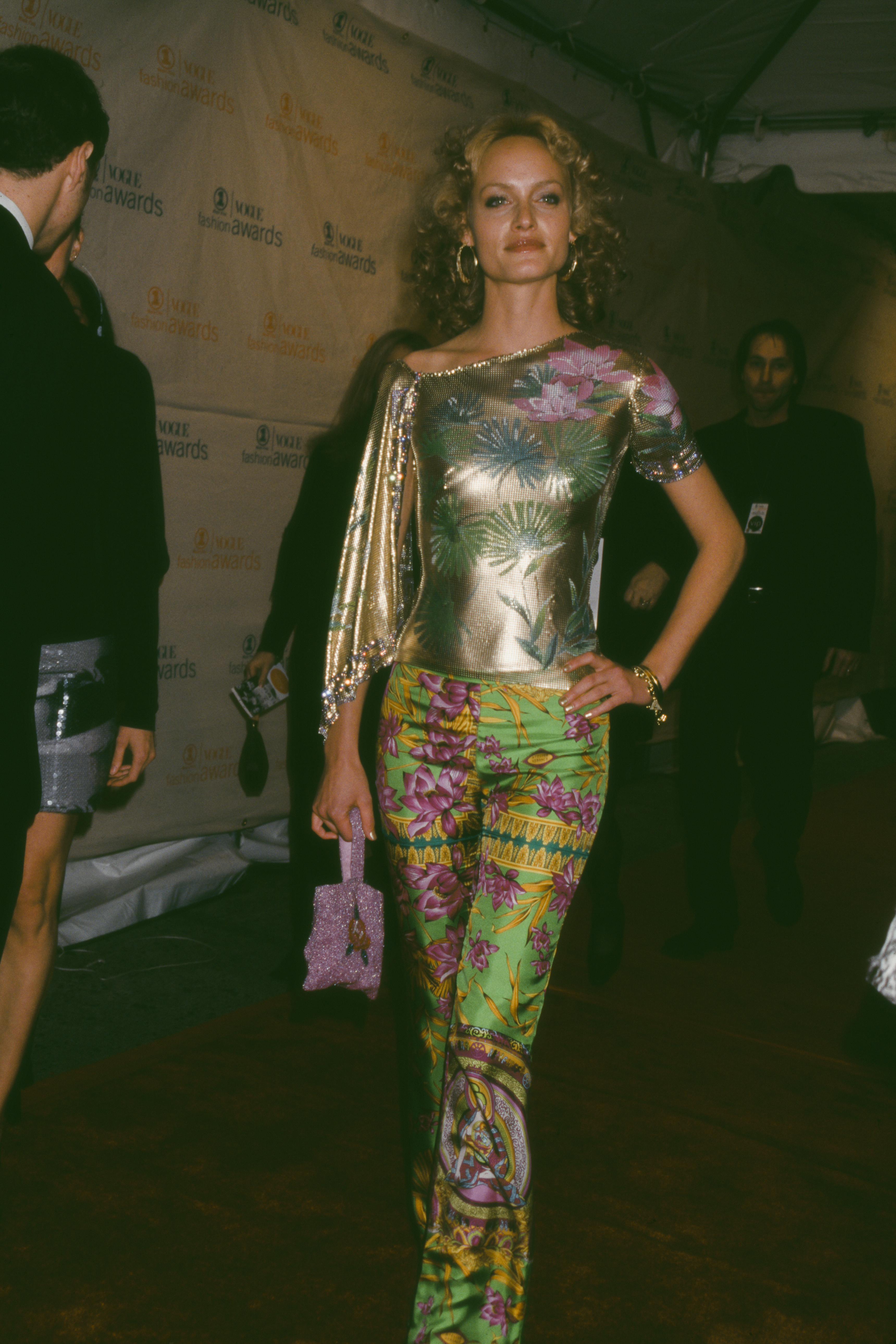 At the VH1/Vogue Fashion Awards, 1999
In 1999, Amber returned to the VH1/Vogue Fashion Awards wearing Versace, once again. This time around, however, the look was much more Y2K with printed floral patterns and Grecian-inspired chainmail draping.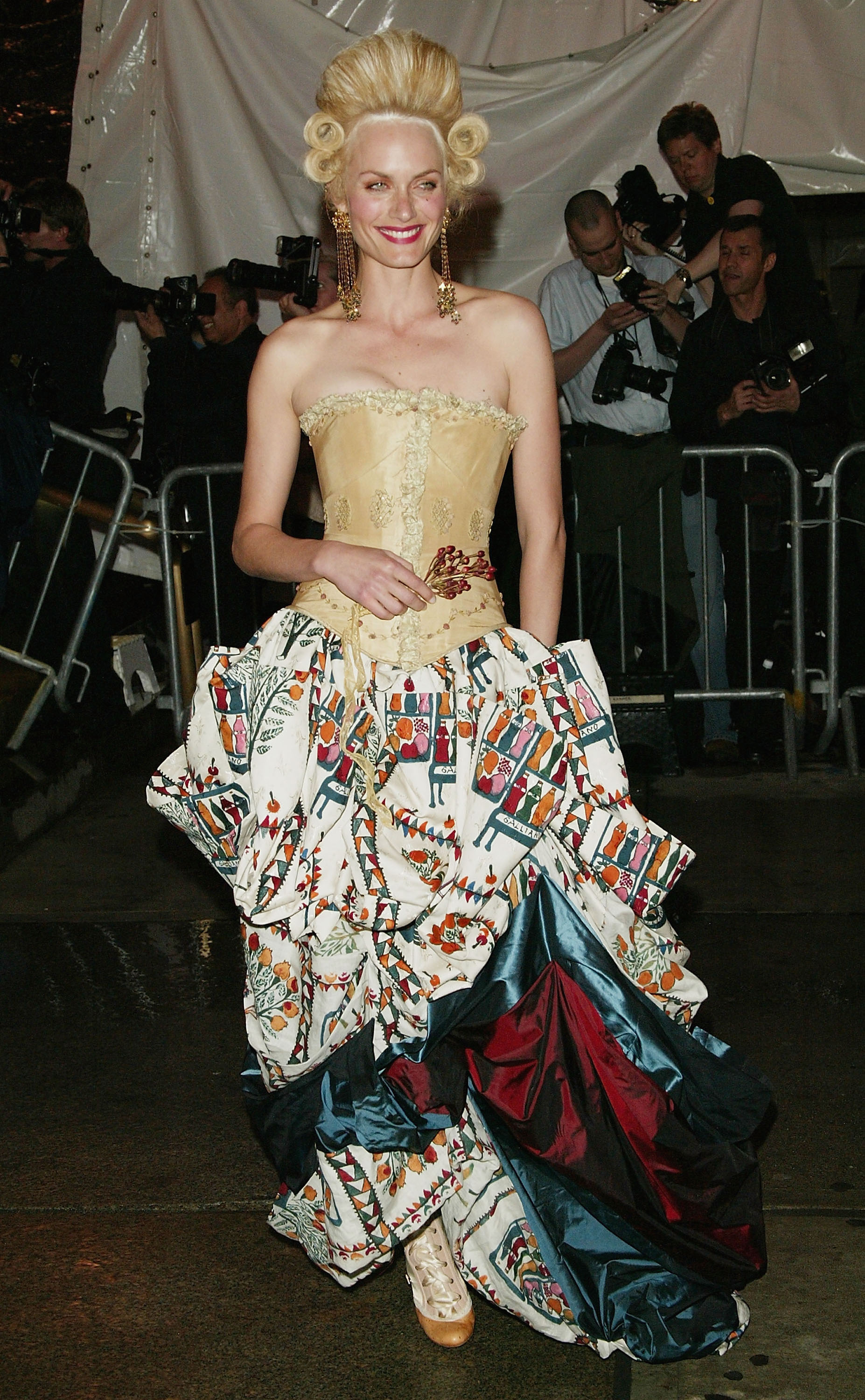 At the Met Gala, 2004
We love a super who sticks to the theme. For the Met Gala's 2004 "Dangerous Liaisons: Fashion and Furniture in the 18th Century" edition, the model dressed in full Marie Antoinette garb (bleached bouffant, Maggie Norris Couture corset and opulent John Galliano skirt). A Met Gala veteran, Amber admitted her 2004 look was definitely her most complicated of all time: "It wasn't that it took us that long, it's just that the skirt was pretty heavy, and it just took a little bit more research and thought of how to get that right."
For Mugler, SS22
Amber's been a longtime Mugler muse. Back in the 90s, the super walked the runway for the Parisian house, helmed by Manfred Thierry Mugler. Today, she stars in the house's collection of films, produced under the creative direction of Casey Cadwallader. Last season, she stalked the white box of the house's AW21 collection video. And, this year, alongside bestie Shalom Harlow and Bella Hadid, the super strutted her stuff around and on top of a vintage limousine, wearing a very memorable cut-out bodysuit. It's 90s meets 2020s sensuality, but totally iconic, just like Amber.