Images courtesy of IMAXtree
Men, it's time to get your nips out for SS23
From cleavage cradling vests to Ken doll pec bikinis on the runway, the male nipple reveal has never been sexier.
Images courtesy of IMAXtree
The female nipple has long been a font of inspiration for designers — from Vivienne Westwood's tits tee in the 70s and Gaultier's cone bras in the 90s, to the breastplates, underwire bra tops and naked dresses of today. Frustratingly still something of a taboo (post even a hint of nip on Instagram or Facebook and risk deletion or shadow-banning), this makes it a fascinating subject for fashion to play with, in a way that the uncontroversial male nipple simply isn't. Until now, that is. Explore the AW22 and SS23 menswear collections and you'll be confronted with all manner of man nipples.
They were on display alongside cut-up underwear and little else at LGN Louis Gabriel Nouchi and Ludovic de Saint Sernin, as well as on trompe l'oeil naked body suits at Loewe and unbuttoned shirts at Coperni. But elsewhere, nipples were the main event, with designers creating garments that directly draw attention to male cleavage, eroticising it through cut-outs and extremely low-cut necklines.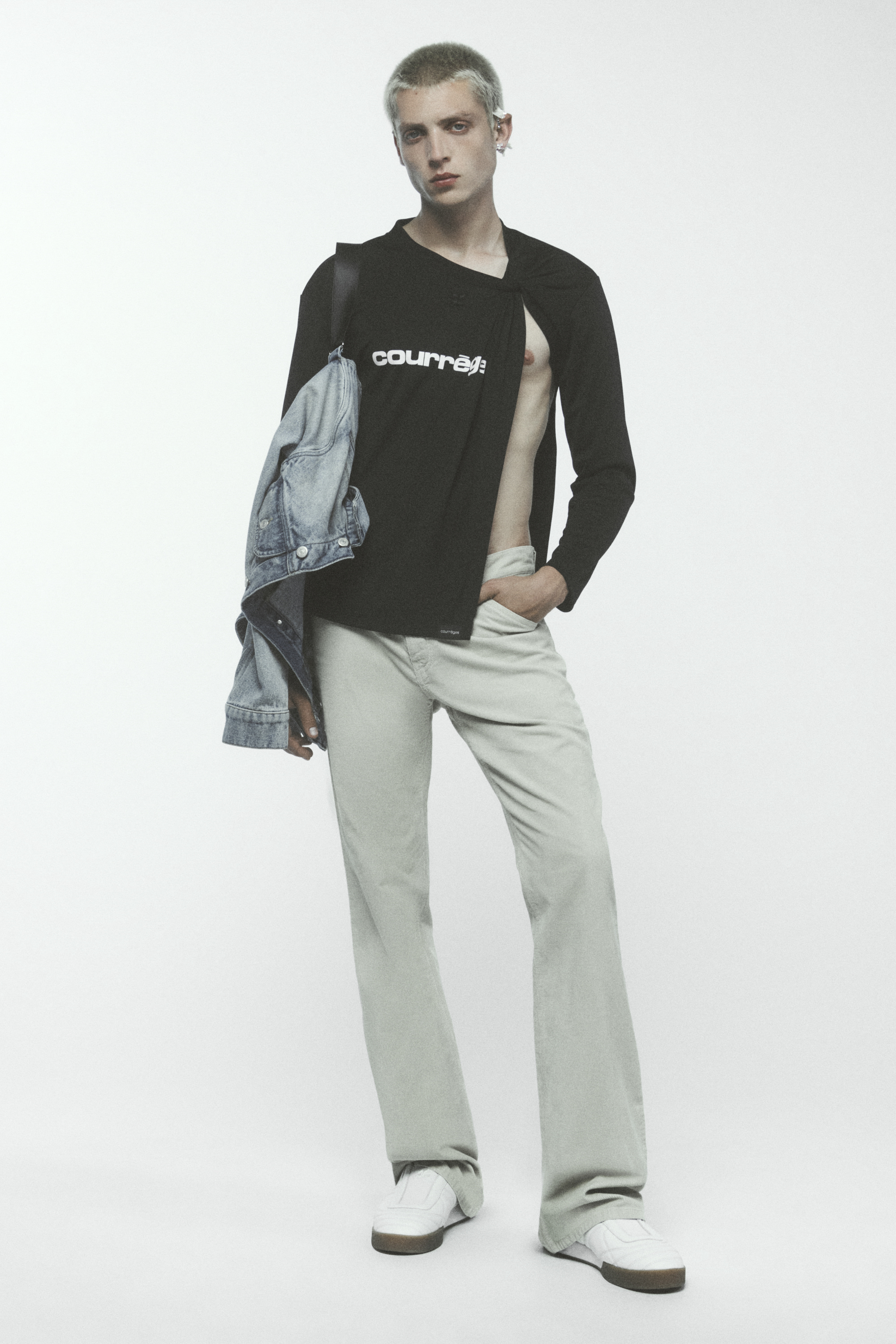 In his recent addition to the world of bizarro fashion, Jonathan Anderson had T-shirts in his SS23 menswear collection for JW Anderson that were polka-dotted with large tin can lids, peeled back to reveal the body — and, behind one carefully-placed lid, the nipple — hidden underneath. Over at Loewe, where Jonathan is creative director, there were navy jumpers with cutouts over the left nipple: one shaped like a heart, another edged with gold to resemble a button.
Other designers were more coy with their menswear, using slashes to tease glimpses of their model's chests. The neckline of a white vest for Y/Project SS23 was so very low cut that it perfectly cradled the model's mamilla. Rick Owens, meanwhile, presented a demon-shouldered white top that sat just above the nipple, while the Moschino SS23 collection featured a black bodysuit with a neckline reaching right down to the navel.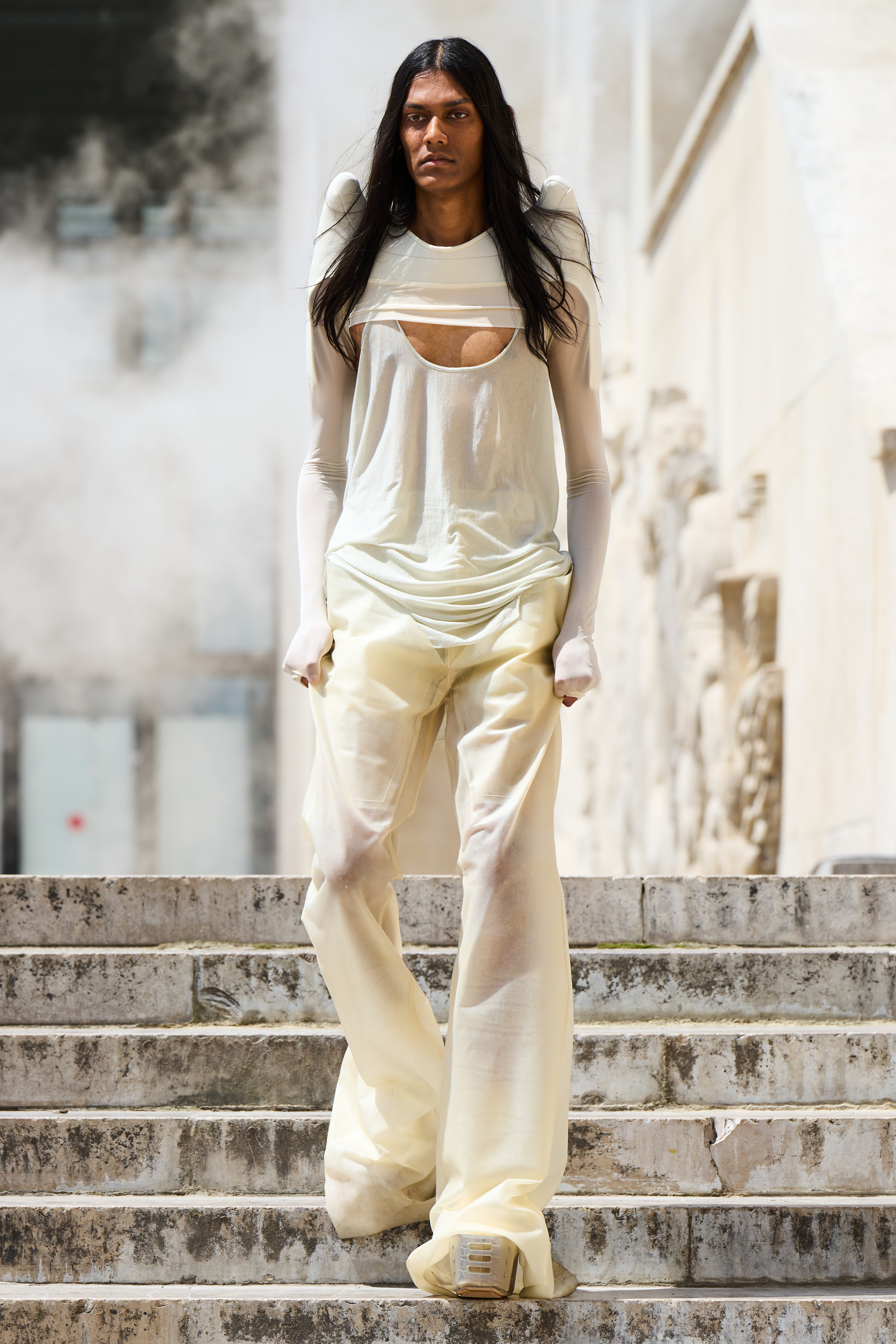 For AW22, Stefan Cooke — famed for his slasher garments — designed blazers with the entire front except the lapels removed, the model's nipples peeking out in the sway of the movement. Over at Courréges, Nicolas di Felice's thotty collection had models in various states of undress, carrying the rest of their clothes with them as they walked. A branded long-sleeved tee was slit from the bottom almost right up to the neckline, then twisted, allowing for a hint of nip exposure.
But why is the male nipple having a moment right now? Fashion is currently very much in its slut era, with cut-outs, super cropped mini skirts and naked dresses — just as at home out on the town as they are in a basement sex club — taking over the runways. Just look at Thom Browne's visible jockstrap waistbands or Mowalola's sexy burglar wear.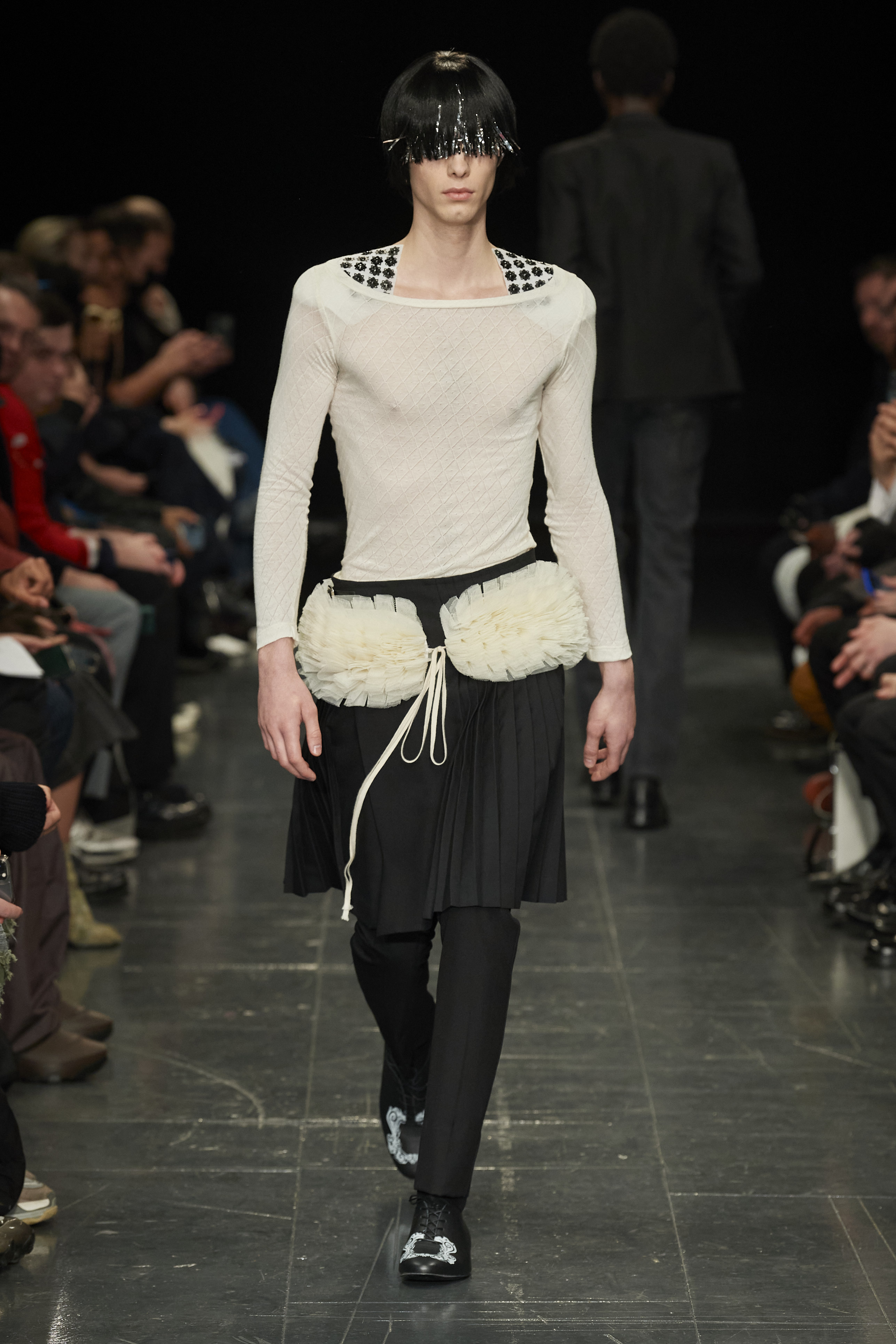 With the y2k renaissance on TikTok also bringing back the bimbo style of Lindsay Lohan, Megan Fox, Paris Hilton and Britney Spears; an online obsession with the himbo comes with it. We're talking Fred from the live action Scooby Doo movies, Nate Jacobs (and his dad, back when he was a singlet wearing student), Ryan Gosling's Ken in Barbie (2023) and Chris Hemsworth as Thor. Our collective fawning over the himbo has led to an increased sexualisation of their Dorito-shaped bodies that has translated, in the fashion world, to the nipple being propped up, framed and highlighted.
But it's not all sexy aesthetics or bringing back the 00s — some recent collections have disrupted the gender binary through their use of male nipples on the runway. In his haute couture guest collection for Jean Paul Gaultier AW22, Olivier Rousteing took the famed cone bra corset that the brand made for Madonna's 1991 Blonde Ambition tour and created a version with a plastic-looking male cleavage bra and high-waisted briefs with a hefty bulge — as if someone had cut apart a Ken doll and turned him into a bikini. Like its predecessor, the new iteration had an air of armour and protection, but with a new androgynous energy.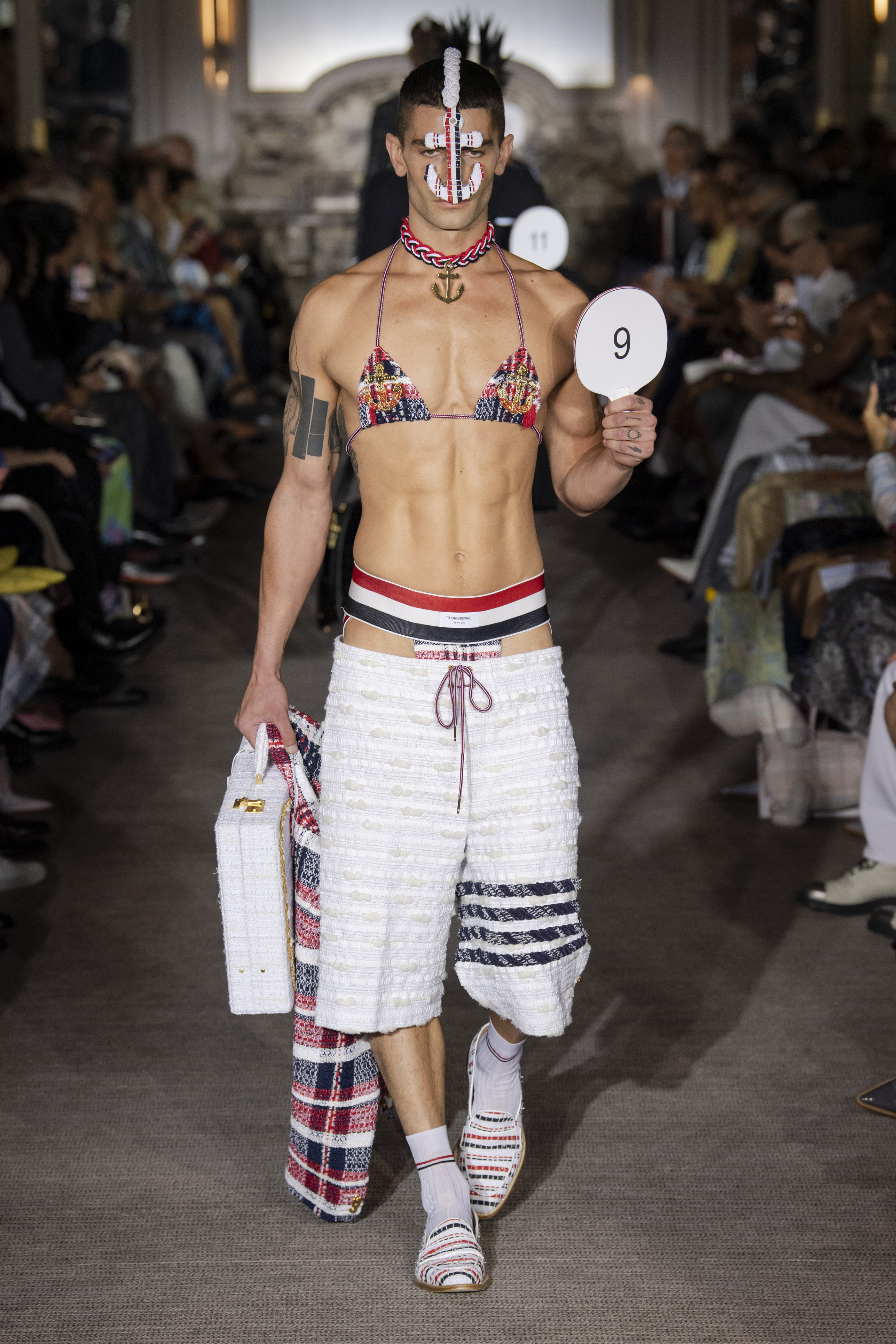 There was also rising fashion star Harris Reed, whose AW22 collection included a wearable half-male, half-female torso sculpture that aptly concluded a collection of fluid demi-couture. Additionally, Thom Browne's offering of tweed suits sans shirts for SS23 was peppered with models wearing skimpy knitted bikini tops that, while covering their nipples, seemed to make them more present than if the model had been entirely topless.
In a recent investigation for i-D into the boob obsession of SS22, José Criales-Unzueta noted that the female chest was historically the intrigue of male designers, such as Gaultier and Thierry Mugler, who presented breasts as armour. Female designers today meanwhile, such as Stella McCartney and Miuccia Prada, have been taking softer and more nuanced approaches that expose and circumvent — often humorously — the nipple, its meanings and associations.
Of course, the male nipple hasn't yet been politicised by society. If it was Justin Timberlake (and not Janet Jackson) who had a chest-revealing wardrobe malfunction at the Super Bowl halftime show in 2004, the world wouldn't have batted an eyelid. But by emphasising, exposing and hyper-sexualising male chests — much like they've been doing with boobs for decades — perhaps designers are simultaneously speaking to the fluidity of gender and the irony of the fact that the exact same body tissue can be seen as taboo and indecent on one gender, and totally acceptable on another.
Follow i-D on Instagram and TikTok for more on fashion trends.