The trailer for A Quiet Place Part II is here
STFU! The Emily Blunt-starring horror film is getting a hotly anticipated sequel in 2020.
|
19 December 2019, 12:01pm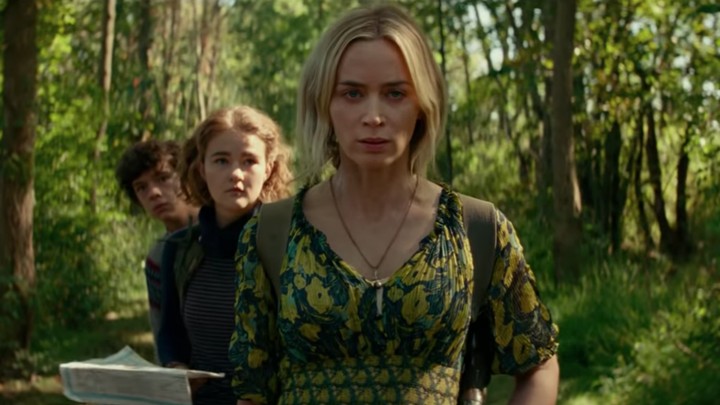 We know you're probably really desperate to squeal in the excitement right now, but it's in your best interest to keep your mouth shut: the teaser trailer for A Quiet Place Part II just dropped.
The original horror starred Emily Blunt, Millicent Simmonds and Honey Boy wunderkind Noah Jupe as a family trying to stay alive in a country that's been wiped out by creatures who are drawn to sound, hit cinemas last spring and was a big hit with fans and critics alike, racking up a cool 95% rating on Rotten Tomatoes. The sequel is set to pick up where the first one left-off.
Spoilers ahead. The Abbott family are still reeling from the death of the family patriarch (John Krasinski) who got, like, really chewed up by one of those beasts at the end of the last film, and are trying to figure out how to navigate the barren American landscape safely and in complete silence. But it turns out that those creatures may not be the only threat to their lives in the outside world. Soon, Evelyn, Regan and Marcus will discover that danger lurks around every corner out there.
The 30 second teaser shows the trio walking barefoot down a dirt road path coated with sand to soften their footsteps. Evelyn, leading the pack, looks on, before turning to her daughter for reassurance to take her next step onto bracken and twigs. One foot wrong and they could invite some seriously unwanted attention.
His character may have been killed off in the first film, but John Krasinski returns to write and direct the sequel. In a recent interview with Total Film, he said that Evelyn doesn't just feel the responsibility to help her family survive, but thrive too. Quite what that entails, we'll have to wait and see.
But this is just a snippet of something bigger to come: the full trailer for A Quiet Place Part II will drop on New Year's Day, before the film itself hits cinemas in March 2020.