24 must-watch films from A24
The New York-based production company has released some of your favourite indie movies without you even knowing it.
|
18 December 2019, 5:07pm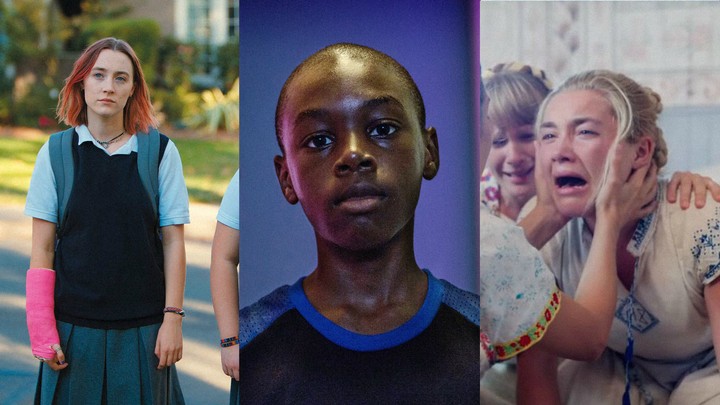 Which movie studio has defined this last decade in film? Some would say Netflix and the way they walked into the moviemaking game, turning it on its head by streaming the new frontier. Others would argue Disney, thanks to their mass purchase of just about every major franchise that dominated the box office in recent history. But we'd argue differently: the ultimate studio that has marked moviemaking for the past decade is a plucky group of young indie film lovers who transformed a modest New York production company into the coolest film distributor Hollywood has seen in, well, decades.
Founded by three friends in NYC back in 2012, A24 has had a wild ride since. Back in their formative years, they were releasing small indie films that few others would take a chance on, like the sweet Ginger & Rosa and the riotous Spring Breakers. In 2019, they're now one of the biggest contenders on the awards circuit. They've racked up 25 Oscar nominations to date, including plenty for Best Picture, and have pivoted into the TV world to give us everyone's favourite hedonistic Gen-Z obsession, Euphoria.
If you fancy getting in on the A24 action but are not sure where to begin, here's a handy list of the 24 A24 films that we love. No studio released or produced films as stellar as these ones in the 2010s.
1. 20th Century Women
Mike Mills' love letter to the eccentric women that made, inspired and loved him features a dynamic trio of performances from Annette Bening, Greta Gerwig and Elle Fanning. Seeing 1979 through his eyes is an immense privilege worth savouring. IM
2. Spring Breakers
Who could forget the iconic moment that Vanessa Hudgens and Selena Gomez flipped the bird to the Disney Channel and went really fuckin' rogue? They headed up Harmony Korine's cast in this Florida-set story of a group of girls who choose to throw caution to the wind: getting drunk, taking drugs, coercing dumb men into worshipping them and then committing countless felonies. As I said: iconic. DG
3. Moonlight
Like the water that appears throughout Barry Jenkins' coming-of-age tale, Moonlight ripples at first, then crashes like a thunderous wave. In its triptych narrative, love and black identity are told through fleeting glances and soft exchanges, and what's left unsaid becomes the most shattering. IM
4. Ex Machina
Alex Garland's quiet sci-fi classic -- involving a young computer programmer who's involved in an experiment tied to artificial intelligence and a life-like female robot -- feels like the last time Alicia Vikander and Oscar Isaac worked with some seriously meaty material. Brutal and gorgeous. DG
5. Lady Bird
With its grainy cinematography, Lady Bird feels like staring at an old, beloved photograph that has weathered over the years. Greta Gerwig's fondness for Sacramento is so fully-realised, she makes the midwest of California feel like home, too. IM
6. American Honey
Like spending two-and-a-half-hours with your head out the sunroof of a truck crossing the American Midwest, Andrea Arnold's 2015 masterpiece followed a group of magazine salesmen across the USA. Shia LaBeouf smashes it, but Sasha Lane was its real breakout star. DG
7. The Farewell
Lulu Wang's semi-autobiographical tale about a lie that bonds and breaks her family gets at the heart of those inseparable ties that hold loved ones together. But don't call it universal; it's an Asian story through and through that resonates with anyone who's ever had to juggle multiple cultural identities. IM
8. Good Time
The Safdie Brothers, worthy of all the praise in the world, sent festival audiences into a nerve-shredding spin with the Robert Pattinson starring Good Time, a film about a roguish bank robber who slinks through the streets and suburbs around New York in an attempt to free his brother from prison. DG
9. A Ghost Story
David Lowery never makes the same movie twice, and his strangest is this meditation on love, death, time and space. It's at once intimate and wholly ambitious -- how else to explain Rooney Mara eating a pie for five minutes? IM
10. Hot Summer Nights
Before he became Elio in Call Me By Your Name, Timothée Chalamet appeared in this dark comedy about a lovestruck high schooler falling into the drugs trade while spending a summer at Cape Cod. Gawkish and sweet, it's a minor but worthy note in the actor's filmography. DG
11. Under the Skin
Jonathan Glazer's eerie sci-fi is a masterwork in suspense, but its genius lies in the casting of Scarlett Johansson as an alien on the prowl. The film weaponises her celebrity and understands that Johansson chatting up Glaswegians is akin to an extra-terrestrial on earthly soil. IM
12. Waves
Alexa Demie, Lucas Hedges and Kelvin Harrison Jr star in this 50/50 split film about first loves, familial pressures and the ripple effect that stems from the two colliding. Teeming with Frank Ocean music, this is a cinematic love letter to a generation seldom captured so fully on screen. DG
13. The Witch
Wouldst thou like to live deliciously? Robert Eggers' chilling folk tale is a clever trap -- an impeccably crafted observation on patriarchal hysteria disguised as a supernatural horror movie. And it makes a great case for witchcraft. IM
14. Mid90s
Sunny Suljic, known better as the kid from Yorgos Lanthimos' The Killing of a Sacred Deer, spent a summer in Los Angeles playing a troubled 13-year-old who finds solace and comfort in the skatepark. Cut from the same cloth as Harmony Korine and Larry Clark's films, it's a tender insight into growing up in a world that feels so much bigger than you. DG
15. First Reformed
Paul Schrader's character study stars Ethan Hawke as a very different kind of hot priest. Hawke's small town priest goes through a crisis of faith after learning more about climate change, which makes First Reformed one of the best films about the 21st century. IM
16. Hereditary
Know when a film fully wants to make you vomit in your cinema seat? That's the gripping, bone-chilling effect that Ari Aster's celebrated Hereditary gives you, about a family haunted by the loss of a child, and the strange, oppressive forces that follow them in the aftermath. DG
17. Lean On Pete
Andrew Haigh's soft western about a lonely boy who will go to the ends of the Earth for his beloved horse is pure empathy, bolstered by a breakthrough turn from Charlie Plummer. His performance is so fragile, it feels like he could crumble at any second. IM
18. Climax
Gaspar Noe's psychedelic film about a troupe of voguing dancers on a weekend retreat getting drugged and slipping into a manic episode might just be the most insane cinematic experience we've had. Starring Kiddy Smile, Sofia Boutella and a bunch of street-cast Parisian dancers, everything about this film's plot spells disaster on the surface, but it works because it takes you down into the wretched, trippy place the characters reach alongside them. DG
19. The Killing of a Sacred Deer
A Yorgos Lanthimos movie is a genre unto itself with its own characteristics and iconography. The Greek director refines his style to perfection with this chilling psycho-thriller. You'll never hear Ellie Goulding the same way again. IM
20. The Florida Project
Brooklynn Prince was literally plucked out of a Walmart and became the runaway movie star of awards season in 2017, thanks to her performance in this candy-coloured kitchen sink drama about poverty on the fringes of Disneyland. Come for the jaw-droppingly talented kid actors, stay for Willem Dafoe's unexpectedly nuanced performance as a stern, but ultimately kind-hearted caretaker. DG
21. The Bling Ring
The Bling Ring is exactly what you'd expect from a Sofia Coppola heist movie: fun, excessive and insanely quotable. Make fun of Emma Watson's Valley Girl accent all you want, but her line reading of "I wanna rob" is sublime. IM
22. The Lighthouse
Two men are trapped on an archipelago facing out on to the Atlantic in violent weather; a tall, phallic lighthouse is their home. This New England-set, black and white folk tale, imbued with vile humour and featuring Robert Pattinson getting horny for a mermaid, is bizarre but brilliant and evocative. Its insane imagery will come back to you like a bad burp months after you've seen it. DG
23. Slow West
Like its name suggests, Slow West is a wry, glacially-placed take on the Western, but it's more than just a hipster Sergio Leone joint. As sardonic and razor-sharp as the Coen brothers, it's one of A24's most underrated gems. IM
24. The Lobster
Imagine that A24 made a loose riff on Blind Date, except the unsuspecting cast-offs who went home without a partner were transformed into an animal of their choice and set out into the wild to forge a life of their own. That's the theory behind Yorgos Lanthimos' absurd, bleak The Lobster, the Greek director's English language debut, which propelled him to international fame and earned him his second Oscar nomination. DG