Ugbad Abdi: "In 2020, I'm leaving the pressure people put on me behind"
Rihanna quizzes the Somali-American model, who's been dubbed the breakout face of the season.
This story originally appeared in i-D's 'Rihannazine' Special Edition, no. 01, 2020. Order your copy here. For this one-off project, Rihanna put a series of questions to the women shaping culture today, and invited them to share their visions for 2020.
Can you introduce yourself?
Hi, I'm Ugbad Abadi, I'm 19 years old. I'm a model. I'm from Somalia but I've lived in Iowa from the age of nine until now.
What was it like growing up in Iowa?
Before Iowa, I was living in a refugee camp in Kenya, because Somalia wasn't safe during the war. I lived there for almost a decade, and then we came to Iowa in the middle of winter and it was incredibly cold. But people were really nice and we were really excited about it, because it was America. It was a different world, but my parents also left everything behind to get there.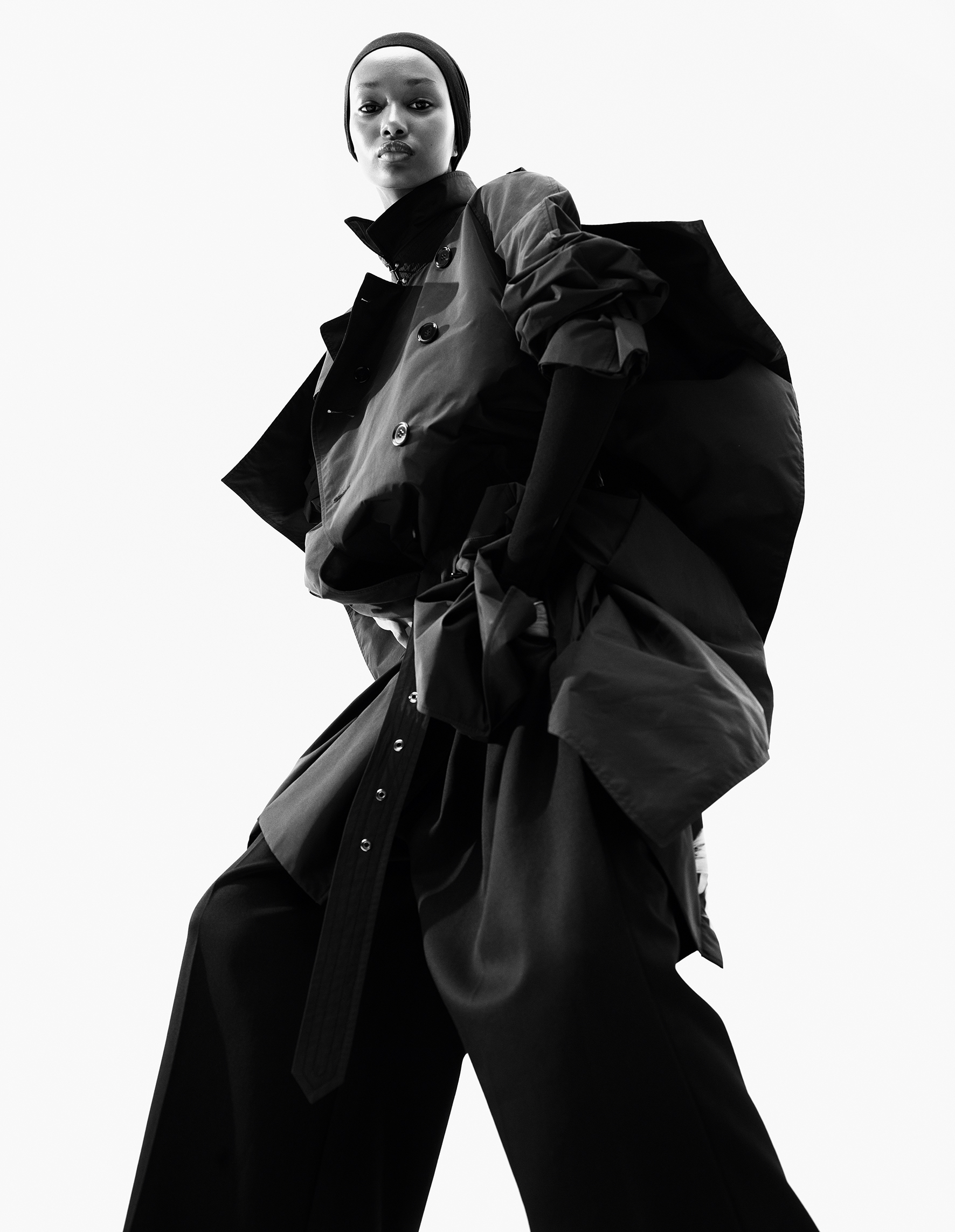 What do you think your biggest personal or professional success has been so far?
Putting my foot down and not compromising for anyone in a job, or in my career. The thing that motivates me now is the idea that the next generation of models won't have to face the same challenges.
Was there a moment you started to feel successful as a model?

Yeah, it was my first show, Valentino Couture. It was so magical and iconic. Celine Dion was in the audience and she was bawling her eyes out!


As we're heading into 2020, what are you taking with you into this year, and what are you leaving behind in 2019?
I'm definitely leaving behind people's expectations and the pressure they put on me. People expect me to never make mistakes and to be a perfect representative for the hijabi community, and that's never really the case. But I try to do the best I can, and keep doing my thing.
If you could ask Rihanna one question, what would it be?
I'd ask: What is the legacy you want to leave behind? What is the message you want to be remembered for?
How do you think she'd respond, about her legacy?
I mean, she does so many great things. She's an icon. She does a lot of charity work as well, and I think she's so good for young girls to look up to, be inspired to do whatever they put their minds to.
Credits
---
Photography Mario Sorrenti
Styling Alastair McKimm
Hair AKKI at Art Partner using Oribe.
Make-up Kanako Takase at Streeters.
Nail technician Alicia Torello at The Wall Group using Chanel.
Set design Jack Flanagan at The Wall Group.
Lighting technician Lars Beaulieu.
Photography assistance Kotaro Kawashima, Javier Villegas and Jared Zegha.
Digital technician Johnny Vicari.
Styling assistance Raymond Gee, Erica Boisaubin and Christine Nicholson.
Tailor Nino Sanaya.
Hair assistance Rei Kawauchi, Takao Hayashi and Motome Yamashita.
Make-up assistance Kuma and Tomoyo Shionome.
Set design assistance Akaylah Reed and Colin Walker.
Production Katie Fash.
Production coordinator Layla Némejanski.
Production assistance Fujio Emura.
Casting director Samuel Ellis Scheinman for DMCASTING.
Casting assistance Cicek Brown for DMCASTING.
Model Ugbad Abdi at Next.