Pornhub's first non-adult film is a documentary about a 2000s queer strip club
A niche art hit, Leilah Weinraub's 'Shakedown' is named after a black lesbian strip night in LA.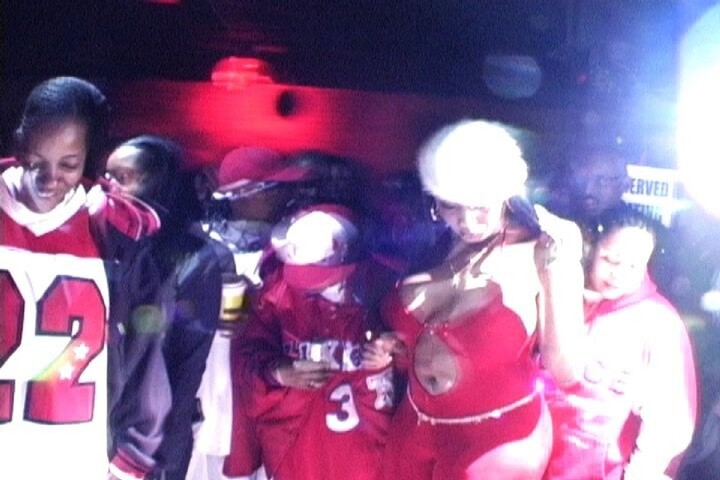 Leilah Weinraub/Shakedown
Gone are the days of so-called 'adult cinema' being excluded from the haughty realms of the art world. In 2020, anything is fair game. Porn, we've realised, can be just as artistic as an legendary Caravaggio painting, and the spaces in which they exist -- be it art galleries or horny websites -- is changing.
Yep, Pornhub, everybody's favourite masturbation destination, has just announced that they'll be releasing an experimental documentary this month tied to the heady world of queer LA strip clubs in the early 2000s.
The documentary, titled Shakedown, is named after a black lesbian strip night in Los Angeles which acts as the central point in a film that dizzyingly drives us through the stripper culture of that era. It's a vibrant collage of life as a sex worker, starring a diverse demographic exotic dancers -- trans women, cis gay men and women -- who director Leilah Weinraub captured over the course of 15 years. The film arrives on Pornhub having appeared as part of art installations at New York's MoMA and London's Institute of Contemporary Arts. On the adult film site it finds a new life, after Leilah struggled to find a place for it online thanks to nudity censorships on other video streaming sites.
"We've seen artists in general upload content to the site that might not have a home at places like YouTube or Vimeo, who don't permit nudity," Pornhub's brand director Alex Klein told Variety. "For us, premiering a feature length film is a first. We're very excited about it."
Though the brand has branched out of traditional adult filmmaking in the past, premiering music videos by the likes of Brooke Candy and supporting brands like Namilia and Hood By Air for their SS17 show, this is their most audacious venture yet in terms of breaking the codes of what traditional porn sites can be capable of.
"There's a cool opportunity right now to present films in the art space," Leilah said. "There's more openness to diversity and content, and a different sort of storytelling." The film is set to premiere on Pornhub, streaming free for a month, before segueing, rather iconically, into the chin-strokey arthouse realms of the Criterion Channel, alongside some wondrous Wes Anderson movies. More proof if we needed it that nudity is the new norm, and sexuality on screen is nothing to be ashamed of.
Head to the film's official website to watch it now.