Photo by David Klein/Getty Images.
7 of Paris Hilton's most iconic outfits
From Juicy Couture tracksuits and Moschino separates to bedazzled phone cases, the heiress defined early 00s fashion.
|
28 February 2020, 5:11pm
Photo by David Klein/Getty Images.
Since she first burst onto the scene nearly 20 years ago, Paris Hilton has been a force. Not only was she a fixture in the early 00s party scene, and star of her career-making reality TV show The Simple Life, with Nicole Richie, but she's walked plenty of runway shows for top designers. And lest we forget to mention her unforgettable music career ("Stars Are Blind", anyone?). The Hollywood Heiress has quite the iconic legacy and her massive influence on all things fashion and culture (tracksuits, exposed thongs, selfies, need we say more?) is still felt today.
Luckily for us, the recently announced documentary, This is Paris, directed by Alexandra Dean, will take us beyond the legacy -- in the hopes that audiences will get to know the "real" Paris Hilton, not just the persona she created years ago. Filmed over the course of a year, it will allow fans to get a deeper, more intimate glimpse into Hilton's daily life and her experience growing up in the limelight.
The YouTube Original documentary will premiere in May 2020. While we eagerly await its arrival, i-D has put together some of Hilton's most iconic style moments that will have you saying: "That's hot"!
In Julien Macdonald for her 21st Birthday, 2002
Hilton did not have just one, or two, but six 21st birthday parties held all over the world. From taking over the Bellagio in Las Vegas and having DJ AM spin (how early-00s?), to partying at Studio 54 in a Heatherette turquoise dress, Hilton rang in her 21st year in a major way. However, out of all the birthday outfits she wore that year the one that may be most memorable is the Swarovski crystal, chainmail minidress she put on to attend her London party. Created by British fashion designer Julien MacDonald, the same dress was worn years later by Kendall Jenner to celebrate her 21st birthday.
Wearing Moschino in New York City, 2014
Minidresses, gowns, jackets -- no matter what article of clothing it may be, Paris Hilton loves a good Moschino piece. In 2014, Hilton took to the streets of New York City wearing signature logo separates from Jeremy Scott's Moschino spring/summer 15 collection, paired with a Moschino bag and phone case, and Alaia suede ankle boots. Hilton has been sitting front row at Scott's fashion shows for years, and is known to walk his runway during NYFW.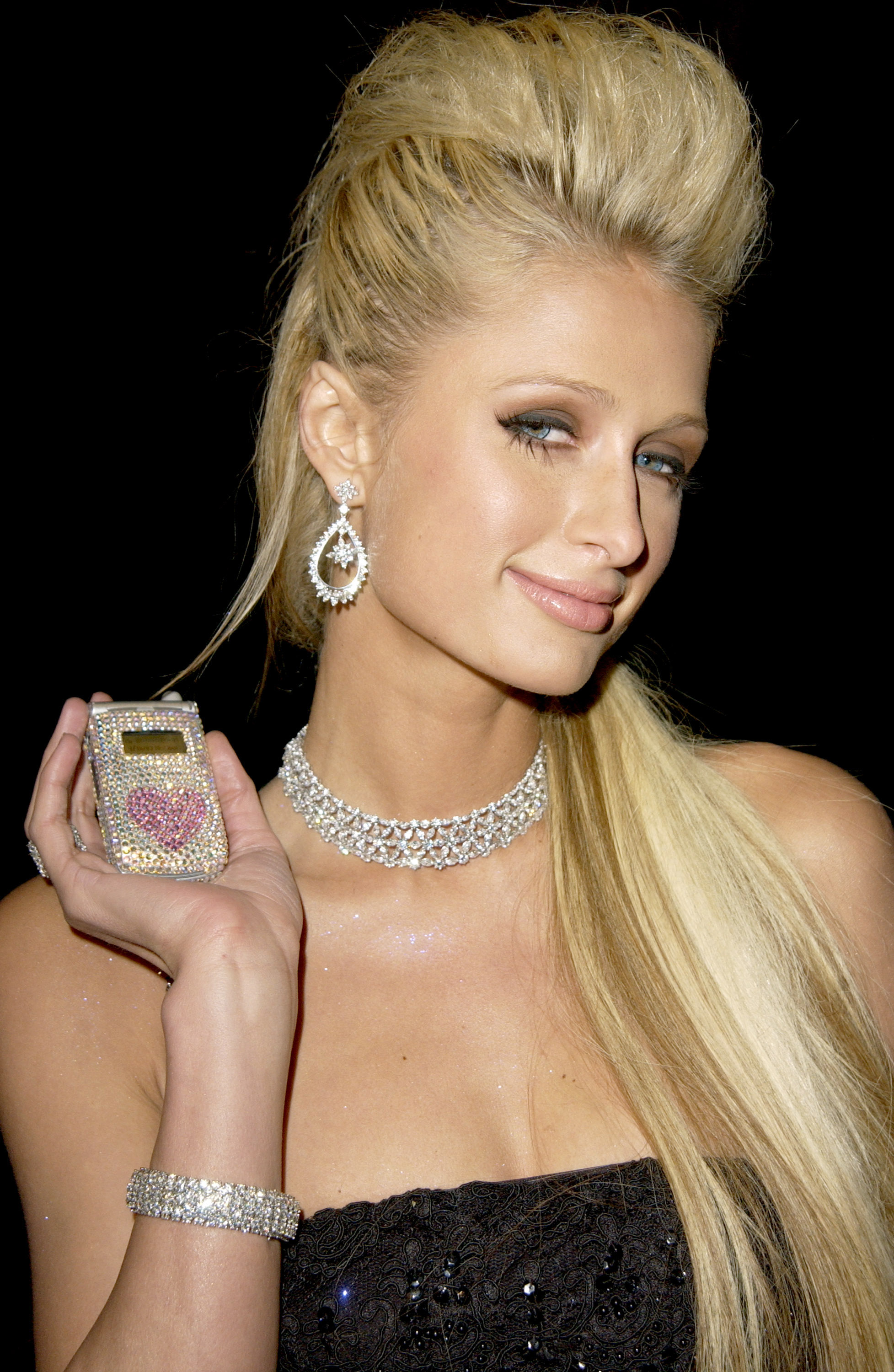 Bedazzled cellphones
Besides handbags and shoes, Hilton's other accessory of choice has always been a cell phone -- bedazzled with Swarovski crystals, of course. Throughout the years, Hilton has had Samsung flip phones, T-Mobile Sidekicks and an impressive number of Blackberrys that have been decorated just as glamorously as her outfits. In a 2019 conversation with Interview, Hilton shared that in the early 00s she actually had five Blackberrys at once, each with a specific purpose -- "one for business, one for friends, one with a Swiss number, one for prank calling, and one for people who I didn't want to give my number to".
In Dolce and Gabbana at the VMAs, 2007
When Hilton wasn't running errands in the newest tracksuit from Juicy Couture, toting her beloved Chihuahua Tinkerbell (RIP), you could usually find her on the red carpet in couture or wearing a head-turning look by one of her favourite designers. For the 2007 VMAs Hilton made a surprise appearance at the awards show in Las Vegas wearing a leopard print Dolce and Gabbana dress, silver heels, and diamond earrings. In the past, Hilton has named Cavalli, Versace and Ungaro as some of her favourites.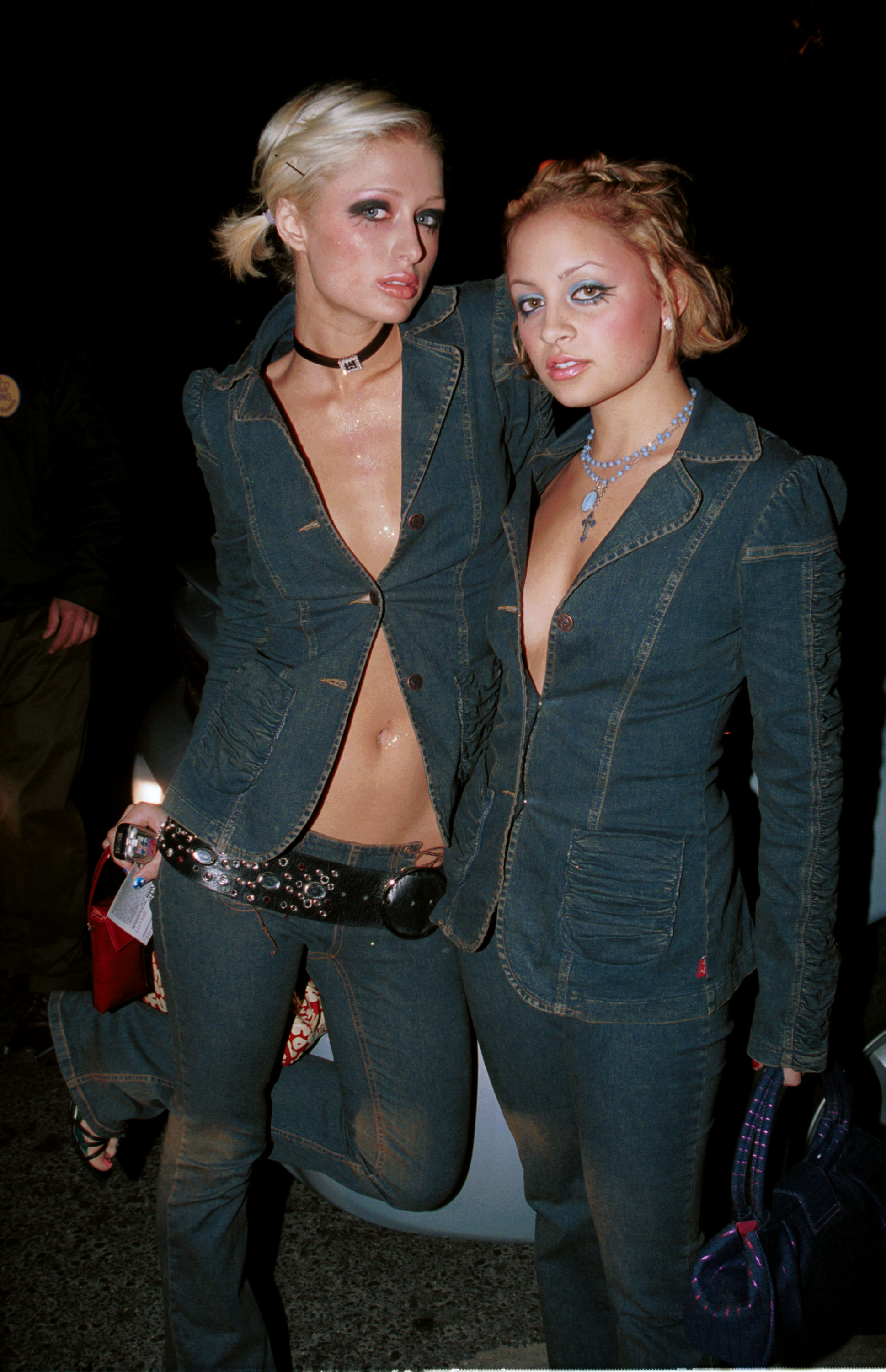 In matching denim with Nicole Richie in Los Angeles, 2001
In 2001, Hilton and her childhood best friend, Nicole Richie, were photographed outside of a popular Los Angeles after-hours spot, The Lounge Club, wearing matching denim blazers with flared bottoms, strappy sandals and choker necklaces. Just two years later the duo would go on to shoot the first season of The Simple Life, following the glamorous pair's not-so-glamorous life while living with a family in rural Arkansas. Obviously, this iconic denim twinning look foreshadowed all the drama that would ensue when it came time for the pair to trade in their credit cards, cellphones, and celebrity statuses for jobs at fast food joints and gas stations.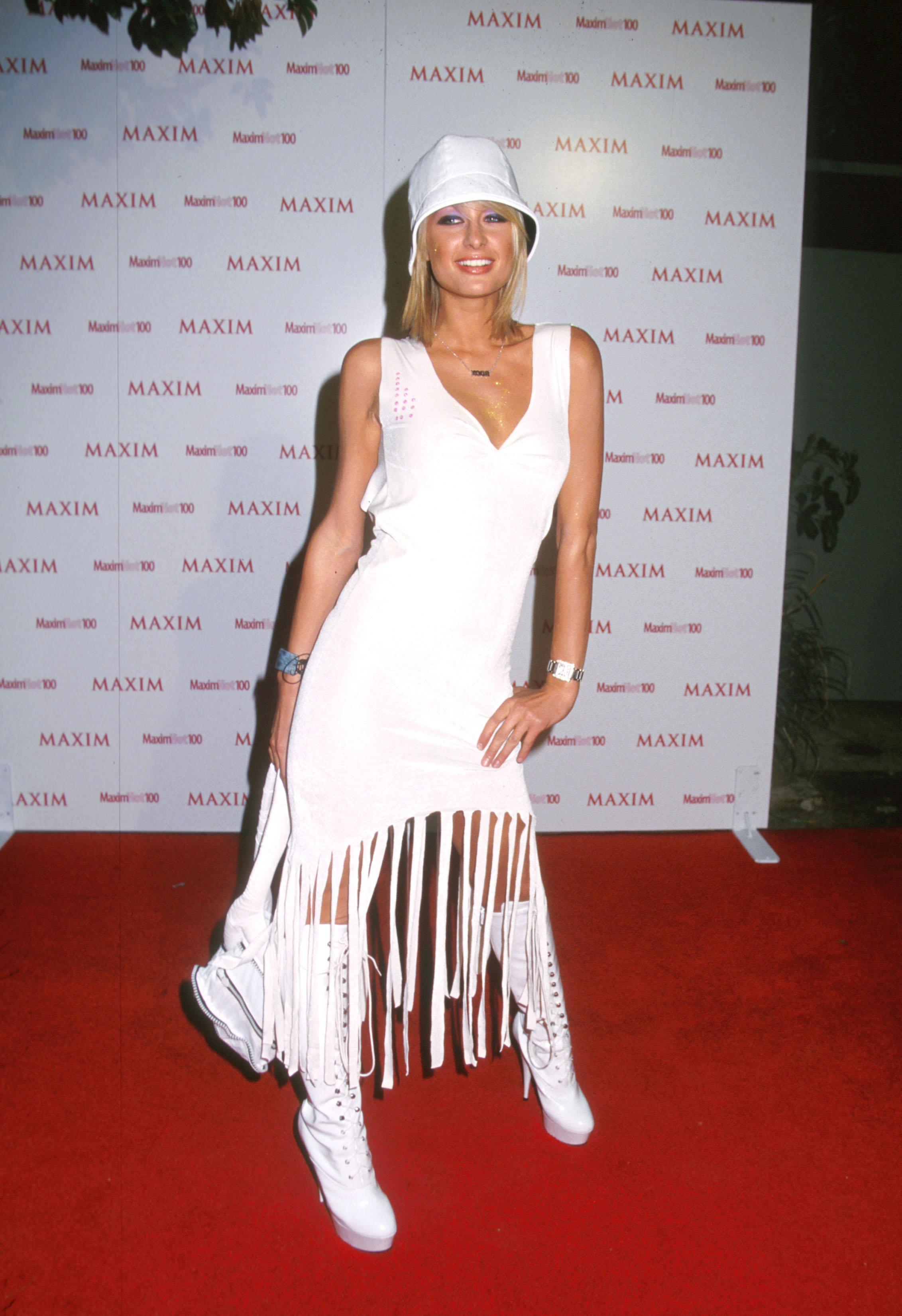 Maxim Hot 100 Party, 2001
In 2001, at the Maxim Hot 100 party, held at the Moomba in Los Angeles, Hilton proved she was way ahead of the bucket hat trend when she showed up wearing this all white look -- comprised of a fringed sleeveless dress, towering lace-up boots, and a matching bucket hat. Hilton actually shared in an interview with V Magazine in 2018 that growing up she was a "tomboy" and spent a lot of her time ranching and fishing. It was not until she was photographed by David LaChapelle, and later introduced to the American brand Heatherette, that she started to really get into glamour. Quelle surprise!
Walking the catwalk for the Blonds with Lil Kim, 2019
In 2019, Hilton took to the runway (again) during New York Fashion Week and walked for one of her favourite brands, The Blonds, dressed in a silver sequinned leotard dress, silver boots and an over-the-top rhinestone neckpiece. This was the same season that Lil Kim also sashayed down the catwalk in sparkles, closing out the show with a performance of her 2003 hit "The Jumpoff". Throughout the years, Hilton has walked for The Blonds many times, in the past joining Billy Porter, Shaun Ross, and Halima Aden in the festivities.