Louis Vuitton are opening their first restaurant
With the help of one of Japan's most celebrated chefs.
|
24 January 2020, 11:34am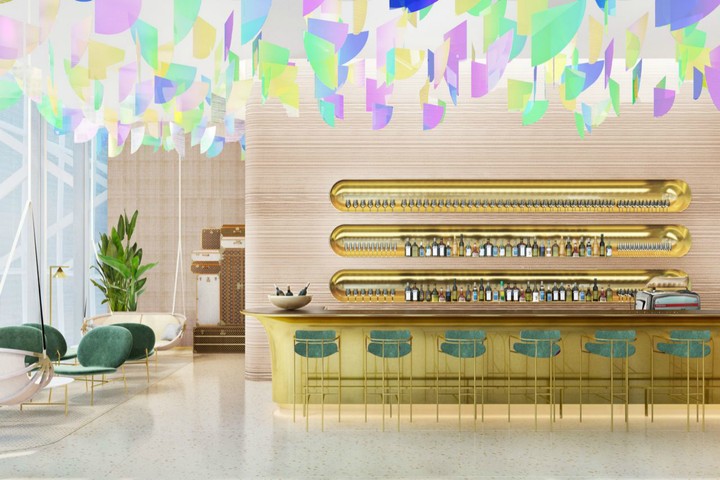 Louis Vuitton
It's not unusual for major fashion brands to work restaurants, bars and cafes into their burgeoning portfolios. The luxury hospitality world is having a mini-boom right now: Armani have a 15-strong collection of "caffès" around the world, Ralph Lauren have "Ralph's" in plenty of their flagship stores, and just last year, Jacquemus, A.P.C and Maison Kitsuné launched their own eateries in either Paris or New York.
But the next brand to take the leap is a big one: Louis Vuitton have just announced they'll launch their first in-store restaurant – and it's not in Paris, but Osaka, Japan.
Called Le Café V, the top-floor coffee spot, bar and restaurant will have a food menu curated by the celebrated Japanese chef Yosuke Suga. Yosuke is something of a good luck charm in the food industry. For the past two decades, he's shifted from restaurant to restaurant – both in Japan and abroad – as an executive chef or personal assistant to a handful of major chefs who've subsequently gone on to win Michelin Stars.
He broke away from the Joel Robuchon group in 2014 and went on to create a cult Tokyo restaurant that sat just 20 people at any one time, titled Sugalabo. The Vuitton store will have its own version of the restaurant; an open-style kitchen called Sugalabo V positioned next to the bar, that will open up onto a roof terrace.
It's set to launch on 15 February -- a fortnight after the Osaka flagship opens its doors on the first of the month.
But what will come next in the LVMH cuisine catalogue? Well, the conglomerate is already hard at work bringing the celebrated Italian seafood restaurant Langosteria to Paris, while Louis Vuitton's CEO has kept the door open for future endeavours outside of fashion too. Even more LV restaurants – and hotels – might be coming your way in the very near future.