These powerful photos show the beauty of all bodies
Three photographers share how their intimate images are challenging society's unrealistic beauty standards.
|
16 December 2019, 8:12pm
Photo by Elisa Garcia de la Huerta.
The group exhibition BODY BEAUTIFUL, which runs through December 20 at Untitled Space in New York, showcases 50 contemporary artists who celebrate body positivity. The show addresses the shift in our present cultural narrative, in which limited conceptions of beauty are being flipped to celebrate a fuller aesthetic spectrum. Their art, and the body positive movement as a whole, increasingly challenges rigid Westernized heteronormative ideals, ones that have long been allowed to define confidence and self-worth.
The work is in various mediums—across silhouettes, backgrounds, ages, and genders, couched in both mundane spaces or carnal urges—with artists using anything from embroidery, to sculpture, to drawing. i-D spoke with three photographers featured in the show about the way they think about the gaze and the body today.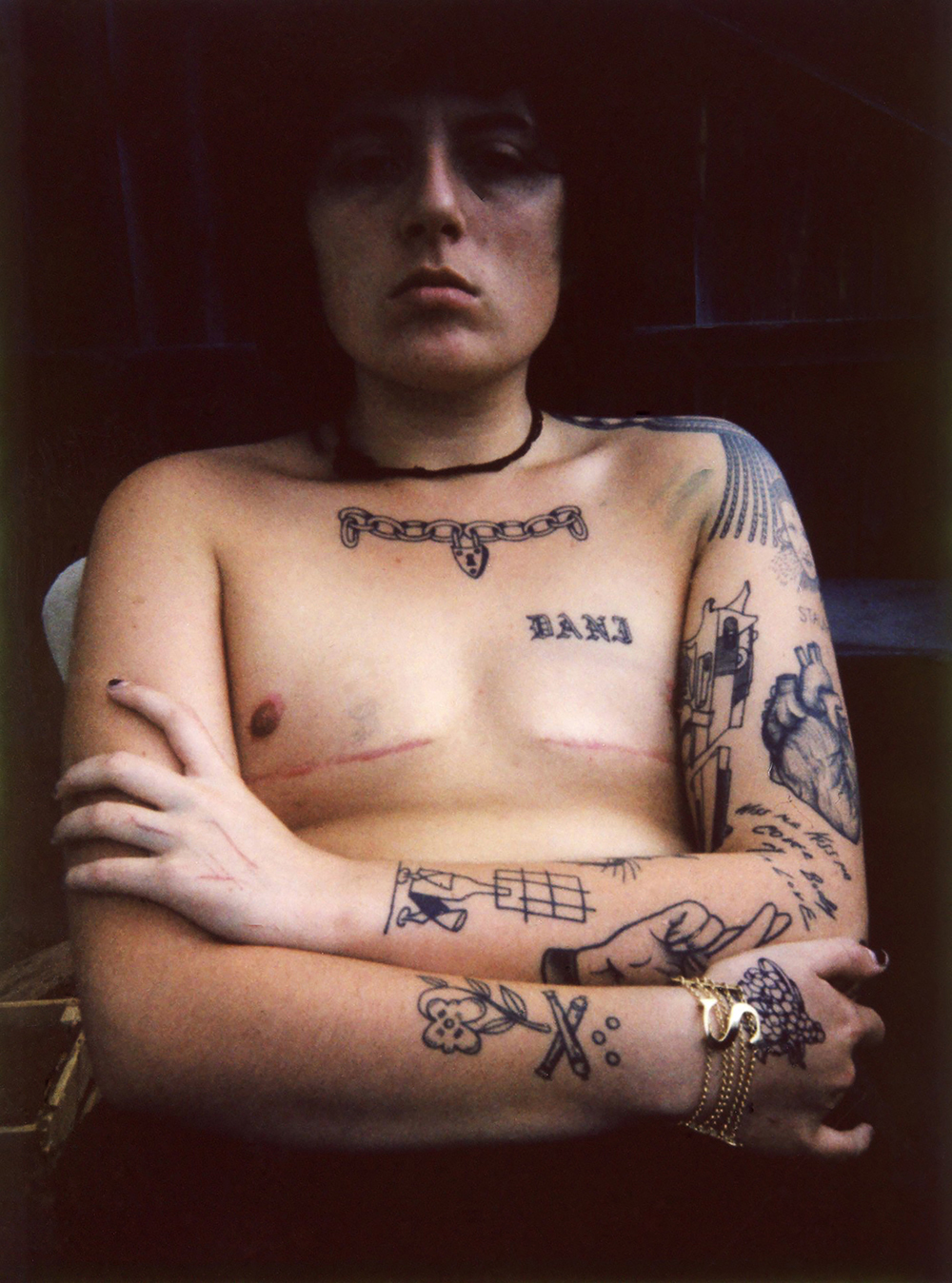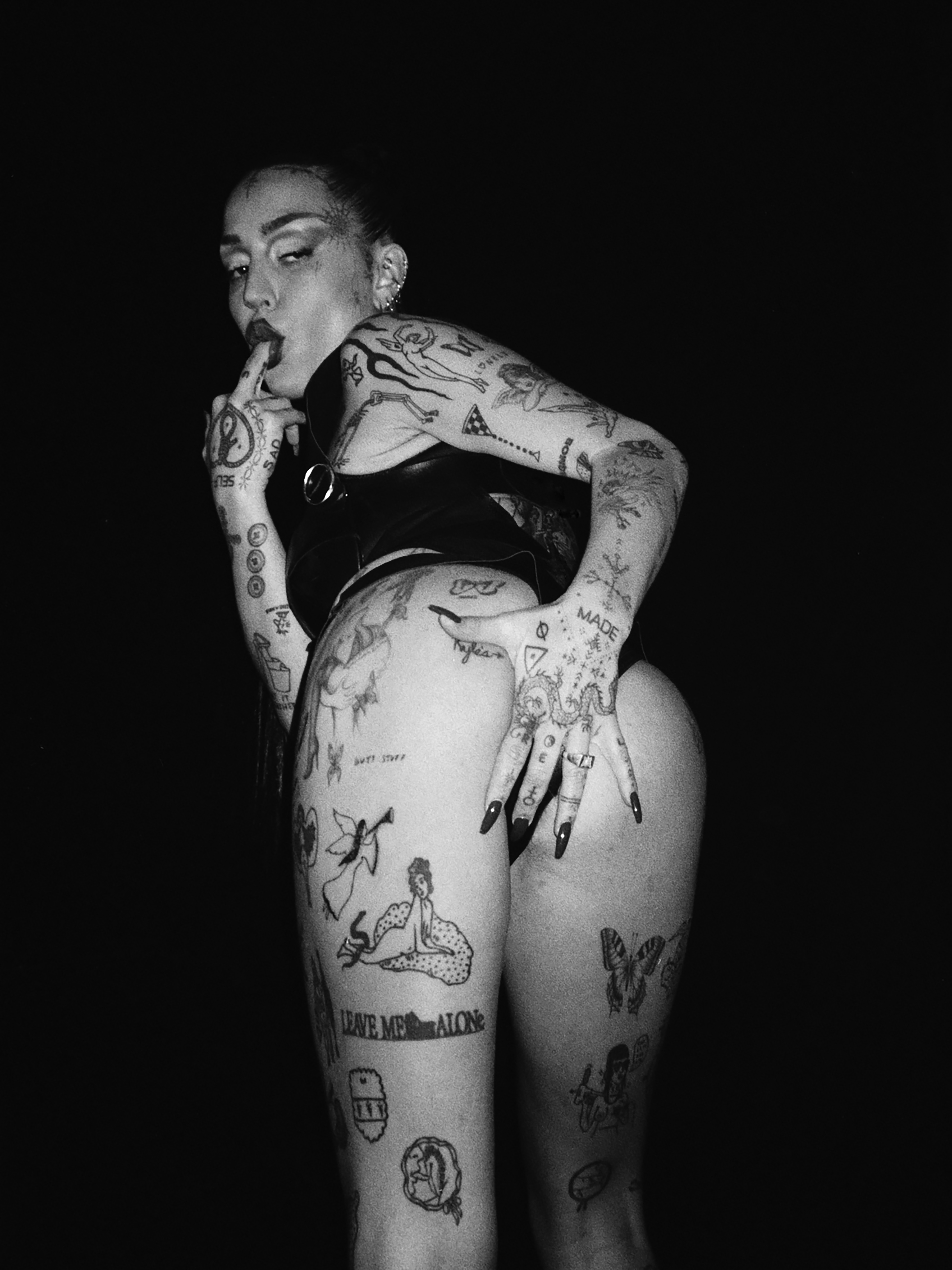 Anna Sampson, UK
The British photographer describes herself as an advocate as well as an artist. Her stark black-and-white portraits, in the series "Gender Trouble" and "Venus Envy," champion assertive, fluid bodies and spotlight undaunted, seductive subjects. She last exhibited her work in 2017, and has also bundled this mélange of lace, tattoos, and body hair into a 'zine.
How has your relationship to photographing the body changed over the course of your practice?
I have always been interested in challenging power dynamics, being a 'woman' with an extensive history of sexual abuse, I needed to play with and reclaim power by sexually objectifying 'men.' Yet, over time as I've become stronger and wiser, I've shifted my attention to empower those marginalized and oppressed by the patriarchy: womxn, sex workers, LGBTQ+ creatives, and those who perform with their sexuality. I work with friends from my community… Considering how intimate and personal the shoots are, it's imperative that we feel comfortable with one another. It makes the experience more stimulating and enjoyable for all.
Which photographers have influenced your own aesthetic or depiction of the body?
Cindy Sherman, Robert Mapplethorpe, Ren Hang, Araki, Diane Arbus, Claude Cahun, Nan Goldin…
How does place or culture shape the way you think about the body?
The UK is very prudish and uptight by default, so by surrounding myself with like-minded, rebellious, non-conforming creatives over the years, it has undoubtedly shaped my identity… It's taken me a really long time to feel at ease in my own body and sexuality. I've actively sought to work with all body shapes and sizes, genders, races, ethnicities, sexualities, and so forth.
What is the context for your specific image included in the show?
This photo is of my friend Alexandra Loveless. I think this image is particularly poignant because when people see mastectomy scars, they assume that person is transitioning. She just didn't like her tits. It can be as simple as that sometimes. However, I'm obviously not eradicating the reality of scars and experiences undertaken for so many others I have photographed in this way, too. I hope, with more awareness and understanding of ALL body types and identity representations, we will have more inclusive acceptance and dismantle these unrealistic hegemonic binary structures that dominate society.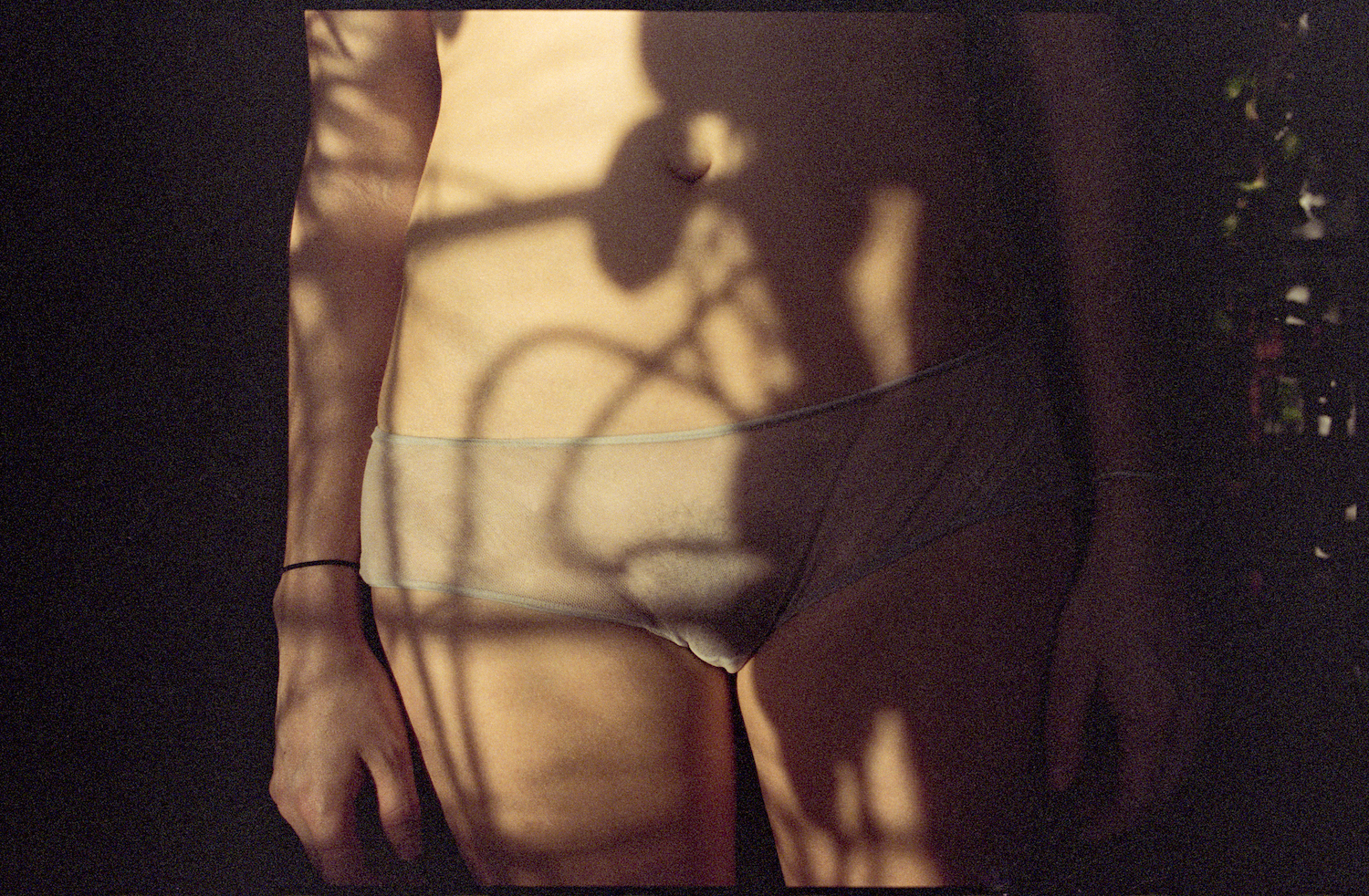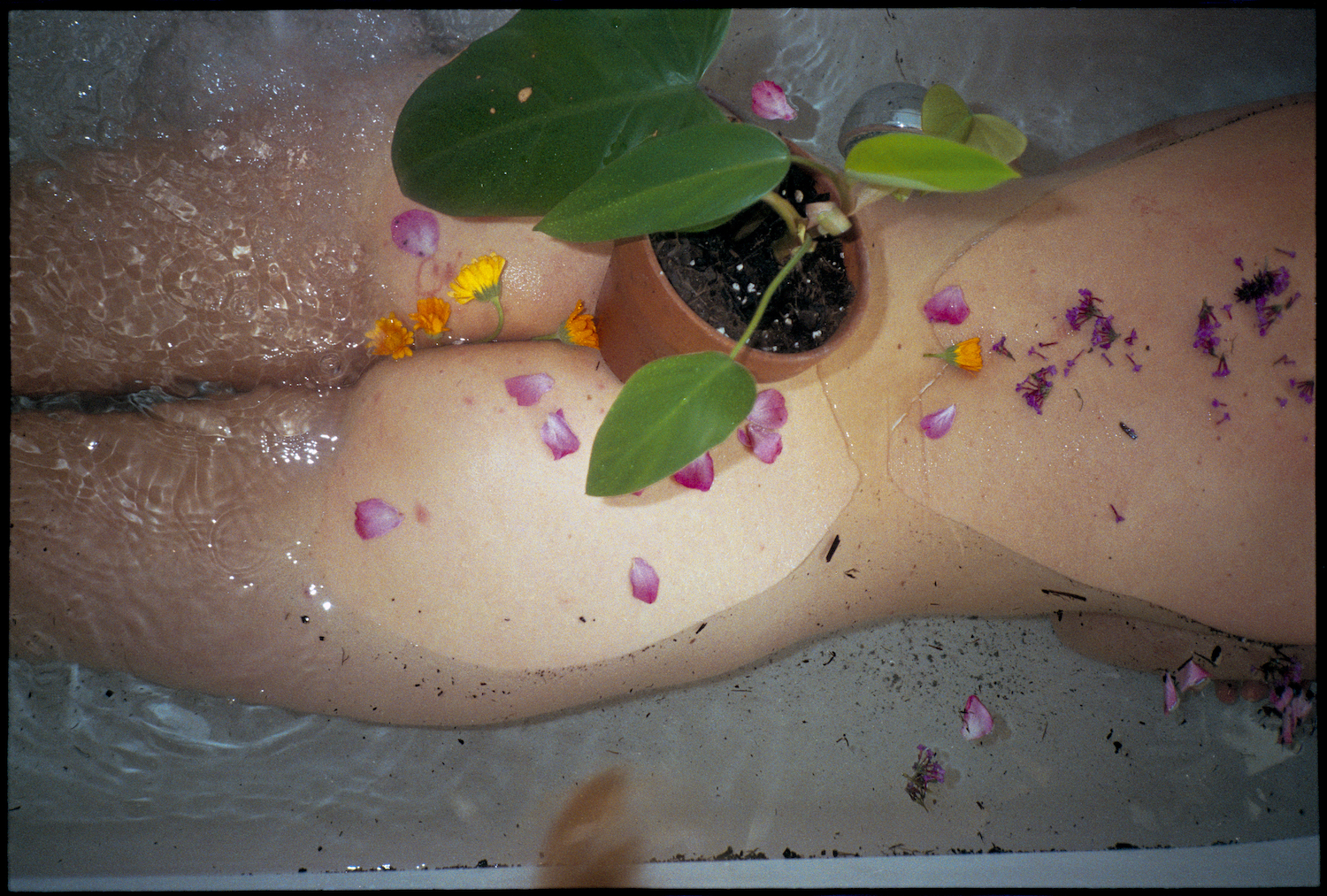 Elisa Garcia de la Huerta, Chile
As an artist-in-residence in Berlin, Elisa Garcia de la Huerta experiments with analog photography and performance sound art. Her images are a tangle of limbs and leaves, budding flowers, and blood-stained hands. Having spent time in London, New York, and Asia, her roving trajectory has led her towards "constant observation of how religion, spirituality, culture, social status, race or other factors affect the way we decide to dress, get tattooed, feel erotic, repress, or hide the body."
How has your relationship to photographing the body changed over the course of your practice?
My photos have become more close-up and detailed, as I have noticed that what I am interested in is not so much about identity and culture, but a subtle abstract sensibility, contained within the pictorial and poetic. I search for the space underneath: the quiet or unidentifiable.
What is your relationship to your subjects?
At times I photograph friends or lovers. Our comfort with each other in front of the camera has grown as the relationship itself has evolved. Many times I've shot non-conforming queer models. There's a mirroring of safety, having fun, being extra sensitive to what's needed—reassurance, listening, talking, silence—but mostly a space for mutual creativity and support. So much is about intuition, nonverbal communication, building up momentum, sensuality, and play. And an orgasmic spark when you know you got that best picture: it gives you a sharper heartbeat, like something found its expression through you.
Only a few times did I work with 'conventional' models in a studio, and quickly realized that that was not my thing. More recently, I have been open to photographing someone I've met only briefly, and I love that new experience as well. It opens up more experimentation and play.
What do you think is missing from popular depictions of the body?
Definitely more imperfection, positivity, and realness; less styling and retouching.
Media profits from making us see or feel incomplete, unworthy or imperfect, so we consume to fix that. It's a corrosive vicious cycle, and why self-love is a radical unlearning journey.
Does place change the relationship to the way you think about the body?
Yes. My traditional cultural upbringing in Chile, for example, normalized bullying of unconventional bodies, and high-maintenance requirements or discomfort around female body hair. Living in Brooklyn was very refreshing and liberating. I became more interested in admiring the diversity around my queer community.
What is the context for your images in the show?
"Soft Shadows" is part of a series I took of my girlfriend Lyles Swift at the time in my friend Diego's apartment in Williamsburg, which had a beautiful jungle in the living room. I spent lot of time there, observing how the light moved though the day and created shadows with the leaves.
"Matrix Botanica" was a shoot this past summer in Berlin with Melanie Bonajo. A friend lent me her apartment to take care of her plants. Melanie texted me asking if she could use the bath there, while I was walking in Tempelhof park. I collected flowers and the rest was beautiful fun.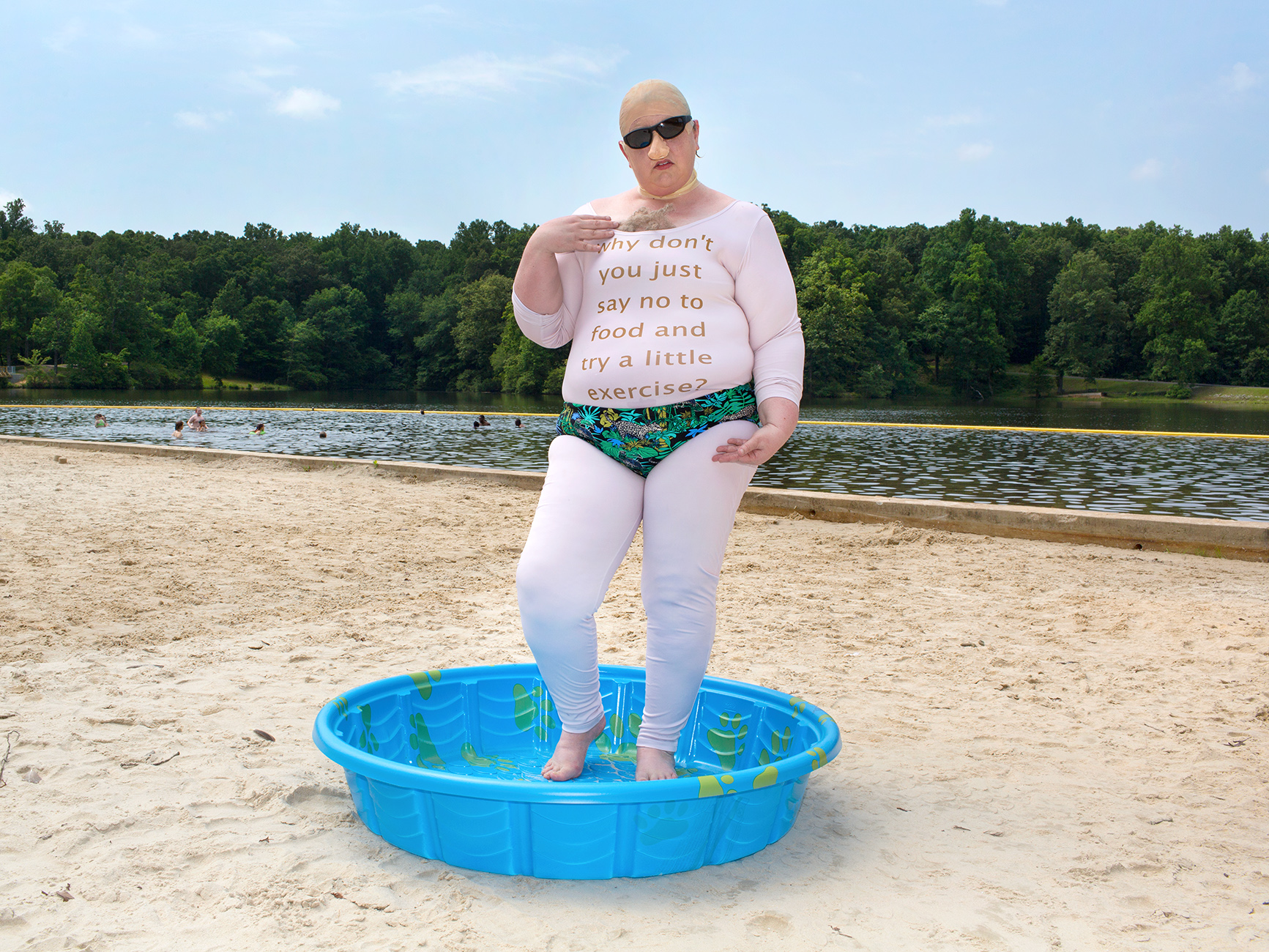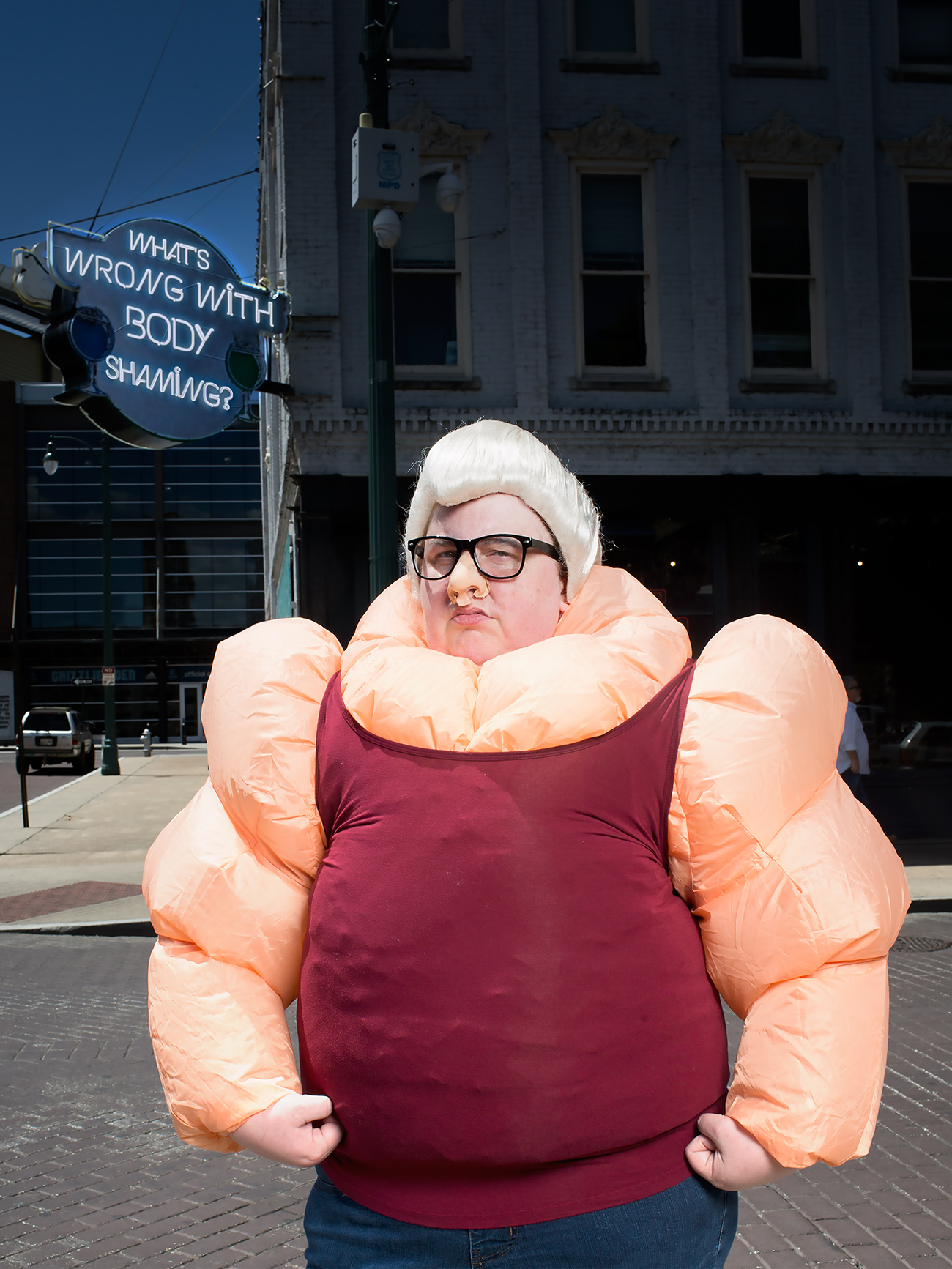 Haley Morris-Cafiero, US
Self-described as equal parts performer, artist, provocateur, and spectator, Haley Morris-Cafiero uses her own body as a way to prompt conversations around the gaze and shaming. Her series "Wait Watchers," where she photographed herself doing mundane tasks in public, went viral and people replied with mean-spirited comments. So she called them on it. She recreated 25 online profiles—photographing herself in wigs, costumes, and prosthetics—to undercut the idea of internet anonymity. Their outbursts, though cruel, are short-lived. Her images, however, "would be seen by millions, and would live again and again."
Has your relationship to photographing the body changed over the course of your practice?
Over time, I realized that I use my body to stand in for anyone who feels like their body or image lives outside of society's expectations of how we should look. Which is most of us, honestly.
You use yourself as a subject. When did you decide to do that and what are the advantages and vulnerabilities of that choice?
I started doing self-portraits in graduate school. I always wanted to use myself as a performative tool to deliver my concepts. One major advantage of using myself is that I can subject myself to doing things that may be emotionally too difficult for other people. One of the vulnerabilities would be that as I am in the photos, people recognize me from time to time.
Which photographers have influenced your own aesthetic or depiction of the body?
I am mainly influenced by the painter Jenny Saville and performance artists like Sophie Calle and Adrian Piper.
In the past, you've described your work as social experiment, relying on a lot of elements that you can't control. What is that process like?
It is actually quite exhilarating. The concepts that I am interested in often require risks and challenging preconceived notions. When I am making work and do not know how the images will turn out, I know that I will figure it out eventually.