Photography and artwork Bolade Banjo
Angelo Baque and Bolade Banjo in conversation
The Awake NY founder and the photographer discuss their careers, skate culture, New York City and Bolade's new series, "The Mirror Within"
|
30 December 2019, 8:00am
Photography and artwork Bolade Banjo
This story originally appeared in i-D's The Get Up Stand Up Issue, no. 358, Winter 2019. Order your copy here.

Relationships in the fashion industry can be tricky. With the material value of an interaction often front of mind, friendships forged on mutual admiration, openness and respect can be hard to come by. Photographer Bolade Banjo and Awake NY founder Angelo Baque enjoy this rare bond. They first crossed paths at the launch of Cherry, a skate film produced by Supreme, where Angelo served a ten-year stint as brand director. In the seven subsequent years, the pair developed a sturdy collaborative friendship, with Bolade frequently creating campaign imagery for the NYC streetwear pioneers.

In this series, The Mirror Within, Bolade adopts a painterly touch to his photographic craft. Celestially bright portraits are abstracted by sculptural splashes of colour, and images of family and friends are collaged over similarly vivid paintings. The resulting images communicate a warm, sensory confusion of genres that is almost synaesthetic in effect. We asked Bolade if he'd like to converse with someone about his work for the magazine and he immediately asked for Angelo. Here, the pair discuss Bolade's career, his refusal to stagnate, and his eclectic pools of inspiration.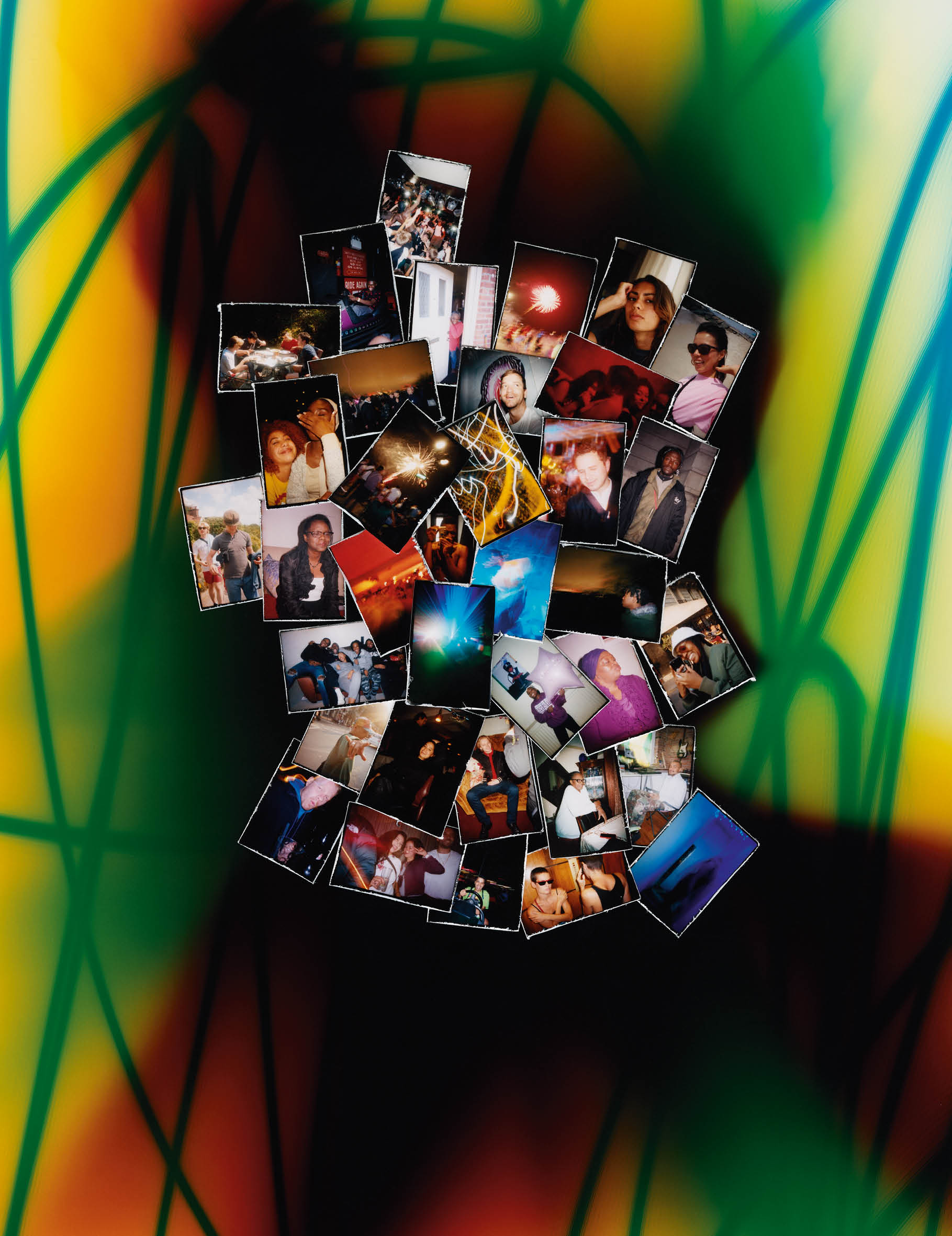 Angelo: Hey Bolade, how are you?
Bolade: Good! I've been at the studio all week. I'm ready for the weekend. I'm going to relax. Take it easy. You?
There's a million things going on but I'm chilling man. You get time to relax?
I'm trying. I've started doing yoga. I'm learning to be at one with myself. I'm getting focussed, finding myself. It's good.
I want to start by saying I'm really proud of you. I've watched you grow up over the last seven years. I remember the first time I saw you — I don't know if you do? — when we did the Cherry film launch. You were helping us set up and I watched how diligently you worked. I pulled Grace Ladoja aside and asked, 'Who's that kid?' Part of my job at Supreme was to look for new talent. I'm very old school, I go off people's energy, how they carry themselves.
When we met properly it was really the first time I'd connected with someone who really asked me what I wanted to do. I must've chewed your ear off with a thousand ideas about film and photography and creating narratives. Trying to find a way to express myself.
I've always tried to create platforms that didn't exist for me when I was that age. To think back to how I would've liked to have been spoken to. Being in a position of power at the time, at Supreme, it was a matter of you seeming like a good kid, and thinking: How can I help you get from A to B? How can I be of service? Everything can feel so transactional, especially if you're in my position, when you commission someone. I need to get to know the person first, before working with them.
We didn't actually start working together until a few years after that conversation, but we had conversations throughout that time. I'd tell you about my work, what I was doing, and you'd give me feedback. It was really needed; people are fearful of being honest. I loved how direct you were, how truthful. That allows you freedom, because you become open and receptive to working out how to make things better.
Maybe we're going off on a tangent. Let's talk about you, and who you are?
I'm an artist working with photography and film, and more recently I've been trying to do sculptural works that incorporate photographic elements. My inspiration is driven by curiosity, experimentation. Wanting to explore the world. It's all about time — I work analogue, which I think allows for a lot of reflection. That has helped me to become more comfortable with my own creativity. I'm never not learning.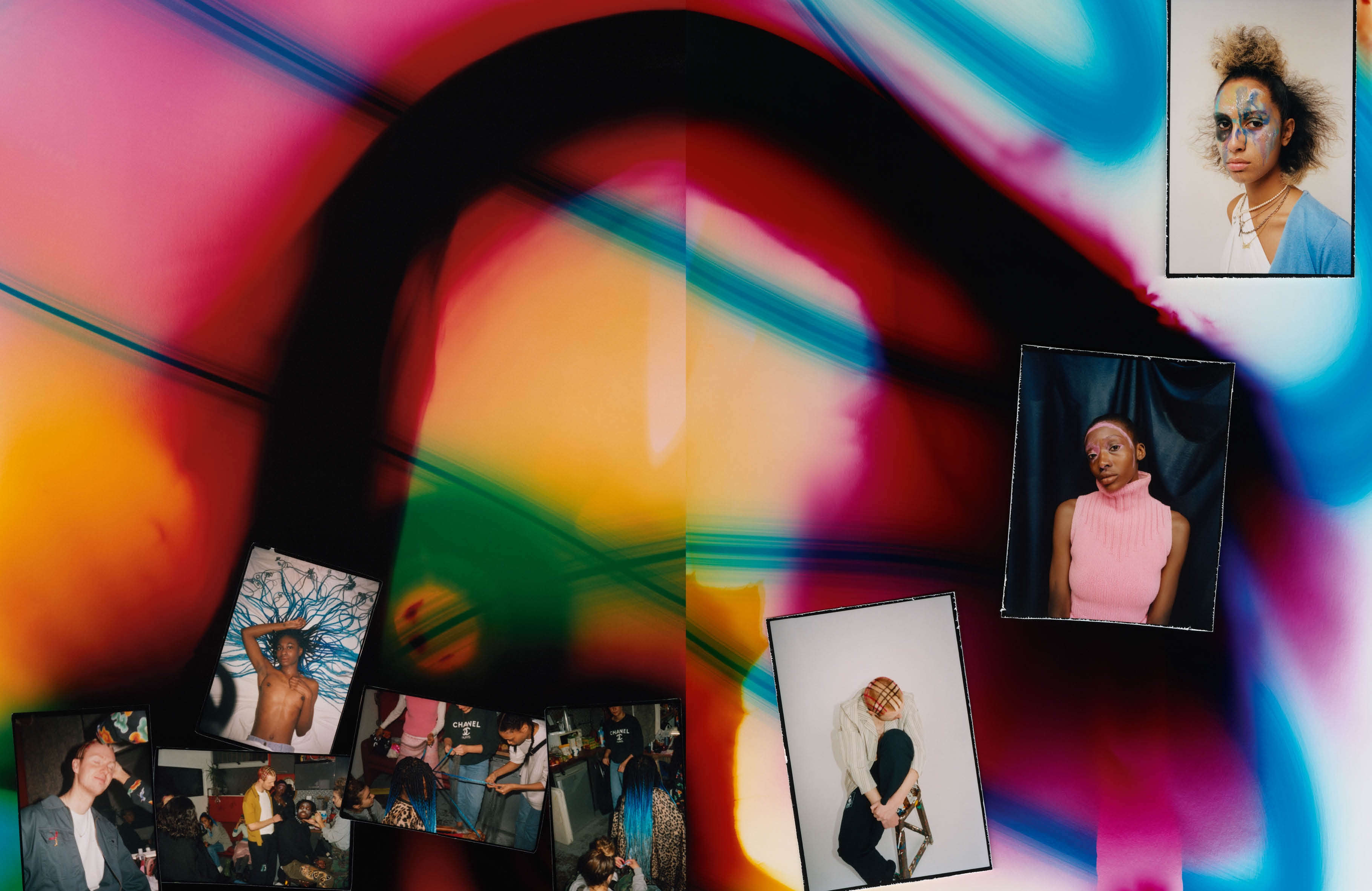 You identify straight away as an artist, not just as a photographer. My question is, then, what drew you to making pictures in the beginning?
When I was younger, I just wanted to capture friends and family, and I became fascinated with film. My fascination with it is more about what, in some abstract sense, an image can make you feel. Whether it's a commercial job or a personal project, I always see it as an opportunity to do something different. What I love about photography is that it's a medium we're all influenced by. The nucleus of my exploration maybe comes from that.
What I love about you, Bolade, is that you don't stay stagnant. There's no single approach you have to creating images. You're constantly trying different things. What have served as different inspirations for you while creating work?
It comes from everything, from classic photographers, to William Blake — I saw the exhibition of his work at the Tate recently, and was so inspired by how much detail he put into such small works. It's not just photography — inspiration comes from film, painting, sculpture. I'm inspired by the way people use certain mediums in certain ways. I mean just being in the world is inspiring.
Colour plays a huge role in this body of work you've created for i-D. I've learned this new word — synaesthesia.
Which is this neurological condition where you associate, say, taste with certain colours, or a feeling with a noise. I was partly inspired by this artist called Anna Puschel, and her work around memory and colour. Every single colour to her has an association with a distinct memory or feeling. A light turquoise might equate to joy. It's a way of seeing the world that inspires me. And, I think, working in analogue film, printing the images myself, you have a very distinct relationship to to the feeling of the images.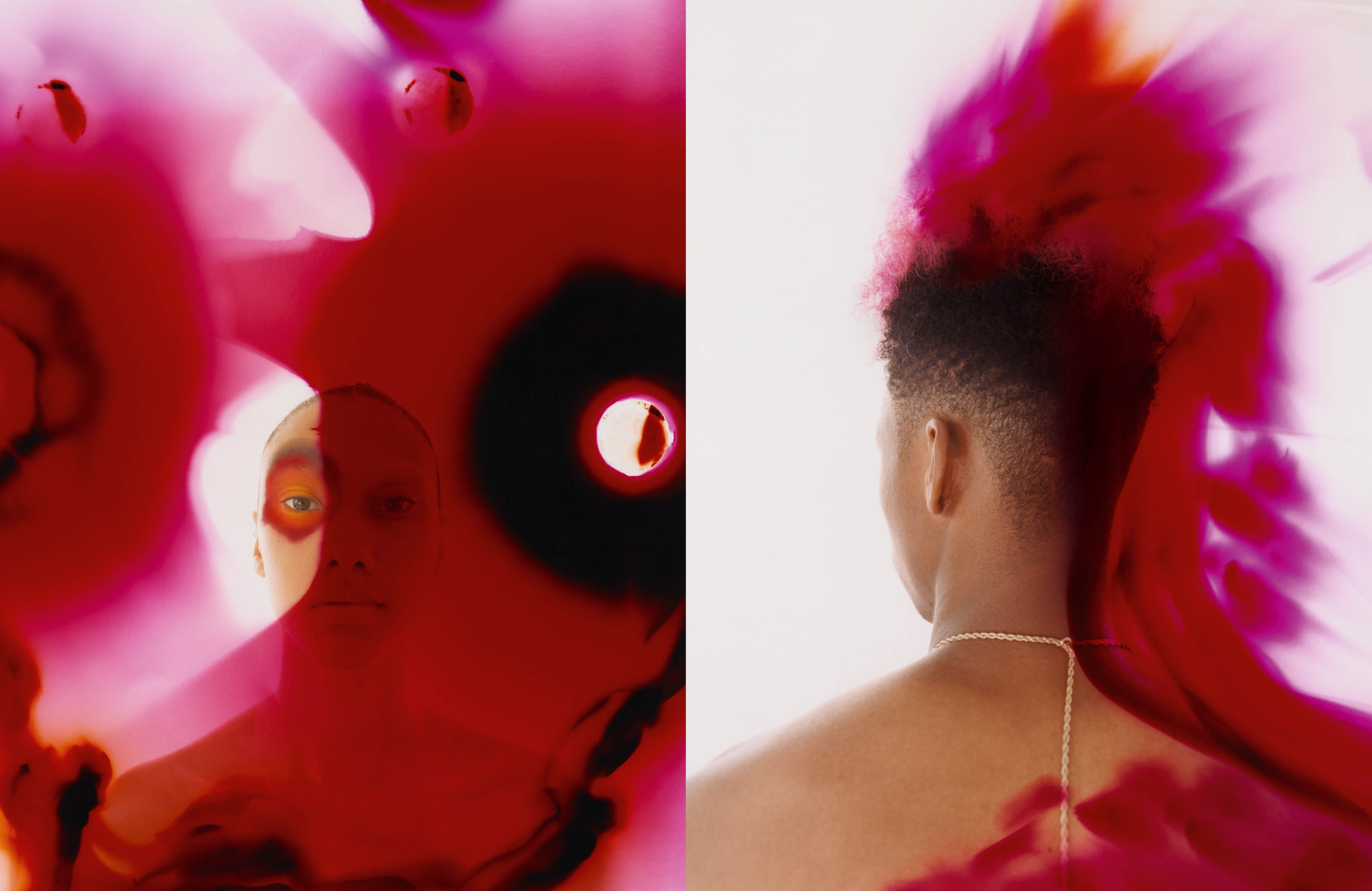 When I look at this body of work and knowing you so well, I see this kind of peace that radiates through the pictures. In Anna's work it's about hearing and feeling and seeing together — but tell me about your process.
There are two collages that include friends and family on top of paintings — the moments I've included are pivotal, emotional, important moments in my life, and it's about reflecting on them, both the good and the bad. Approaching this body of work, in particular, I was meditating on what I've done before. Especially on what hasn't worked. I took a break from shooting altogether and really looked at what gave me the focus I needed to create. Once I'd done that, it made completing the series much easier. I spent months in the lab experimenting with colours, trying to understand how to paint in the dark, almost. It's was a matter of practice, you have to practice everyday to really get good at what you want to do. It all goes back to time — seeing time as a medium. And that's what this series is about. Time really allowing me to understand my medium.
What do you think people will take from it? What impact do you want to have with it?
I don't know if it's about impact. It's about something personal that I've overcome, and the outcome of that process has allowed me to find freedom, to have a better understanding of myself and my work.
Looking at this body of work, it makes me so proud to have been part of your narrative, part of your development. I see it coming full circle, from when you first started doing the collages, to playing with light on print, and now working with sculpture — and I'll always give you shit, because I think your sculpture sucks — I see it all in this body of work. You are always pushing yourself to be uncomfortable. Not sitting idly by like a lot of photographers in your age bracket, content to do the one thing that works well for them. It makes me really think about all the things I've learned from you.
I'm sure you know this, but it's a joy for me to do what I do. With anything you do, there's always work involved. But for me, approaching a project, it's about working with people who understand you, who trust you, your ideas, your vision. This series has all been created because everyone involved is a really close personal friend of mine. What I've learned is the value of having good people around you, who allow you to develop, and want to develop with you. And that gives you the most important thing — freedom of expression.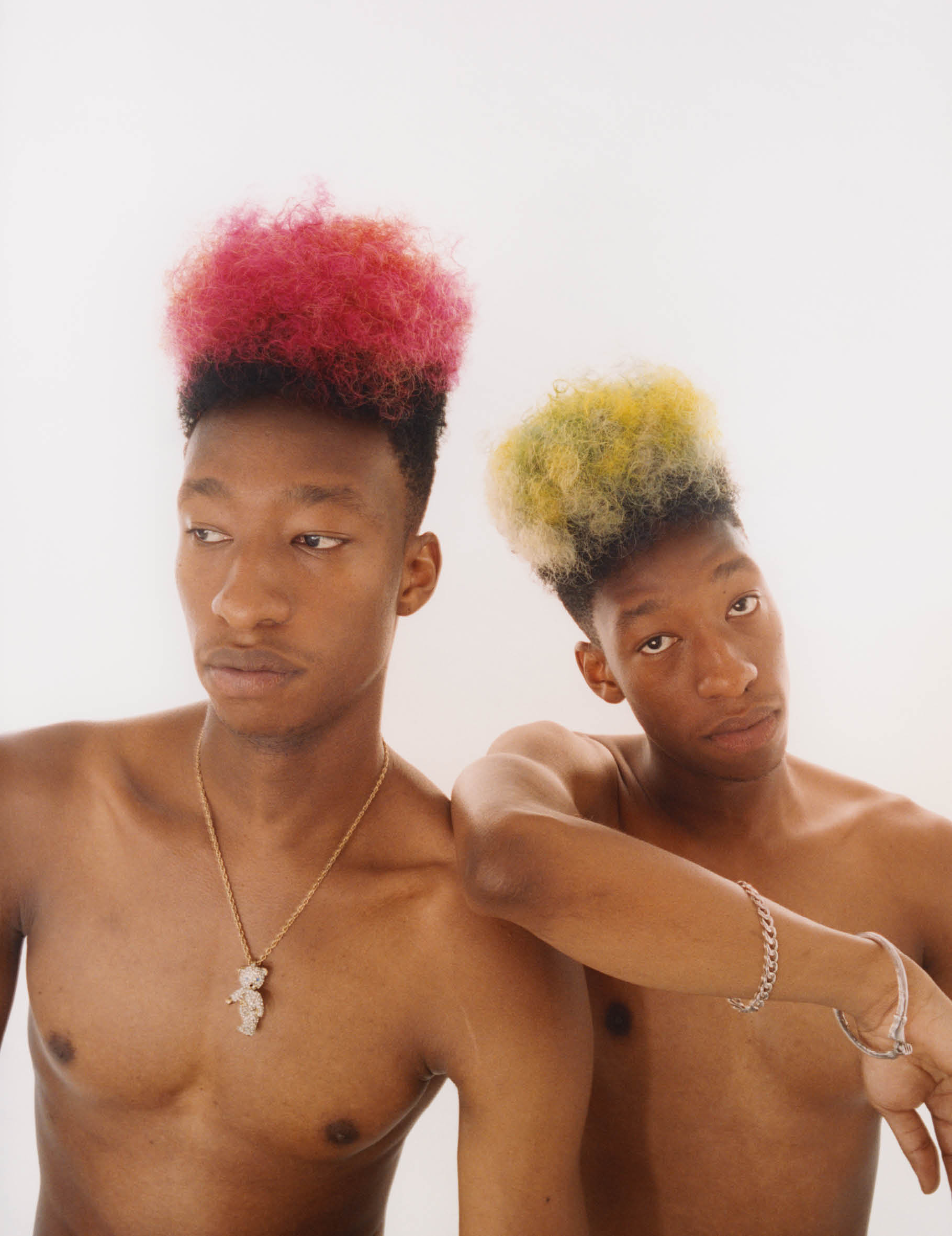 Credits
---
Photography and artwork Bolade Banjo
Interview Angelo Baque
Introduction Mahoro Seward
Styling Desiree Laidler.
Hair Nicole Kahlani using Bumble and bumble.
Make-up Danielle Kahlani using M.A.C Cosmetics.
Photography assistance Florence Omotoyo, Danielle Crawford-Lugay, Ben Allan and Okus Milsom.
Hair assistance Paige Hammond.
Make-up assistance Melinda Grant.
Casting Sarah Small at Good Catch.

Special thanks to Hammer Lab.