Best friends Kate Moss and Kim Jones in conversation
Dior's head honcho has been pals with the fashion icon and i-D cover star for years. Years! So for The Icons and Idols Issue, the pair of icons and idols took a day out on the beach to reminisce and reflect on their wild, glamorous, wholesome friendship.
|
19 February 2020, 12:00pm
Kate Moss's story originally appeared in i-D's The Icons and Idols Issue, no. 359, Spring 2020. Order your copy here.
No one remembers quite how Kate Moss and Kim Jones met. All we know is that they are the best of fashion friends, and have been forever – or at least since Kim began revolutionising menswear when he launched his first label in 2003, after graduating from Central Saint Martins. They've been co-conspirators throughout his time as creative director at Dior, Dunhill and Louis Vuitton, with Kate famously closing his last LV show, arm-in-arm with Kim and Naomi. It was a triumphant moment – a victory lap for a designer who had conquered the whole of the fashion world.
But before Kim ascended to the highest of fashion heights, he was a humble shop boy, working with Michael Kopelman at Gimme Five, the cult company that first imported Supreme and Stüssy into the UK, long before either were the well known brands they are today."
And it was with Shawn Stussy himself that Kim collaborated on his latest Dior Pre-Fall collection, luring the artist-designer out of semi-retirement for a spectacular show in Miami in late 2019. It was a tribute to the streetwear ethos that Shawn forged and which continues to inspire Kim in his new couture world. It was wild, psychedelic, glamorous Americana seen through the Dior lens.

It was so good that the day after the show we had to get Mario Sorrenti to shoot Kate, on the beach, wearing the collection. Then we got Kate to grill Kim about his latest, most fabulous and fantastic Dior creations…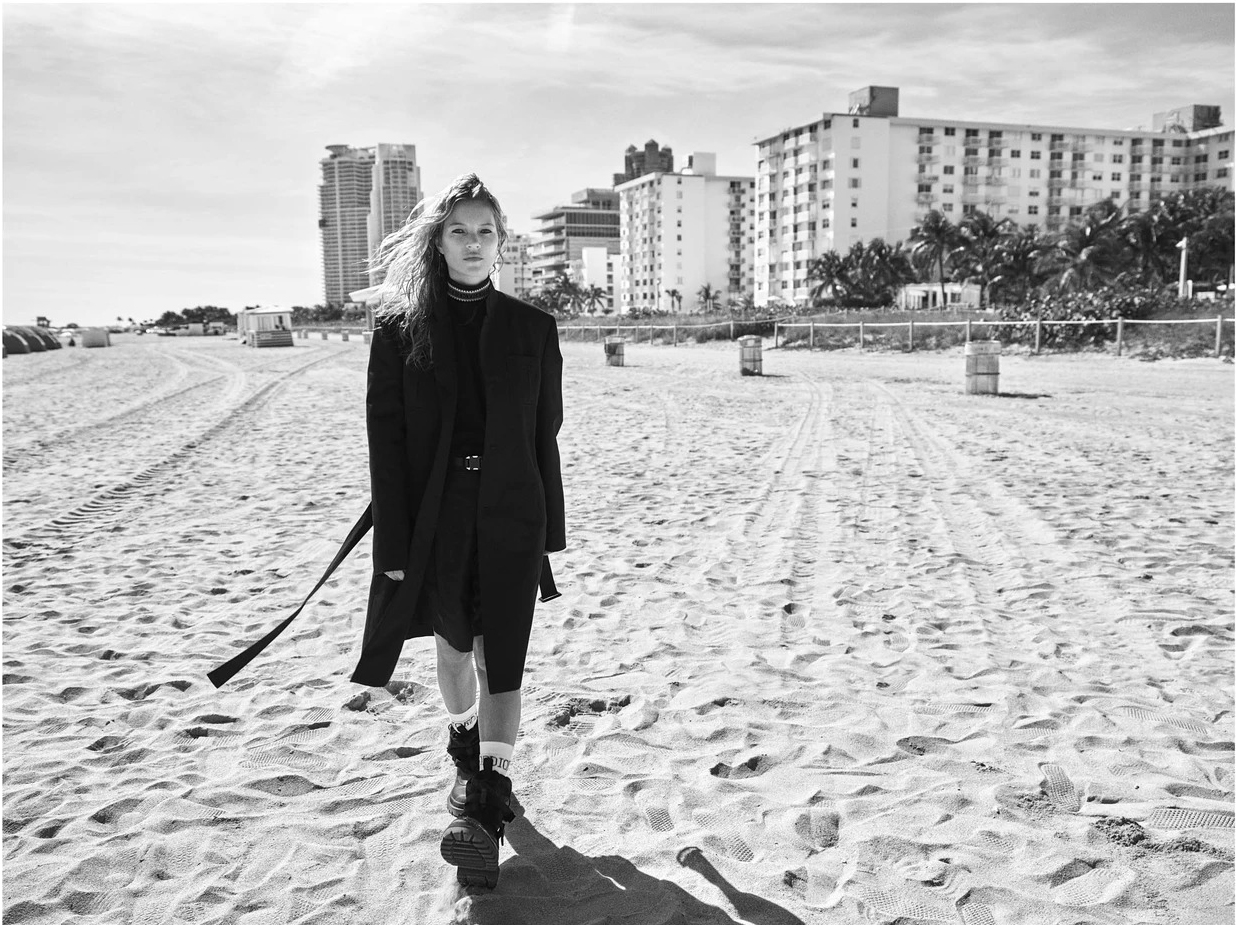 Kate Moss: So Kim, I'm meant to be interviewing you, but… let's talk about me!
Kim Jones: That's quite a good way to start it!
I'm only joking! What I do want to know, Kim, is, when you started at Dior, what were you most excited about?
I was excited that I was going to be at a couture house, to be able to work with an atelier, to be working with one of the biggest houses in Paris. For me, the two big couture houses are Chanel and Dior, and to have worked at Louis Vuitton and then to come to Dior, it was a bit mind-blowing.

How would you describe your work at Dior to someone who doesn't know it or hasn't seen it?
My work is very much about the house but it's also looking at what's happening in modern culture. I'm much more into culture than fashion in terms of the way things reach people, how people like to look at stuff. For me, that's interesting. Fashion's really great and I love working with it, but I think nowadays you need a bit more than that. That's something I look at. I look at people from all over the world.
Bringing in Shawn Stussy was amazing – he's such a lovely guy.
Oh my god, he was a dream! I knew of him and I'd seen him because I worked for Michael Kopelman, and Michael owned Gimme Five who distributed Stüssy in the UK. I remember being 14, going up to London to the warehouse and buying a T-shirt for £35 – which was a lot of hours of my dish-washing money – and then he came to the summer show."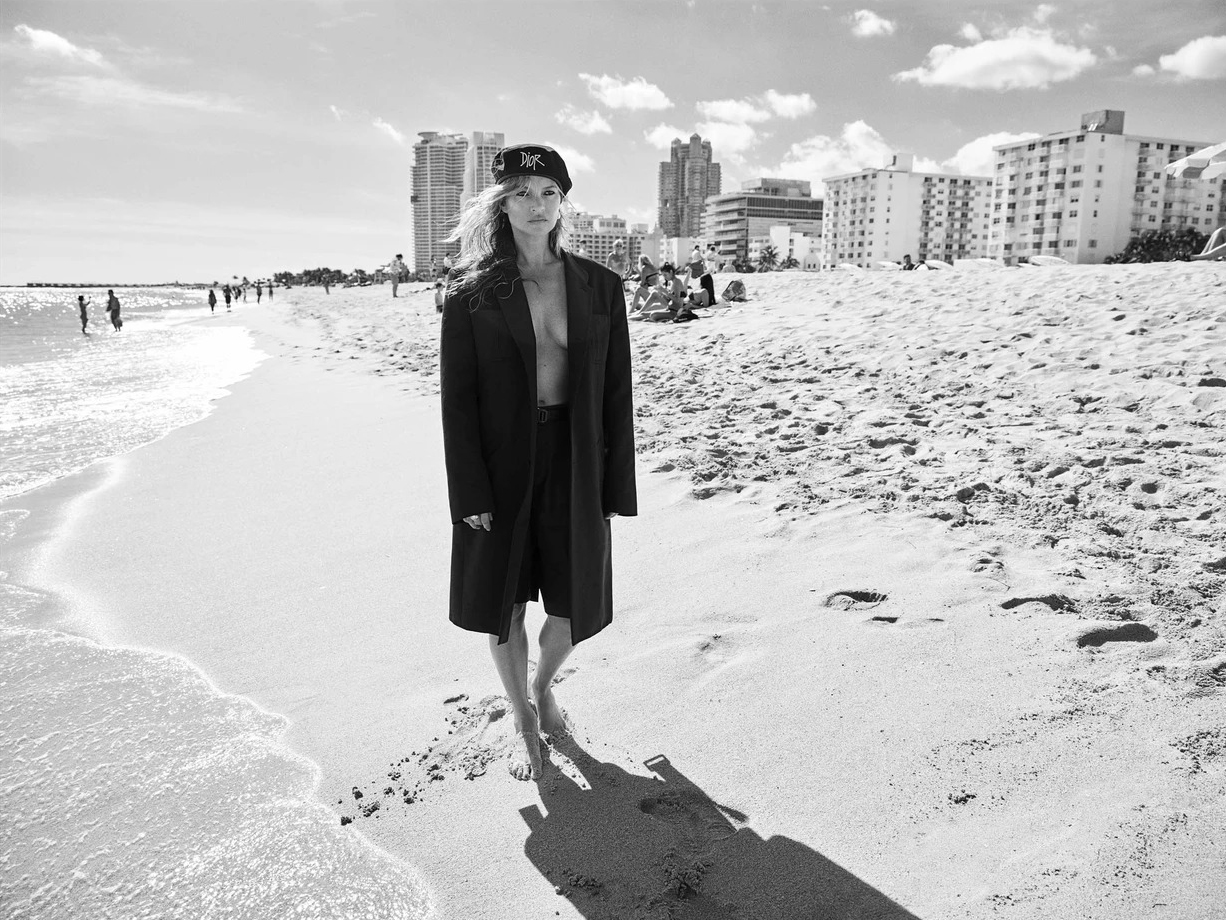 So you've always been a massive fan of his?
Yeah, because he's just such an icon of our times. I'd cover my school books with that logo.

He was the first to do it.
He started it all. You know, James at Supreme or Nigo at A Bathing Ape, he was doing it even before them – they all look up to him and respect him. I also wanted to do something aimed at the American market. There aren't many times in your life that you're going to do a show in Miami and I thought, well I'm going to make it very American and really fun. It's not going to be the classic Dior.
It was really fun and it was so different from the shows in Paris. In Paris, you can feel the couture and atelier coming through. Obviously the clothes are still made there, but the colours were so Miami.
Yeah, I looked at Art Deco, and I looked at all the cars that were in the advertisements Christian Dior made while he was still alive and working – I thought that was a great place to start. And then I thought well, I'm not going to work with an artist just because it was also Art Basel in Miami at the time, but I think what Shawn does has got that confidence of all the other artists we'd worked with at Dior, and I thought well let's work with Shawn because he's not been doing his clothing since 1997, but he puts a pen on paper and creates amazing stuff, and that's art to me. Then I thought, I'm going to do something else and I thought 'let's do the Jordans collaboration', because what would Christian Dior be interested in nowadays? It would be sneakers and Apple and all these different things. I thought that would be a really, really amazing place to start.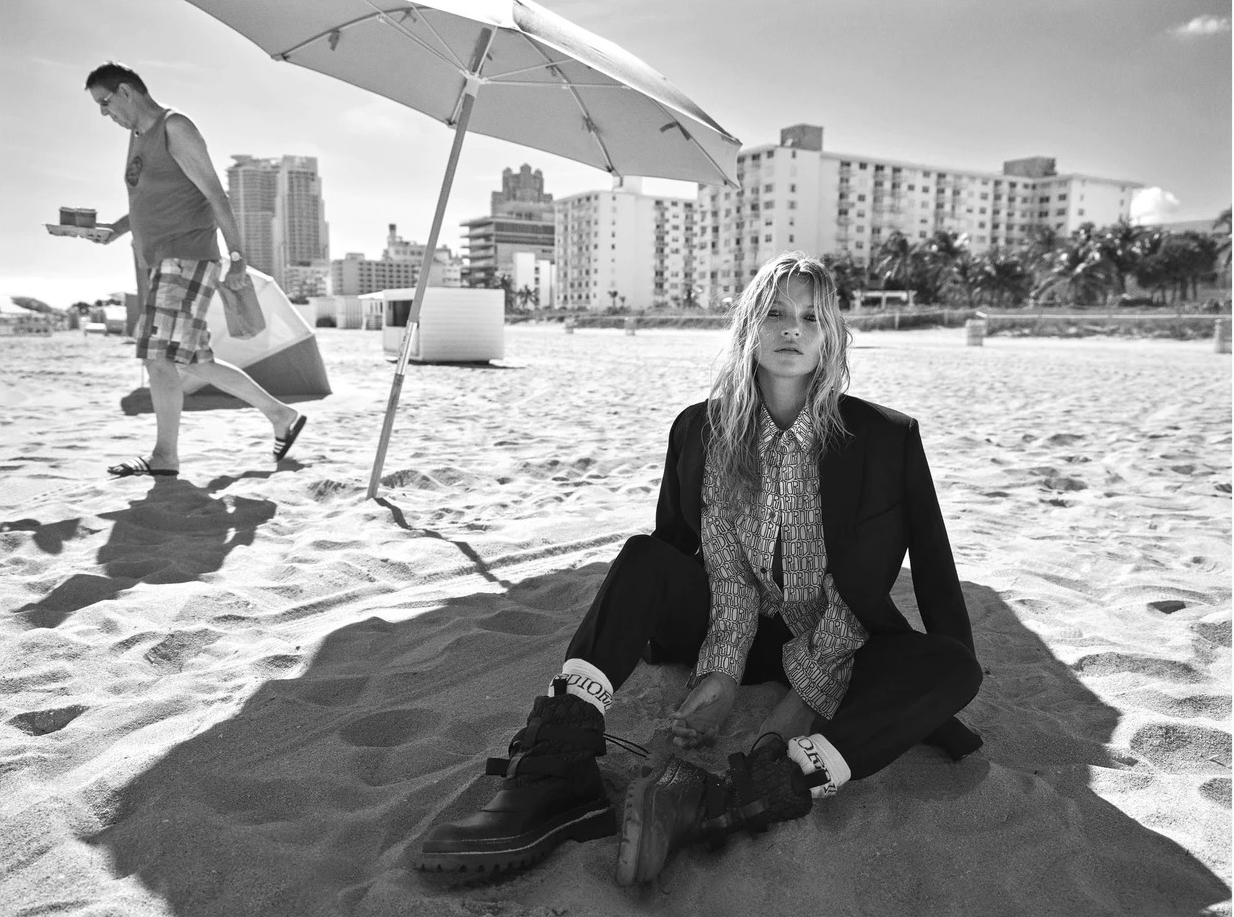 Did you get stopped a lot in Miami?
I get stopped a lot everywhere now but it's always people who like my work, and it's nice when people like what you do. For me, that's a big buzz. When people I don't know wear my clothes, I like that, too. The sneaker thing is a bit out of control but it was really fun to do, because they're my favourite sneakers ever and I wear them all the time.
They are gorgeous. I'm not a big sneaker girl but I reckon I could get away with them.
You bought those sneakers in Miami!
Yeah I know, but I copied you!
But the Miami show was really fun because we could just do something completely different – it didn't have to just be pure Dior. I thought that was something really special about it.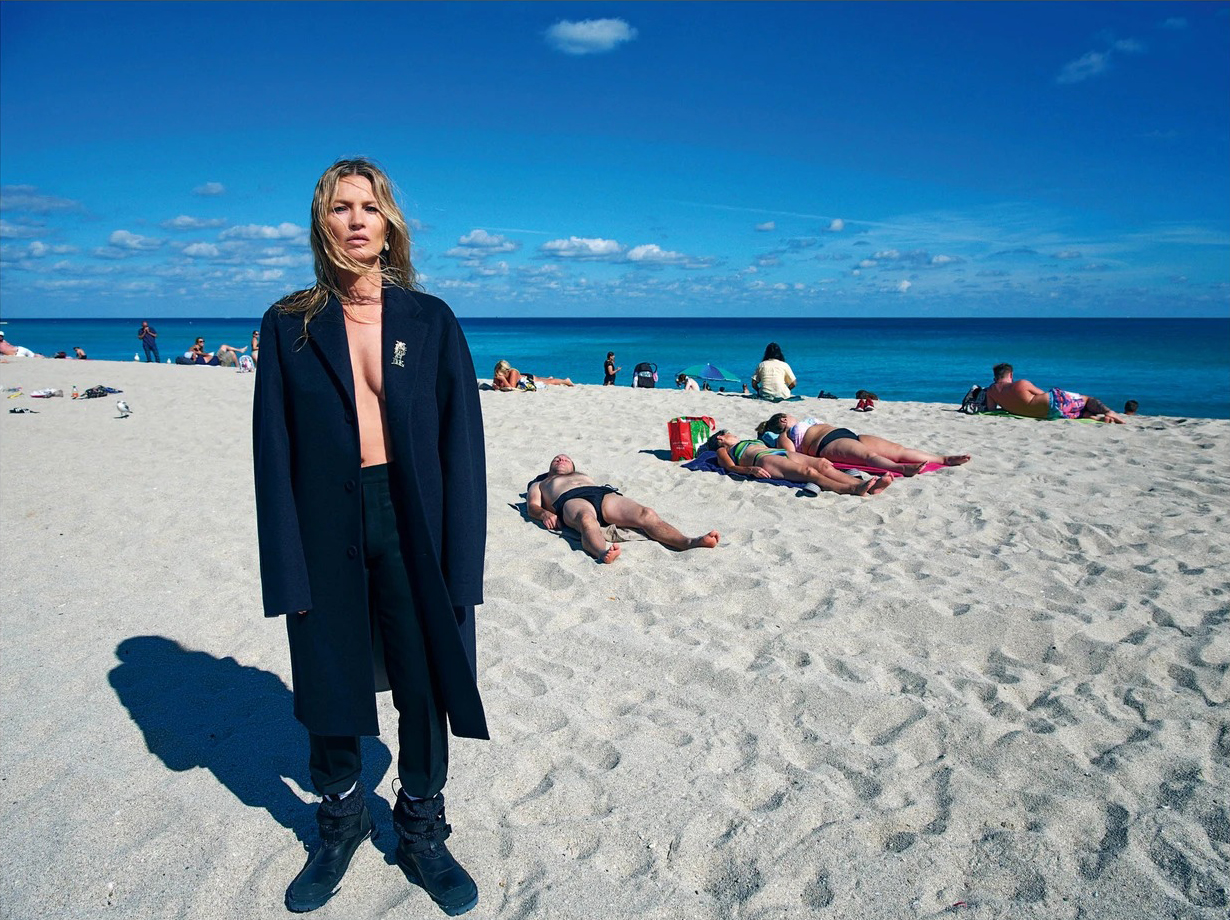 The atmosphere was so exciting! But all of your shows are quite exciting because you like pushing the boundaries all the time, but Miami was even more. So many people were there anyway and then all the people coming to see the Dior show. It was crazy! So much fun, I love it!
It was fun and the whole studio was really happy to be working somewhere sunny. When we had a break from fittings everyone would be sitting around the pool and chatting. I work with my studio very closely and we all get along and have a laugh, so it's nice to be in a different environment with them rather than just Paris. You learn stuff about people and then you know how to work with them better. It was pluses all round really – it was great!
Do you have a favourite piece in the collection?
I love the beaded shirts. I love the hats that Stephen Jones did.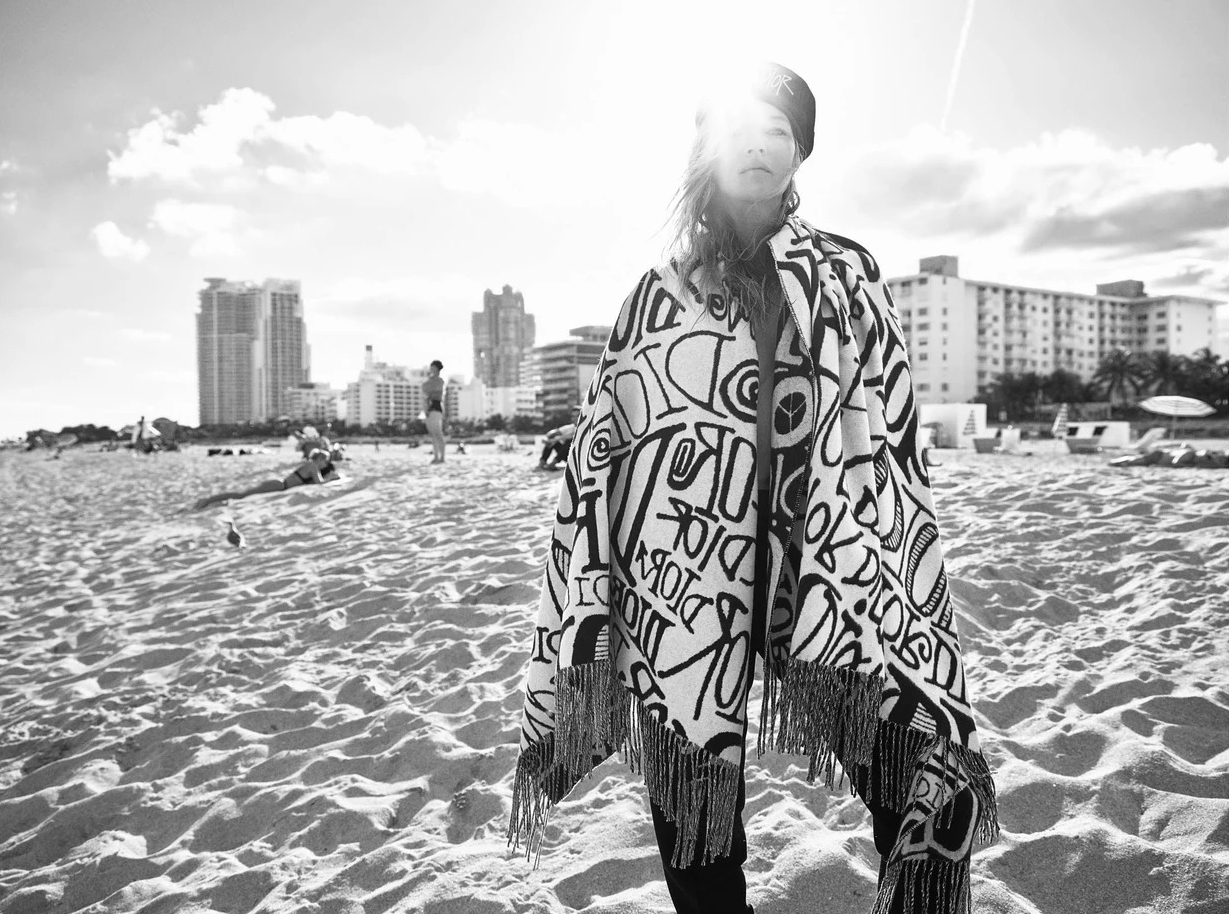 Oh I love the hats!
And I love the knitwear. That was something we would probably never do anywhere at any other time. It was that psychedelic, Americana vibe, it was very 60s.
Wasn't there a hand-knitted one that you told me took a week to make? It's still kind of like couture knitwear isn't it!
Everything is made to the same standard. We had shirts that took over 1,200 hours to make, for example. We looked at American sportswear, which to me includes elements of tailoring as well. We were trying to capture that 60s vibe, this glamorous Hollywood thing – Marlon Brando in Cuba, or James Dean in Miami. Christian Dior was looking at that in the 40s and 50s and, for me, that's the highest form of glamour – sitting on a plane, smoking, having a drink in a big, big chair.
Who is your dream artist collaboration? You've already worked with a lot of artists you love haven't you, but have you got someone who isn't around anymore you'd like to work with, for example?
Well there's one coming up, actually, and the two I really, really want to work with I'm talking to at the moment – so I can't say anything!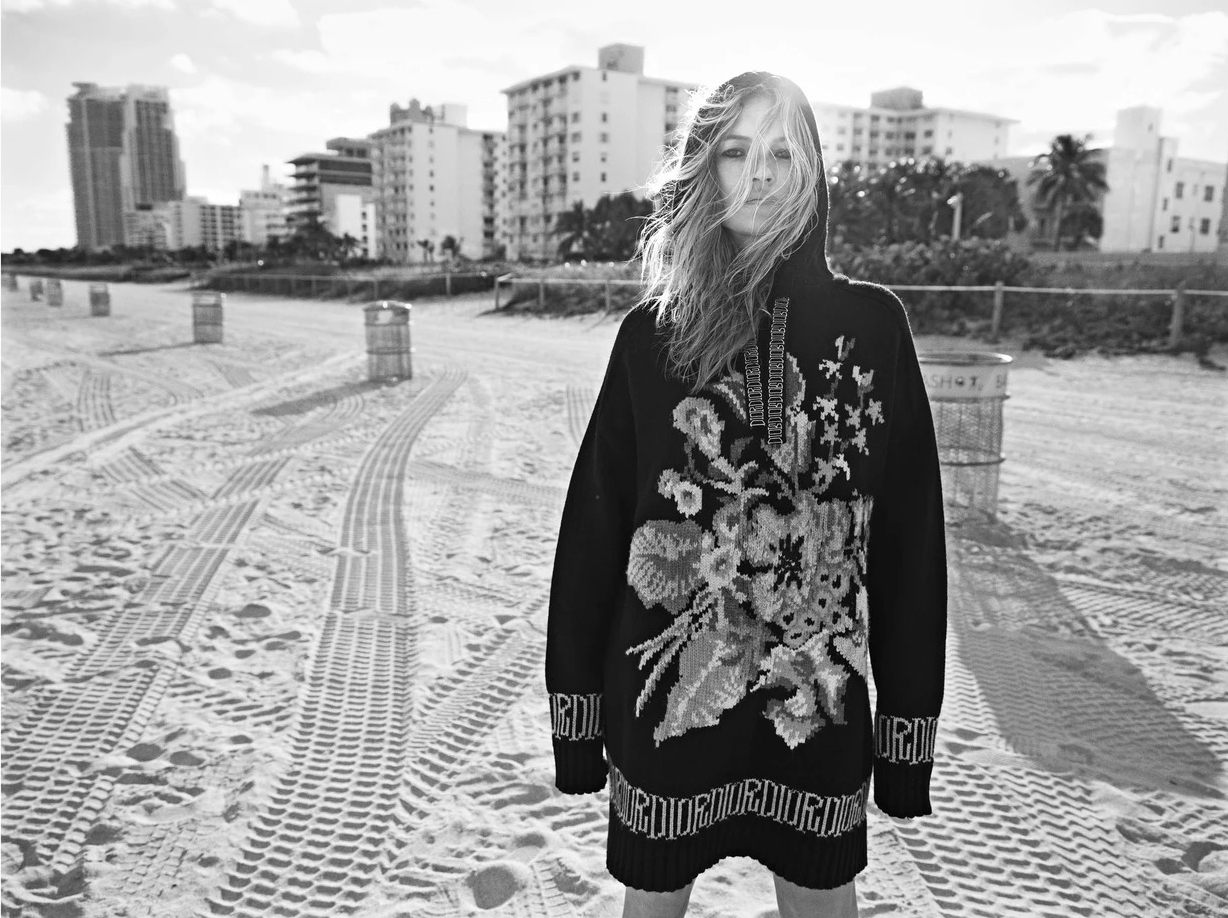 Oh wow!
I'll tell you when i-D aren't listening.
OK. So if you could gift me one look from the collection, what would it be, and why?
How about Look Three. The one Ludwig wore, with the metal saddle bag, the knit, the nice hat and the python shorts.
Oh yes! I loved that one!
It's a great look to stroll around on holiday in, I think.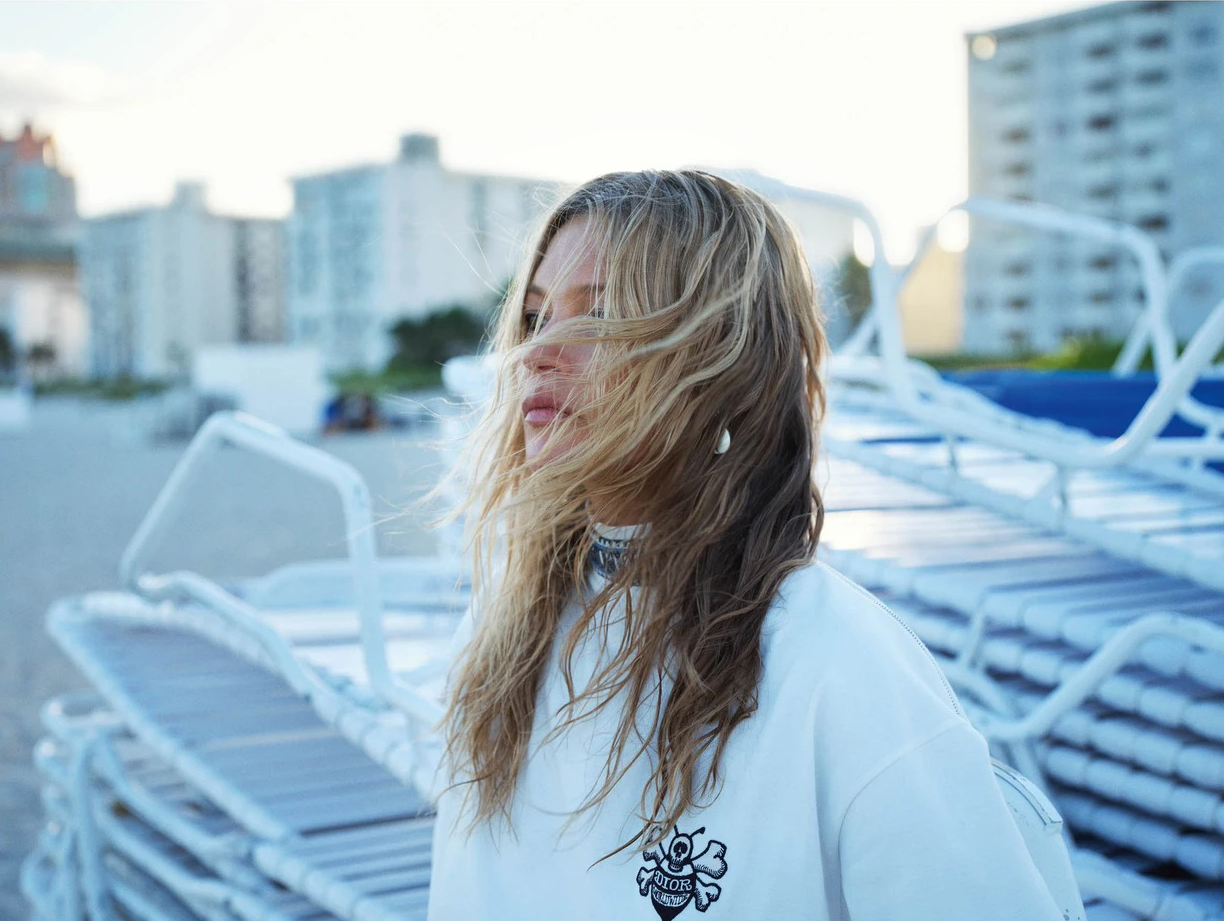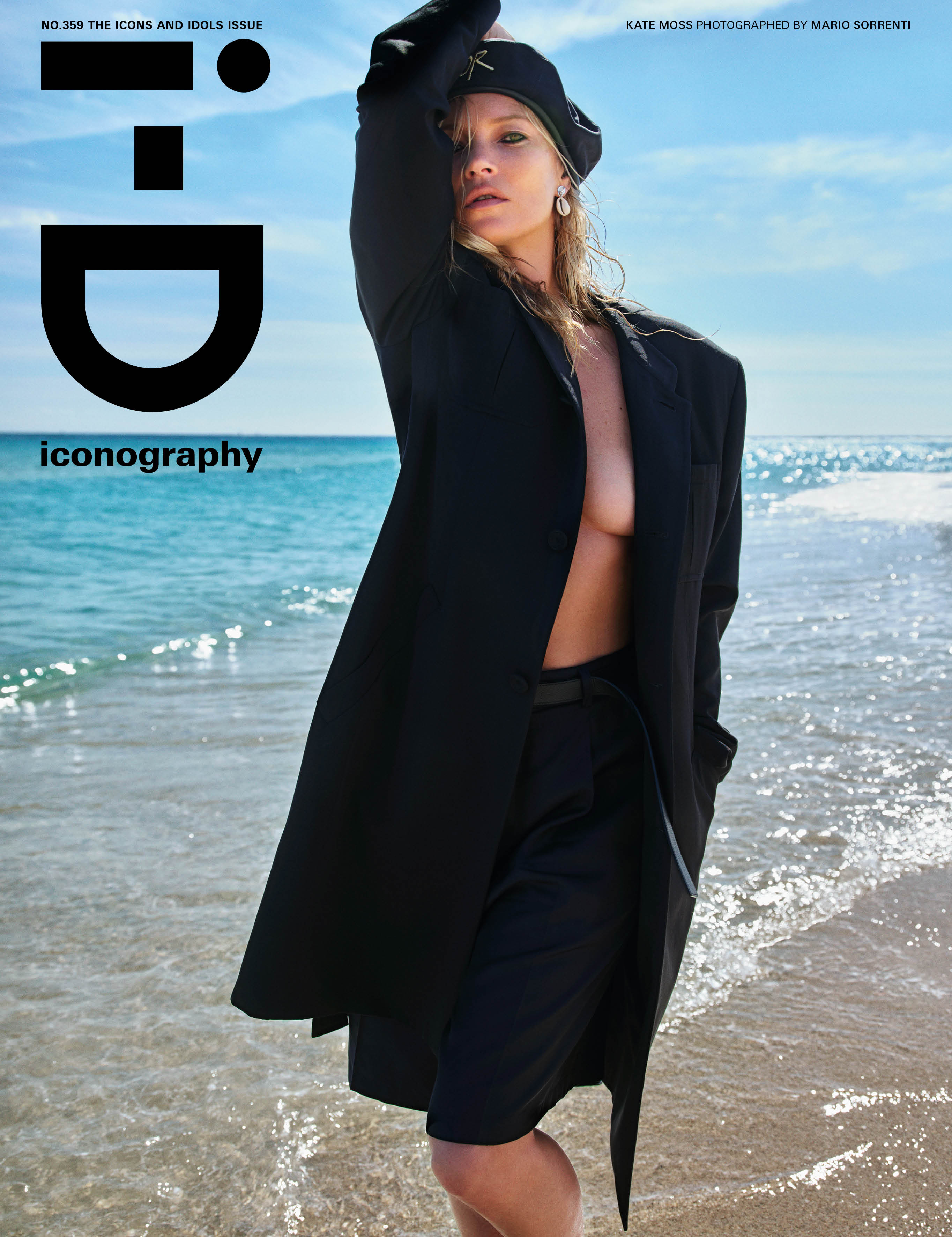 Credits
---
Photography Mario Sorrenti
Styling Alastair McKimm
Hair Bob Recine at The Wall Group using Rodin.
Make-up Kanako Takase at Streeters using ADDICTION Beauty.
Nail technician Andrea Vieira. Lighting technician Lars Beaulieu.
Photography assistance Mikhail Yusufov and Ido Eyo.
Digital technician Kotaro Kawashima. Styling assistance Madison Matusich. Make-up assistance Megumi Onishi. Production Select Production.
Production Roly Diaz and Julian Allison. Casting Samuel Ellis Scheinman for DMCASTING.
Model Kate Moss at Kate Moss Agency.