10 things you need to know about LA's Remi Wolf, who makes ADHD love songs
The Agusta Yr-directed video for her new single "Woo!" is about to catapult you out of your quarantine blues.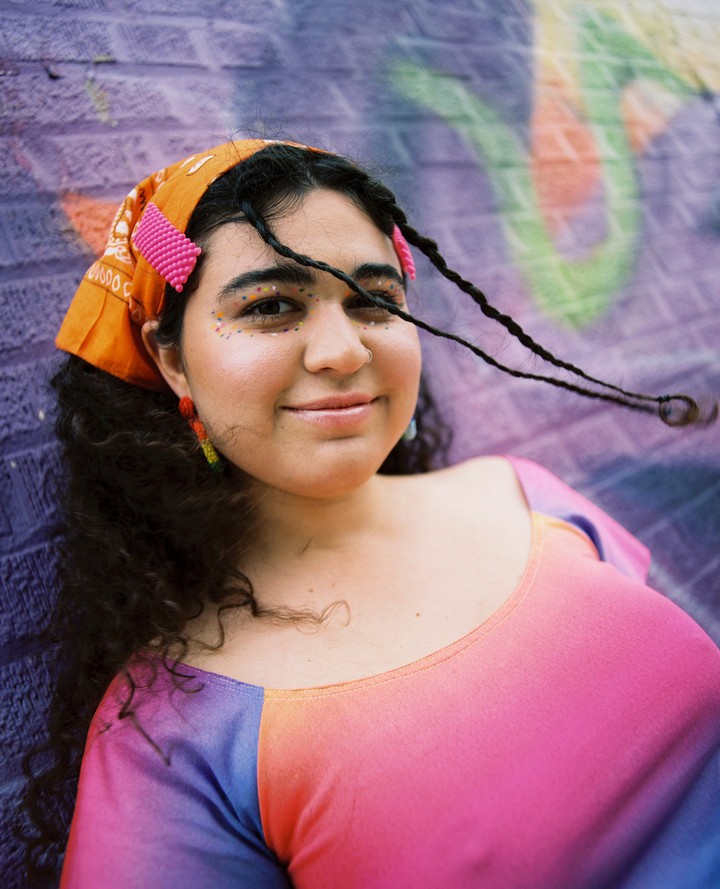 Photography Sophie Hur
24-year-old musician Remi Wolf is a California baby from the suburbs. "I think it starved me of culture enough to make me really want to move to a major city and meet new people," she tells i-D. She ended up moving to LA seven years ago, where she studied at USC's Thornton School of Music. Pulling inspiration from all angles -- her failed relationships, mental illness, Prince -- Remi describes her rainbow-hued music as "funky soul pop". But it comes with a caveat: "I don't believe in labels like that though, because they literally don't make sense anymore. Everything is soup."
While she plays down her music career ("I don't make music seriously, just intensely"), it's certainly off to a good start. Hot on the heels of her debut EP You're A Dog!, yesterday Remi released her impossibly fun new single "Woo!" on Virgin EMI/Island Records. The accompanying music video -- like Charlie and the Chocolate Factory on acid, and that's saying something -- was dreamed up in collaboration with director and meme queen Agusta Yr aka @iceicebabyspice. In it, stunning 3D renderings of Remi move about a joyful slime green world like demonic Sims. It's wild. The saturation is turned all the way up to 11. I love it.
You too? Lose your mind over "Woo!" and get to know Remi via these 10 fun facts...
1. Remi Wolf is her real name. But, as her Instagram bio says, she is also Remog Wog
"You are og as well. It's my language and lifestyle."
2. The first song she remembers hearing is "How Bizarre" by OMC
"I think it's still my favourite song. The first time I remember performing was at a talent show at a farm when I was nine. Me and my friend performed a duet of "Lucky" by Jason Mraz and Colbie Caillat. Very cute, very awkward."
3. And the first song she wrote was a folk ballad banger called "Carousel"
"I wrote it with my friend Chloe when we were 14. My mom always said that it sounded like it could be in an 80s porno, which I thought was weird."
4. Remi's new single "Woo!" is an ADHD anthem
"It's about feeling good and bad all at once. Love and hate. It's kinda an ADHD anthem. I wrote it in 20 minutes and it was done."
5. The music video was inspired by Charlie and the Chocolate Factory and Spy Kids
"Specifically the Oompa Loompas and the Fooglies. I just wanted to create an alternate, surreal, colourful universe to live in. Agusta Yr and I have a great synergy and very similar taste so our brains came together really easy. She was inspired by Tony Hawk Pro Skater but I never actually played it. I did play SSX Tricky A LOT though. The best song off that game was obviously "It's Tricky" by Run-D.M.C."
6. Remi was once a Junior Olympic Ski Racer
"I was a competitive downhill ski racer for 10 years and did pretty well! I never once injured myself, which is a big feat. I lived a bit of a triple life -- ski life, school life and music life. It got quite confusing."
7. She is categorically not a fan of quarantine
"It sucks bro. I honestly have very little drive right now to stay creative and work, which is a very shitty feeling. But I am focusing on cooking and taking care of my dog and watching good movies which is all good for the soul so all is not lost."
8. But lockdown led her to TikTok, so there's an up side after all!
"I've learned that making your home comfortable and clean is important so that you don't go batshit crazy! Also I have learned that TikTok is amazing and I would now consider myself somewhat of a TikTok provocateur. They already haven't let me upload some of my videos."
9. Her dog child Juno Jameson Wolf is completely adorable
"He's my sweet tiny handsome little boy. My true love. I look at him and get angry because he is so cute. I just want to explode and squeeze him so hard. He is a puppy so he is a bit of a devil but he is mostly angelic. He knows his name and he knows how to sit. Still hasn't nailed the potty training yet but I am still very proud of him."
10. She is obsessed with beans
"I'm obsessed with beans. Eating beans, cooking beans. Also, I'm obsessed with this artist Blossom Dearie. She makes me feel so happy."