Miuccia Prada and Raf Simons just made their menswear debut for Prada
Miuccia and Raf's AW21 menswear collection, titled 'Possible Feelings' is the sartorial equivalent of a long, warm hug.
Miuccia Prada and Raf Simons, fashion's ultimate parental authorities, want you wrapped up warm come winter this year. The iconic duo presented their first co-designed menswear collection today, livestreamed from Milan and, just like their womenswear debut in September, it was entirely befitting the sky-high expectations on two of fashion's most singular auteurs. The key takeaway? We may not be able to touch each other right now, human contact feeling strange given we're all so aware of that two-metre distance — but that human need for touch and connection can be satisfied by tactility and texture, layers upon layers of comforting Prada knits and protective outerwear. To put it simply: Miuccia and Raf's AW21 menswear collection is the sartorial equivalent of a long, warm hug.
Seventies-flavoured knitwear, resplendent with Prada's signature ugly-chic colour combos and wallpaper graphics, was present throughout, almost as if the pair had taken up a lockdown hobby. Cosy cardies came layered upon polo tops and turtlenecks. In fact, everything was wrapped and buttoned up, even gloved up. The silhouette was either extremely fitted, in the case of knitted bodysuits, or completely stood away from the frame in the case of outerwear. Tailoring took a backseat with the occasional slouchy low-slung pinstripe trousers or squared blazer with sleeves pushed up to reveal jacquard bodysuits underneath. And then there were coats. Lots and lots of coats! Rounded overcoats in diagonal high-pile corduroy or vividly-hued satin; fluffy shearling crombies in lilac and powder blue; sharp "rectilinear" jackets with huge double-breasted medallion buttons; oversized jewel-tone bombers with triangular pochettes attached to XXL sleeves; recycled nylon parkas lined with those kitsch wallpaper knits.
If the collection was about tactility and texture, the sensual touch or feel of a fluffy carpet against bare feet — then the setting was all about playing with the sense of hard and soft, warm and cold. Devised by Prada's favourite starchitect Rem Koolhaas (who designed the brand's epic Fondazione in Milan) the show took place in grand interconnecting galleries, walled floor-to-ceiling with brilliantly-coloured purple shaggy faux fur, peppermint marble, pistachio resin and bubble-gum pink plaster. Plastikman's thumping techno soundtrack played as boys with Willy Wonka bowl cuts (all of whom were catwalk virgins before the show) were either manically jumping around to the beat of the music, or purposefully striding across the carpeted floors in slick brogues and pinstripes. It captured the delirious, perplexing interior life we've all come to know during lockdown. One minute, we're dancing around our sitting rooms in our loungewear; other times, we're furiously pounding the pavement, protectively wrapped up, headphones in and mask firmly on.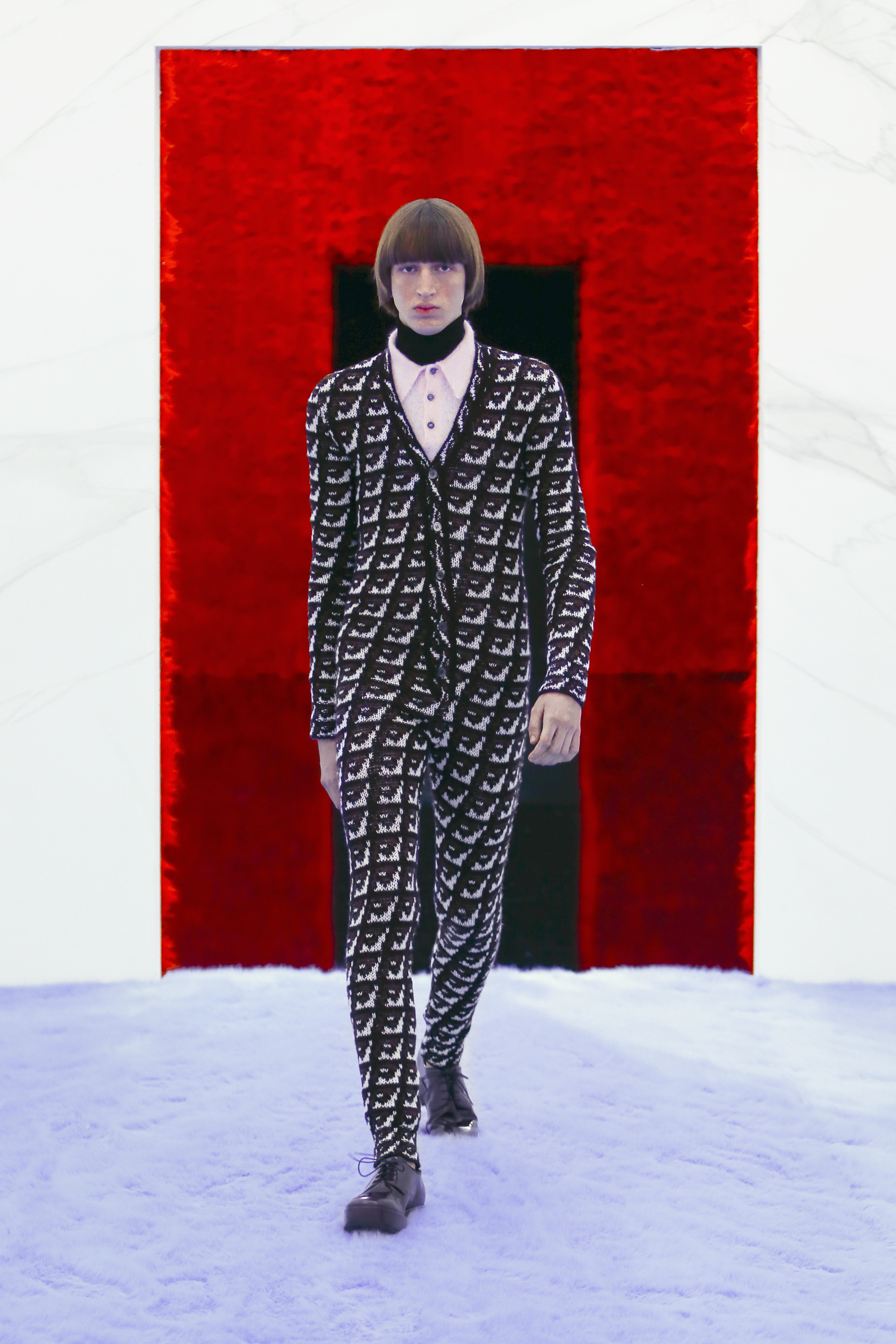 "For the men's, the idea of protection is also there, but in a completely different way," Raf said in a conversation with Miuccia over at The New York Times earlier this week. "A different way of comforting. The idea of reduction, tactility, which has a lot to do with the fact the world is so much the opposite now." Miuccia added: "We both felt it would be refreshing to strip things away from a possible conclusion: Oh, it's prostitute. Oh, it's glamorous. We felt very much like reducing. The wrap piece was the most symbolic of the whole collection."
But this was not the wrap that we came to know in their SS21 womenswear collection: that was all about the signature Prada gesture of clutching an overcoat at the chest; protective, tactile and comforting and, ultimately, pretty damn chic. This wrap was all about the knitted second-skin long johns that appeared with almost every look, those underwear-come-pyjama knits that feel both absurdly retro and strangely prescient for cold-weather lockdown dressing. "It represented something disconnected from uniforms," Raf explained in the post-show Q&A with students from around the world, touching on that word that summed up last season.
Underwear and outerwear? Well, it goes without saying that Miuccia and Raf were toying with that notion of private and public; interior and exterior. Their last show grappled with the way technology has infiltrated our lives and the idea of uniforms as regimented dress codes to abide by or rebel against. Here was another fascinating (and incredibly desirable) meditation on the way we live now.