Dolly Parton's A Smokey Mountain Christmas.
7 of the most iconic Christmas outfits
From Dolly Parton and Mariah Carey, to Destiny's Child and Catherine O'Hara, here are some of our favourite looks to celebrate the holiday season.
|
24 December 2020, 8:00am
Dolly Parton's A Smokey Mountain Christmas.
When it comes to style, the holiday season doesn't necessarily have the strongest of sartorial reputations. Christmas often brings to mind red and green ensembles, gaudy light up Christmas jumpers and that ugly sweater you throw on each year for the annual office party. But this year's lack of IRL festivities outside of virtual Christmas parties — where guests are only dressed up above the waist, the camera likely hiding sweatpants and slippers below — we turn to the ghosts of Christmas past and the myriad of extravagant outfits worn over the years by some of our favourites. From Dolly Parton cosplaying as Elsa in a sparkling white snowflake dress, to the many festively red ensembles worn by the queen of Christmas, Mariah Carey, that have become an annual visual reminder that the season has finally arrived. Here are some of the most festive fashion moments to get you into the holiday spirit.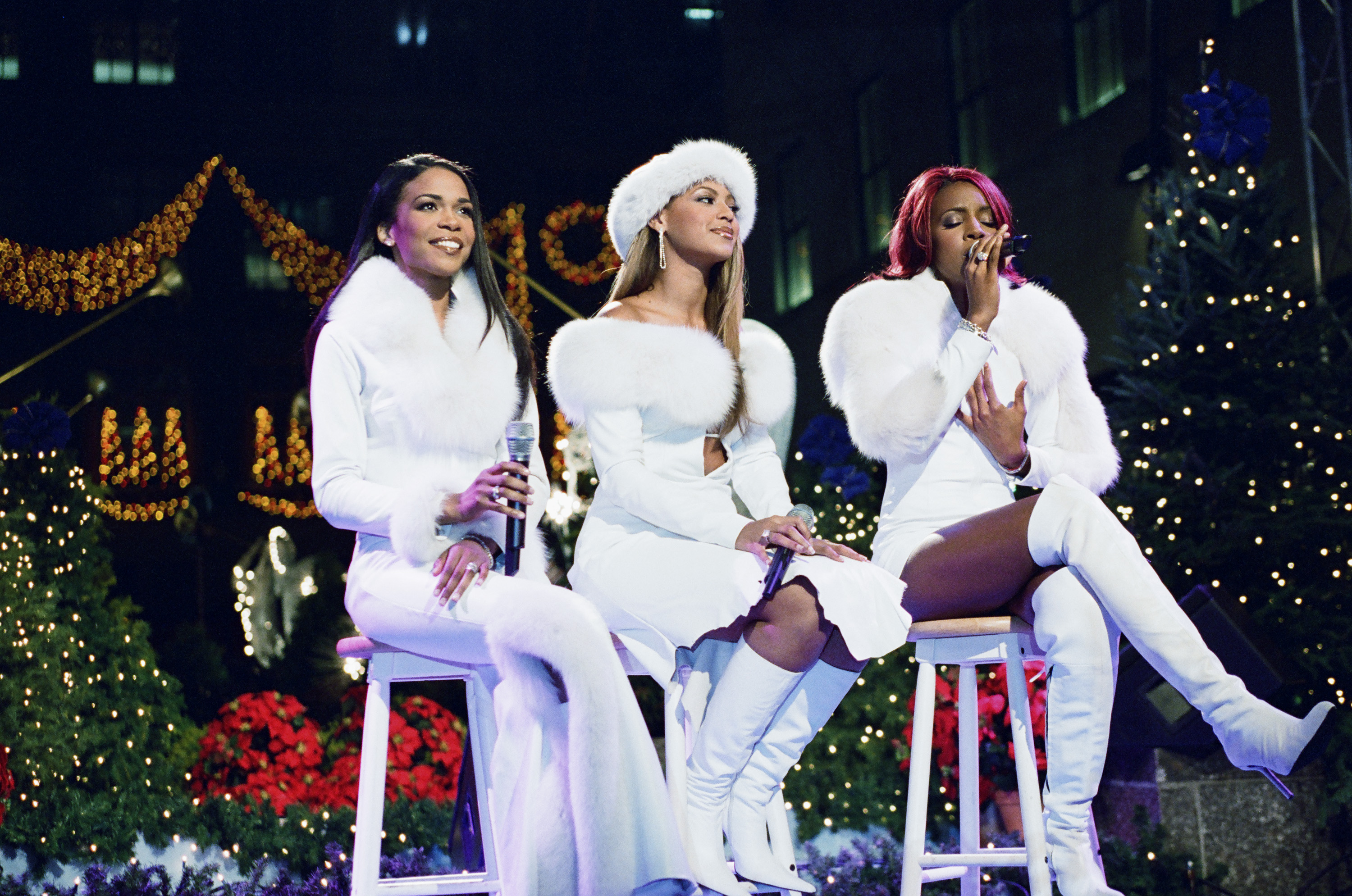 Destiny's Child performing at the Rockefeller Center Christmas tree lighting, 2001
The Rockefeller Christmas tree in New York City has become a staple of the holiday season — the first was put up in 1931 and since 1997, the tree lighting has been broadcasted to millions each year. To celebrate the 69th Christmas tree lighting in 2001 — just months after 9/11 — the tree was decorated in patriotic red, white and blue as America's most powerful girl group, Destiny's Child, performed a medley of their songs from their new festive album, 8 Days of Christmas. Singing in front of an all-boy's choir and dressed in matching angelic white looks (with Kelly showcasing an iconic pair of hot pants in chilly NYC weather, no less) the girls brought some much-needed holiday cheer and goodwill to the country.
George Michael in Wham!'s "Last Christmas", 1984
While Wham!'s hit single "Last Christmas" will forever go down as a festive classic, the music video is also a document of 80s culture. Other artists of the moment including Pepsi & Shirlie and Spandau Ballet's Martin Kemp all make appearances as a part of the band's friend group, while George Michael performs the part of our heartthrob himbo in the decade's classic attire: tight blue jeans, perfectly textured and highlighted hair and comfy overshirts. As he looks solemnly towards the girl who broke his heart, the late great musicians' array of trench coats and scarves are enviable. George sits by the log fire — his white shirt unbuttoned — and suddenly we wish it was us resting against his chest as he gives us his heart.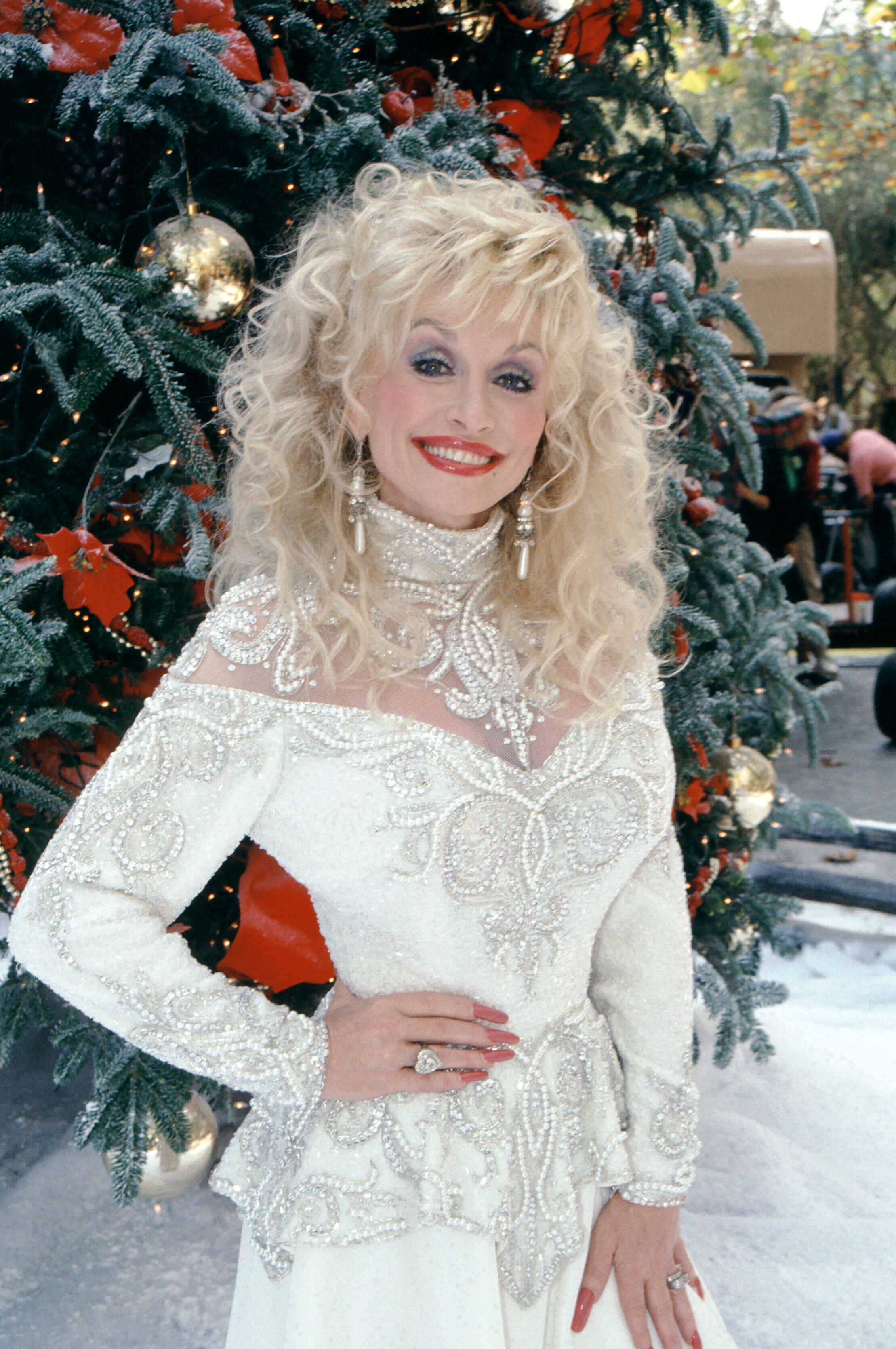 Dolly Parton in front of a Christmas tree in 1992
Christmas 2020 has been a great season for Dolly Parton, who just released her own festive Netflix musical film and a new holiday album, A Holly Dolly Christmas, all while funding one of the vaccines that will hopefully save us from our generations' annus horibilis. But country music's biggest star has always been able to turn a festive look, evidenced by this picture believed to be from 1992. Standing in front of a Christmas tree in Lake Tahoe, California, Dolly looks like a literal snowflake — her perfectly fitted white dress and sheer overlay intricately bedazzled into a frosty pattern. Dolly Parton for the live action Frozen remake? We would like to see it.
Catherine O'Hara in Home Alone 2: Lost in New York, 1992
If you're going to scar your child with Christougenniatikophobia (a phobia of Christmas) by losing them, not once, but twice, during the festive season then at least do it while dressed flawlessly. While TikTok is just discovering that the ever-forgetful Kate McCallister and Moira Rose from Schitt's Creek are in fact played by the same person; Catherine O'Hara and her characters have been longstanding cultural and fashion icons from Beetlejuice to the aforementioned Home Alone. Here, in the sequel to the latter, Kate wakes up late for her flight and frantically runs to the airport, but still manages to throw on a chic last-minute travel look — tan suede coat, crisp white high-neck jumper and a breezy botanical scarf thrown round her neck.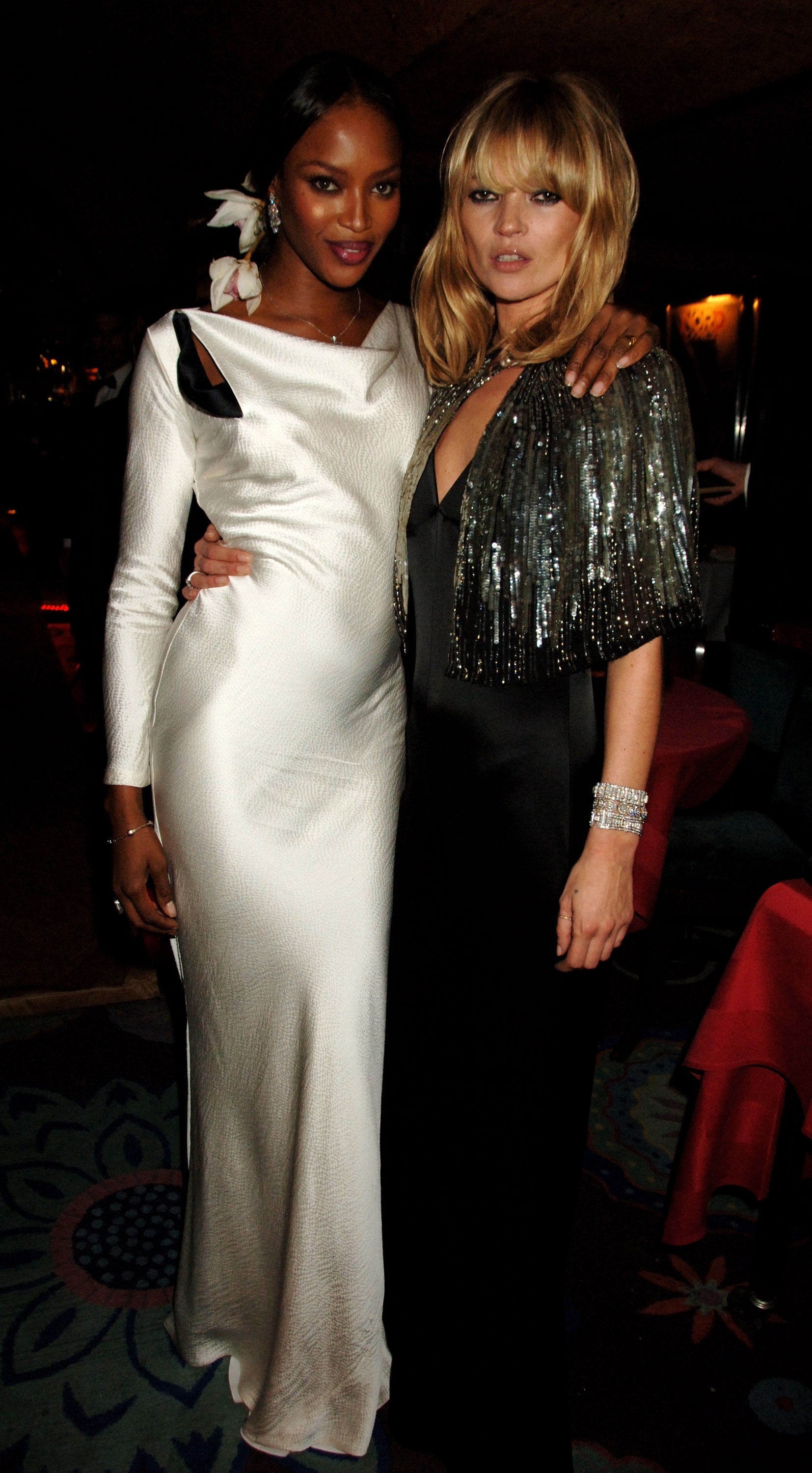 Naomi Campbell and Kate Moss at the launch of Kate's Topshop Christmas collection, 2007
At the launch of her Christmas collection for Topshop in 2007, Kate Moss partied hard at the exclusive Annabel's private club in Mayfair, London. Serving guests lobster and blackened cod, her guests were treated to a runway show of all her gothic yet sparkly designs. Joining the celebrations was a legion of her contemporaries and other notable 90s supermodels from Elle Macpherson to Sophie Dahl to Jade Jagger. In one particular picture, we see Kate and her BFF Naomi Campbell looking stylish and sophisticated as they define 00s Christmas party chic — Naomi, in a white shimmering silk dress with a draped boatneck and flowers in her hair; Kate, sporting a black trouser suit and green sequined bolero on top.
The Supremes, circa. 1964
You may have thought Ariana Grande and Taylor Swift were the queens of multiple album drops within the same year, but in 1965 The Supremes were busier than ever, releasing four albums within those twelve months. The last of these was a Christmas pop and R&B record fittingly titled Merry Christmas, featuring stunning covers of classics like "White Christmas" and "Silent Night". In this image — believed to be taken the holidays before their busy year — Diana Ross, Florence Ballard and Mary Wilson make the perfect throwback Christmas card image, all lounging around the Christmas tree with stunningly coiffed bouffants and beehives as they listen to jazz music on a retro record player.
Mariah Carey in "All I Want For Christmas Is You", 1994
Of course, we can't forget the Queen of Christmas. Has padded clothing ever looked better than when Mariah Carey frolicked in the snow in a festive red ski set — cinched at the waist with cute plaits and a cosy fairisle hat? The ensemble was just one of a myriad of red outfits worn by the singer in the music video for the world's greatest Christmas song of all time. As the song finally reaches the US Billboard number one spot after 26 years, these outfits will forever be remembered as the most iconic looks worn by the star that is Mariah Carey, and a signature of the entire holiday season.