Vejas is creating Alien and Gattaca-inspired clothes of the future
The young designer talks SS21, sci-fi, Madame Grès and launching his label at only 18 years old.
|
09 February 2021, 9:00am
Photos courtesy of Vejas
"I would have been 18 when I launched my first collection," says Vejas Kruszewski, over a spotty FaceTime connection. The Paris-based Canadian designer, and the mind behind eponymous unisex label Vejas, is doing the reverse math ("Well, I'm 24 now, so let me see…") in order to recall just how old he was when he first started out. The designer emerged six years ago, and the fashion industry was quick to label him a "wunderkind," for good reason. Launching a label — let alone to resounding acclaim and LVMH Prize recognition — at 18 is no small feat. However, to Vejas, what's really top of mind is creating the clothes of the future.
The young designer belongs to a generation of creatives who came up — and honed their visions — online. In Vejas' case, it was micro-blogging platform Tumblr — during its early 2010s zenith — that sparked his initial interest in fashion. Inspired by the digital platform's endless stream of images and buoyed by YouTube sewing tutorials (and some non-digital tech, like pattern-making books), Vejas began creating his own designs. "I never went to school for fashion or designing," he explains, recalling how he learned to finish garments by studying the innards of Phoebe Philo-era Céline pieces. "I would go into the shop and take pictures of the insides of the garments and then would try to replicate them," he says. In fact, Vejas points to Phoebe's Céline ("everything that was in those clothes") as his largest, longest-standing influence. And it's tangible. When he gushes about what makes Phoebe's clothes so influential — "she took a lot of weird things and manipulated them in a really refined way" — he may as well be speaking about the singular and strange transmutations that take place in his own work. Since the beginning, Vejas' modus operandi has been to take a set of refined things — wardrobe stalwarts like hoodies, bomber jackets — and reimagine them in a really weird way. "I was taking those basic garments and manipulating them in a way that really divorced them from the original item. Trying to make them look a bit alien," he says, referring to some of his earliest designs.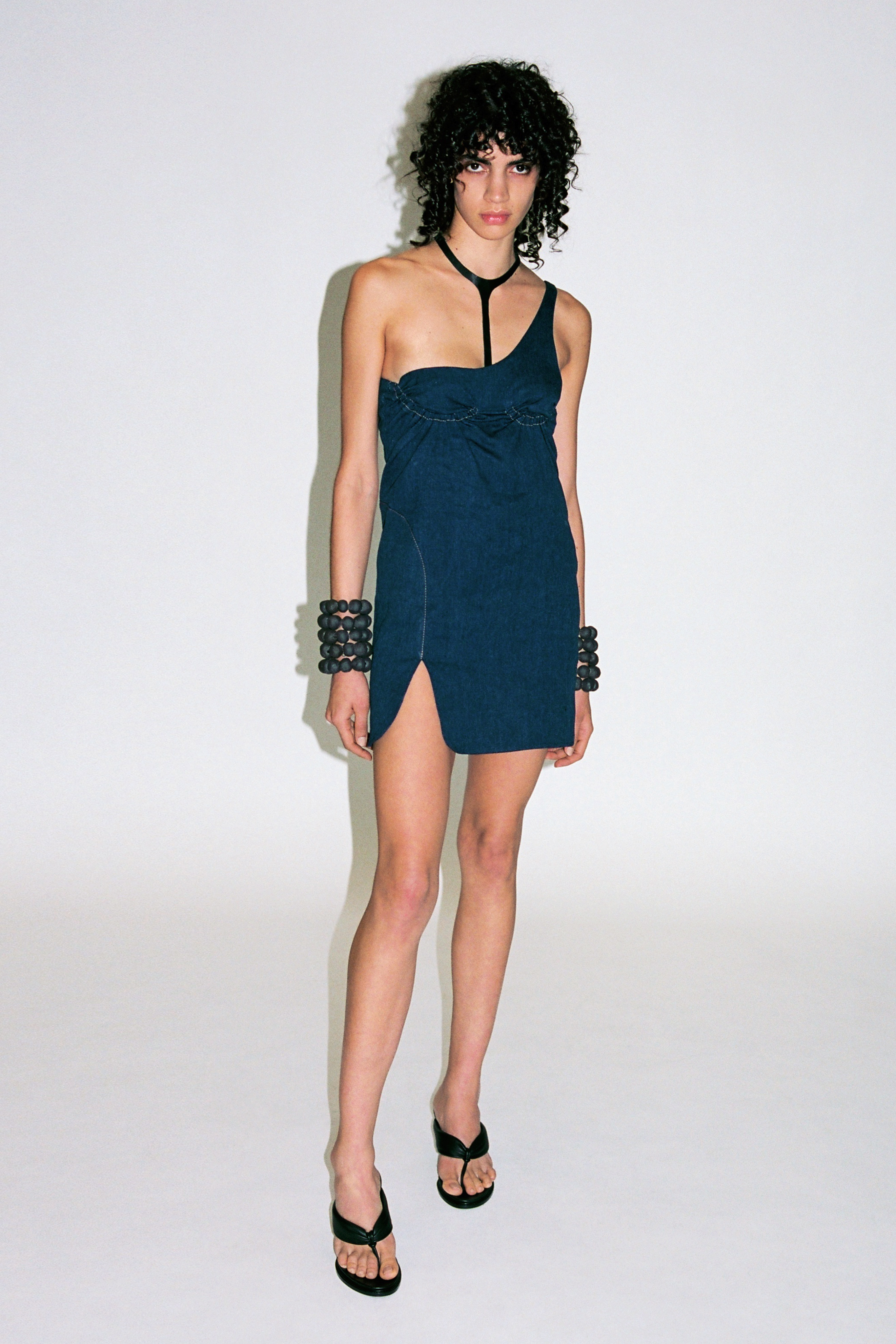 Not only did Tumblr introduce Vejas to the world of fashion (Philo, et al.) but to the community of friends-and-collaborators who would help him launch his namesake label. "Through Tumblr, I met a lot of people from New York," says the Montreal native. "I would take pictures of the things I made and post them on Tumblr and that generated interest from some people to buy some of those pieces." Slowly, the interest snowballed and Vejas began to see the viability in designing full-time. Recalling what he considers to be his first official collection ("when things really took off") for autumn/winter 15, he says, "We did a sort-of-show at this gallery space in New York. I don't know how it happened — a lot of friends were involved and it just came together." The collection, composed of the designer's signature reconstructed-and-reimagined pieces, a shearling-jacket-as-bandeau, a spliced and diced singlet dress, caught the eye of buyers at Opening Ceremony and a few boutiques across the Pacific, in Japan. It also caught the eye of LVMH Prize jurors, who awarded the then-19-year-old designer the ceremony's special prize of 150,000 euros and a year-long mentorship in 2016. With the outpouring of support, Vejas, along with two friends, were able to set up a studio for the label in downtown Toronto.
"Then, there was a turning point," he says. "The three of us went our separate ways." All three moved back to Montreal as a means to lower the cost of living; Toronto is, after all, one of Canada's most expensive cities. "It was getting to be too much," he says, and adds, "One thing is that the brand has never had an investor. There's never been financial backing. It's personal savings, and then a bank loan." It's refreshing, the way Vejas speaks so frankly about the precarious financial situations that most young creatives find themselves in, the frustration at bureaucratic hoops that one must jump through just in order to live out their creative aspirations.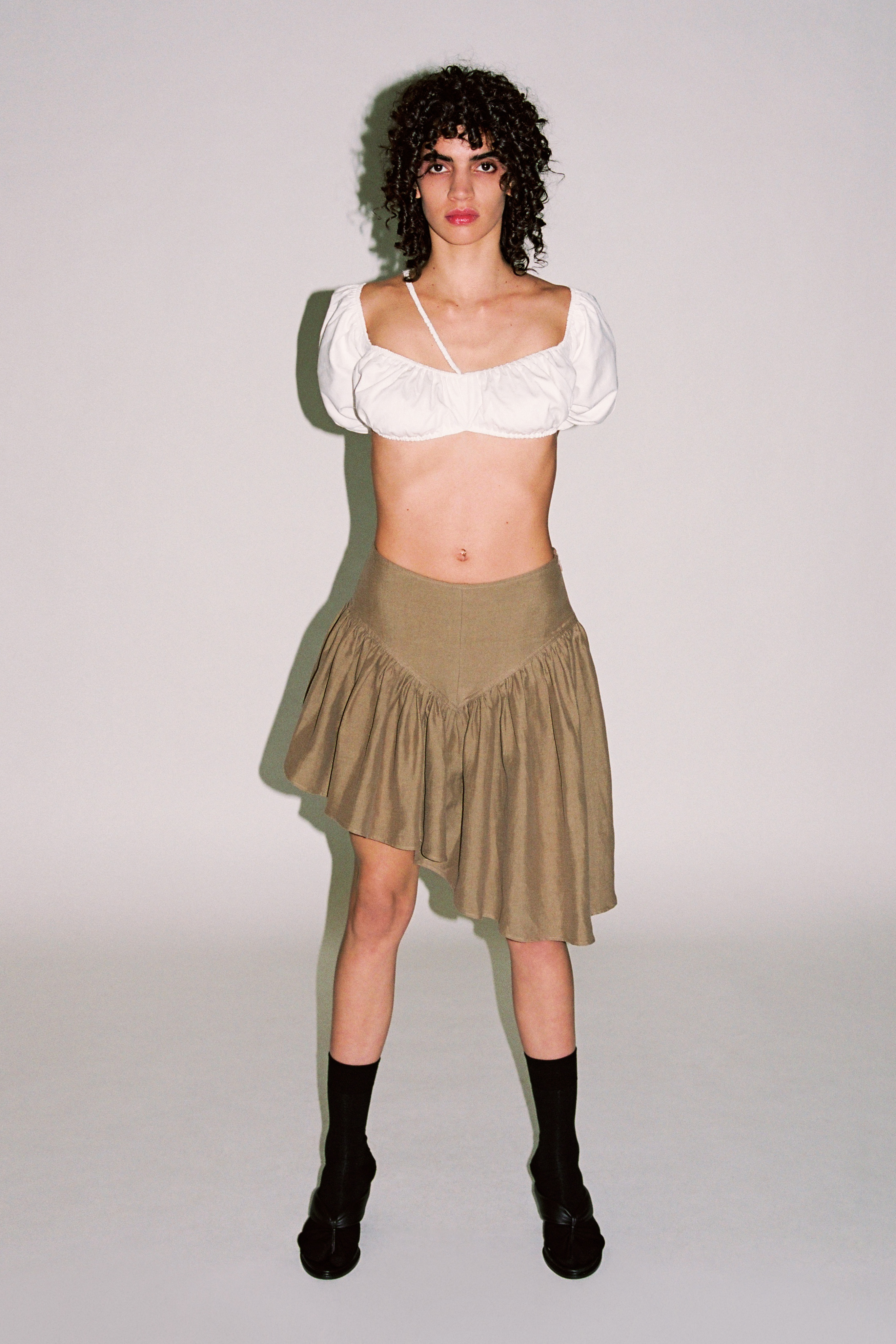 "Ultimately, our plan was to move the brand to Paris, but when we actually started looking into the finer details of how to make that work, it was [financially] impossible," he says. Discouraged, Vejas put the label on hold, taking a contract with Italian leather label Pihakapi, where he worked for three years. "Working for Pihakapi gave me a little bit of time to be away from having my own brand. It also gave me the time to be able to move to Paris. So, when that came to an end, I did all the things to set up Vejas in Paris, to set up a new company, which was long and complicated. But I did it," he adds, with grit.
The brand relaunched for spring/summer 20. "It was really like going back to nothing. That season was all done in our apartment," Vejas says, recalling setting up his sewing machine in the bedroom, strewing patterns out on the floor because they didn't yet have a table ("everything in our apartment was stuff we'd found on the street and we hadn't yet come across a kitchen table," he laughs). With the relaunch also came a new look for the label. "After that break, I was really more interested in body-conscious garments. A kind-of sexiness and the work of designers like Madame Grès and Adrien — a Hollywood costume designer from the 30s and 40s — and, also Alaïa," he says. "Now, I'm interested in the idea of futurism, whatever that means. For me, it comes from films like Blade Runner or Gattaca or Alien. I think it's those films that define whatever we mean by 'futuristic-looking'. That whole concept is the mashing-up of really old clothing styles from antiquity, that kind of Grecian draping and pleating, and those liquid-looking fabrics that we see on old statues. It's really coming from that."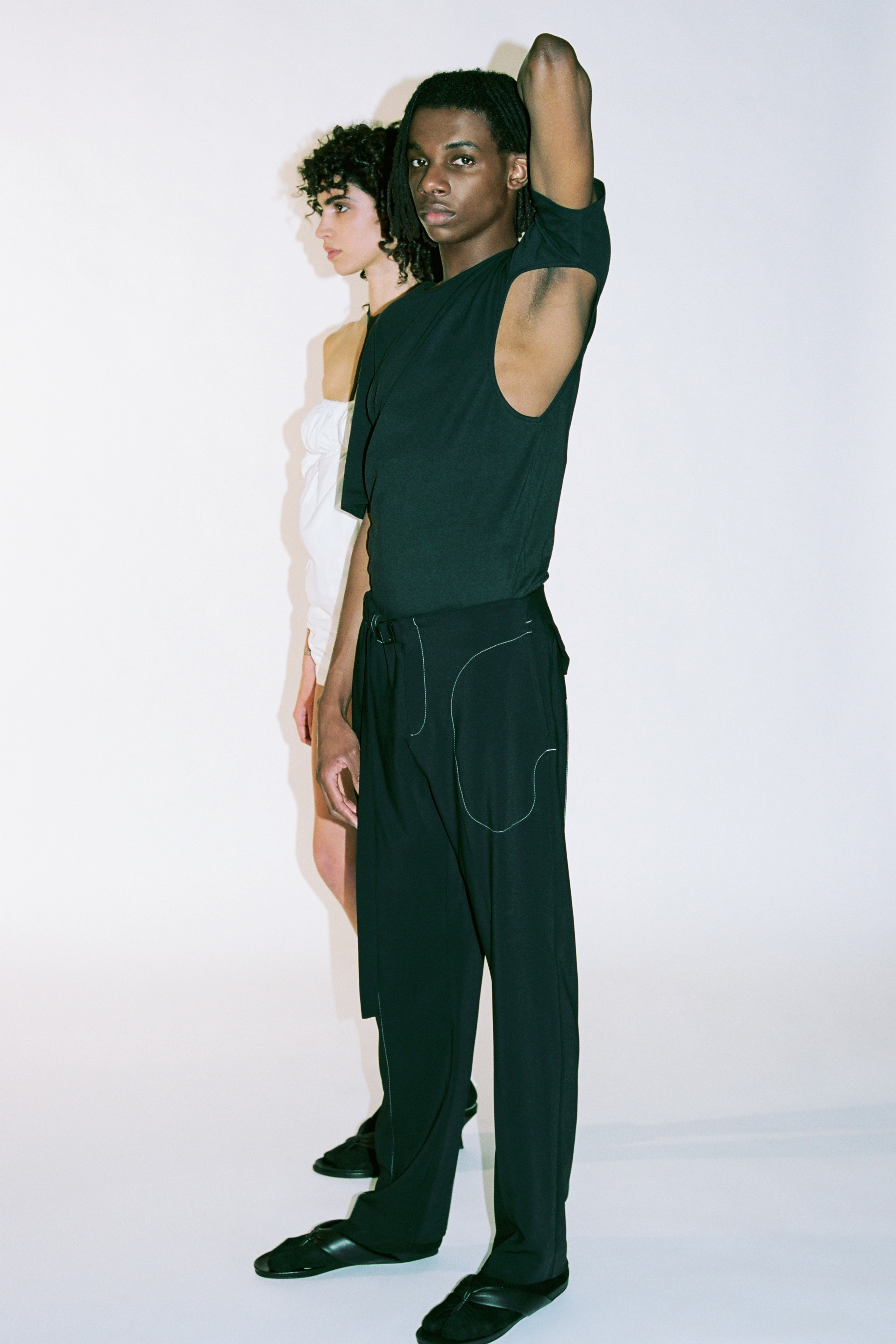 Vejas' design ethos has always been firmly rooted in this notion of futurism — transforming old standards into something truly novel and, thus, truly modern. It's also rooted in his love for the craft: the work of sewing, pattern-making and the like. This is what drives the label's designs into the future. "I feel like I'm still learning things to this day," Vejas says, of his technical know-how. "And that influences the look of things." He points to current and former colleagues — a studio manager with formal training, a kind seamstress from the Toronto days — who taught him everything about the art of garment-making. "Even while we're in the factory, talking about production, they're teaching me things at the same time." Speaking of the label's future, from the stasis of lockdown in Montreal, Vejas says, "My favourite part of all this is making the clothes, doing the sewing. I've been back in Montreal [due to the pandemic] and don't have anything here. I was feeling useless, just not doing anything. So I was thinking about what you can do that doesn't require any expensive equipment: knitting. I've become obsessed with knitting, and the next collection will be very knitwear-focused. I've been reading so much, watching so many YouTube videos. Any knitting question you have, there will be some woman in, like, Wisconsin who will show you how to do it."
Speaking to the now, however, Vejas' spring/summer 21, conceptualized from lockdown, draws inspiration from the past in order to look forward. "Because it's such a weird time, I was thinking that it would be interesting to go back and look at some of the styles that resonated in the past and update them. Make them a little bit more refined or change the silhouette a bit," he says. "I had a whole box of patterns in my parents' basement so it was easy for me to go into that pattern box and start chopping things or rearranging things." It's all there: layered hoodies, tweaked jeans, cut-out T-shirts. All the draped jersey confections are made from organic cotton; the ultra-tailored jeans are made from post-consumer recycled denim.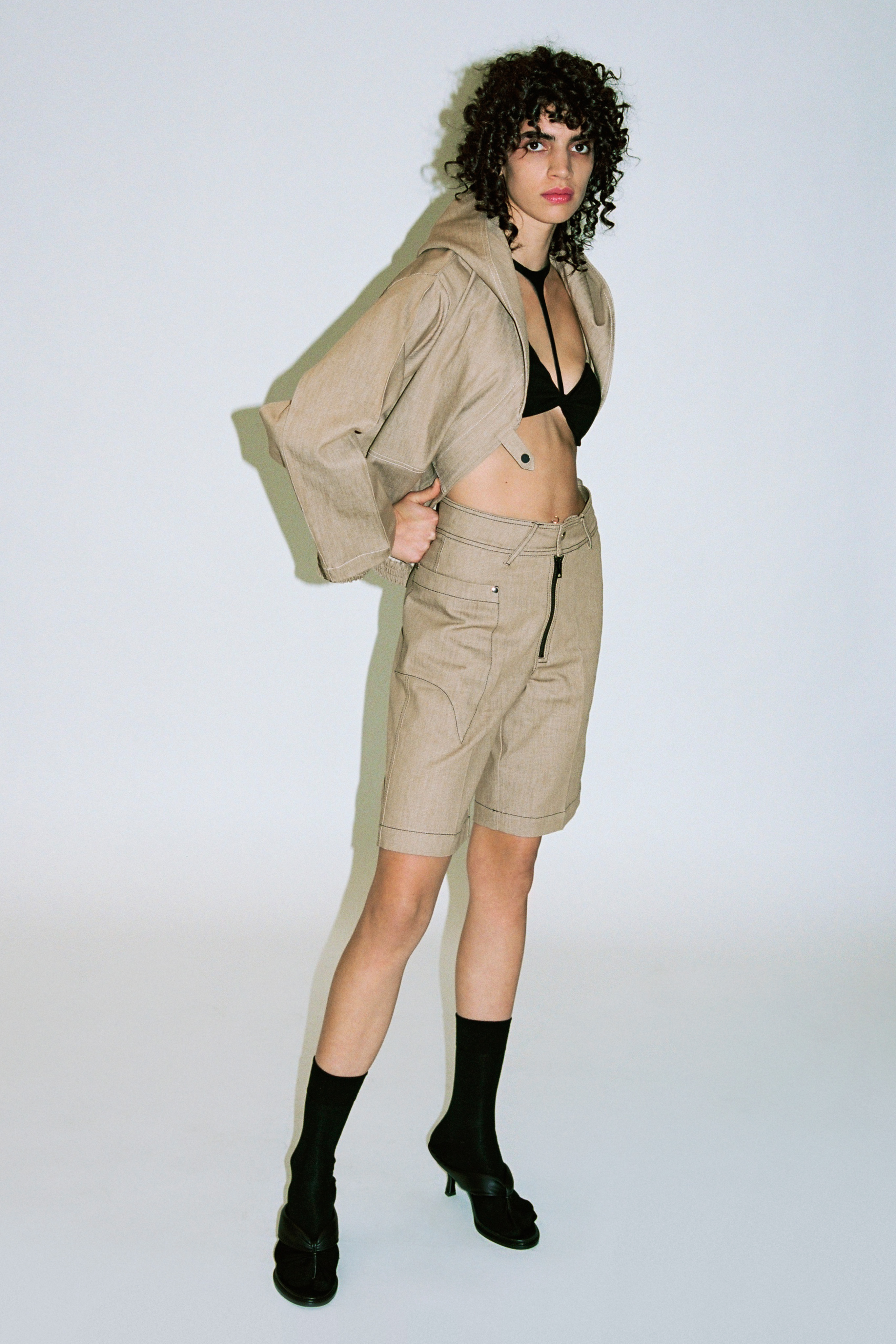 Vejas' singular futurism is there too. A jersey bra top that twists and turns around the body might be a nod to Princess Leia's myriad iconic costumes — during our conversation Vejas references Star Wars as yet another sci-fi touchstone. Days later, he sends me the season's moodboard via zip file, containing, among other images, a photograph of a woman in full Storm Trooper garb, helmet in hand. Zipped in there, too, is Frederick Leighton's 1878 Nausicaa; the ancient Greek maiden wears a liquid skirt, pulling the hem of her blouse up to her chin so it falls around her in sinuous layers. The same pendulous drapery finds its way across the designer's bike shorts, gathered around the hips, and waterfall-ruched jersey T-shirts. Vejas meets George Lucas meets Homer. A conversation between past and present, backwards and forwards, always in flux.
In lieu of a physical showroom, Vejas — along with some long-time friends-and-collaborators like writer Fiona Duncan and stylist Haley Wollens — created a digital "fantasy space" to showcase the collection. Drawing, clearly, from his appreciation for the sci-fi aesthetic, the digital experience sees the viewer navigate through a mysterious, dune-hued, concrete environment, complete with synth-y soundtrack, discovering all the bits and pieces of the collection — from the lookbook to preliminary sketches — like an otherworldly explorer. Or, better yet, like a time-traveller from the past, looking straight into the future.