i-D's new Beauty Editor, Jawara Wauchope, talks us through Burberry AW21
Our Senior Beauty Editor-at-Large gives the lowdown on the hairstyles he created, and reminds us to avoid Gorilla Glue.
|
23 February 2021, 10:37am
Courtesy of Burberry
Burberry's AW21 menswear show was a veritable feast of Riccardo Tisci's signature hybrid garment and sportswear-infused formality, but you know what they say about a fashion show? It takes a village! Behind every catwalk is a talented team of people, working on the hair, makeup, nails, casting. It's a collective, even ritualistic effort to bring to life a 360-degree vision of the creative director. As it happens, i-D's new Senior Beauty Editor-at-Large, hair artist Jawara Wauchope was responsible for Burberry's sharp hairstyles, so we caught up with him to hear a bit more about the story behind the 'dos.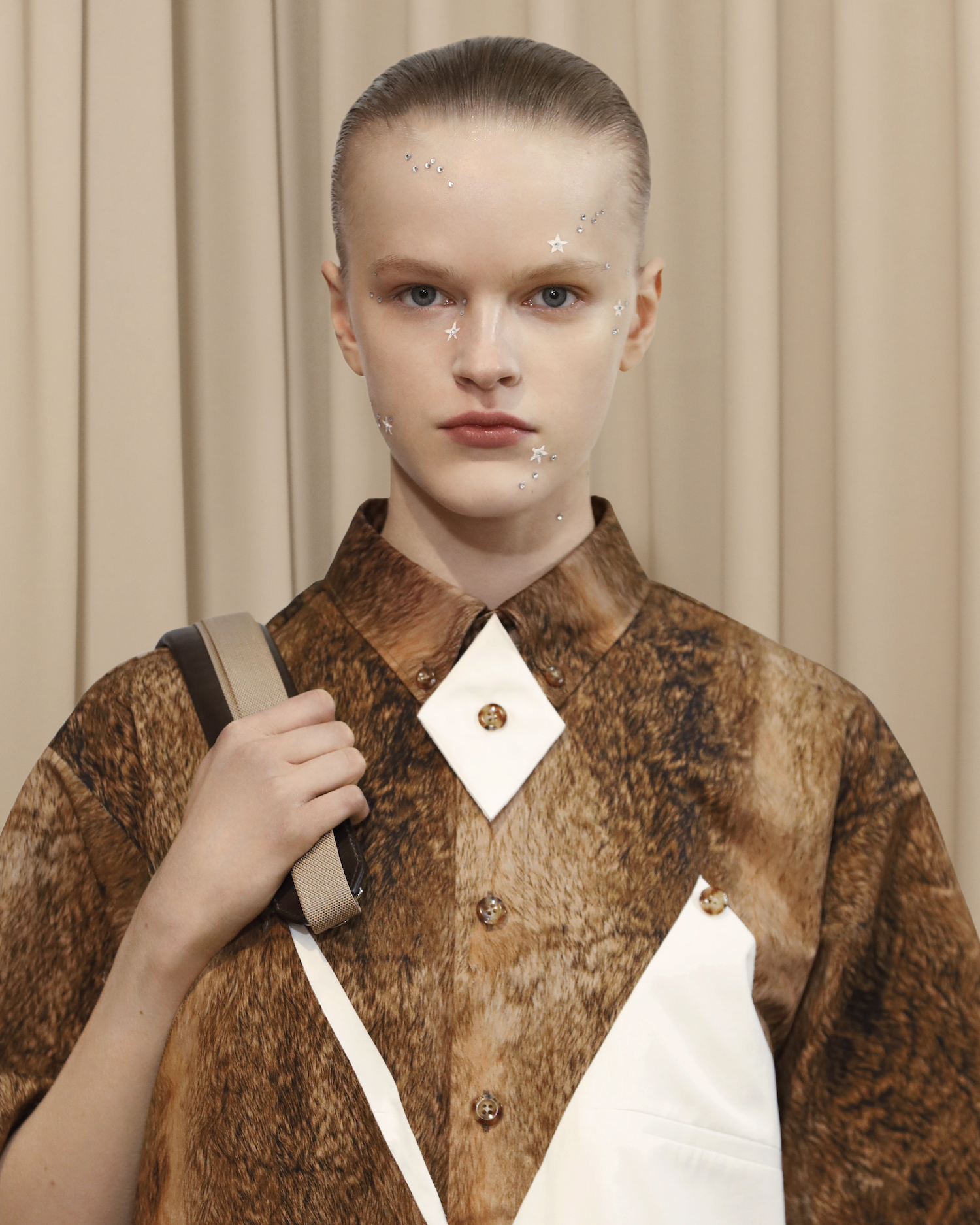 Hi Jawara! What's the story behind the hair for the Burberry AW21 show?
I went in and met with Riccardo and he was speaking to me about these books he was reading about the Arts and Crafts movement, and a society of people that moved outside of the city of London and started living in nature and adopted natural beauty. They did these eccentric things to themselves, all of it natural because there was no electricity. It was a society outside of normal society, and he was smitten with that. What we decided to do was take a natural, more refined point of view.
How did you do it?
We ended up using these techniques with the flat irons to re-curl the hair in a more 'done' way, in a more sculptural way, making it more flat to the head. For the other boys, we decided to do these military-style fade cuts, which were also reminiscent of the fade-and-cuts in the Black hair salons, going from really bald on the side to hair on the top. We wanted there to be a militant look to it.
There were a few girls in the show — was it a different look for them?
As far as the girls were concerned, we wanted to make them look as masculine as possible because they're so beautiful. We did some really, really small braids on Janet, and on Edie and Hannah, we ended up pulling the hair back to make it look really masculine, and to focus on the beauty of their faces.
Right now, it is such a challenging time for beauty industry professionals. What have been the biggest challenges you're all facing?
Well, it's definitely a challenge overall, but I am an optimistic person so I always try to find ways around things. We work in an industry where we touch people and are around people, and it's very intimate the way we work — whether you're a hair artist or makeup artist or a manicurist. We have to be really cautious about how we move. One of the challenges we really face is doing our job of making people feel better about themselves and making images look great, is that you either work or don't. We're at a point where it's getting a bit better with PPE and all the right precautions. As far as salons and stores, it might be a little bit slower to get back to where they were. One of the remedies is that people can talk to professionals to learn how to do it while they can't.
What's your favourite part of working on a show?
My favourite part is jumping into the mind of the designer. By the time we are brought on, the designer and stylist have spent some time together walking through the looks and the casting, going through all of the show's motifs. By the time we come in, it's interesting to see where things are and use your creativity to get it to where it can be.
And do you have any tips for how people can do these looks at home?
I've been locked up for months and I've tried to use some of my barber skills on myself — but I can't give that advice to people! Everyone can do the pulled-back look, though. It's just about using products and gel to scrape it back into an intense, clean look. With the curl, there are curl creams that enhance curls. Revitalising curl mist! As far as other things, I would probably have to do a Zoom to walk people through it. Just avoid the Gorilla Glue at all costs!