Watch all of Timothée Chalamet's SNL sketches here
From his Harry Styles impression to the Tiny Horse musical number.
|
14 December 2020, 1:43pm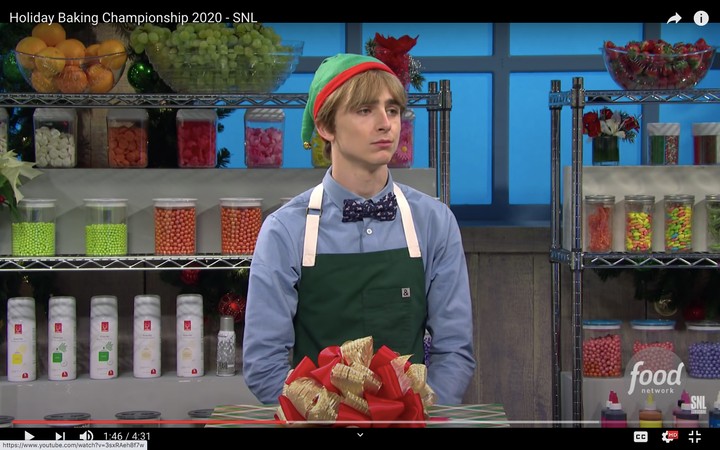 The lack of Timothée Chalamet appearances and movies in 2020 has not deterred us from reporting on every single one of his movements and sightings throughout the past 12 months. So in a refreshing turn of events, the Oscar-nominated king of our hearts managed to actually do something we could talk about in depth. Yep, despite Dune's postponement to next October, Timothée was clearly already marked in the Saturday Night Live calendar for this past weekend to promote it. So rather than pull out and reschedule, Timmy and the producers decided to go ahead with his first slot as the show's host -- and for a 24-year-old who's not yet appeared in a major blockbuster (despite being the world's heartthrob), it felt like a major moment for his career.
The best thing about appearing on SNL besides the insane clout you earn from it is that you're put through your paces on the acting-front too. Having not set foot on a movie set since the Dune reshoots this summer, and with his next project, a Bob Dylan biopic, indefinitely delayed, it's nice to see him back in thespian mode, and flexing the acting chops he's rarely considered for these days.
Did you miss it? Fear not! Here are all of Timothée's skits and speeches you can catch up with now.
He delivered his first monologue
As a native New Yorker, standing on the SNL stage delivering his first monologue must have been a pinch me moment for him. During his speech, Timmy reminisced upon the time his mum, a former dancer, appeared as a background character in a sketch before he was born. SNL and New York, it seems, is in his blood. The clip also sees him deliver a fantastical piano number, reminiscing upon Christmas in the city in the most extreme way possible (ice skating on the Hudson, which hasn't frozen since 1821; sliding down the Chrysler building, a pretty violent vertical drop), before Pete Davidson edges in and does the same for his home of Staten Island, notably less glamorous.
He impersonated Harry Styles
The last time Harry and Timmy crossed paths, it was for this very magazine back in 2018, ahead of the release of Beautiful Boy, when the duo interviewed each other for our Superstar Issue. Fast forward two years, and Timmy's slipping into the shoes of Harry as part of a Dionne Warwick (queen of Twitter) talk show on SNL. Dressed in full Gucci (what else?), Timmy put on a hokey English accent and joked about Styles' rumoured bisexuality, before Chloe Fineman does a spot-on impersonation of Chalamet himself, giggles, in-seat hip-thrusts and all.
Cosplayed as Coronavirus
SNL are known for their left-field, comic takes on current affairs, and this right here is the quintessential sketch for them. The COVID family (yep, the Coronavirus in anthropomorphic form) are inviting their loved ones back over for Christmas. Their daughter has just got back from college (her first super spreader event!) and her new boyfriend brags about being the one to infect Tom Hanks. Their neighbours, the Herpes, are always showing up at the most inconvenient times, like when their rebellious young son (that's Timmy) comes downstairs, a reluctant COVID who flopped at his one task, invading New Zealand, and supports Cuomo, much to his family's disdain.
Put on his Christmas baking hat (to make a butthole)
Another SNL regular feature is the crass versions of TV shows we all know and love, like this holiday baking show in which everybody's planned masterpieces actually turn out literally looking like ass. Like Timmy's character's cake: what's meant to be a beautiful homage to world peace and diversity comes out of the oven looking like a butthole that bubbles brown ganache. Yikes.
Slipped into the shoes of a deranged sports fan
This one is a super US-specific sketch. In the US, a network called Newsmax has swiftly become one of the most talked-about broadcasters following their genuine consideration of conspiracy theories as possible fact; a trait that's helped them win over some of Fox News' Trump-supporting viewership. In this sketch though, Timmy and Pete Davidson act as the faces of Sportsmax, a station that frames the Jets and the Knicks as the real ones-to-beat in the sports world. Nothing like a little sprinkling of anti-Trump and delusion to brighten up your Saturday night.
Then played a lonely farm kid giving up his tiny horse
If anything could convince us that the world needs a Timothée Chalamet comedy album, it's his perfect rendition of Tiny Horse, a sketch in which, apropos of absolutely nothing, Timmy plays the son of a farmer whose life is turned upside down by the news of his family selling their farm and all of its animals. That includes Timmy's character's life companion: a tiny, pocket-sized horse. He sings of it leaving, watching it gallop off into the distance out of the paddock in a dramatic final scene in which the tiny horse travels at something of a snail's pace. Stupid? Yes. Funny? Of course.
And resurrected his rapper side
We have all longed for the return of king Lil Timmy Tim, his rap alter-ego from his high school days (There is no bigger barb). And we sort of got that on Saturday night, as Timmy tapped into his rapper side as part of the show's imaginary XXL roundtable. In it, he and Pete pair up as a pair of white-boy soundcloud rappers, entirely ignorant to the history of hip-hop. They list their inspirations as the "Fallout Boys" and interject with yelps of "Yeet!" and "Skrrt skrrt!". They're insufferable and that's the point here: Timothée finally revelling in the opportunity to flip his famed nuanced approach and become a stupid comedy character instead. Same slot for Dune's release next year?
Tagged: