The way I'd die to be one of Harry Styles' feather boas
Hours have passed, and I honestly can't think of anything else.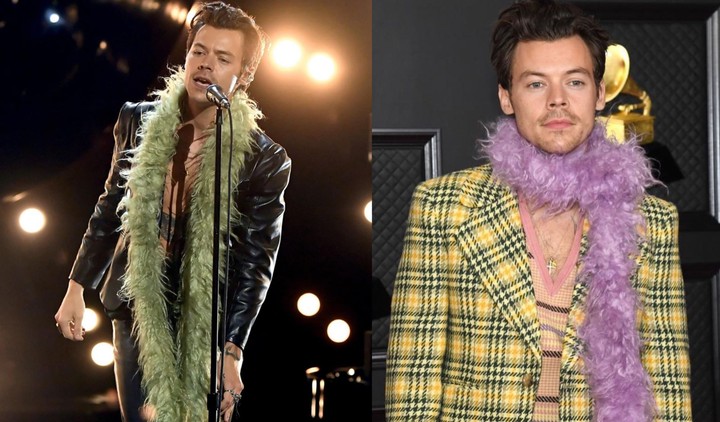 Images via Instagram
When feather boas were first introduced, somewhere between the 17th and 19th century, they were considered symbols of elegance. Created from the plumes of ostriches, turkeys and marabous, as time progressed, the accessories were stripped of their colouring, dyed lurid shades and draped across the bodies of wealthy women. Some years later they became better known as devices of seduction by nude performers, before reaching their final form as the accessory de rigueur of mums at their daughters' hen dos. That was until now, of course, because, as of the Grammys last night, feather boas now officially belong to Harry Styles, who wore not one but three different custom Gucci boas to the ceremony. The man knows camp.
Opening proceedings with "Watermelon Sugar", Harry shook his behind like rent was due the next morning, wearing a black leather suit, heeled boots and, most importantly, a Grinch chartreuse boa. He also sported a lavender boa on the red carpet, and a more formal black number was spotted in the press room after "Watermelon Sugar" won him his first Grammy for Best Pop Solo Performance. In the hours since, I haven't, as they say, known peace.

It was both indelibly sexy and a kitschy risk, but he pulls it off because he is Harry Styles, and he hasn't looked bad in anything since his 1D, carrot-fit chino and Jack Wills hoody days. Could we be witnessing the next chapter in Harry Styles' fashion evolution? Perhaps. Harry Lambert — the celeb stylist behind Emma Corrin's Pierrot Clown Miu Miu look for the Golden Globes and Josh O'Connor's bow-collared Loewe suit look for the Critic's Choice Awards the other day — seems to have been channeling a new kind of throwback chic with his clients.
While Harry's looks as a solo artist have been inspired by 70s Americana thus far, it seems like a new era may be dawning. With flapper girl feathers appearing on Harry just weeks after Emma and Josh wore early 20th century aristocracy-inspired outfits, could the roaring 20s be about to supersede fashion's 70s moment? If Harry's boa is anything to go by, our prediction is yes.