Photography Heather Glazzard
The photography zine capturing the joy of pre-pandemic queer nightlife
Photographer Heather Glazzard's 'The World Before Sanitiser' is an ode to feelings of liberation and community that Zoom parties will never replace.
|
16 February 2021, 11:26am
Photography Heather Glazzard
One of the most memorable moments captured in Heather Glazzard's new zine, The World Before Sanitiser, lies in a portrait of artist Jo Tothill, covered in clay and gazing blissfully into the lens. It was taken after a stage performance at Fatty Acid, an LGBTQ+ night at Manchester co-op and cultural space Partisan. "It was one of the most iconic performances I've ever seen," Heather remembers. "Jo was on a turntable while Bethan covered Jo in clay to the tune of Unchained Melody — a scene right out of Ghost but queer and sensual."
For Heather, nights like these were a fundamental part of their life before the pandemic. It was only during lockdown that they realised how much in-person experiences in clubs meant to them.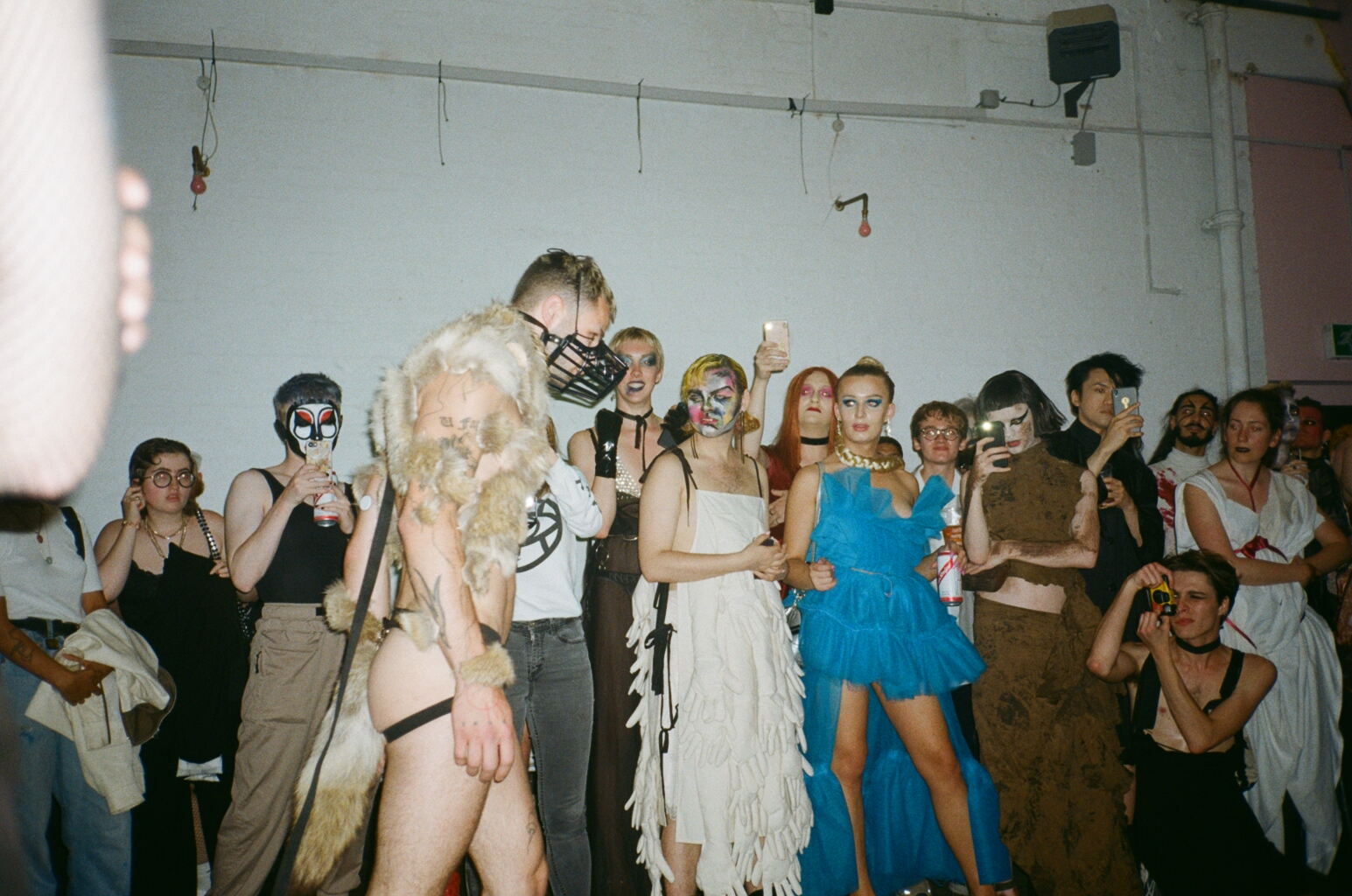 Earlier this year, the London-based photographer found themselves digging through boxes of negatives they'd taken at parties in New York, London and Manchester. Overlooked and shelved away pre-pandemic, the unrealised candids were seen in a new light in an age of quarantine and social distancing, revealing memories of sweaty dances, uninhibited desires and intimate in-person connections. "All of a sudden, these images were special because it's something we don't have anymore," they explain. "I wanted to show how I felt about nightlife, which I massively miss because it felt like a home to me."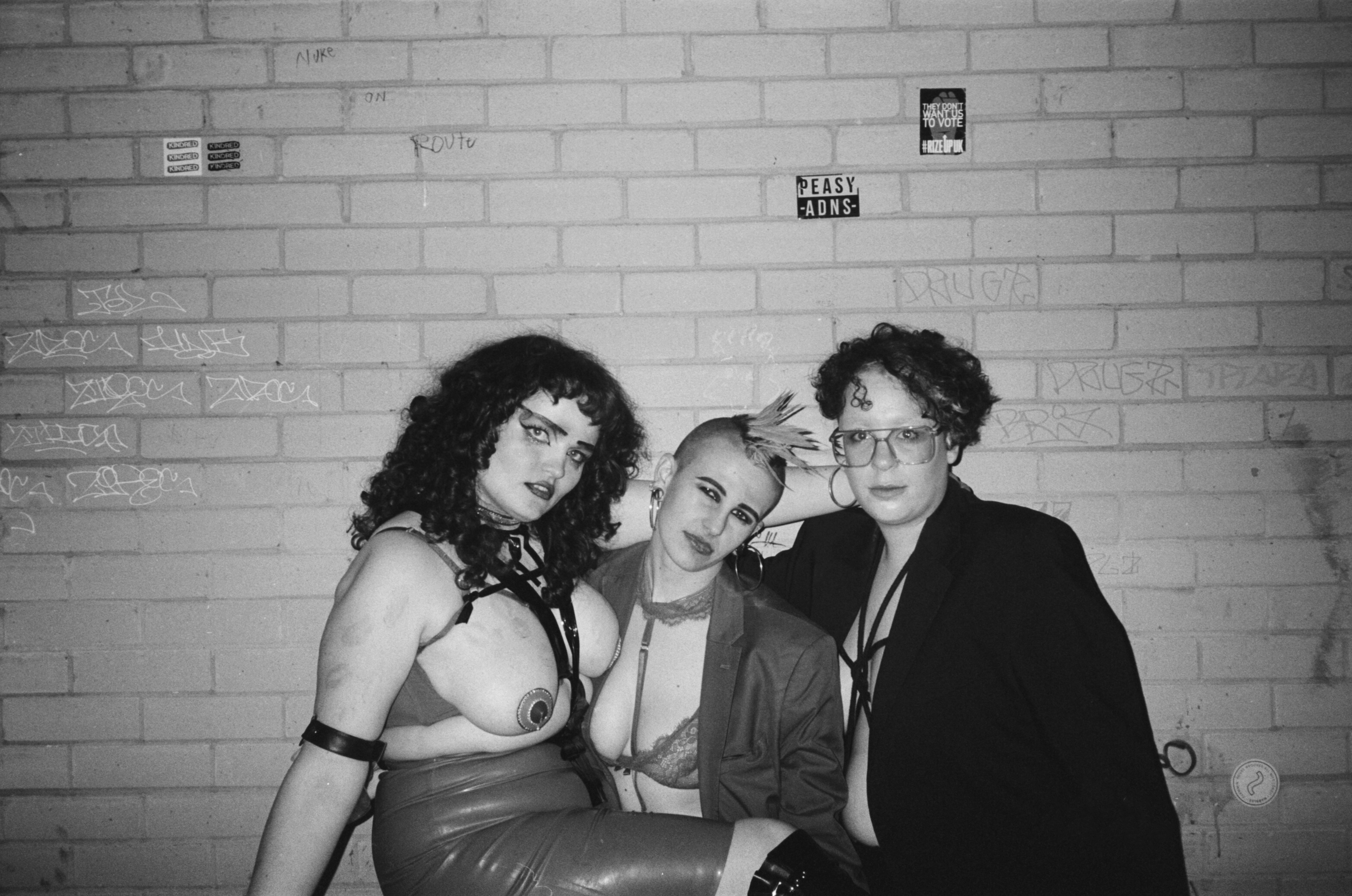 More than just a drunken boogie with friends, queer nights out were an opportunity for Heather to let loose, feel part of a community and embrace their best self without fear of barriers or judgment. The World Before Sanitiser is their 21-page zine project that pays homage to these digitally irreplaceable experiences, highlighting the importance of queer spaces and club culture. In it, candid snaps of friends, lovers and strangers are complemented by letter clippings that accentuate Heather's (relatable) feelings of longing and nostalgia for pre-pandemic days and nights. Available for purchase on their website now, money raised from sales of the zine will also help fund the cost of their top surgery.
Below, we ask Heather and their friends photographed in the zine to share memories, reflections and hopes for the year ahead.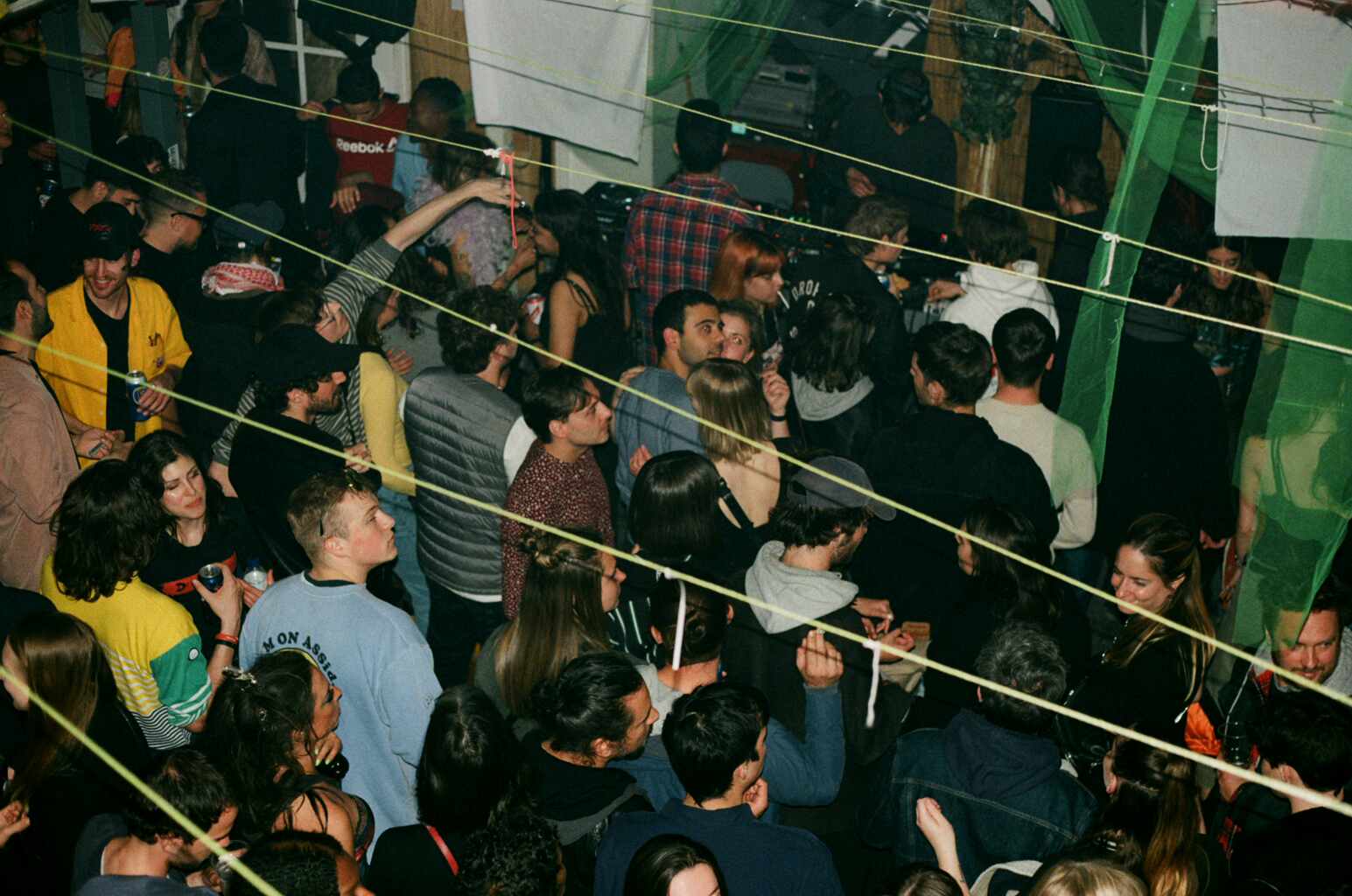 Heather, the zine draws on an archive of photographs taken across different cities that detail your experiences of pre-pandemic nightlife. Could you talk us through some of these images and what they mean to you?
Two of the photos — the one with the pink gloves and a person squatting with a clown face — were shot in a club in Brooklyn. I met an amazing person called Paris via Instagram a couple of days before I shot them on the streets there, and days later, they took us to that club. You had to knock on the door and they'd open up a little hatch and look you up and down before deciding whether they'd allow you in. I liked this space because I hadn't really experienced anything like that in the UK before — something that ensured people's safety.
A lot of the other photos are from queer spaces in Manchester or London. Some are from a festival called Queer Spirit, which had to be the most open festival I'd ever been to. Walking around, you could see crowds of naked people drumming around a pole like a scene from The Wicker Man. You could walk into tents and have conversations about trans and non-binary issues. There was even a tent where you could be sexually free with anyone who consented to you being with them. Through these photos, I really feel like you can see the free energy come through.
What do you miss most about nightlife?
I miss seeing the community the most. You connect with a lot more people when you're in these spaces. It honestly felt like an important part of my mental health, it's where I found out who I could be and was. It's where I learnt to embrace my best self.

Did you learn anything new in the process of making the zine?
Aside from the fact that I've been hoarding lots of negatives that I need to sort out, the zine reminded me to feel grateful for spaces I might have taken for granted before the pandemic. We might not always have access to these spaces.
How have you stayed connected with your community during lockdown?
I have stayed in contact with individuals but it's really hard to get a group of people together at this time. Honestly, I'm not into Zoom parties. It feels weird to drink in my flat alone over a camera.
What does the future of nightlife look like when it's safe again?
I think a lot of places haven't been able to survive the pandemic, so I know some of the most independent spaces might not be there when we come out of this. But I think the spaces that do survive look like connectedness, togetherness and sick looks that people have been prepping for the last year.
What's your motto for 2021?
Don't compromise your vision EVER.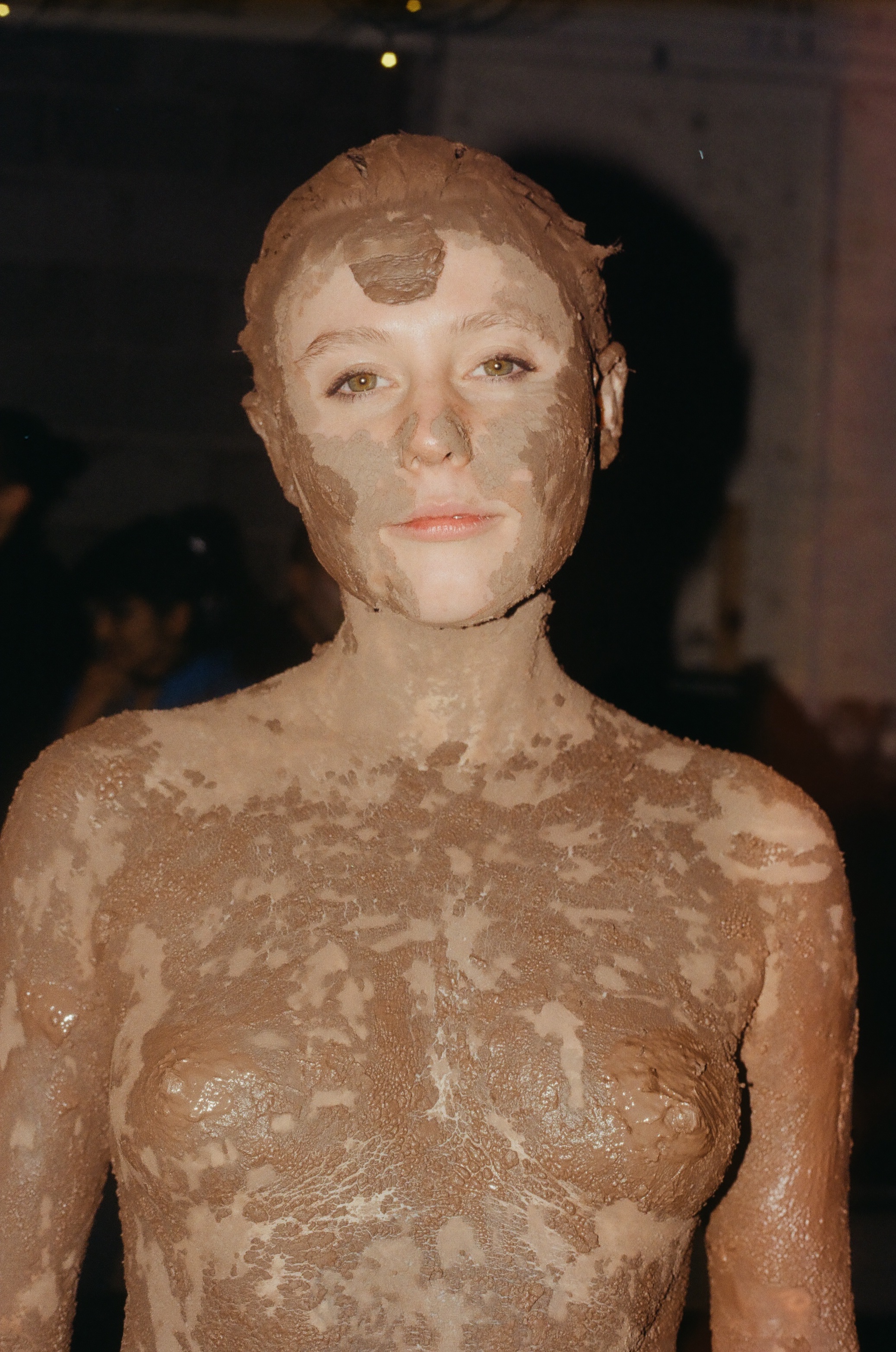 Jo, artist and performer
How did you meet Heather?
I can't remember! When I think about going out in Manchester, they are there: a constant, a part of the landscape. I remember when they asked to take a photograph and I felt so happy because I'm such a big fan. I think they have such a beautiful way of seeing and it felt so lovely to be seen by them!
What was going on in the photo?
This was after a performance with Bethan Wyllis as part of Fatty Acid at Partisan, a wonderful co-op and events space. I was naked and covered head to toe in clay. Bethan did the most amazing lip-sync to "Unchained Melody" and moulded me from a lump into a beautiful person to dance with as I spun on a pottery wheel. Afterwards, I danced the night away feeling the clay harden and flake on my body. I literally looked like such a mess and I was so happy.
What do you miss most about nightlife?
A night out to me isn't about escaping life, it's about celebrating it. The scene in Manchester has a real understanding of resistance and struggle. At Bollox we are literally raving with placards; at Homobloc, we marched with red flags; at every Creatures of Catharsis cabaret, we hear the most chilling electric call for revolution from Grace [Oni Smith]. The weight of the change we need in the world can feel very heavy. We need to remember why we are fighting. I have felt lost without that political outlet. We need to come together and feel joy, feel love, feel defiant. Inevitably, queer love is defiant. And honestly, I miss being pressed against beautiful bodies! I miss the freedom, the possibilities.
How have you stayed connected with your community during lockdown?
I have been going for walks with close friends and have felt a real appreciation for nature. There has been some amazing online stuff popping off, Bethan and the clowns have continued to run their amazing Queer Clown Cabaret! Creatures of Catharsis cabaret at Fat Out Fest was the best, wildest TV I have ever seen and Queer House Party zooms seriously keep me going.
I have also found a new awareness of what the scene has given me and how so much is not actually accessible. Hosting things online has broadened conversations and I hope that we use this time to reflect and come back better than ever. Partisan has already made the decision to move to a more accessible venue, Islington Mill, where there are also artist studios, exhibition spaces, community projects and queer cooperative housing projects. The holistic unity of arts, political struggle and really fucking euphoric clubbing is on the horizon. I can't wait to be there with all my friends.
What's your motto for 2021?
You're already the person you need to be.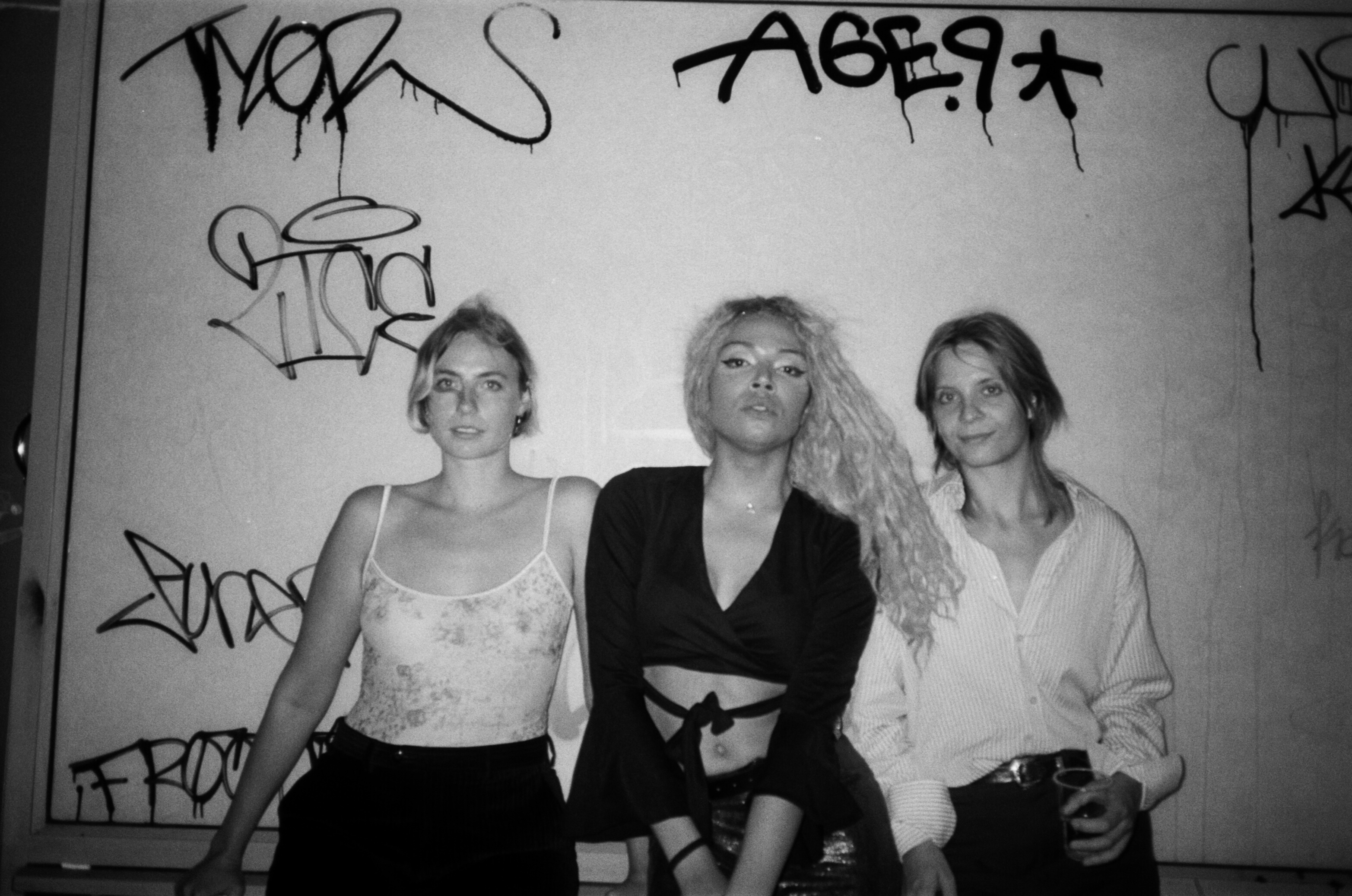 Alexis, actress, model and activist
What was going on in this photo?
This was during a birthday. I remember this night was a special moment where we all truly let loose and forgot about the many issues we face as trans or queer people, especially during 2020. It was a moment of bonding through music, laughter, joy and love. Nothing can replace something so intimate, genuine, loving and warm. I knew at that point that Heather was more than just a friend, they were my family.
What do you miss most about nightlife?
I miss being able to dance. I miss being surrounded by queer and trans people in one space. As a trans woman, it's so vital to feel part of a community, meet new people, make connections and learn from others. I could say it's just a laugh and good music, but it's more than that. Nightlife is where we create family bonds and where we see and appreciate each other, which is important in a world that might not always appreciate or understand us.
What's your motto for 2021?
Don't look back, look forward. Prepare for the future as it will be brighter. Things have already been miserable; it can only get better.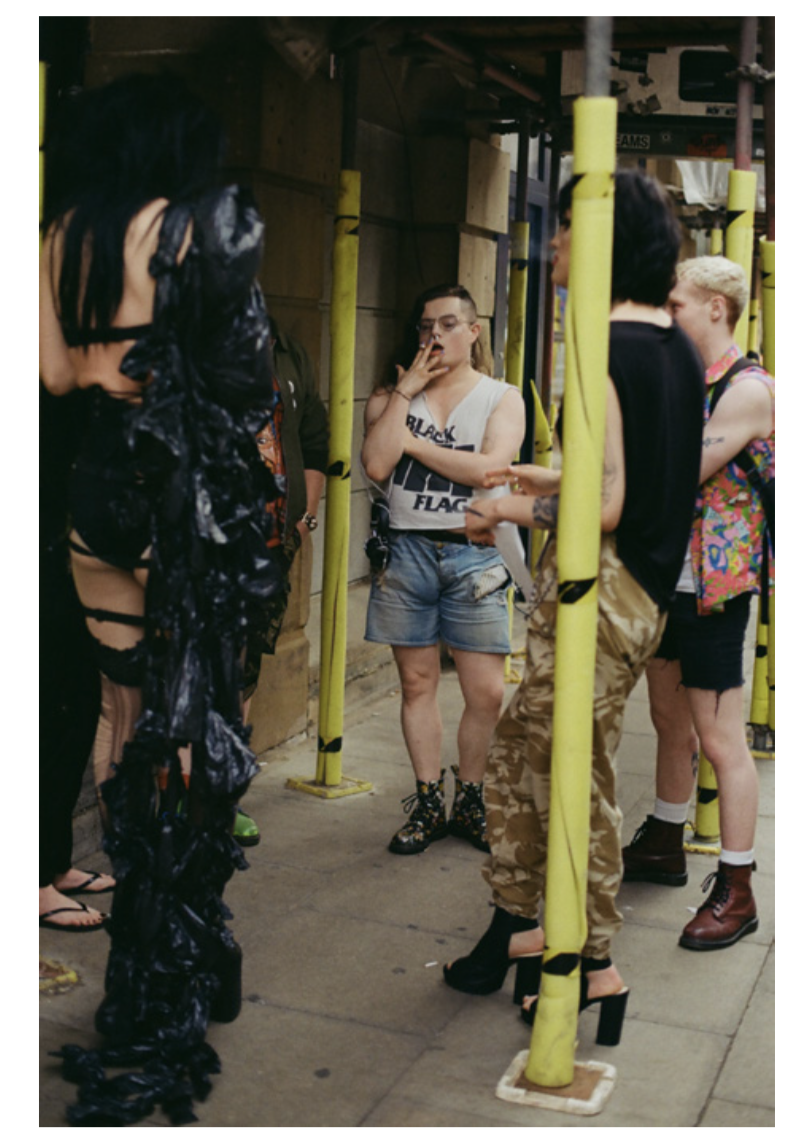 Vivien, writer, coder, musician
How did you meet Heather?
Through my friend Karl, a local artist who organises Queer Family Tea. I help run some live music shows and the in-house trans/queer night Fatty Acid at Partisan. Heather did some photos for the first Fatty Acid which are so gorgeous and also in the zine.
What was going on in this photo?
This is me outside Jimmy's Cafe during Creatures of Catharsis, Grace Oni Smith and Beau Blonde's cabaret night and the best show in Manchester. It's drag, camp, political, DIY, gorgeous, perfect, a ton of queers squeezed into a tiny basement and joy everlasting. It was maybe during summer 2018? What a time. Meeting the trans queens of Manchester was really important to me in my transition. Everyone was just so nice and happy to welcome new folk, and I got what I really needed at the time: in-person connection with a bunch of trans people that wasn't in some sort of sterile support group. Proper trans celebration and defiance.

What do you miss most about going out?
Other people's sweat. Also just seeing people, catching up with people, all the little things. Gigs are definitely the thing I'm missing most. I was never much of a dancer, I just wanna get my face melted off by someone cool screaming at me, y'know? Just sweat and noise and the energy of the crowd. My last gig, back in March, was Special Interest who were perfect (and amazingly we got to support), and that's what you need! Being down in a basement with less than 50 people and just jumping around. It's the coincidences I miss too, and the spontaneous plans made in the smoking area.
How have you stayed connected with your community during lockdown?
Not very well! I'm always terrible at keeping up with people. I've been watching anime, playing video games, and playing/listening to TTRPGs online. To help set up Trans Mutual Aid Manchester (TMAM) was really fulfilling. I mostly chat shit and take minutes but it's nice to help — that act of a community looking after itself. And a bunch of developers I play games with online put together a bundle in November that raised a couple of grand for TMAM, which was a great moment of worlds coming together. That really did feel like community. I've also been part of a great trans music project called Over/At that has been more restricted because of lockdown but I've still been able to collaborate with a bunch of amazing trans musicians and artists remotely. I still miss just bumping into people.
What's your motto for 2021?
Uhhhhh hope my tits grow?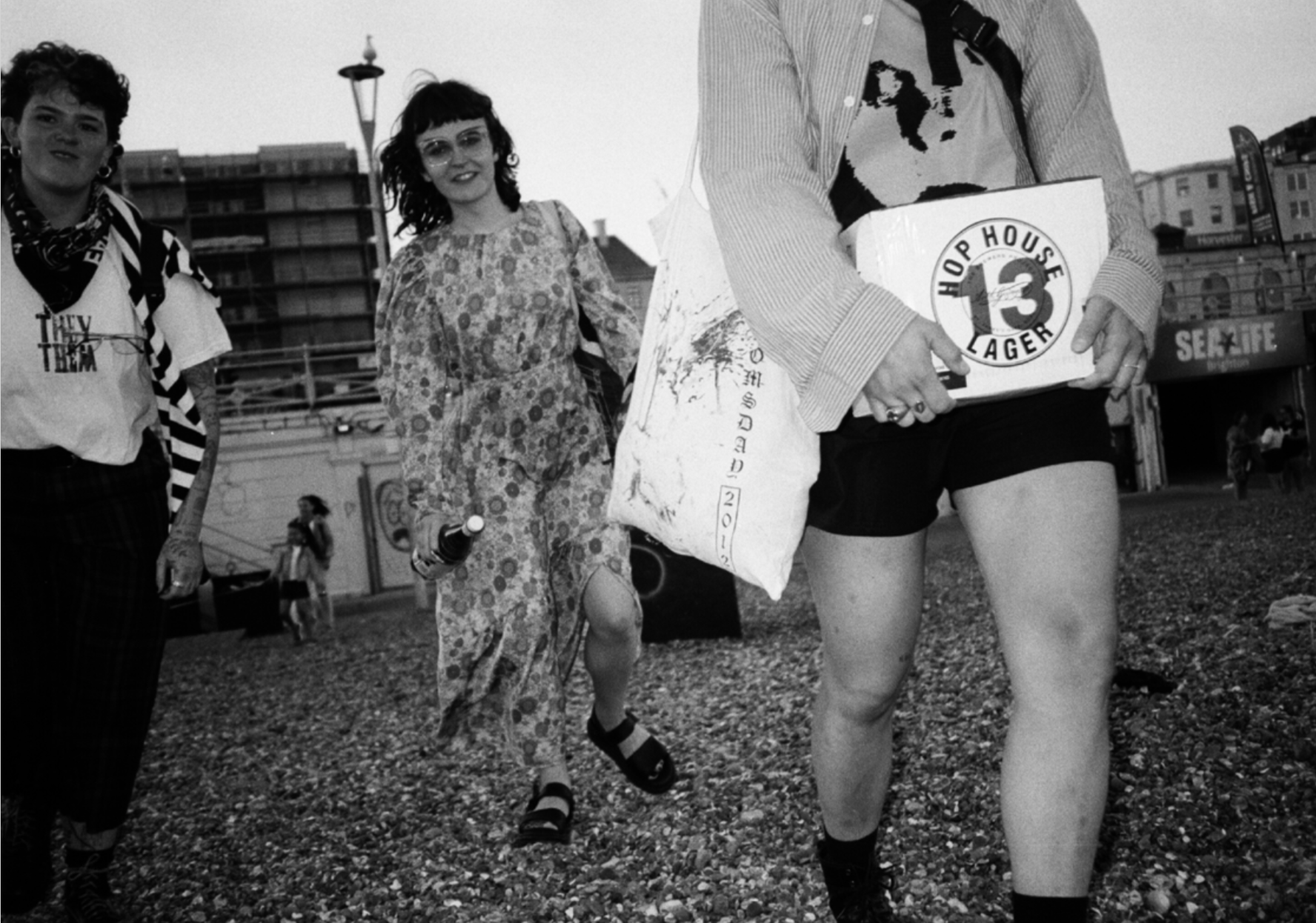 Alice

How did you met Heather?
I remember feeling an affinity with Heather quite early on, especially after seeing such raw self-portraiture at their exhibition, Porridge. But it was their honesty that I appreciated most. We ended up talking about our pasts and what we want from our futures and there were a lot of similarities; from wanting to prove ourselves to others, to feeling more in step with our bodies.
What's going on in Heather's photo of you?
There's two photos of me — how lucky am I! In this one, I'm in Brighton with Heather and some other friends during the summer of 2020. We all headed to the beach, where I remember Heather taking my picture as I crawled out of the sea at 11pm half-naked — think creature from The Black Lagoon meets Baywatch. The other picture of me is where I'm kissing my ex.
What do you miss most about nightlife?
I could write a list that never ends but I miss getting ready, the feeling of putting your all into an outfit in hopes of getting noticed and complimented; that feeling you get when you look in the mirror and feel free and fucking beautiful. I don't think I've put on makeup for almost four months. Another thing that I miss about clubs is the feeling of community — when SOPHIE passed away, I really pined for a night out with my fellow queers. To grieve together, to dance and to forget the pain.
How have you stayed connected with your community during lockdown?
I honestly haven't. This instance of lockdown has made me hide away from my community in a way that I haven't before. I'm not emotionally strong enough to support others, so in a way I feel like I can't ask to be supported, as we're all in the same boat of being stuck inside, physically and mentally. Lockdown one feels so novel now. I would phone friends each night, drinking and opening up about how wild and weird the experience was. Now, I sit alone listening to Phoebe Bridgers and I feel myself entering into this odd situation of isolation because I don't want to bother others.
What's your motto for 2021?
I wouldn't say that I have a motto for the year. However, I am being kinder to myself and allowing my body and mind to do what they need to do to get through this.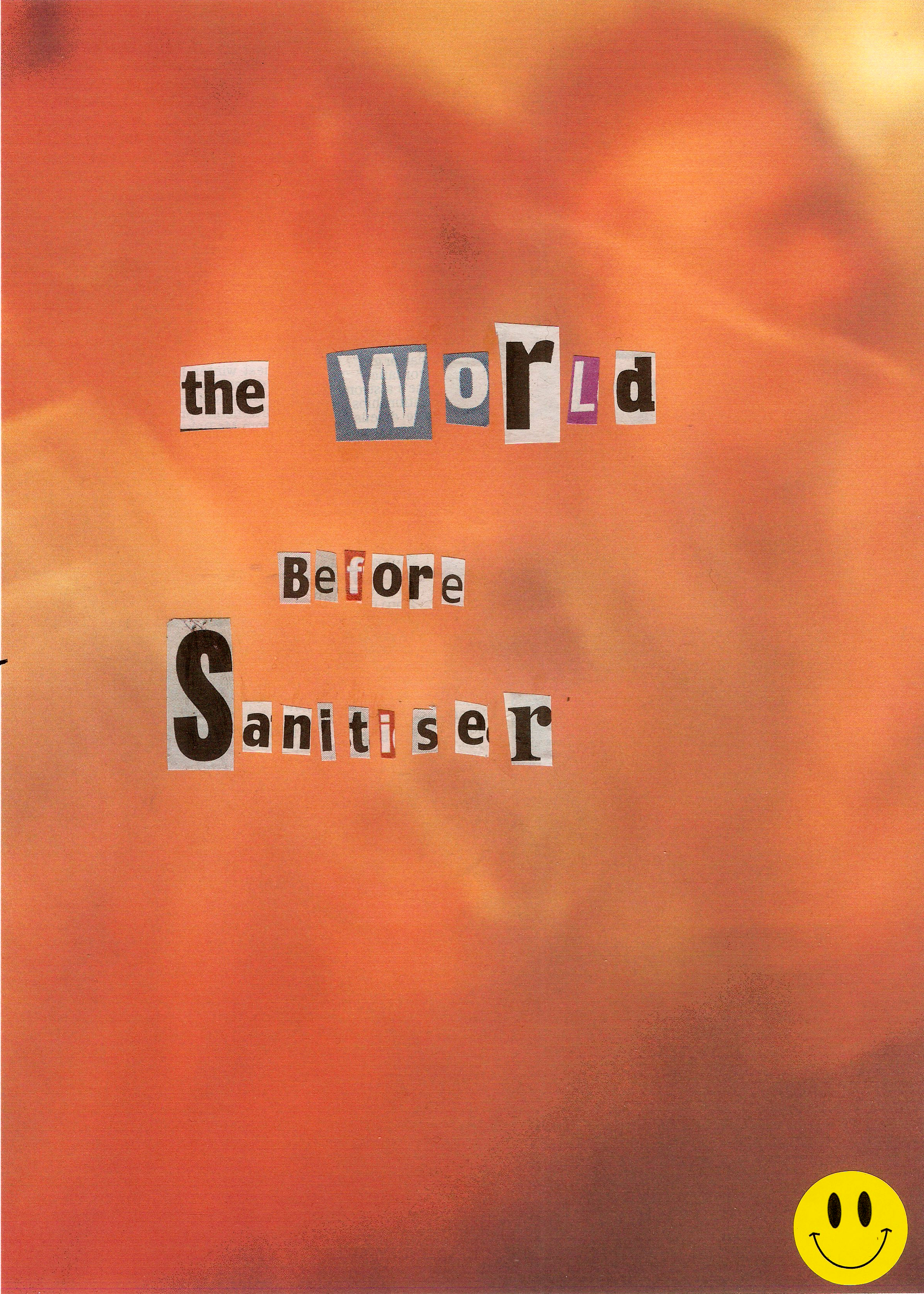 Money raised from sales of Heather Glazzard's new zine will help fund their top surgery, donations to which can also be made here.