Images via Getty, Getty + FilmMagic
A guide to Keanu Reeves' style evolution
Has the beloved actor really been wearing the exact same outfit for 30 years? An investigation.
Images via Getty, Getty + FilmMagic
When it comes to fashion, Keanu Reeves knows what he likes. Since he burst onto the Hollywood scene in the late 80s, the beloved actor has kept a tight wardrobe rotation of staple pieces. And in doing so, he's cultivated a singular and instantly-recognisable style that takes in an eclectic mix of uncomplicated casualwear and sleek suiting — never looking anything less than dapper. Think threadbare T-shirts, three-piece suits, distressed denim, motorcycle jackets (and motorcycle helmets, while we're at it), red carpet beanies and suede hiking boots paired with everything.
Many have noted that Keanu's been wearing the exact same outfit for almost 30 years. But who's to say the actor's style hasn't evolved, albeit subtly, over the decades? Here, we chart Keanu's style evolution to see how he's honed — and perfected — his signature look.
One of his first photo sessions, 1989
Canadian actor Keanu Reeves made his film debut in 1986 and his breakthrough in 1989's Bill & Ted's Excellent Adventure. A sign of the type of looks to follow, Keanu's very first photo sessions — taken while the actor was still in his early twenties — showcased a decidedly casual and slightly rugged style: ripped jeans, shorts, threadbare T-shirts and sweatshirts, and, most notably, a pair of distressed suede hiking boots. These particular boots were Keanu's footwear of choice until they literally fell apart in the late 90s, and, to this day, they inspire his below-the-ankle style.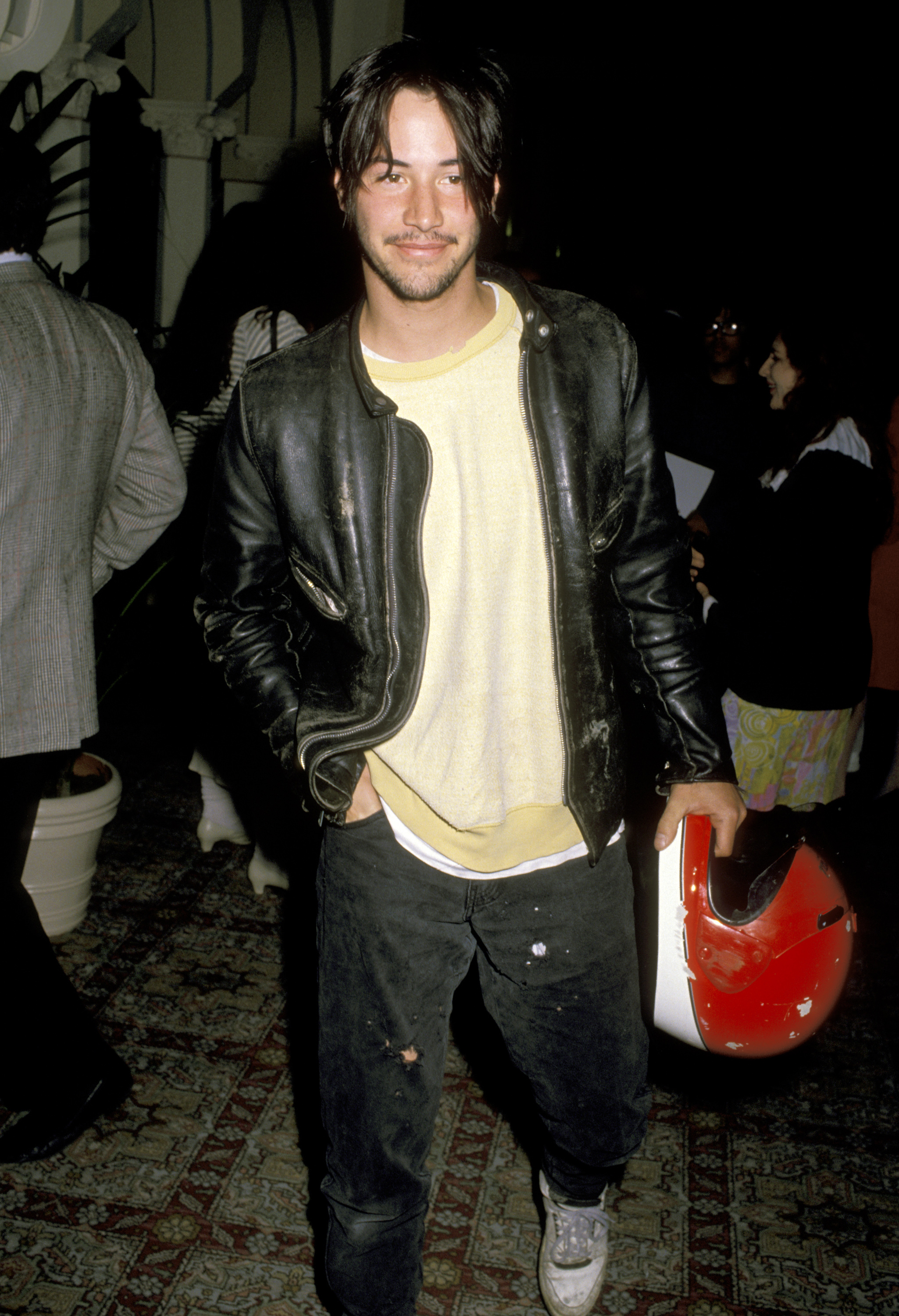 At the Independent Spirit Awards, 1989
Not even a few months later, we see the progression of Keanu's favoured rugged-casual look at the 1989 Independent Spirit Awards. He's wearing a seriously faded yellow sweatshirt, leather moto jacket, heavily distressed jeans and well-worn white sneakers, all with his perennial banged-up motorcycle helmet. Keanu's love of motorcycles is well-documented. Two years later, he sped away from the Another You premiere on his beloved Norton bike, this time wearing a brown suede jacket.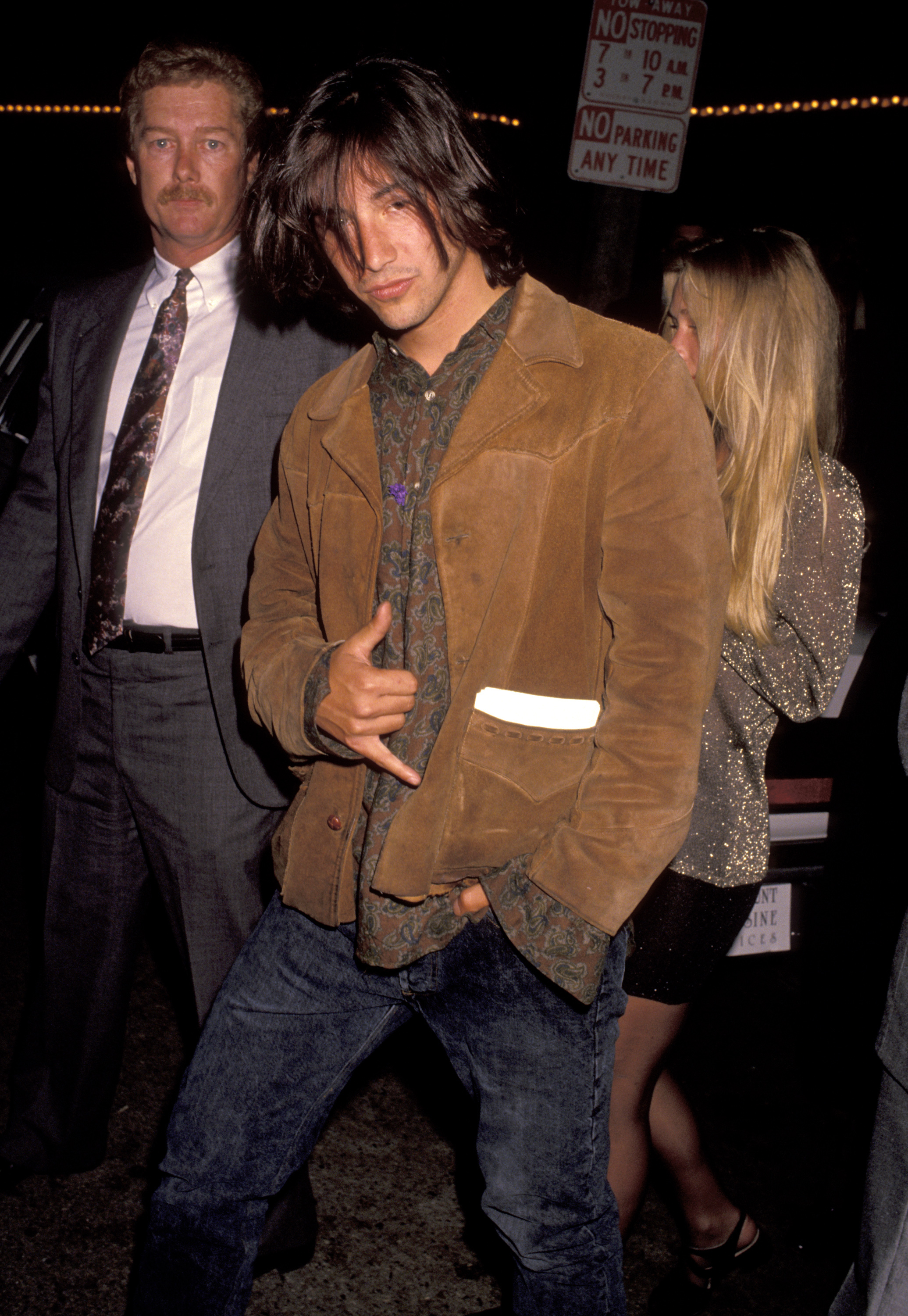 At the Point Break premiere, 1991
For a hot minute in 1991, Keanu swapped out black leather for brown suede, wearing a series of camel-coloured coats in lieu of his signature achromatic motorcycle jacket. He wore this new favourite style to the premiere of Bill & Ted's Bogus Journey over a T-shirt, and with a plaid flannel to a screening of Another You. Here, to the Point Break premiere, Keanu brings the garment into serious 70s territory with a paisley shirt.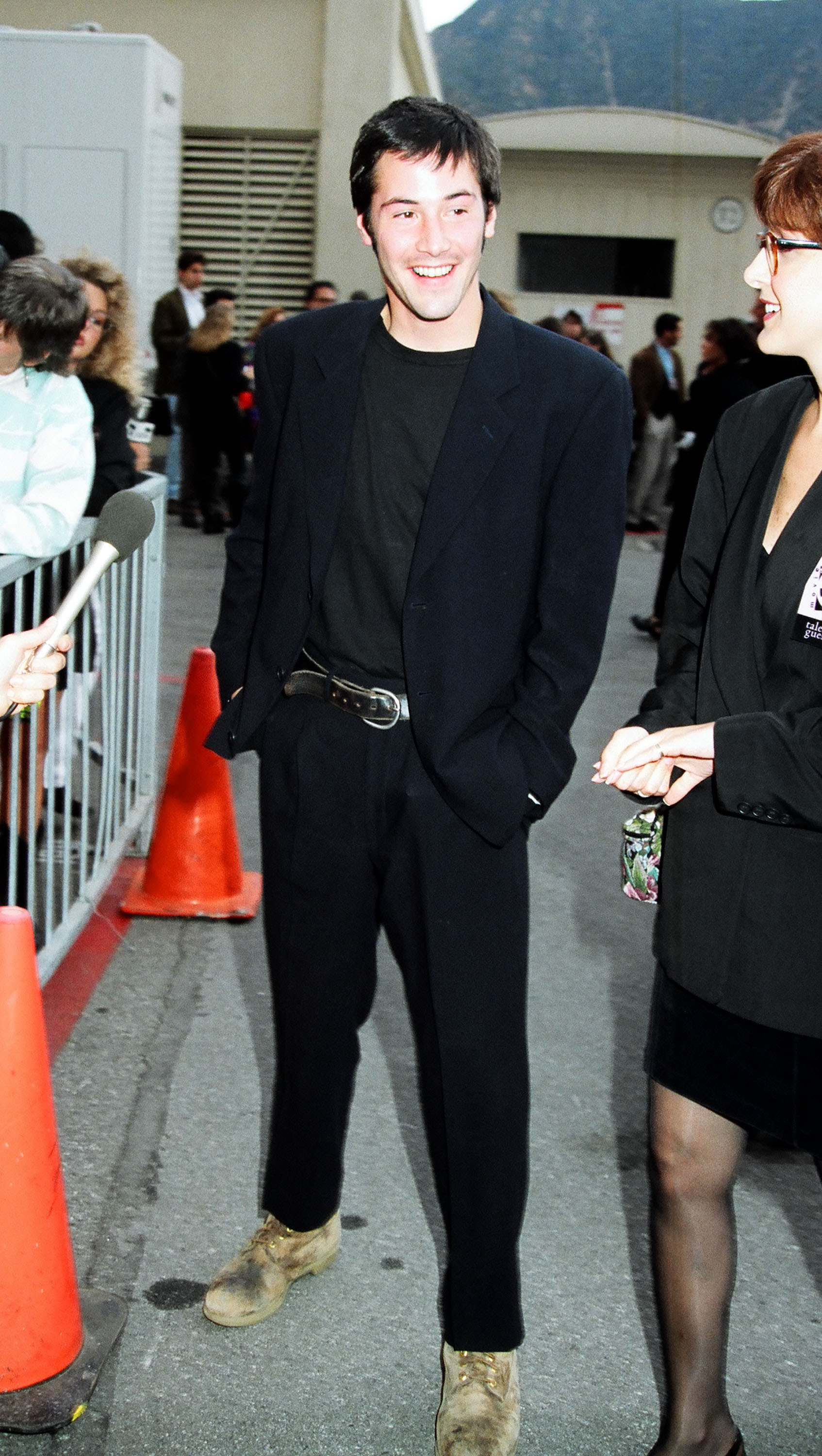 At the MTV Movie Awards, 1992
Keanu's always been the king of putting a casual spin on suiting. Throughout the late 80s and early 90s, he layered his tailoring over polo tees, cashmere sweaters, jersey henleys, chunky knits and, of course, his signature hiking boots. Of all the options available, Keanu's favourite top to pair with a suit? A classic black T-shirt. It was a favourite of his back in 1992, when he wore the outfit to the MTV Movie Awards, and it's now become the actor's most-recognizable look.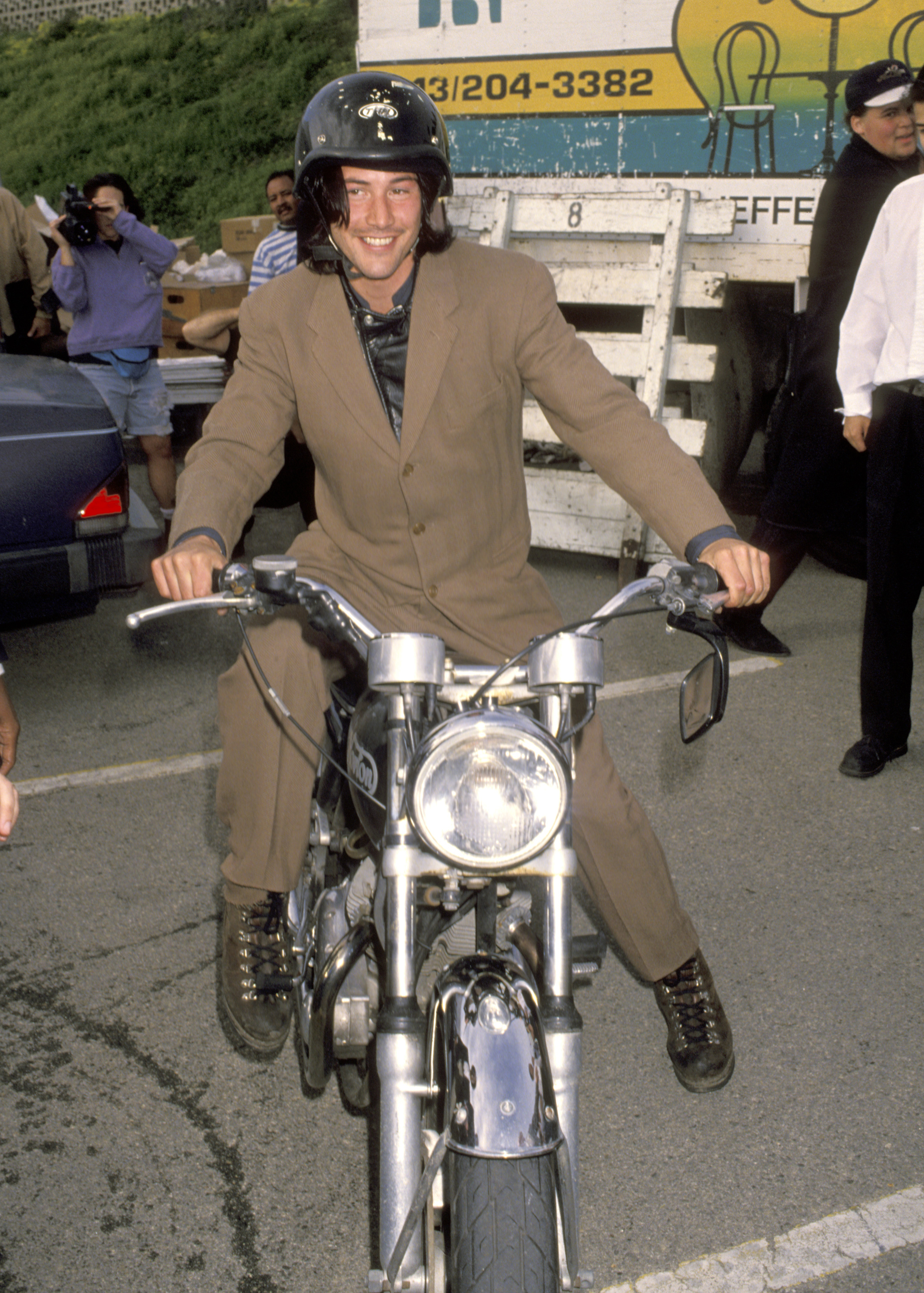 At the Independent Spirit Awards, 1993
If there was one garment that defined 1993 for Keanu, it was this brown herringbone suit. The actor wore the look — or sometimes only the blazer — to movie premieres, airports and even in the promotional shoot for Shakespeare adaptation Much Ado About Nothing. Here, Keanu wears his then-favourite suit in a way that only he can: over top his leather biker jacket, with hiking boots on his feet, helmet still on his head and motorcycle engine still on!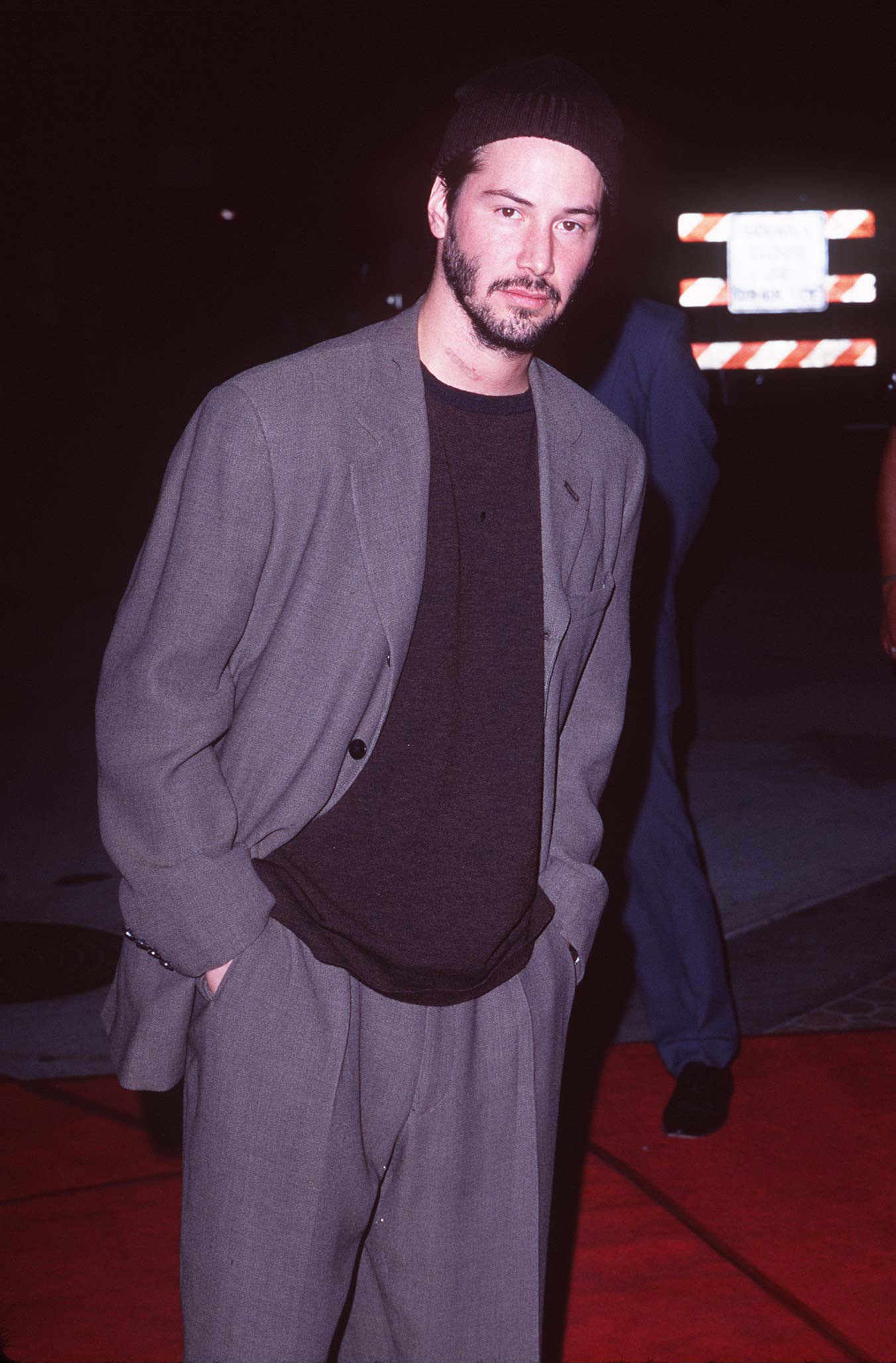 At the Devil's Advocate premiere, 1997
From 1997 to 1999, Keanu got cosy on and off the red carpet. Perhaps inspired by his newfound rockstar status (the actor played bass in alt-rock group Dogstar throughout the late 90s), Keanu's signature silhouettes became a little bit slouchier. On stage with Dogstar, from LA's notorious Viper Room to England's Glastonbury, Keanu frequently wore ultra-baggy T-shirts and jeans, often paired with beanies. Eventually, the beanie made its way into Keanu's red carpet looks, too, the knitted headwear paired with other soft garments, from cashmere suiting and wool sweaters to velveteen blazers and suede loafers in lieu of his hiking boots. While this particular era was peak cosy Keanu, the beanie — and even an artfully draped scarf — remains in Keanu's red carpet rotation to this day.
At the Hardball premiere, 2001
With The Matrix firmly under his belt and his status as leading man thoroughly cemented, Keanu's style became a little bit more polished. The suits got more structured and streamlined, and were paired — more often than not — with tonal dress shirts and vests rather than T-shirts. The signature hiking boots were — sometimes — replaced with polished oxfords, but didn't leave Keanu's rotation completely. During The Matrix press tour, they made reappearances at the 2000 MTV Movie Awards and The Matrix's Paris premiere.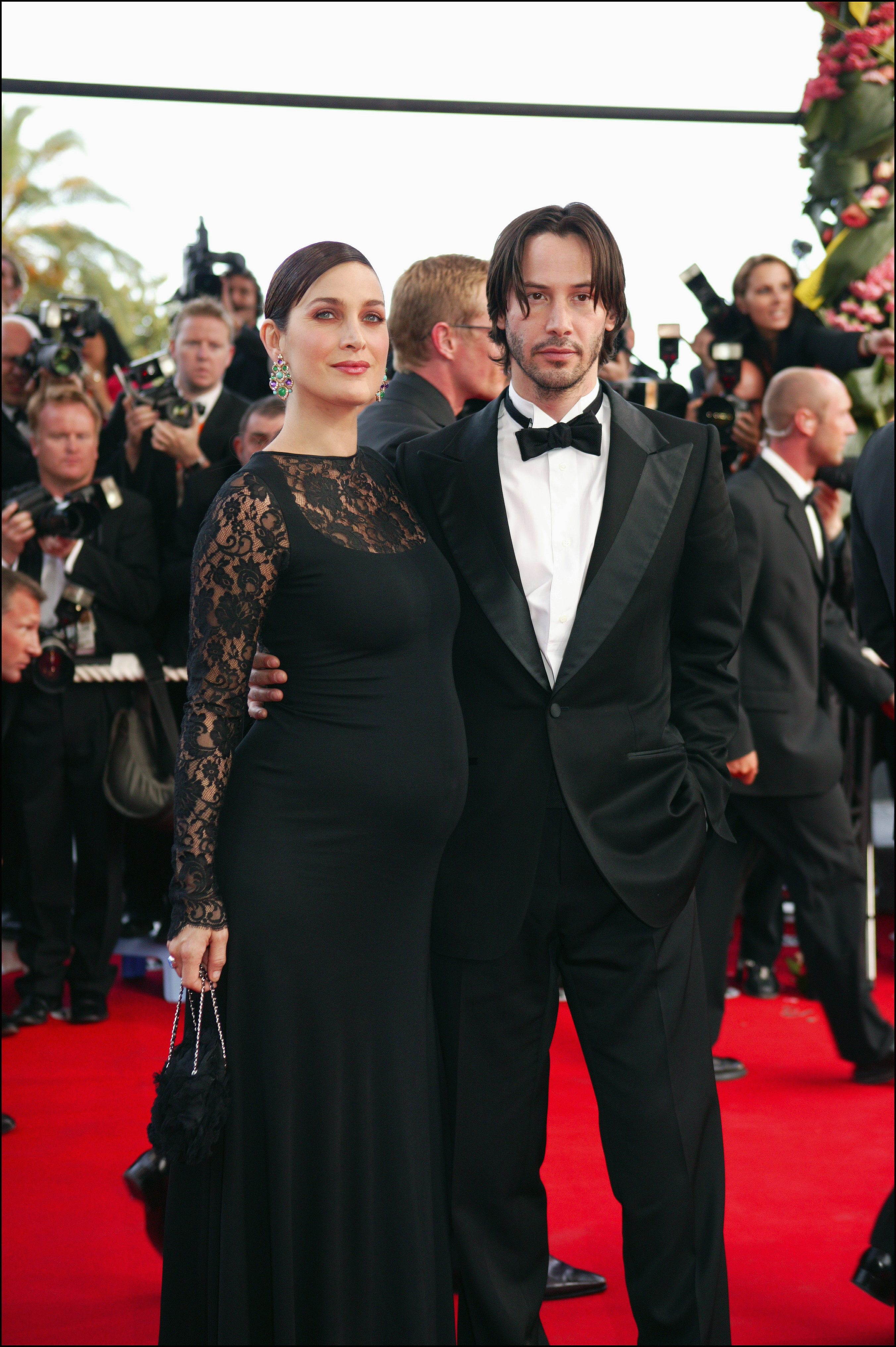 At Cannes, 2003
Like any Hollywood actor worth his salt, Keanu's dabbled in his fair share of black tie dressing. Most notably at the 2003 Academy Awards (where he played it incredibly straight with a sleek bow tie and stud buttons) and the American Cinematheque Awards (where put his own spin on the occasion with a white silk tie to match his pocket square). The black tie attire the actor wore to Cannes Film Festival in 2003, however, is pure Keanu. Note the simple fly-front shirt, graphic peaked lapel and, most importantly, the extremely loose bow-tie. Was this perfectly idiosyncratic styling detail by mistake or by design? Perhaps we'll never know.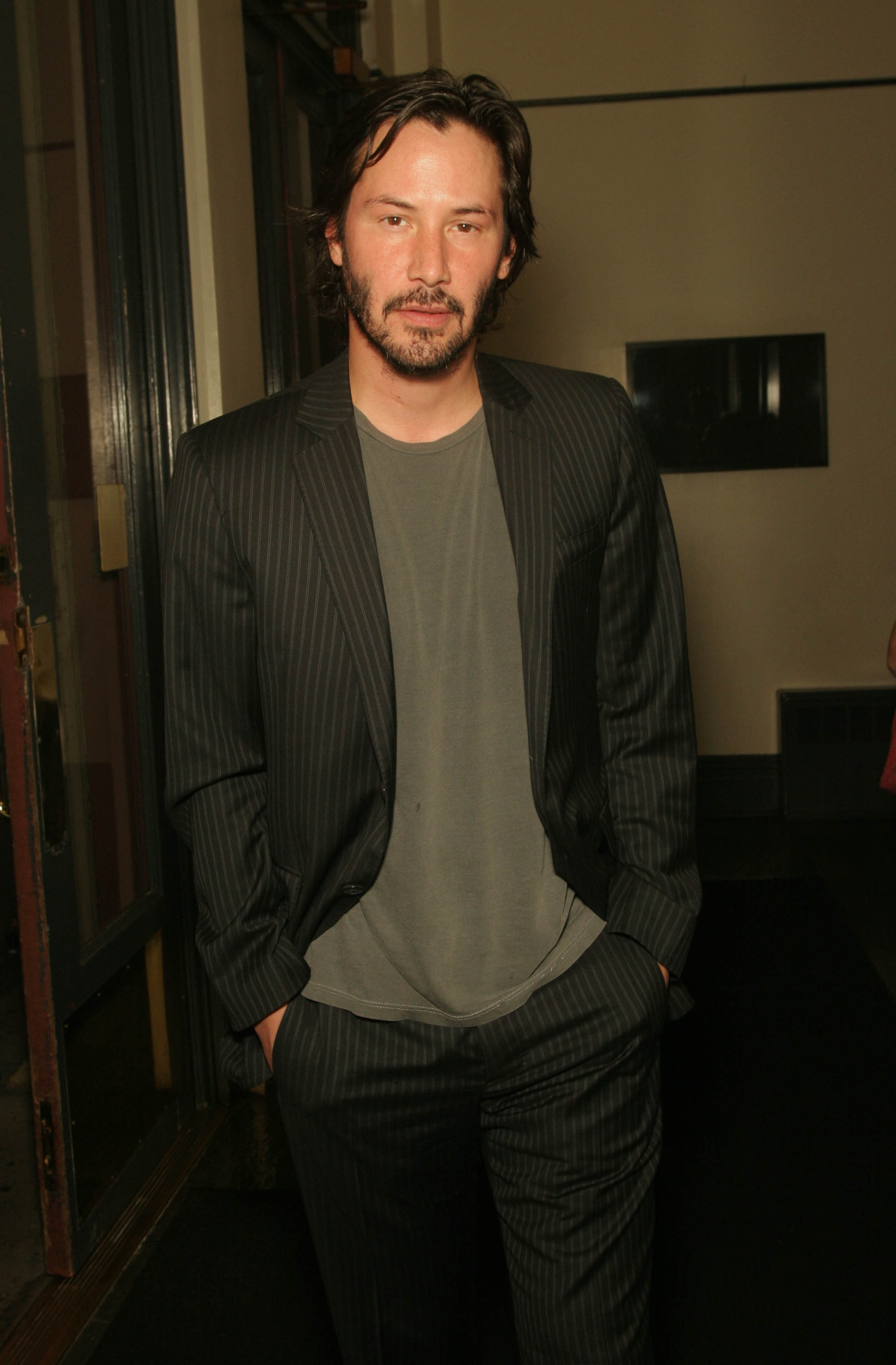 At Amanda De Cadenet's Rare Birds party, 2005
This T-shirt was the hardest working piece in Keanu's wardrobe in the mid aughts. From 2005 to 2006, the gray-brown tee — frequently paired with the same two pinstriped grey or black suits — accompanied the actor to the boardwalks of Cannes, the MTV Movie Awards, the Toronto Film Festival, Jay Leno's couch and even Shakespeare in the Park. Basically, for any event that didn't require strict black tie attire, this T-shirt had Keanu covered.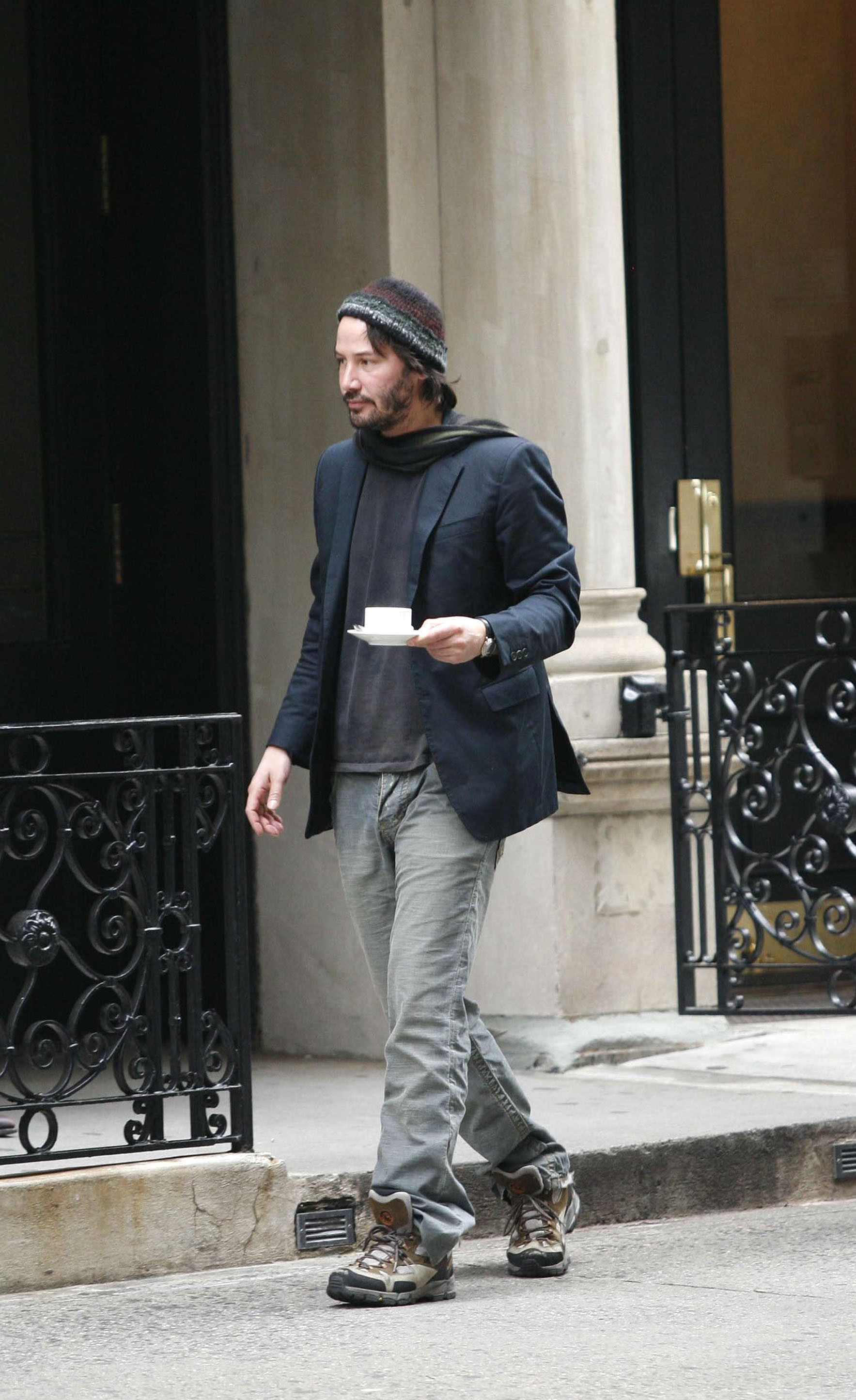 Out and about in NYC, 2006
Throughout the aughts and into the early 2010s, Keanu's many paparazzi snaps have given us not only some of the best celebrity memes of all time, but some of Keanu's most interesting and eclectic looks. While he had his red carpet look firmly nailed down, he experimented a lot more with his off-duty looks. These years saw Keanu wearing tech-y hiking sneakers, striped scarves, trucker hats, cargo pants, army jackets, leather clutches and long wool coats.
At a film screening in Paris, 2016
This is the quintessential Keanu Reeves fit of the 2010s. Seriously, conjure the likeness of Keanu in your mind's eye and this is likely what he's wearing: a black suit, shallow V-neck tee and some iteration of brown suede footwear. It's not only Keanu's current favourite outfit, it's the culmination of a formula he's been perfecting over the course of three decades.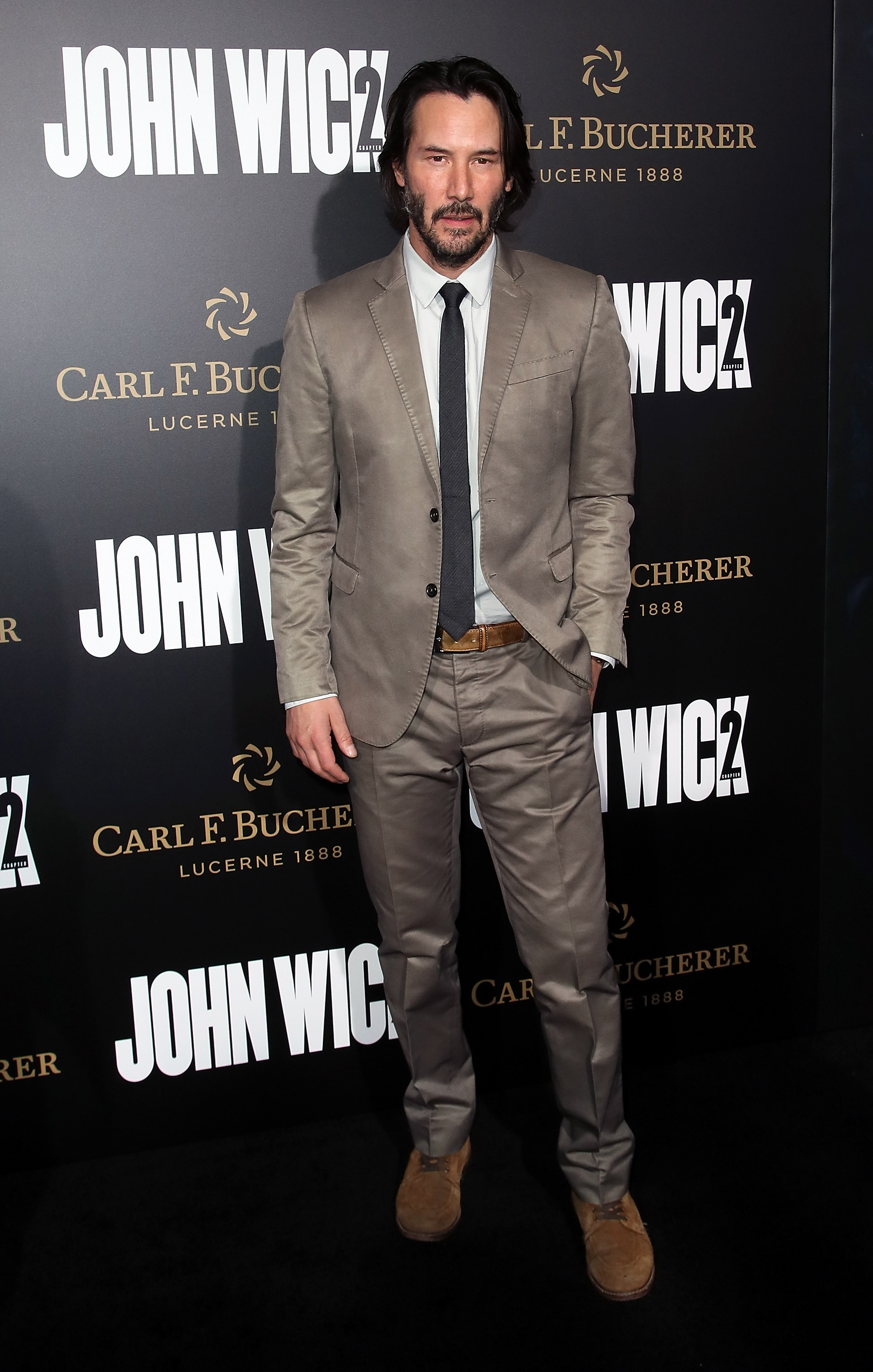 At the John Wick: Chapter 2 premiere, 2017
John Wick, Keanu's on-screen alter-ego of the late 2010s, is known for his sleek black suiting. However, while promoting the Wick franchise's first two movies, from 2014 to 2017, the actor broke from his much-loved character, choosing instead to experiment with his tailoring looks like never before. During this three year period, we saw Keanu in striped, speckled and basket-woven ties; navy blue and jewel tones; burnished brown leather belts; and head-to-toe taupe.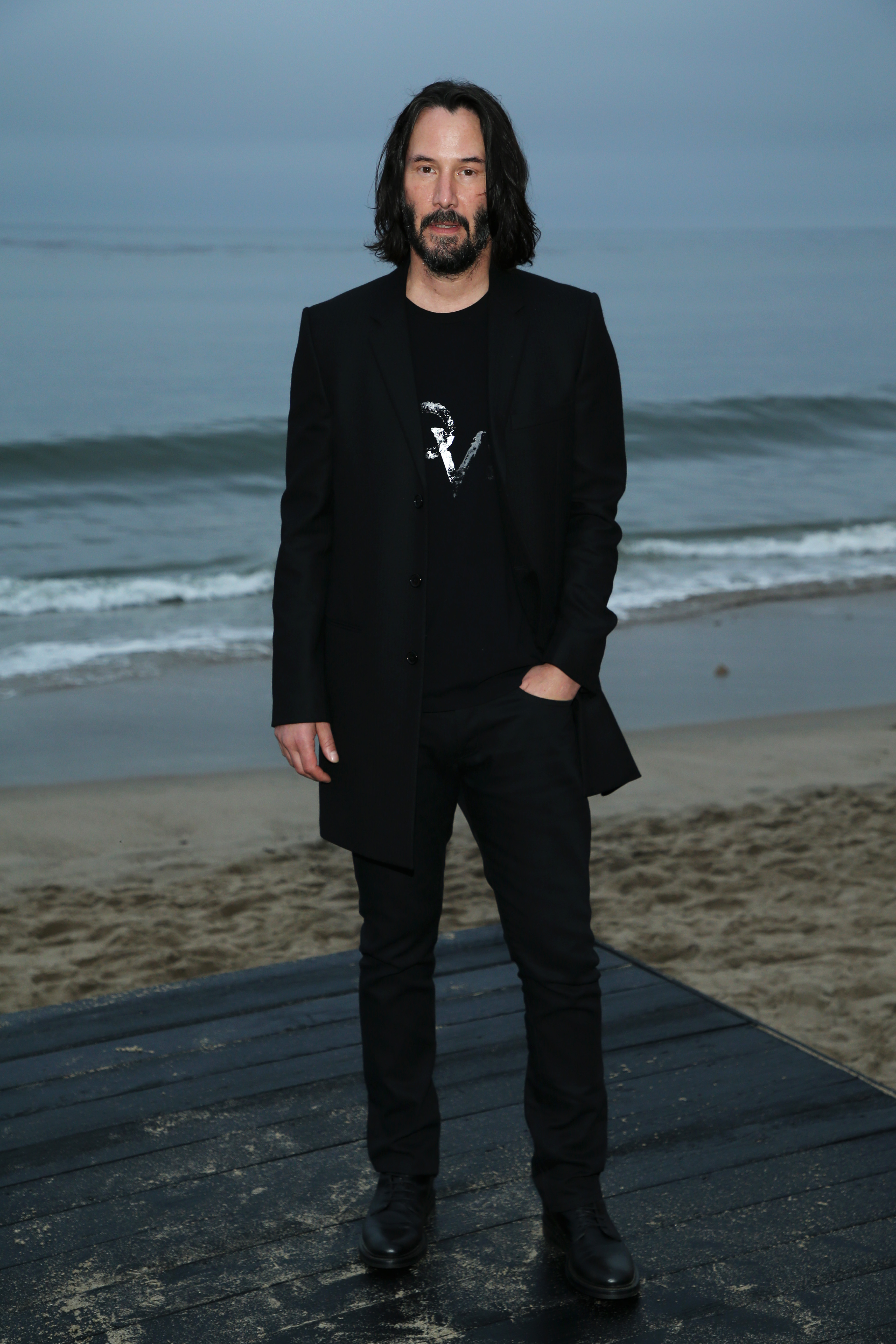 At the Saint Laurent SS20 Menswear show, 2019
Not only a bona fide film icon, but a style icon, too, Keanu was tapped to face Saint Laurent's AW19 menswear campaign. Perhaps inspired by the iconic Parisian label's ultra youthful look — spearheaded by Hedi Slimane before Anthony Vaccarello took the reins in 2016 — Keanu began pairing his suits with graphic tees throughout the latter half of 2019. Here, he wears one of the French house's achromatic printed tees with an all-black fit.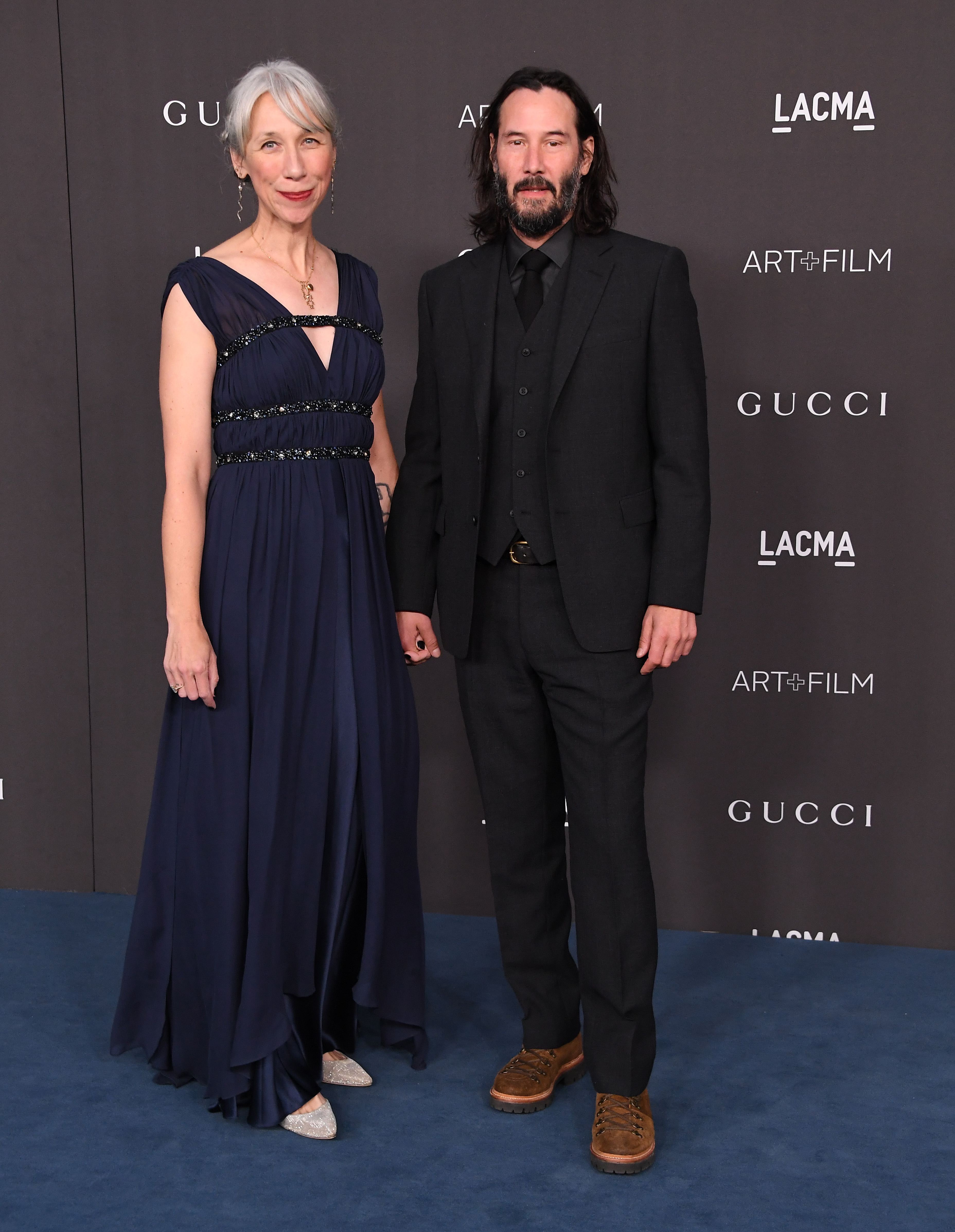 At the LACMA Art + Film Gala, 2019
During the 2019 press tour of John Wick: Parabellum — the final chapter in the trilogy's nearly six-year run — Keanu paid homage to the fictional assassin's signature look in head-to-toe suiting. Here, at the LACMA Art + Film Gala, the actor wore a near replica of John Wick's most memorable outfit: a charcoal three-piece suit. Keanu placed his own spin on the iconic cinematic fit with — what else? — but a pair of brown suede kicks. While the actor may not have worn exactly the same outfit for the last 30 years, we can always count on Keanu to be, well, Keanu.
Tagged: