James Gandolfini did actually take a meeting to star in The Office
He was actually paid to not take the role by HBO, reportedly.
|
02 October 2021, 12:21pm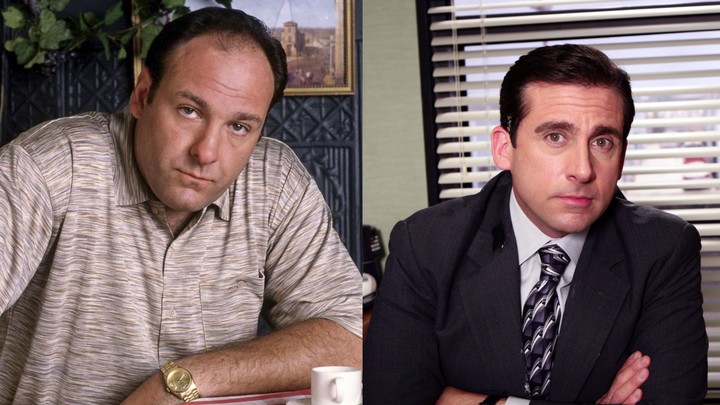 Images courtesy of HBO and NBC
The Office did actually nearly get Tony Soprano to replace Michael Scott.
Earlier this year, it was reported that after Steve Carrel departed the US sitcom following its seventh season, Sopranos star James Gandolfini was offered the chance to come in as the new boss for a whole season.
This was quickly nixed on the head by HBO bosses, who paid the Emmy-winning actor $3 million to not take the job, according to the Talking Sopranos podcast.
Now, talking to Andy Cohen on Watch What Happens Live, The Office writer and star BJ Novak confirmed that, yes, James Gandolfini did in fact take a meeting to star in the show.
"I was at the meeting with James Gandolfini where we tried to convince him to join the show," he said. "He was shy, intrigued and he's my favourite actor of all time so I just thought it would be great."
Asked if he thought The Sopranos icon was actually thinking about the job, BJ admitted: "yes, I did. [Gandolfini] was a huge comedy fan. His favourite movie was The Rocker starring [Dwight Schrute actor] Rainn Wilson."
Also, apparently, The Sopranos was a huge influence over The Office's writing, in terms of how comedy, drama and characters were completely indistinguishable from each other. Michael Scott's character was a "direct descendant" of Tony Soprano's sense of humour, too, which you can kind of see. Right? Right.
Sadly, though, we will never get to see what Tony Soprano in The Office looked like. Gandolfini did turn the role - with HBO apparently looking to ensure The Sopranos legacy wasn't tainted in any way - and we never got to see his comedy chops following his death in 2013.
The Sopranos does continue, however. This month sees the much-hyped release of prequel film The Many Saints of Newark, tracking Tony's early days and entry into the Mob in the 1970s.
In the film, Tony is played by the late Gandolfini's own son, Michael, who has spoken about the "tough" decision to take on the role.
Tagged: