Left: Leo wears hat The London Leatherman. Belt Underground. Right: Anya wears shorts (worn underneath) stylist's studio. Earrings Pebble London. Necklace and bracelets Carolina Bucci.
ERL is the LA label winning over Comme and the Kardashians
Eli Russell Linnetz tells i-D about going from directing the video for Kanye's 'Famous' to creating a fashion brand inspired by American archetypes.
Left: Leo wears hat The London Leatherman. Belt Underground. Right: Anya wears shorts (worn underneath) stylist's studio. Earrings Pebble London. Necklace and bracelets Carolina Bucci.
"I'm just gonna show you the view out my window," Eli Russell Linnetz says, flipping his camera to face the quiet street in Venice, Los Angeles, where he works and lives. Even if you've never been to the oceanfront neighbourhood on the city's Westside, the scene is one you can probably picture: a row of detached gablefront houses, the gaps between them punctuated by palms and filled in by flawless cerulean sky. "It's like this every day," he says. Seen on a screen from Dalston on a drizzly evening in March, it's an image that smacks of an almost cinematic idealism; a dispatch from an America that looks and feels like it does in the movies.
And speaking to the 30-year-old Venice native, you'd be forgiven for thinking that he was a character in one of those films. His professional bio — which includes directing Kanye's "Famous" and "Fade" videos and designing the floating stage for his Life of Pablo tour; creating the set for Enigma, Lady Gaga's Vegas residency; shooting campaigns for Yeezy and Skims; and creating editorial imagery featuring Selena Gomez, the Biebers, and Grimes — is so surreally impressive that it feels like a slightly contrived character description. "I do so many different things," he says, laughing. And that is, of course, putting it lightly.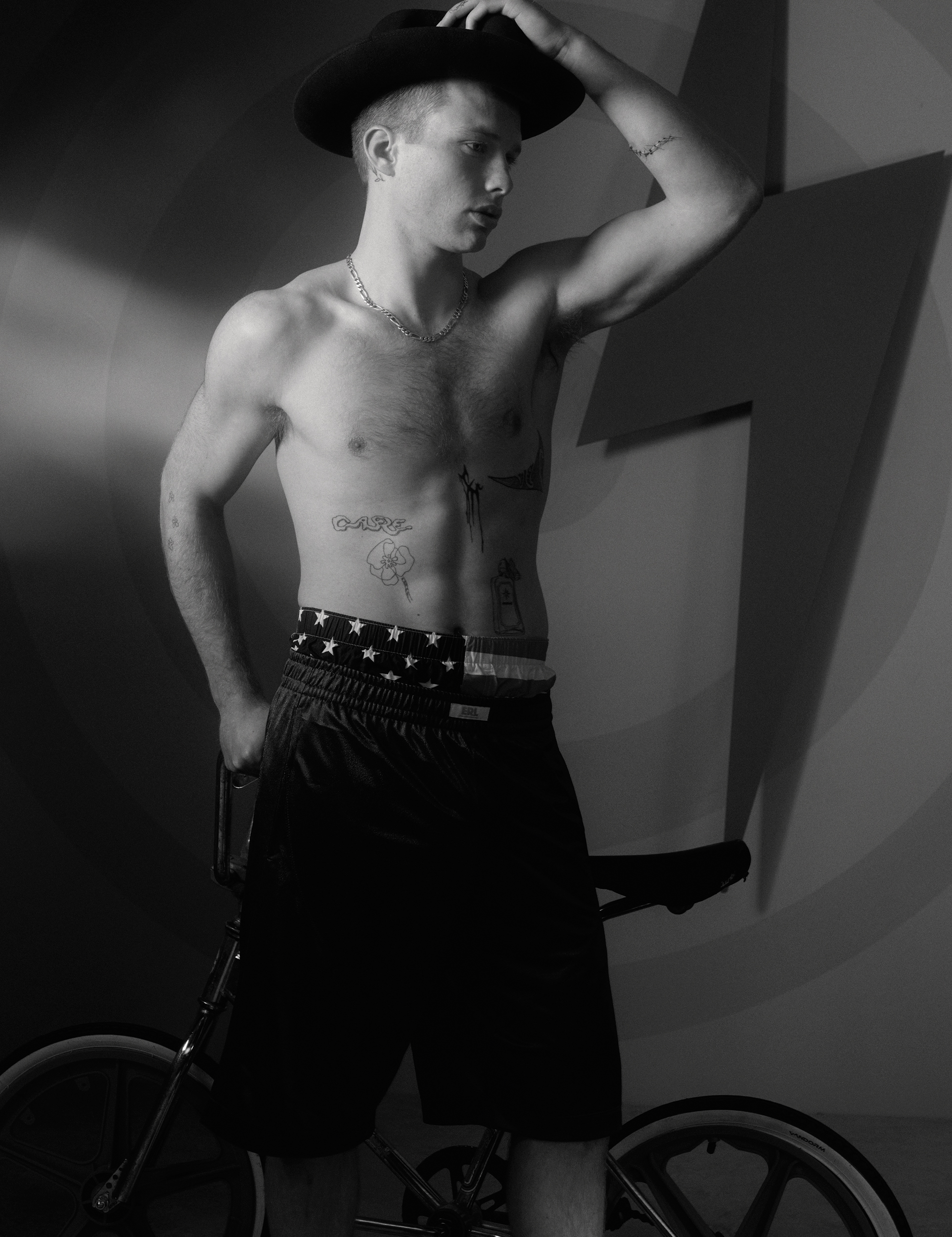 Recently, though, he's decided to put many of those things to the side to focus on a single one: ERL, his discreetly eponymous clothing line. In keeping with the cinematic nature of his life story, the label was launched at the behest of none other than Comme des Garçons president Adrian Joffe, beginning life as a what-was-meant-to-be-a-one-off T-shirt collaboration for the opening of Dover Street Market's LA outpost in November 2018. It was such a smash hit that ERL evolved into a fully-fledged brand under the Dover Street Market Paris umbrella (Comme des Garçons' talent development wing), where it sits alongside other precocious young labels like Weinsanto and Vaquera. Since its January 2020 Paris showroom debut, the brand has rocketed, quickly establishing itself as an eminent contemporary menswear voice, and, this season, even adding a kids' line, too.
The title of ERL's AW21 collection, The Final Frontier, invites deep reading. A poignant meditation on Americanness? A pointed sociological commentary on the symbolic value of 'the frontier' in the nation's pop-cultural psyche? "The phrase kept popping up in movies I was watching and things I was reading," Eli says. The ubiquity of the idiom opened his eyes to its inherent sense of false promise. "In the history of the world, there've been so many 'final frontiers', but there is never really one. They're just kind of these totems that drive humanity on to the next thing…" he says. "It's such a powerful statement for something that actually has no meaning, you know?"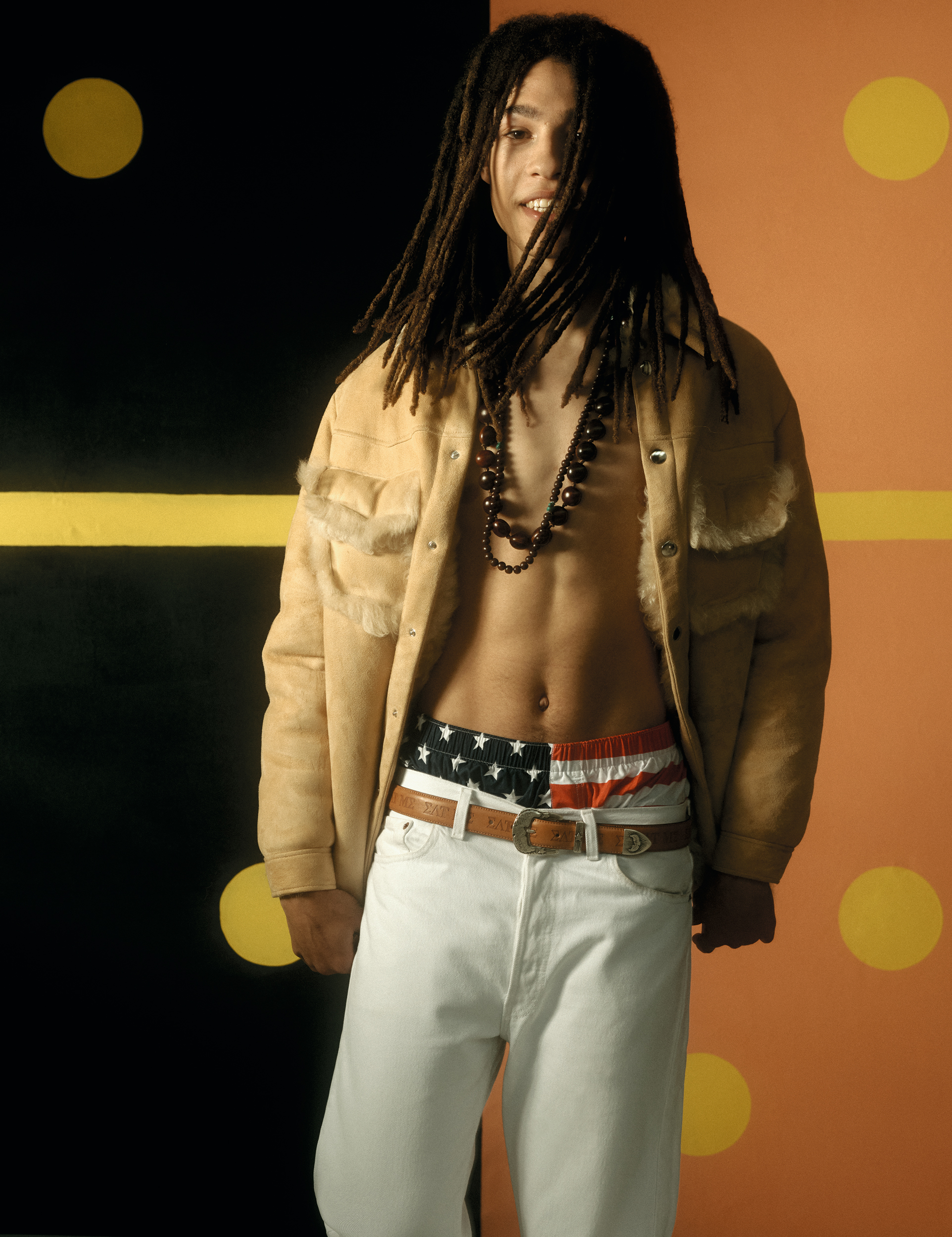 It's an observation that reveals ERL's heart — its substance, or rather, its ostensible and subversive lack of it. Eli draws on nostalgic fashion iconography inherent to American self-understanding: tailcoats with champagne satin peak lapels that suggest rose-tinted prom-night dreams; reds, whites and blues; stars and stripes; sports and jocks; plaid and jersey and denim. "All of these things that stand for something that has absolutely no meaning." The lack of 'meaning' invested in the clothes is really a deeper disruptive meditation. The success of his work teeters on a knife-edge balance; the impish mischievousness of Johnny Tsunami snowboarder hats and frat-ish tees and belts, printed and embossed with Greek letters spelling out 'EAT ME', counterposed by the quiet rigour of roomy ombré knits and red-carpet-ready tailoring.
A risk that any designer runs in adopting such an iconoclastic approach to their practice — creating, in effect, a compilation of empty signifiers — is that the results, while certainly wry and clever, can often feel a little hollow. Not in the case of ERL. There's flesh to the ideas it conveys. They're rooted in a naïveté that feels essentially human. "I feel like I approach everything with authenticity," Eli says, "and I feel like I just actually am an embodiment of the clothes I make, you know?"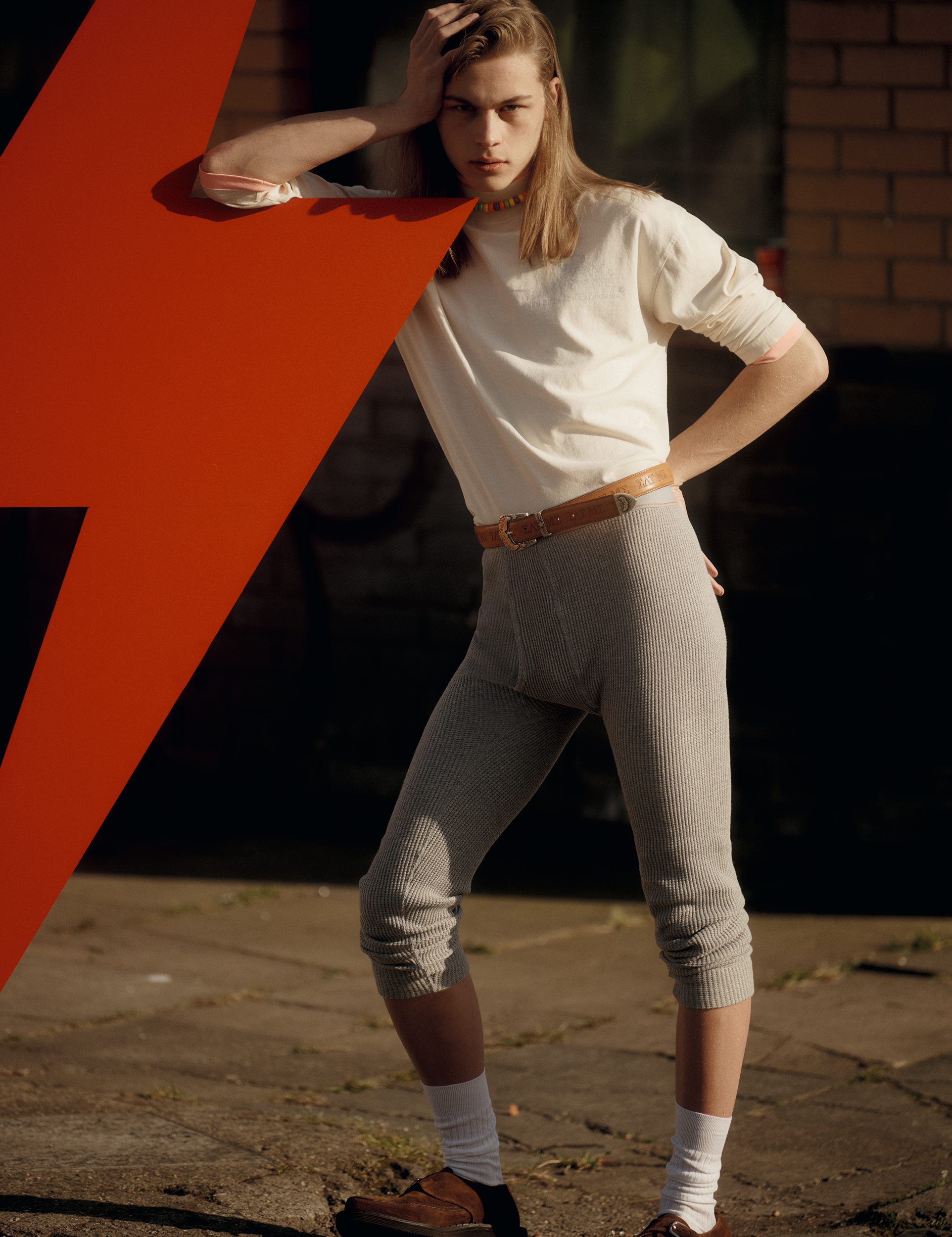 So the through-line that connects ERL's disparate themes is, well, the man it's named after. Rather than a label intent on making a particular point, it is a constellation in the shape of Eli Russell Linnetz, his memories, moods and thoughts. "One of the reasons I even started the clothing line was that I was getting tired of working for other people," he says, "I needed an outlet." A particular flashpoint came on a work trip to China, where he was directing a McDonald's commercial. "My brain was just gonna fucking implode. That was when I came back and was like, 'I need to switch up my life'. Things didn't feel honest," he says. "When I got rid of all the excess noise and really meditated, my actual personality came through and out into the clothes."
Indeed, for a brand helmed by someone who made their name as a maverick engineer of LA's fame game, the absence of celebrity from the ERL narrative is noteworthy. It is, of course, a conscious choice; a decision rooted in the will to see ERL thrive of its own accord. "I told myself that if I'm starting a line, then my name's not going to be on it," he says. "I mean, it's my initials, but the irony is that people like Kylie Jenner will hit us up asking to wear something, and she doesn't even know that it's me. I, like, shot her baby photos, and she has no idea that it's me doing the label, which I love."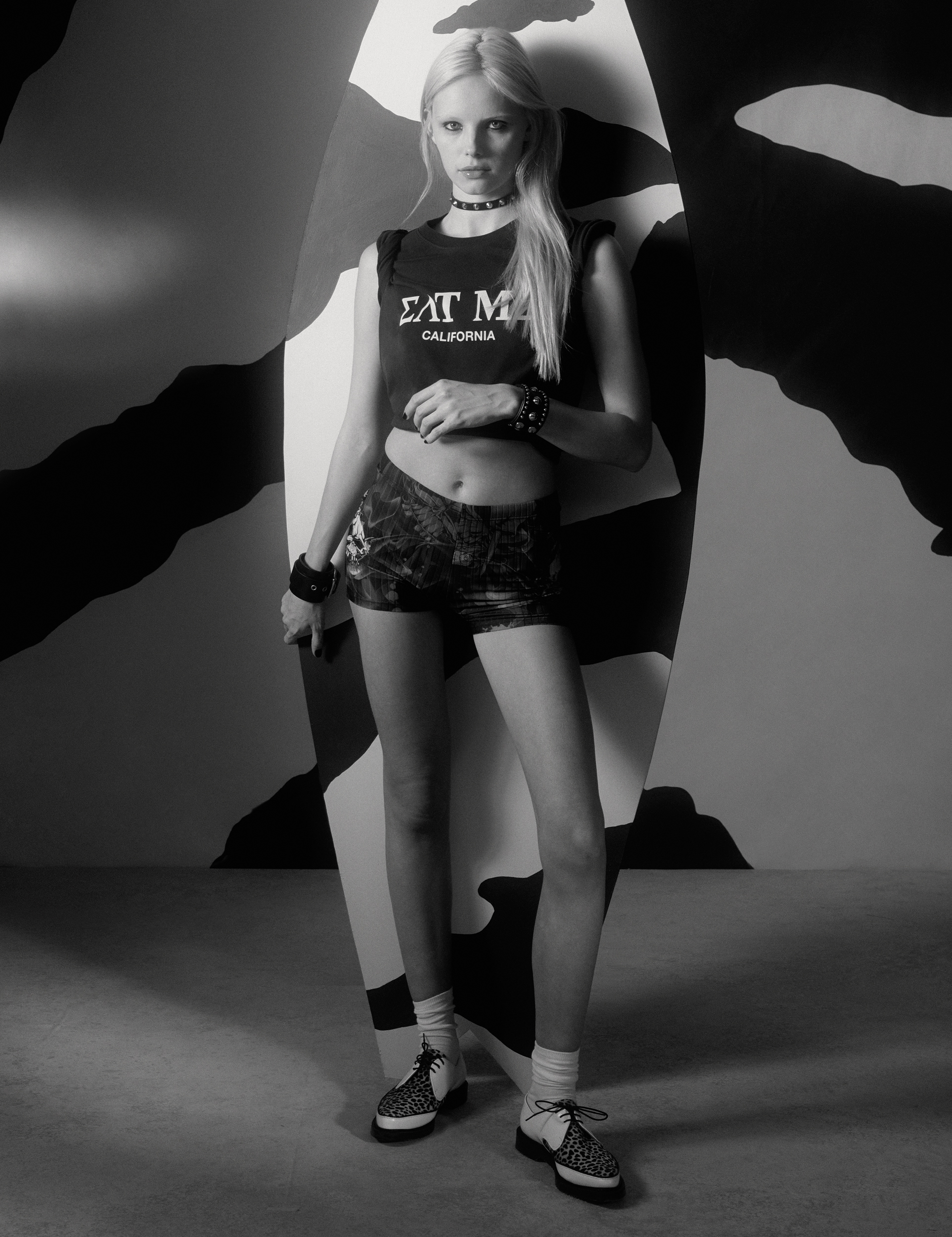 The lack of explicit ties to the people Eli no doubt has on speed-dial is, arguably, a key part of what makes ERL appeal to you, me and Justin Bieber alike ("He just went and bought the collection at Dover Street Market", Eli says, underscoring ERL's strict no-gifting policy). Rather than lean too heavily on any particular story, personality or narrative, the image it projects almost reads like a warm amalgam of dreams of California, both familiar and vague enough to feel like it just might be real.
Having spent the past thousand or so words contemplating the reasons for ERL's overnight success, it only feels appropriate to ask Eli what he thinks the answer is himself. "I think it's just my personality," is his frank response. "I'm not saying I'm the zeitgeist or anything, but, like… I feel like I have a really strange trajectory of specific life events that has manifested in this oddly accessible yet eccentric, yet mischievous, yet new, yet naïve thing… you know?" We do.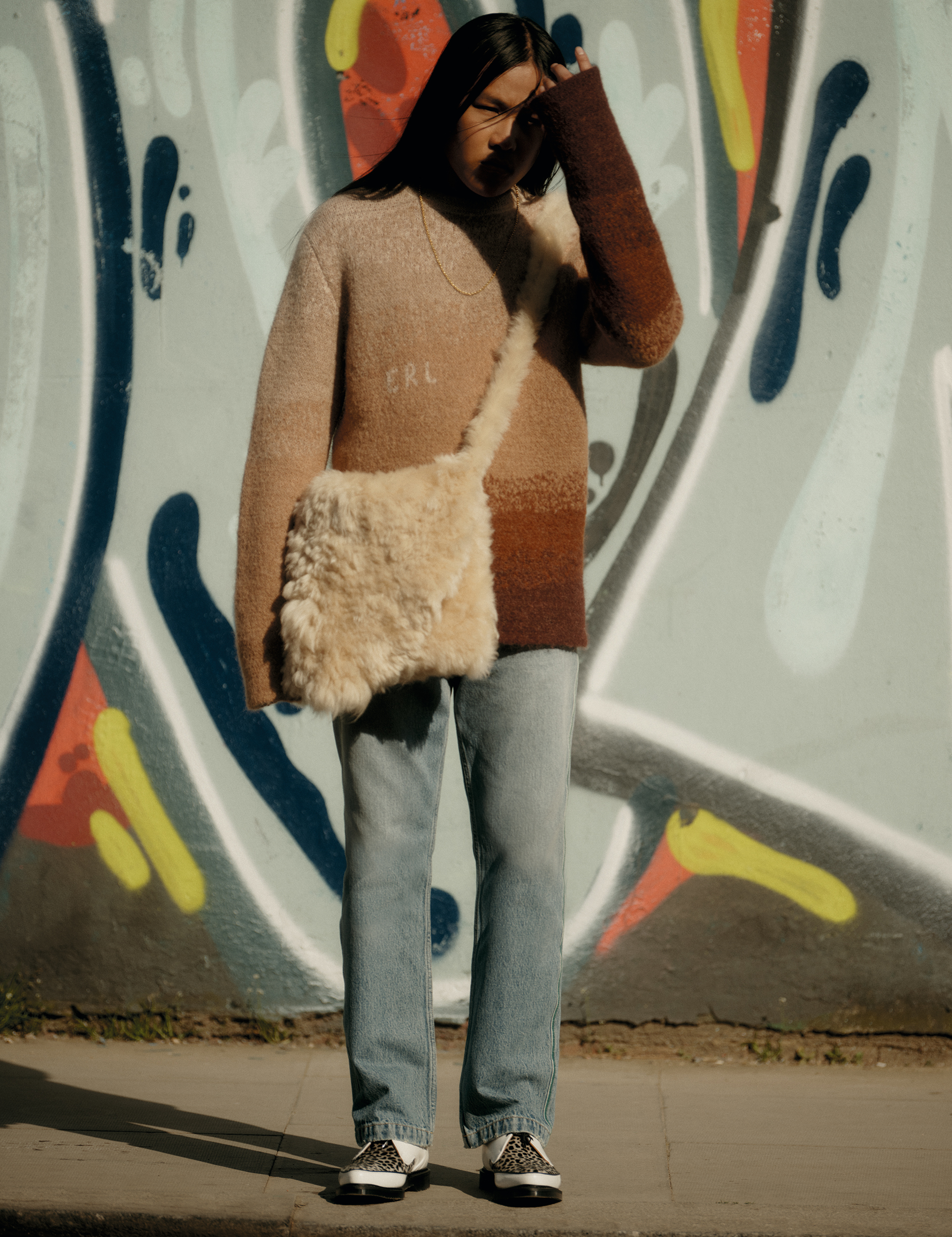 Credits
---
Photography Will Scarborough
Styling Louis Prier Tisdall
Hair Franziska Presche at Together using Fekkai.
Make-up Mel Arter at Julian Watson Agency using M·A·C Cosmetics. Set design Josh Thompson.
Photography assistance Dan Douglas.
Digital operator Sam Hearn.
Styling assistance Marina de Magalhaes and Giulia Bandioli.
Hair assistance Aya Kuraoka.
Make-up assistance Aimee Joyce.
Casting director Samuel Ellis Scheinman for DMCASTING.
Casting assistance Helena Balladino.
Models Sonny Charlton at Anti-Agency. Tara Halliwell at IMG. Anya Parkas at MILK. Leo Tully at Present.