Rihanna and A$AP Rocky are filming a music video together — for R9?
Please RiRi, we're on our knees here.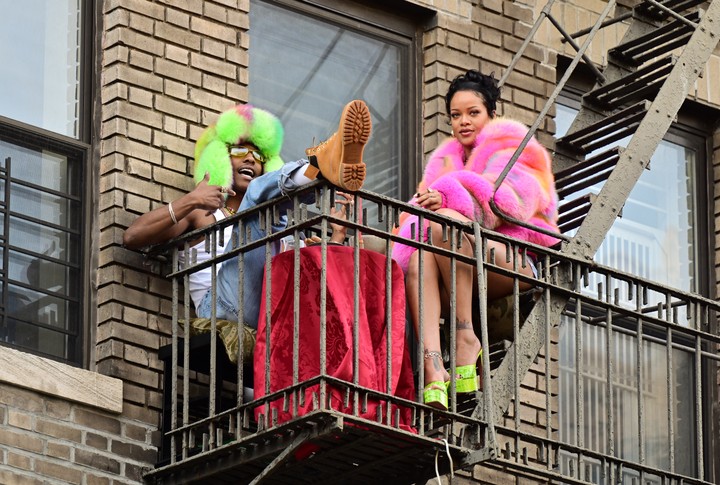 Photo by James Devaney/GC Images
Industry power couple A$AP Rocky and Rihanna were spotted in a number of New York locations this weekend filming what appeared to onlookers to be visuals for an upcoming release. No, people, this is not a drill.
According to a report in W Magazine, "Although the sourcing isn't ironclad, by all accounts that something was a music video. The singer was spotted in four looks throughout filming, though half of them were semi-obscured in robes." The multiple costume changes (arguably the most iconic of which involved several neon-coloured faux fur pieces from Louis Vuitton) hopefully imply that the Fenty mogul is back in front of the camera, and primed to steal every scene.

RiRi has given us many things over the years: foundation colour parity, the powder highlighter we all needed and deserved, a limited edition collaborative zine, a giant book of photos of her, not to mention a series of genuinely size-inclusive lingerie campaigns. But it's been half a decade since we received a crumb of new solo music, and the girls are hungry.

We know she's been in and out of the studio working on something since at least 2019, but also, thanks to Entertainment Tonight, that her commitment to perfection would not be deterred by her fans' demands: "I'm not going to put it out just because people are waiting," she told the publication. "It's taken this long, I'm gonna make it worth it." Earlier this year though, the singer teased the release of a new track in the comments of an Instagram post. "Just one though," she added, presumably because she likes to see us suffer.
Not to pit women against each other, but last month we prayed to the Lorde and the Lorde provided — the NZ pop maverick dropped "Solar Power", the first peep of new music we'd heard from her in four years. Just saying, don't be shy, Ri.
For now, at least, we have these paparazzi shots to enjoy. And Fenty Skin to look forward to: we'll need some quality anti-ageing assistance after all this waiting.

Tagged: