Titane director Julia Ducournau dedicated Palme d'Or to a more "fluid" world
She becomes just the second female director to scoop Cannes' top prize.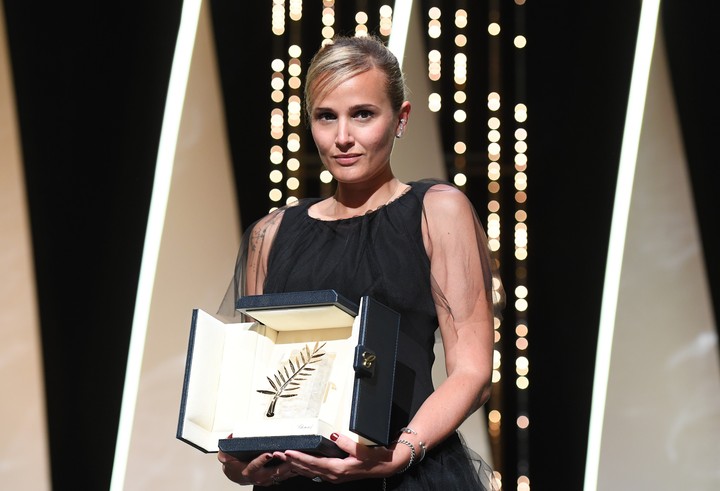 Image via Getty
Titane auteur Julia Ducournau became just the second female director to be awarded the Palme d'Or last night, and dedicated the award to recognising a more "fluid" world, both on-screen and off.
After scooping the highest prize at this year's Cannes Film Festival, the Raw filmmaker thanked this year's jury president Spike Lee, who accidentally announced the winner of the Palme right at the start of the live-streamed ceremony.
Very visibly emotional accepting the award from Sharon Stone, the French director then went on to give a speech in both English and then her native French before the audience.
"I keep shaking my head… I don't know why I'm speaking English, I'm French," she said. "This evening has been amazing. Thank you Spike, it's because of you."
Continuing then in French, she said that since watching award ceremonies from a young age, she assumed every winner must have been perfect, but she now realises that this is not the case.
"Tonight I am on this stage and I know my movie is not perfect, but I don't think any film is perfect in the eyes of the person who made it, some may even say it's monstrous."
The director finished up by thanking the jury for letting "monsters" in and her hope that Titane's win was the sign of recognition that both cinema and the world outside of it needs to become more diverse, inclusive and "fluid."
The last female director to win the Palme d'Or was also the first, when Jane Campion took home the award in 1993 for The Piano.
Titane is the follow-up to Julia's first film, 2016's Raw and was described as a new gory masterpiece following its premiere at the festival this year.
Described as a body horror that also incorporates elements of female revenge thriller and more than a little appreciation for cars, it stars newcomer Agathe Rousselle as Alexia, a woman who survives a car crash in childhood and has a titanium plate fitted in her head (the titular Titane).
Forming a rather peculiar relationship with cars in her adult life, Alexia goes on the run, disguised as a missing boy who reunites with his father after decades apart.
Elsewhere at the closing ceremony, Leos Carax won Best Director for Annette, Twin Peaks star Caleb Landry Jones scooped Best Actor for his work on Nitram and Norwegian star Renate Reinsve was recognised as Best Actress for The Worst Person In The World.