The Sex and the City reboot will feature a non-binary main character
Sara Ramirez is joining the show as a series regular.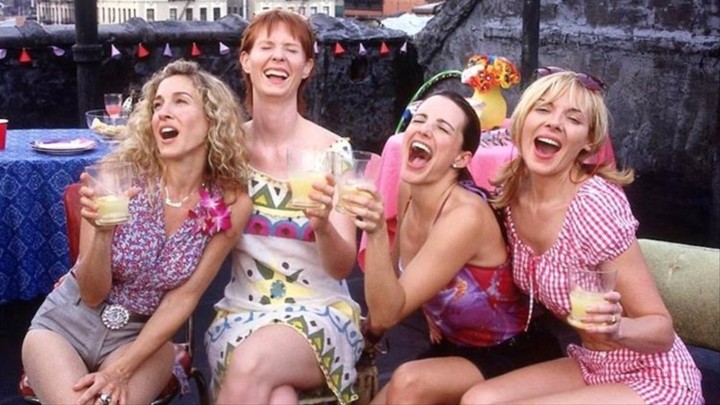 The Sex and the City HBO Max reboot, And Just Like That…, has announced its first new character joining Carrie, Miranda and Charlotte in New York City. Grey's Anatomy's Sara Ramirez will play a non-binary stand-up comic in all 10 episodes of the limited series. The character, Che Diaz, is an outrageous but big-hearted presence who uses they/them pronouns and hosts a popular podcast that regularly features series lead Carrie, according to The Hollywood Reporter.
As we sadly know, And Just Like That… will follow three of the show's four main characters -- sans our fave Samantha -- through the trials and tribulations of life, love and friendships in 2021. In a Vanity Fair interview Sarah Jessica Parker told us that Miranda and Charlotte are mothers of teens now, and that the show will "obviously" address the coronavirus pandemic and the ways in which not seeing your friends can affect relationships.
We're calling it now: Carrie will undoubtedly be dealing with a debilitating writer's block brought on by the monotony of lockdown. We reckon she may well also be struggling because cuts in the industry means she's no longer earning that absolutely ridiculous $4 a word and has had to start selling some of her designer clothes on Depop. Miranda, meanwhile, is likely to have redownloaded Hinge in preparation for her shot girl summer and Charlotte is probably busy baking banana bread to take to the anti-vax rally she part-organised.
Sara Ramirez's character is the first of three new characters of colour announced as series regulars on the show, with producers SJP and Michael Patrick King promising the 10-episode reboot will bring more diversity to the story to "reflect the way New York looks today". Reportedly over half of the writing staff on And Just Like That… are women of colour, and Jennifer Hudson, who played Carrie's assistant "Louise from St. Louis", has also stated an interest in returning to the franchise.
With production slated for this summer, you can expect to binge the entire miniseries when it airs on HBO Max towards the end of this year or early 2022. In the meantime, if you're feeling nostalgic, here are some of the best fashion moments from the show's true fashion queen, Samantha.
Tagged: