Watch young Tony in the Sopranos prequel trailer
The trailer for HBO's long-awaited 'Sopranos' film, 'The Many Saints of Newark', is finally here.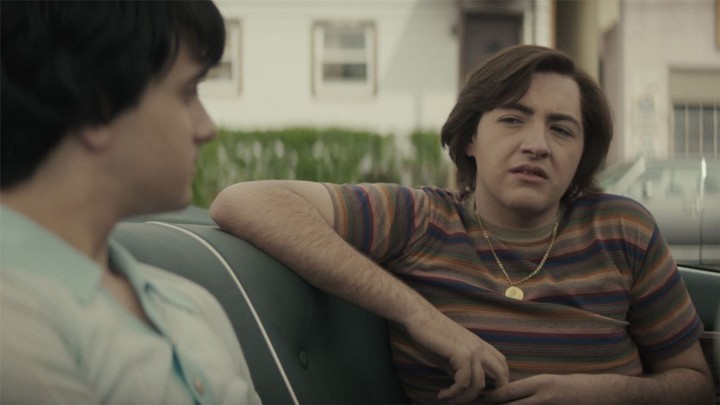 After several delays, the highly-anticipated Sopranos prequel from the show's original creator, David Chase, is nearly here. In the works since 2018, The Many Saints of Newark takes us back to the early days of Tony Soprano as he begins to get involved with the mafia.
Starring, poignantly, Michael Gandolfini as Tony — the character originally played by his father, the late great James Gandolfini — The Many Saints of Newark centres around Tony's introduction to organised crime, against a backdrop of racial tensions between the Italian-American and African-American communities, and the 1967 Newark riots.
"I was interested in Newark and life in Newark at that time," producer David Chase said. "I used to go down there every Saturday night for dinner with my grandparents. But the thing that interested me most was Tony's boyhood. I was interested in exploring that."

In the trailer, we see Tony, back when he was at school, flunking his classes despite a high IQ because he's failing to apply himself and simply, well, bored. That changes when an uncle — Dickie Moltisanti, Christopher Moltisanti's father — introduces him to the family business of organised crime, which is both more glamorous and more violent than, idk, doing maths.

The film also stars Alessandro Nivola, Leslie Odom Jr., Jon Bernthal, Corey Stoll, Ray Liotta and Vera Farmiga, some of whom playing younger characters from the original show. While the preview seems to have some Sopranos fans feeling emotional, given the poignant nature of casting the late James Gandolfini's son, others seem a little concerned with the high octane nature of the film.
The movie is now slated for release on 1 October. Hopefully, by then, we'll all be double vaccinated and sharing popcorn as normal, but in the event that you can't see The Many Saints of Newark in the cinema, fear not, US viewers can catch baby Tony's antics simultaneously on HBO Max as well. Bada bing bada boom. Watch the full trailer below.
Tagged: