This AI lets you have a text conversation with Kanye West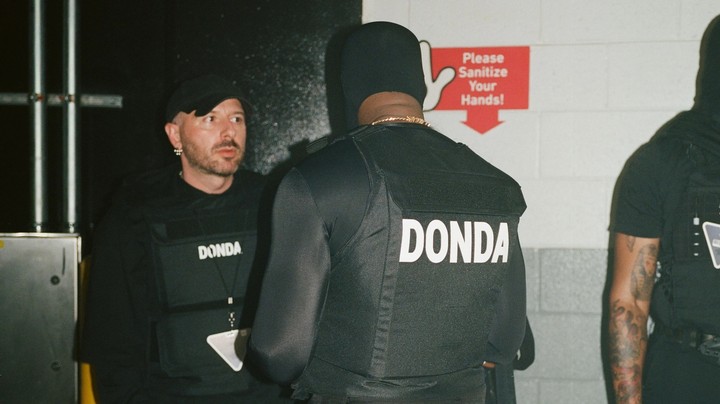 Photography by Kevin Moon/Courtesy of DONDA
Whether it's developing a fragrance that makes you feel horny or helping you hear what new music from dead musicians might sound like, it seems like there truly is no limit to what modern AI technology can do. The latest development? Artificial intelligence that offers you a taste of what it might feel like to be Kim Kardashian, in so far as it allows you to have a pretend text conversation with Kanye West.

Yes, if you're waiting on tenterhooks for the much hyped release of DONDA, then you can vent your frustration with "Ye Message" a new invention from AI creator and Ye stan Wesam. The software has analysed Kanye's speech patterns and social media postings to simulate what a conversation with him might be like. Ah, how far technology has come from its original purpose: abusing Smarterchild.
While Talk To Kanye might not give you any answers about when DONDA is officially going to drop, why he decided to legally change his name to Ye or what really is going on in that beef with Drake, the experience can give you a sort of digital meet and greet (a free one!) with the enigmatic creator. Set up to replicate an Apple iMessage, fans can text "Kanye" whatever they want and receive an instant, totally fake, albeit no less entertaining than the real thing, response. Neat!

It's well timed too. Since gearing up for the release of DONDA, his 10th studio album and first record in nearly two years, Kanye has been uncharacteristically quiet on social media, letting the stans drive themselves to distraction with speculation. Wesam himself is no exception. Announcing his creation on Twitter earlier this week, the engineer wrote: "I got tired of all the rumors and lack of information around the Donda rollout, so I made an AI that thinks and speaks like Kanye so I can get information from the closest thing to the man himself."

You can Talk To Kanye here.
Tagged: